A few weeks ago as actor Shahid Kapoor was gearing up for the promotions of his Bollywood movie Jersey where he picked a laid-back printed co-ord set featuring an olive-black shirt and trouser set. His ensemble became an instant hot look, bringing a whole new conversation on how menswear doesn't need to be always limited to stern silhouettes. 
Ace designer duo,  Saaksha Bhat and Kinnari Kamat's eponymous label—Saaksha & Kinni—was behind Kapoor's flamboyant look. "More and more men are inclined to experiment, have fun with their clothes and most importantly, not take themselves too seriously," explains Saaksha about the massive change seen over the years in regard to menswear.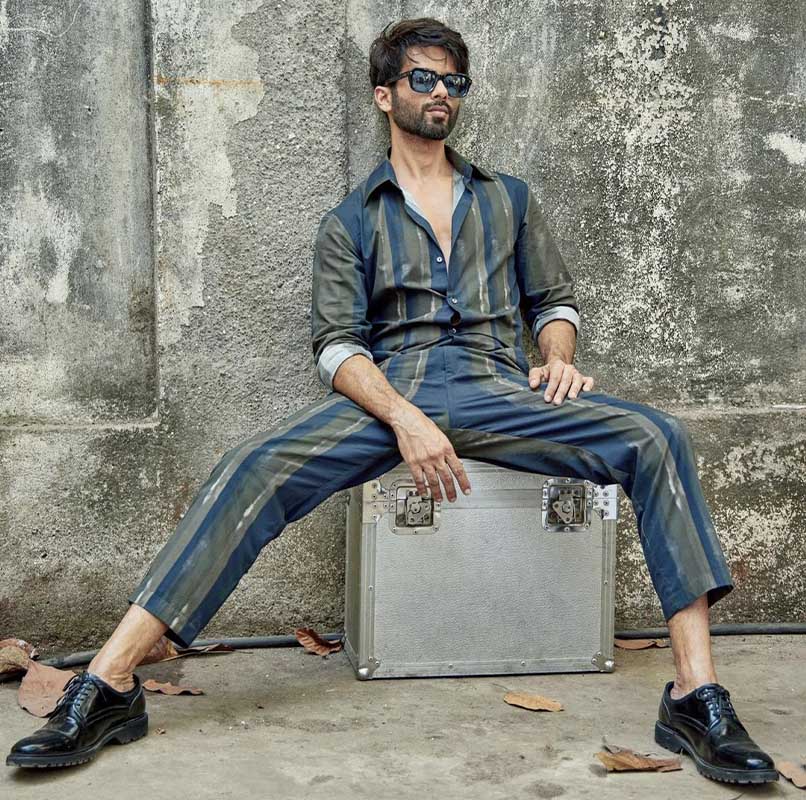 The Mumbai-based designer duo label has always been worn by the who's who of tinsel town—from the iconic Sharon Stone to style diva Sonam Kapoor Ahuja—and now, they extend their statement prints and relaxed fits to men's closets through their resort wear '22 collection, 'Quad'. Kapoor had turned muse as soon as the collection had dropped, while Mira Rajput was recently spotted basking in the sunlight wearing a satin dress in a riot of mood-lifting hues and unique patterns, courtesy of this new edit.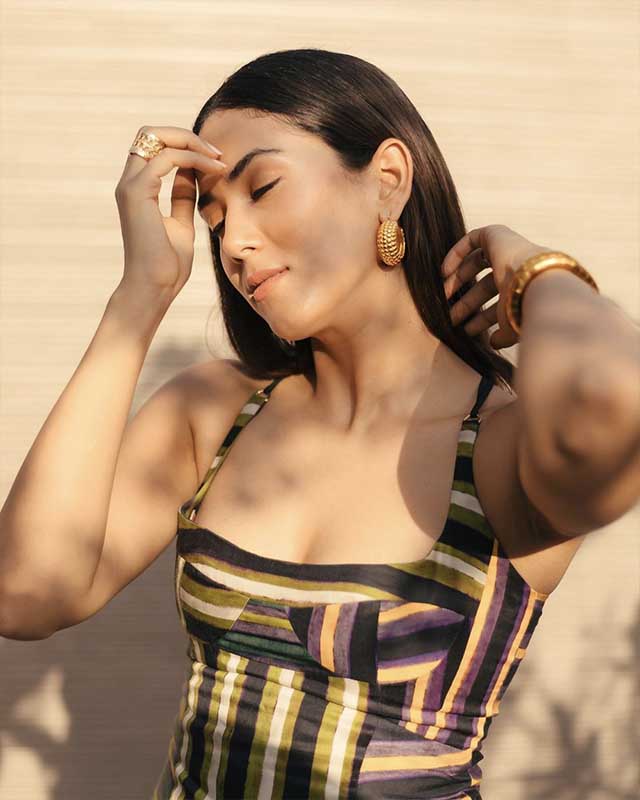 A celeb-favourite collection, the designers knew how resort wear is fast becoming one of the most exciting branches of fashion in India. "Men and women both desire the same thing from their choice in clothing—for it to be impactful, but not over the top, and to be comfortably luxurious," explains Saaksha about their approach to designing menswear. Their line even includes oversized unisex coats to tie in both menswear and womenswear together.
Decoding 'Quad'
With travel opening up, it is imperative for designers and labels to launch collections especially meant for 'engaging' the wearer—through the art of craft and the novel, relaxed nine-to-nine dressing concept. "We wanted Quad to be a celebration of casual and comfortable luxury. After two years of restricted movement, there is an urgency to get out and travel—and what better way to see a new place and perspective than in a new ensemble," Saaksha tells.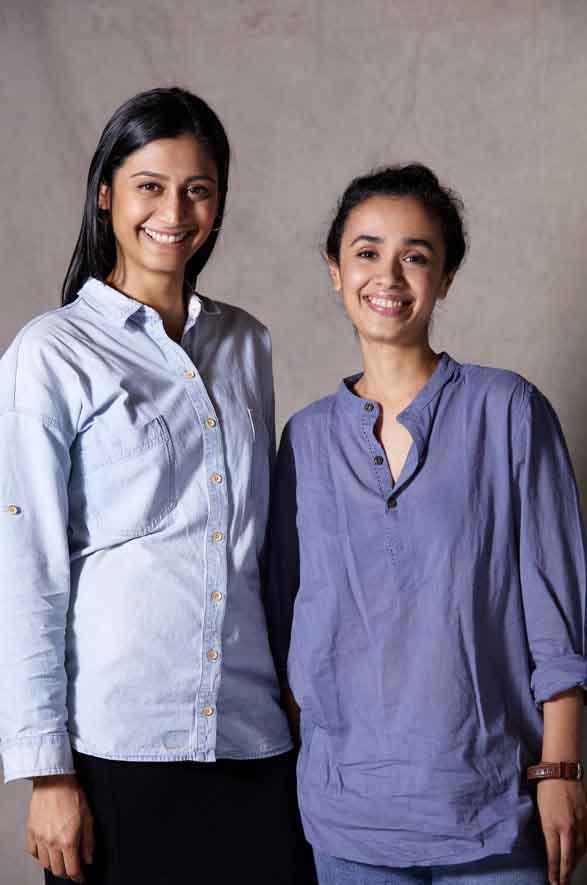 Quad brings an amalgamation of both masculine and feminine designs like denim fabrics that lend a masculine power to the garments being offset by feminine chiffons and cotton silks. The label's first menswear involves a lot of shirts, trousers, and jackets in acid-washed denim fabrics and psychedelic-like geometric prints inspired by the rhombus which holds cultural significance in Gujarati craft heritage. The rhombus or diamond-shaped prints bring a necessary artistic edge to an otherwise typical resort wear collection.
"We wanted to bring an explosion of colours that run riot, indicative of our love for Gujarat and Rajasthan," Saaksha shares. The resort wear also elevates the intricate Gujarati and Rajasthani mirror and thread handwork, including patchwork motifs and signature micro pleated handwork. "We made sure that our hand embroidery was done in the most intricate of ways—to make statement pieces that could easily be mixed and matched within one's own wardrobe and repeated for years to come. We also made sure that the craft of hand micro pleating played a big part in the collection—a skill that should be passed down and treasured within one's own wardrobe," she adds. "For those who are not comfortable donning these bold prints, the collection also comes with stripes and shaded prints that almost looks like solid colours."
The intricate handworks come alive in the label's colour palette that focuses on rich pinks, greens, blues, and even, greys. "For the colour palette, we wanted to showcase bold summer colours that resonated with leisure travelling after a long time or attending destination weddings and sundowners. We also wanted to add an element of intense drama and darkness to the collection by adding the blacks and dark olives. It is also a way of satisfying those that do not prefer wearing bright or bold colours as they can be easily styled and matched with a wearer's already existing pieces," explains Bhatt.
From niche to mainstream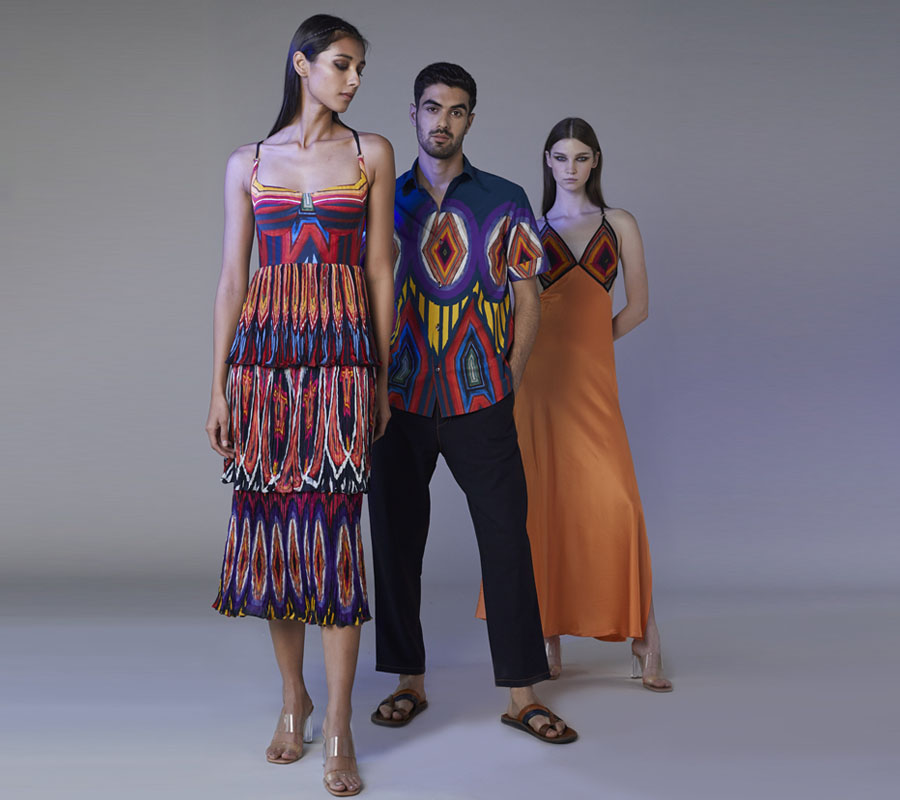 A lot has already been said about how in the post-pandemic world, vacation dressing is taking the centre stage—not just globally, but also in India. "Resort wear has fast become one of the most exciting branches of fashion. In the post-pandemic world, the most important thing for consumers is the comfort of clothing, value for money, and of course timeless pieces," Saaksha agrees.
However, India has always been about bridal wear, which occupies the major chunk of the industry here and remains the biggest focus still. The designers and the industry have reconfigured themselves in a way to meet the needs and demands of this highly-lucrative wedding market. "It would have been easy to start with bridal offerings purely with the intent to sell, but we decided early on to design what we loved and for what we felt was a gap in the market," Saaksha shares, given the fact that the label was launched five years back at a time when the category was paid little to no heed at all in the Indian fashion market. Now, resort wear—or more precisely 'ready to wear'—is a survival code for many designers.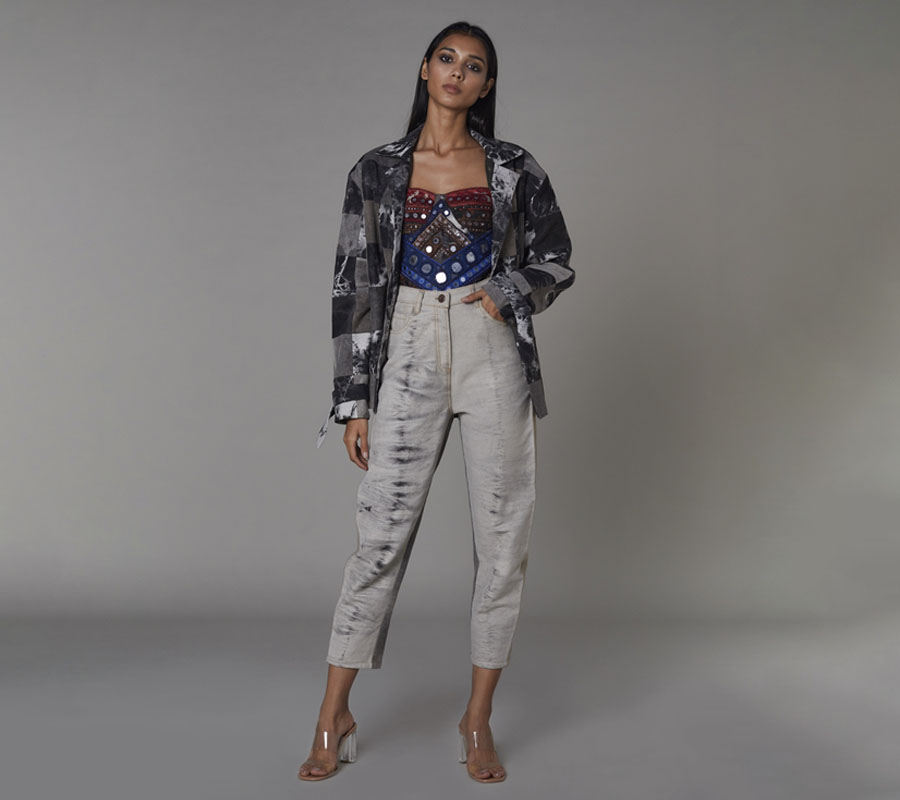 But Bhatt points out that resort wear's influence on the wedding market cannot be ignored while the category is slowly co-existing with the traditional bridal market.  "Resort wear and bridal wear do go hand in hand now more than ever. Brides are opting for more fun, comfortable clothing so are their guests and close family. With destination weddings being another popular option, the entourage is looking for bold, statement-making garments that are comfortable, lightweight, and fun," assures Saaksha. The label's collection Quad also features maxi dresses, saree dresses, and skirts apt for a celebratory cocktail evening at a wedding too. Even designer Kinni's favourite piece is a v-neck saree dress from the collection that can easily translate into a cocktail look but at the same time be worn as a swimsuit cover-up.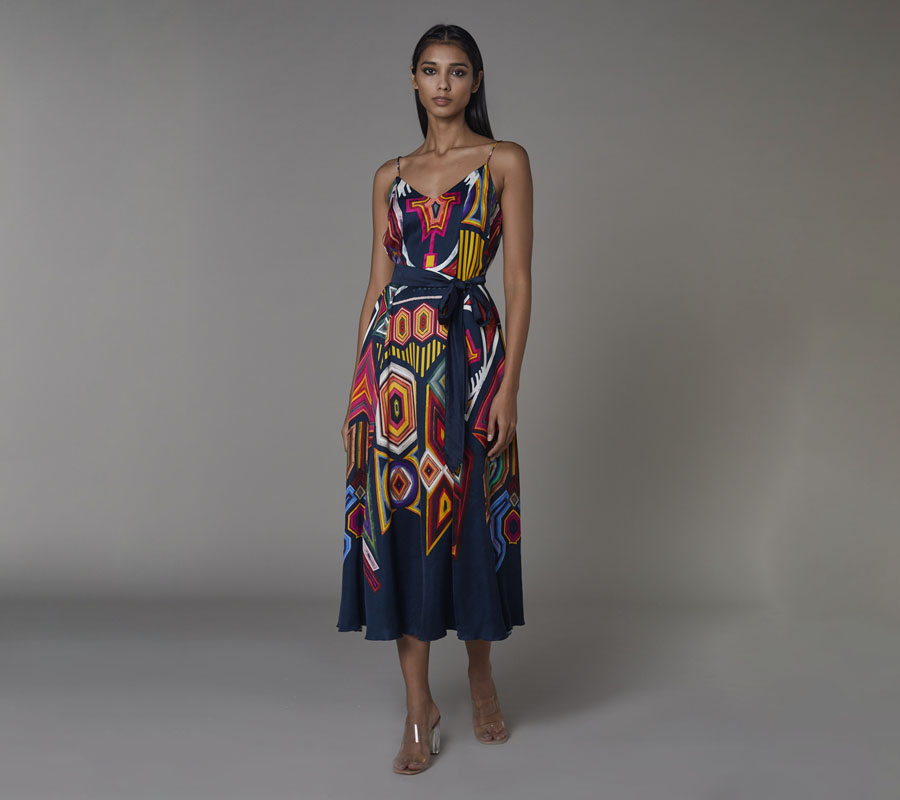 Much has already been said about how this joyous and escapist style of dressing has become a wardrobe staple for all times rather than just an intimate evening soirée. Bhatt also suggests that resort wear, dinner wear, brunch wear, and sundowner wear are the main categories that have seen a surge and been picked up over the last few years. "Women have enjoyed dressing up and making a statement on a regular basis, choosing wearables from these categories. It has been joyous to see them experiment more with their attire, with statement-making prints and colours—something that did not happen even five to 10 years ago," she shares.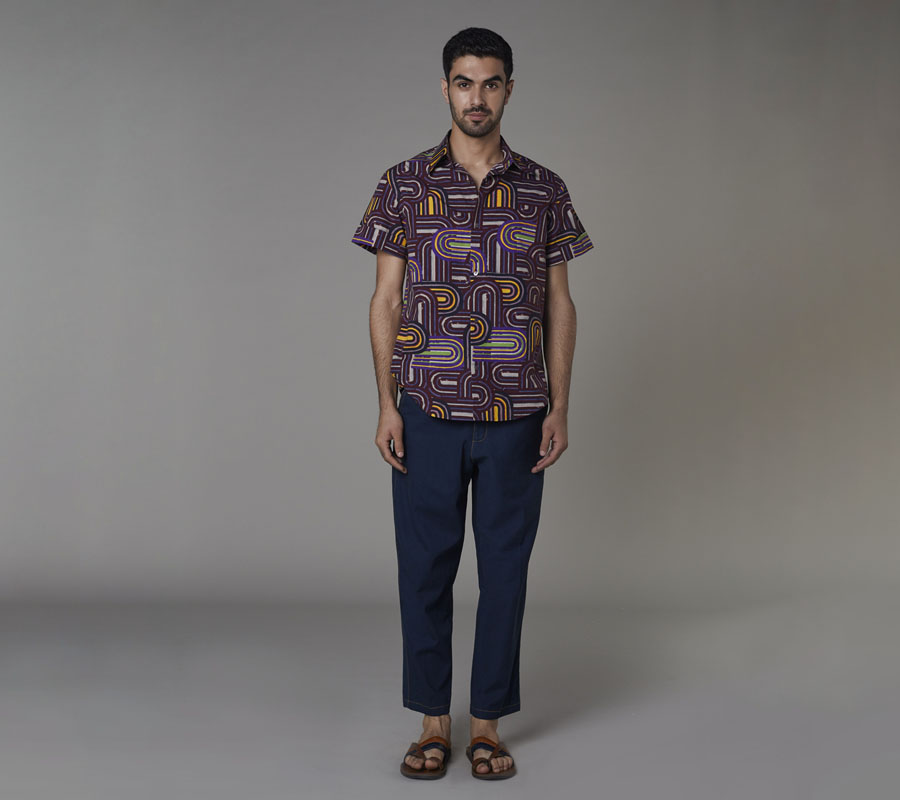 While this capsule wardrobe, which has been combined with comfort, has been the go-to pick for many, has the size of clothing available for the many women diversified just like their varied body sizes? "About 90% of all our orders are customised—we understand that most women in fact do not fit into so-called standard sizing," Saaksha assures. At least, the label makes sure of letting consumers add their own custom measurements into the 'notes' section of their website and have an additional option of a direct video call to the team for taking the measurements over the phone.
Resortwear trends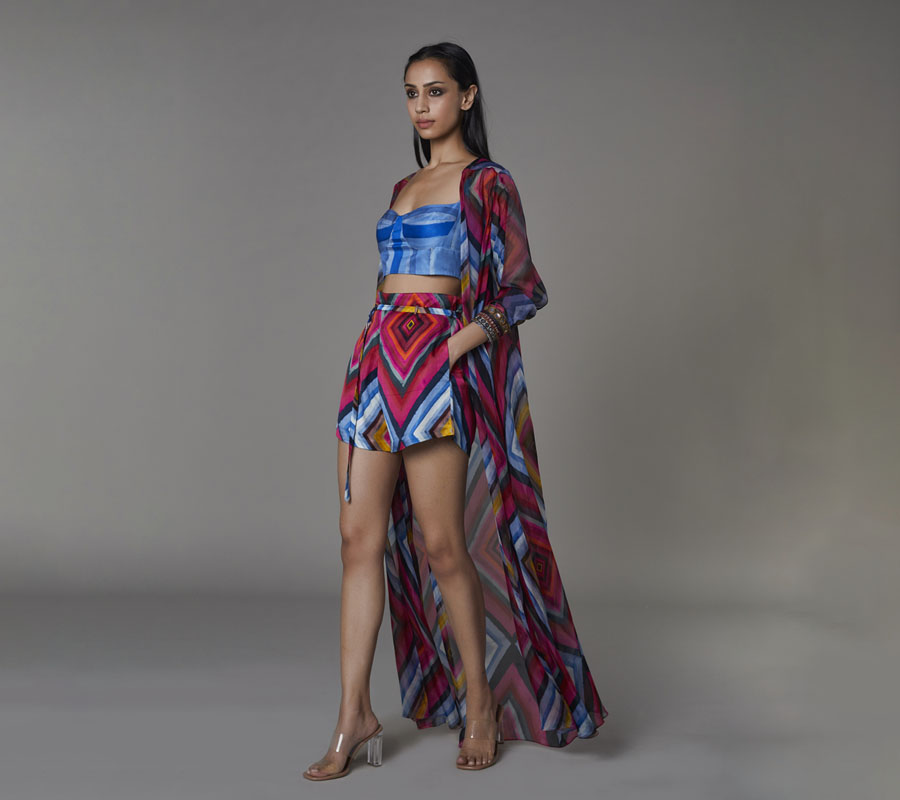 It needs no pointing out that kaftans, co-ord sets, relaxed shirts, kimonos, and maxi dresses have seen a spike in becoming a part of the wearer's daily dress routine. But for Saaksha, it has been capes that will continue to be a big seller in resort wear. "Capes are a staple piece in resort wear wardrobes. They are easy to style and can elevate a glam look or soften a beach look depending on how it is worn. Easy breezy capes can be thrown over swimsuits, over a pair of jeans or even a cocktail dress and are super versatile," she shares. Her favourite piece is also a chiffon cape from the collection.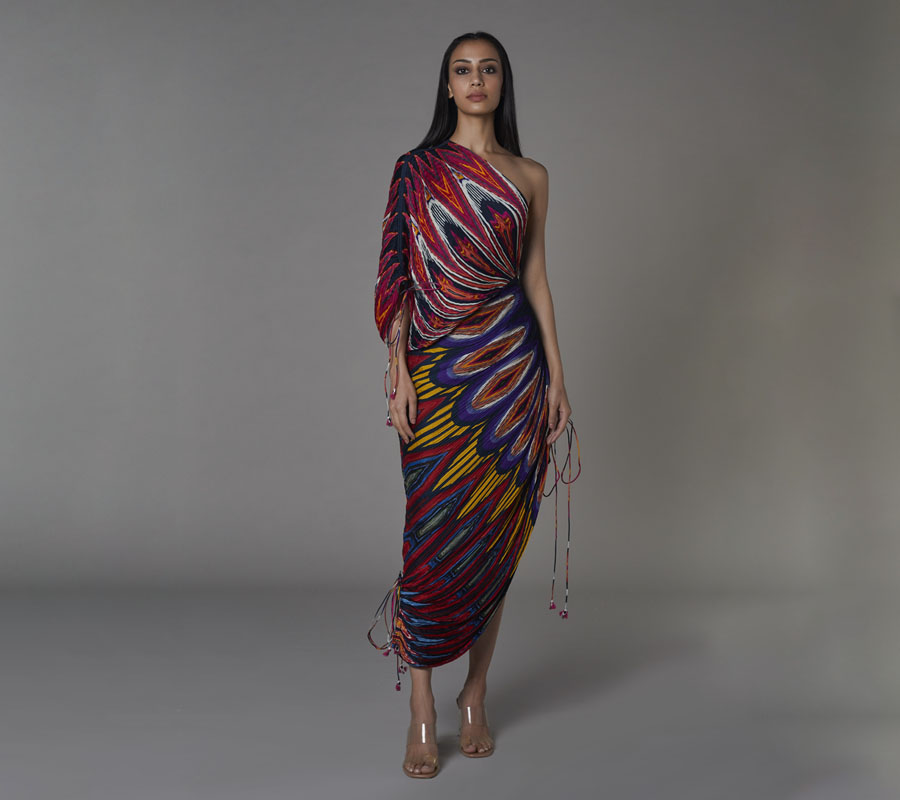 Along with capes, she also believes that both glam pencil and flowy beach skirts along with crop shirts would be making a big comeback in resort wear. 
Photo: Saaksha & Kinni