It was the year 2018 when Delhi-based textile designer, Kshitij Jalori decided to start his own eponymous label, and since then has become a staple name for tailored silhouettes using brocade and indigenous textiles. Cut to 2022, the designer had been busy taking on the US market through pop-ups and private shows - from Atlanta to New York marking the label's first international physical tour as Jalori is now ready to stride and expand the global footprint.
"It was indeed a good experience. We expected the West to be more partial to greys, blacks and whites, but it turned out to be fairly different. We displayed our boldest pieces out in the front and had customers and everyone, Indian or not, love the colourful display. Not just our jackets and pantsuits, but our sarees also did pretty well. Of course, the signature KJ kurta-pant sets were a hit, too," says Jalori in a virtual call with Zeezest. 
There's a good chance that any creative person will include travel when asked where they find inspiration. Similarly, Kshitij is an avid traveller too and strongly believes that creativity could be found in both renowned and offbeat places, exploring different cultures, art, and architecture that have found their way to manifest themselves into his various collections. But Paris is closest to Jalori's heart, "I have always found the city of Paris beautiful and alluring, with history and culture wrapped in each nook and corner of the street. It's like you're walking into an open museum." Taking his Parisian lens to his home state of Rajasthan, the designer's SS'22 collection is a documentation of the winding lanes of the culturally rich state, painting a colourful canvas with prints and embroidery. 
Documenting fashion through sojourns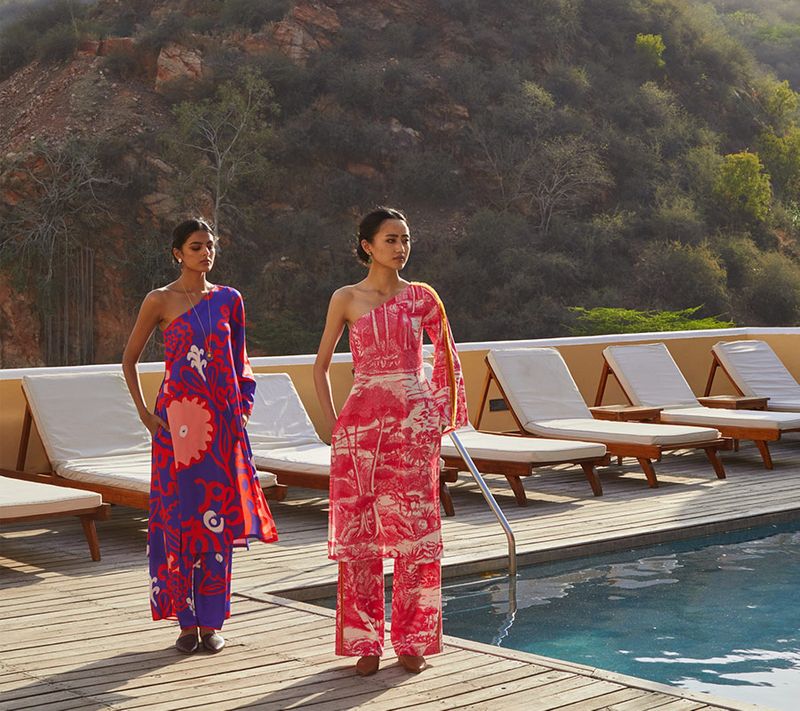 Titled 'Jawai', Jalori's new collection throws light into the culture of Rajasthan from a modern perspective, "Say, if I was a designer born and raised or studied in Europe, travelling to the state and then documenting my experience and designing a collection, this is how I would see it. What we've tried to do is modernise that entire Rajasthani culture of craft traditions and textile techniques that are often very folk in nature. By giving this a new-age perspective, we have attempted to move away from the traditional folk angle that has been associated with Rajasthan," he explains.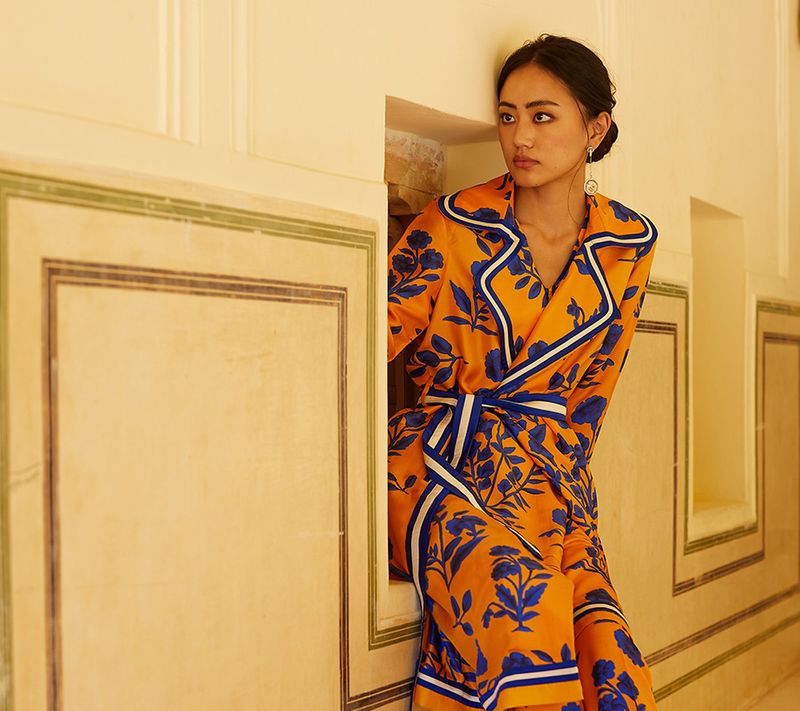 Considering Rajasthan is a tourism-rich state and its rich culture has been represented by the world of fashion enough, how does the designer bring a new narrative onto the table? 
"Rajasthan is a state that everybody is already well aware of. We wanted to essentially showcase how this culture would be perceived and represented today - trying to create a new language," he tells. The different prints named 'Ranthambore', 'Jaisal' and 'Umed' are interpreted in toile, gouache paints and architectural patterns, giving an amalgamation of a new Rajasthan experience - the canvas tents, exotic wildlife, wall paintings and desert foliage that spark a slight quirk to a traditional aesthetic.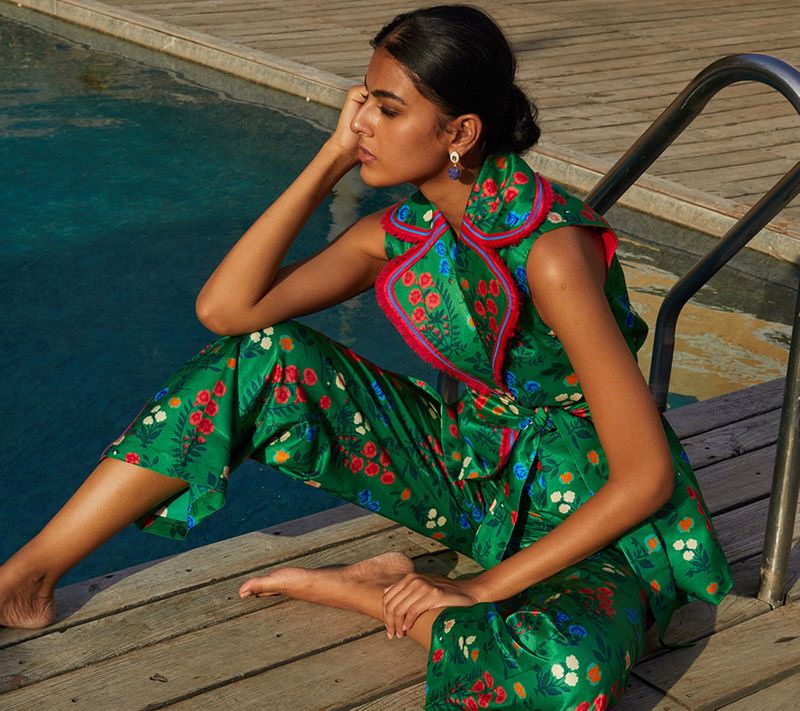 The launch of Jawai coincides with the opening of travel again, evoking nostalgic memories of travelling. "Say for the 'Ranthambore' print, we have given a visual treatment to the Ranthambore Sanctuary - the topography, wildlife in a very minimal yet maximal manner," Jalori explains. From the sharp and constructed pantsuits and trenches to swimwear and resort, the collection is a one-stop destination for your Sunday brunches to poolside weddings seamlessly.
Art and architectural clothing
It's not the first time when the designer has documented and brought a cultural confluence of art, architecture, and travel through his designs. His previous collection has highlighted his passion for travelling and love for architecture.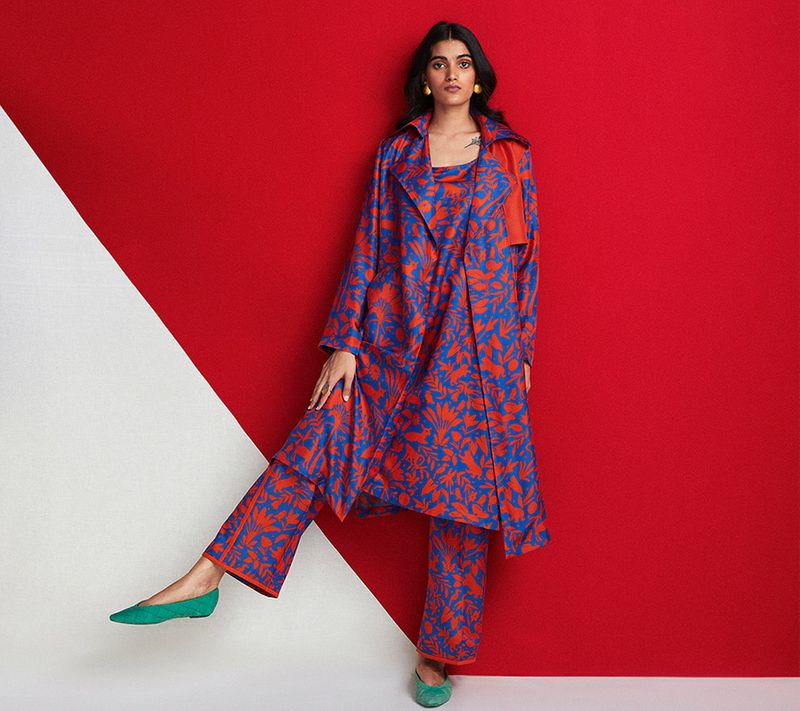 But there's a strong motive behind all of this, "The Westerners are often the ones to document this wonderful Indian culture, despite us having direct access to it. As a result of their travels to our country, they wrote books about it, developed a lot of trade and expanded through text. Isn't it time we started documenting this culture for ourselves and how we perceive it today? There is a large global audience for our products and our country has unique textiles. There is no reason why these cannot be translated into products that can be worn globally. Why would you only limit it only to the Indian audience through ethnic wear?" he shares.
In his earlier collections, Jalori had explored the Benarasi brocade beyond the conventional way - his ever-famous brocade trench coats and pantsuits launched in 2018 are still a choice among fashion enthusiasts. Since then, he had extensively played with structured patterns, cuts and drapes with a global influence using the beautiful lexicon of Indian textiles. Jalori hasn't shied away from exploring the multitude of possibilities offered by the looms of various places and artists.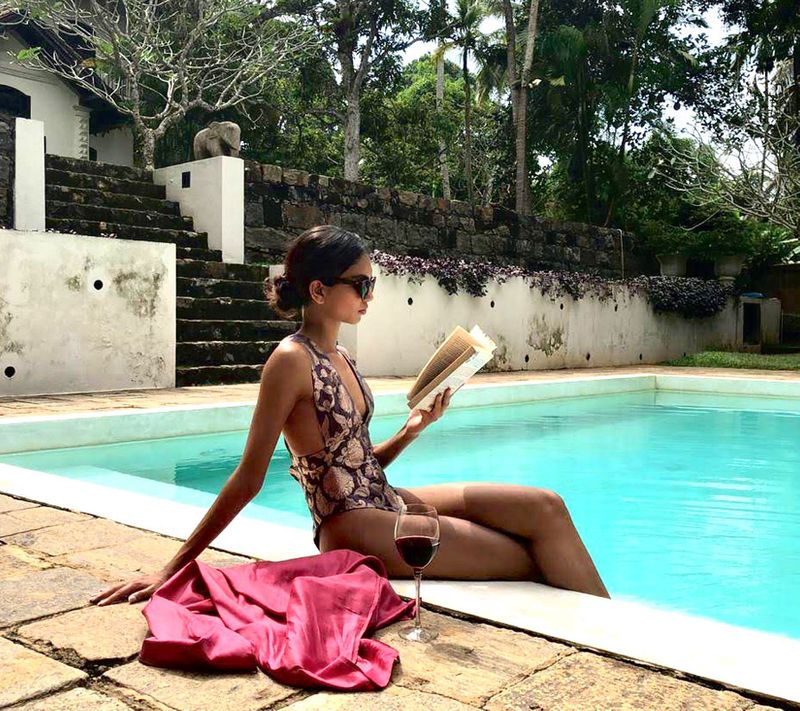 One of the label's biggest collections, 'Kellee' launched in 2021 reimagined the works of American artist Ellsworth Kelly in a Mexico-inspired design scape. "If you look at some of Kelly's artworks, they were vibrant yet simple with a lot of square-like designs, inspired by architectural shadows. And our collection was an interpretation of what Kelly's design motives would be like in a colourful Mexican garden," he explains. 
Another instance is 'Cinnamon Hill' launched in 2020 inspired by the work of Sri Lankan architect Geoffrey Bawa, capturing the mood of the tropical island country and depicting the artist's iconic works in black and white along with his signature aesthetic.
Navigating the business of fashion independently
Since international brands started entering the Indian market a decade ago, Jalori was fascinated by their expert cuts and pattern-making silhouettes which made him wonder why Indian textiles are only used for traditional occasions and why they weren't translated into global products. The question was also being addressed by a handful of other like-minded designers when he launched his eponymous label.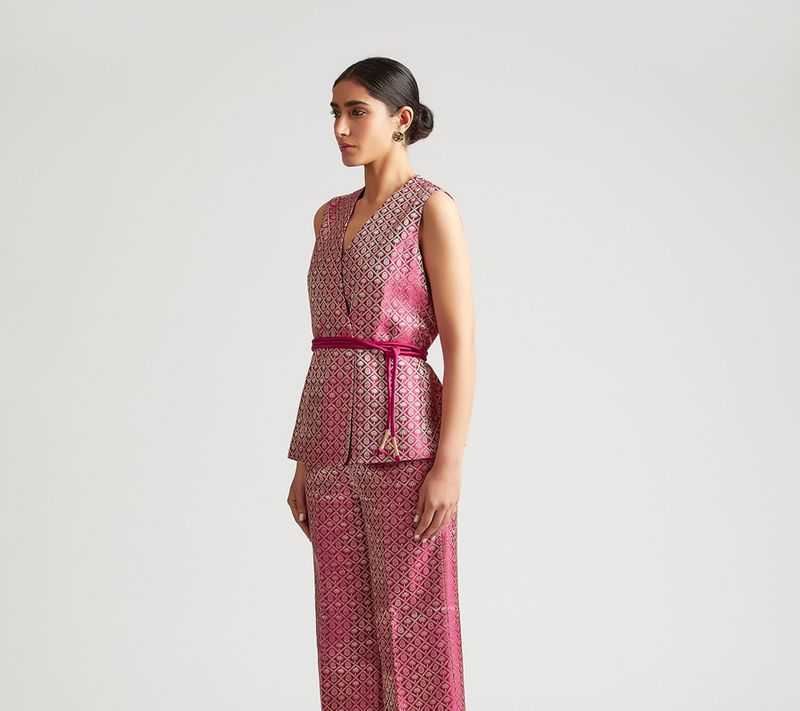 "You see when you have to grow as a brand you have to focus on bridal and wedding wear too to grow in numbers. But what happens is the moment you start doing that, you get stereotyped. Whereas if you again look at any international model of how some of the best global fashion brands work, they would have something for everyone - couture, ready to wear, lounge, resort and activewear," Jalori shares.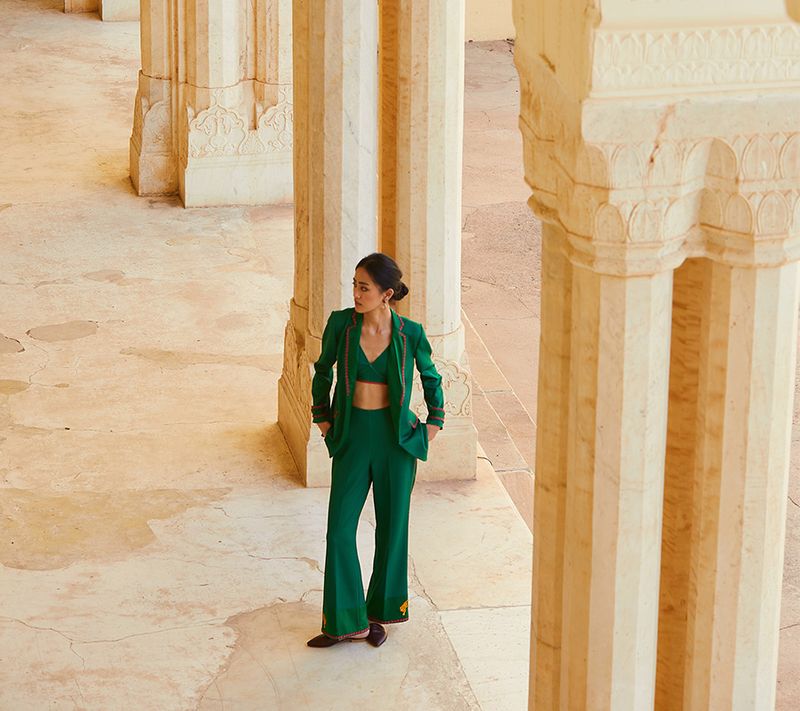 The designer has introduced a line of wedding wear too earlier this year, marrying the ease of contemporary fashion with the timelessness of classic textiles and embroideries. "As a womenswear brand, we want to fill out the entire categories that are available to them." Although this is challenging for an independent brand, Jalori agrees that it's still a possibility, "When you're a small brand, what happens it also gives you the accessibility to reuse your prints or let's say, put a new representation to the same fabric. It is easy to repurpose. Other than that, you must also know how to monetise each category and design individually." As the market races towards a post-pandemic recovery, he also plans to diversify into winter wear, accessories and menswear.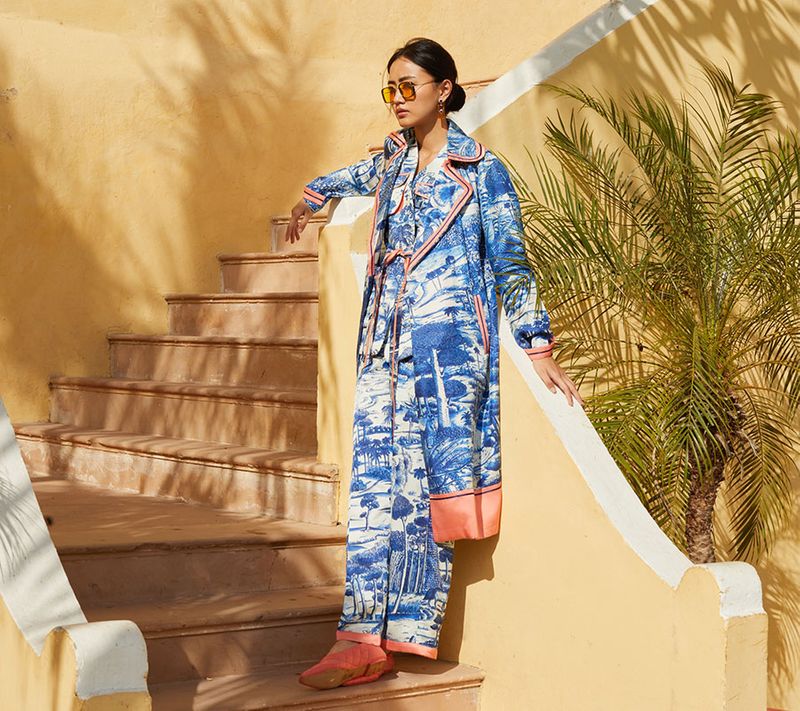 Fashion investments are becoming the norm in the Indian fashion market. But Jalori at the moment is enjoying the creative freedom that comes from being an independent brand, "Our designs have to be compelling, beautiful, and make money to sustain these strategies and bring out more collections. Although it is a work of pressure, it is going well for now," he shares.
"When you get into the business of fashion, you get in for the love of the craft eventually. Once the business goes, you realise that that love of the craft is only 2% because the business requires a lot more than just wanting to create and design the product. The other 98% is where you have to focus consistently about how you sell it, managing the accounts, building the team, back-end production and so many other things," he further explains.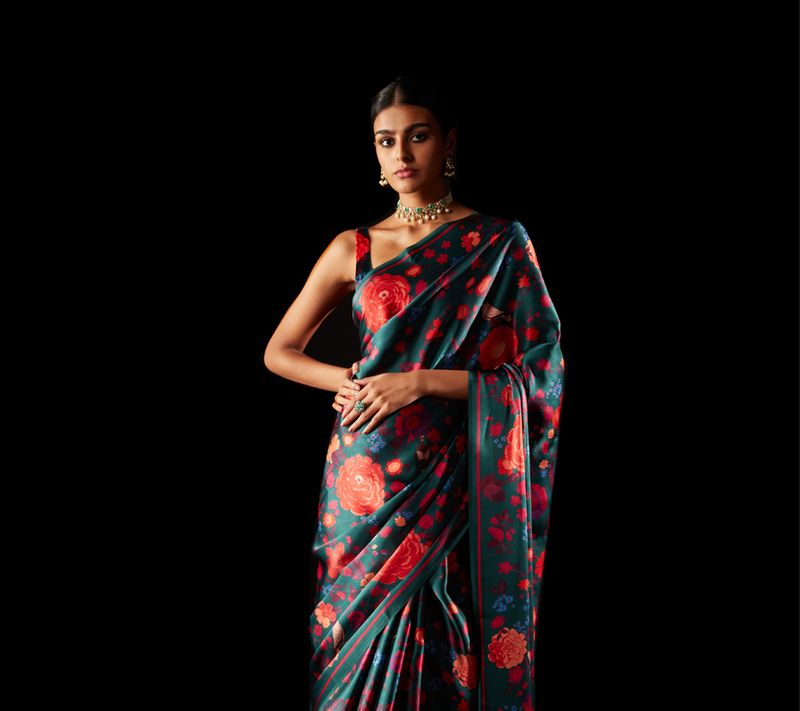 In contrast, he describes his label as an ongoing process that involves adopting measures to reduce carbon footprints. However, he is honest in not describing it as fully sustainable and does not give in to the trend of greenwashing. The designer has tried minimising wastage by repurposing the brand's textile leftovers. "I haven't let anything go. I'm still holding onto all of the textile leftovers till date with the hope that someday I'll get to design a restoration line or collaborate with NGOs for any CSR programme," he signs off.
---
Photo: Featured brand