The elements of nature have never been confined to a particular sector or society; they have played a vital role in architecture, art and culture for centuries. "Throughout history, nature has always been an important element of fashion, but its aesthetic appeal always shifts with the times. Blending traditional craftsmanship with modern silhouettes is our way of being approachable to the younger generation," explains Hyderabad-based designer Archana Jaju, well-known for her hand-crafted designs.
From actor Soha Ali Khan flaunting a lustrous kurta featuring bird motifs to Vidya Balan in a beautiful floral saree, Archana's signature kalamkari art designs with nature-inspired designs are synonymous with style mavericks. Her new collection is also similar - drawing inspiration from the endangered red-crowned crane. "The red-crowned cranes are a symbol of good luck for me. The fact that there were only a few in the 20th century and now there are close to a thousand shows how resilient and strong nature is. As a result, it inspired me to share the same values in life," Jaju explains. Through intricate embroidery and a tranquil colour palette, the ready-to-wear collection, titled Revival 2.0 celebrates the beautiful bird.
Reviving kalamkari with Revival 2.0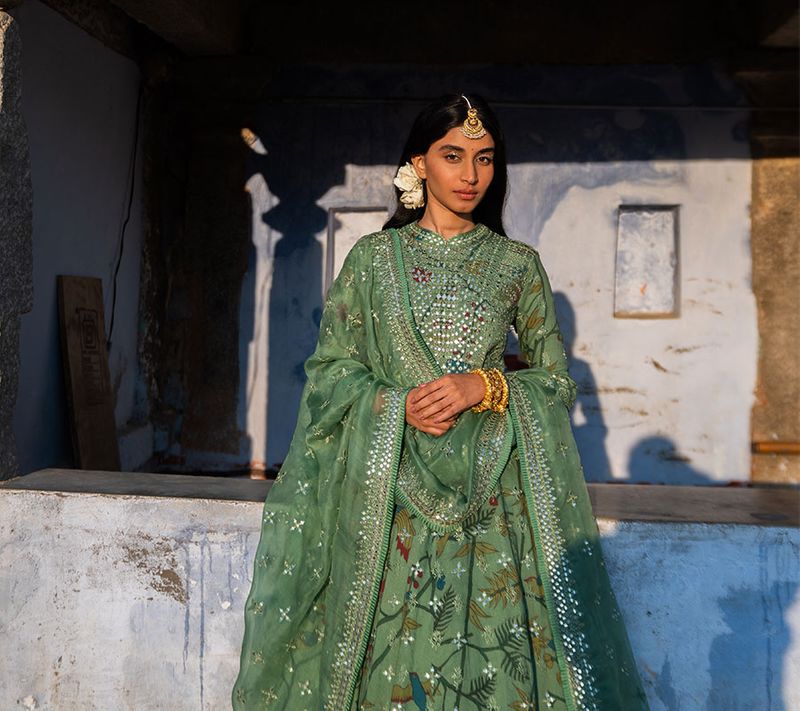 Reviving Indian crafts especially Kalamkari art (a type of fabric printing traditionally done on cloth using only natural materials) is something Archana holds vital to her design label. "As a designer, I found my signature style and niche in Kalamkari art. The entire process from using natural dyes to fusing the traditional art form with the contemporary styles of today is something that fascinates me," she adds. Relaxed silhouettes from the collection feature tantalising embellishments of thread, sequins, and mirror work showcasing these cranes as nature's ballerinas.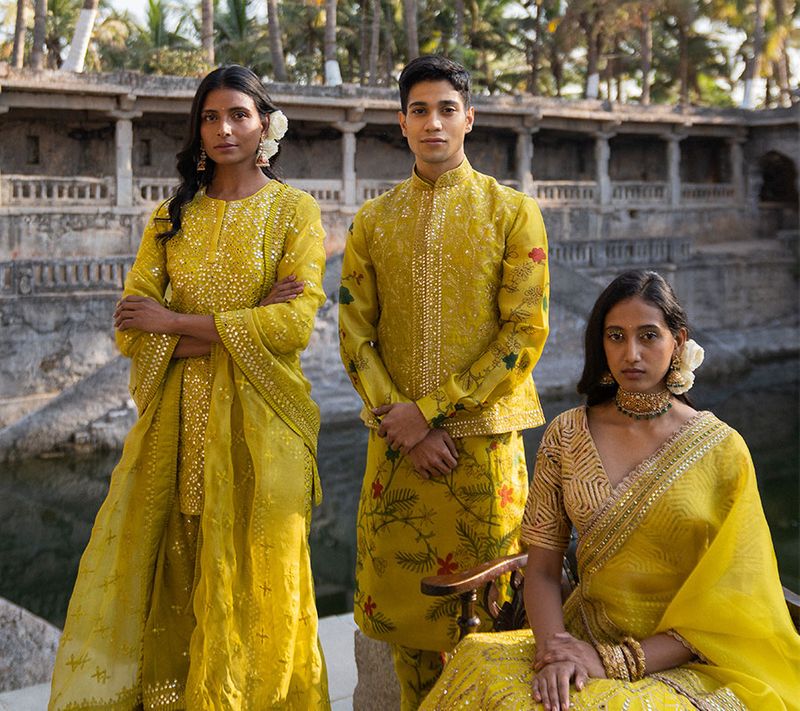 For Revival 2.0, she has taken the story of an endangered bird species for resurgence and turned it into a collection that supports local art too. While the new collection is an extension of the previous collection, Revival, it still channels this bird's delicacy and indomitable strength through intricate embroidery and tranquil colour palettes. "As compared to the previous collection featuring neutral and pastel tones, this one is rather set on a fresh colour palette with bright hues of pink, blue, and yellow. The tale of the red cranes was exceptionally significant to me, and it's a story I wanted to carry forward," Jaju adds.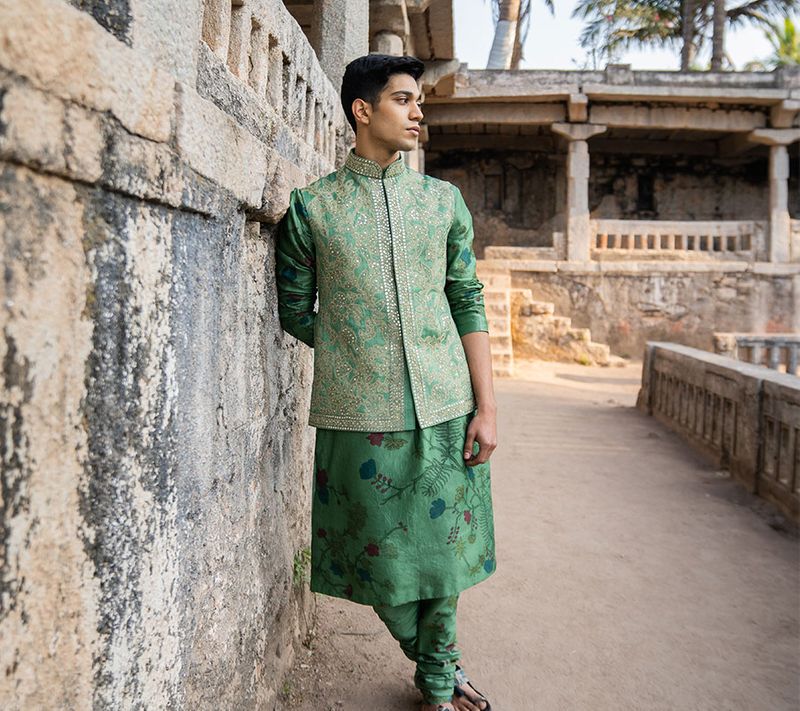 Paying homage to the age-old Kalamkari craft, the collection showcases anarkalis, lehengas, saris, shararas and kurtas for women dipped in fresh tones like yellow, pink, beige, ivory and green offset by the use of fabrics like organza, chanderi and lightweight silk making it perfect for occasion wear. "We've experimented with various styles like reimagining the anarkali, blouses, kurtas with a modern silhouette. We stick to minimal handwork as we want our consumers to be able to re-wear our sets by mixing them up with various separates," she adds. The men's collection is a mix of kurtas and bundi jacket sets. 
Next-gen buyers and their love for handicrafts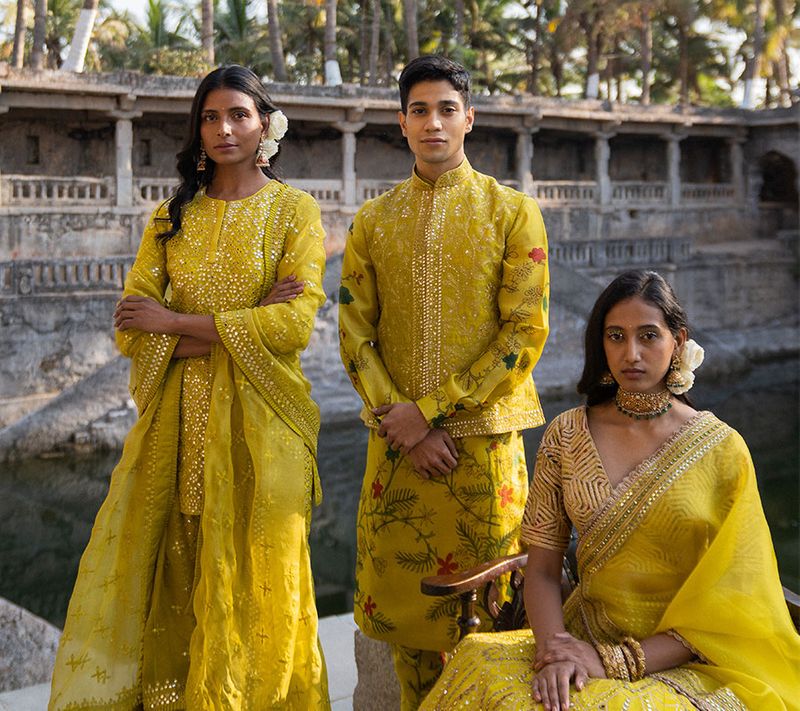 "My family has always been in the textile industry and I'd been exposed to its workings from a younger age itself which allowed me to get an extensive experience of the same," Archana opens up. The designer has always strived at taking inspiration from the deeply rooted traditions of kalamkari art form and added a contemporary touch to it. Exclusively hand-painted by the artisans and intricate detailing of elements is what makes these pieces unique. "As more designers incorporate Indian craftsmanship into their designs, these artisans are slowly getting the respect they deserve. This has also led to karigars upgrading their skills and learning new techniques," she adds.
In today's time, dialogues about artisans and their empowerment are synonymous with sustainability in fashion. "Sustainability is a way of life, and that includes being empathetic to the artisans and providing a good working environment for them. It's time we care for the karigars. They're the root of our culture and craftsmanship. As a designer, my visualisation and creative expressions are brought to life by these artisans. Thus, uplifting them and empowering them is of central importance to me," Jaju explains.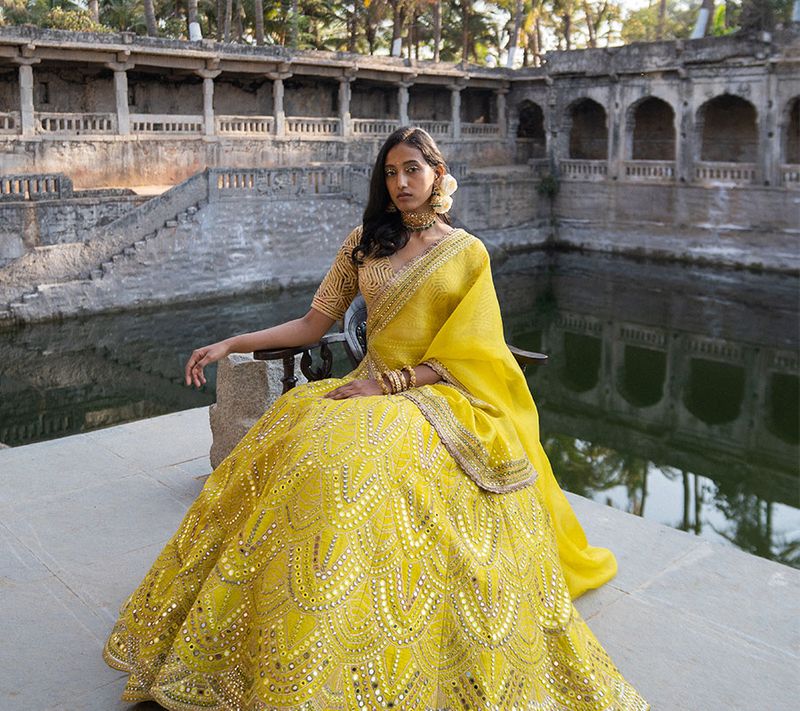 Earlier when we used to say handcrafted, it loosely used to conjure up images of boring silhouettes in exhibitions. But next-gen buyers have turned to these handcrafted artworks that are becoming more than just a buzzword. "Actually, the pandemic has allowed the younger generation to look at the culture that our country represents and admire it. Today, even the youth is taking baby steps to purchase handloom pieces because they realise how timeless they are. So instead of picking trendy ones, they do like opting for something that has a longer span in fashion," Jaju enlightens on how new-gen consumers are open to purchasing these crafted silhouettes over "on-trend" pieces. 
For the temperate climate across most of our country, handloom started with just being a statement among new generation people and for corporate wear, but its comfort and breathability make it an ideal option for our country. "When it's summer, then comfort needs to be firsthand. So lightweight fabrics like organza and light chanderi are ideal. Easy and effortless styles like kurtas, tunics and sharara sets are the perfect picks for summers," she shares.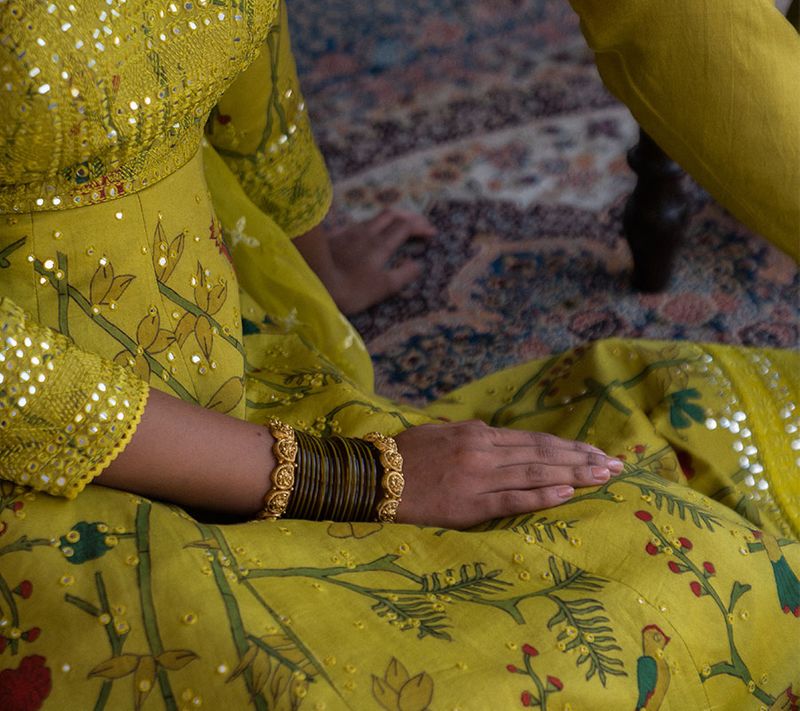 Handloom bridal trousseau?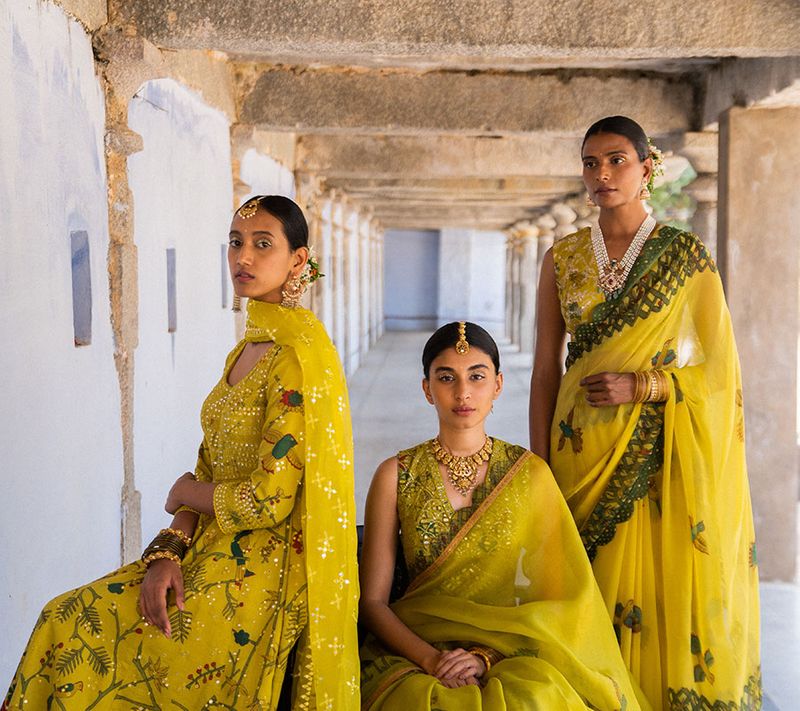 Traditionally, India has had a rich heritage of handicrafts and handlooms. And these age-old crafts are making an entrant with bridal wear taking a fresh turn with traditional weaves and a focus on textile. "In today's time, brides and grooms pay much focus on sustainability and reusability. A lot of younger brides and grooms wish to carry a piece of their Indian roots and tradition with them, and handloom textiles are now what they're slowly looking forward to," Archana throws light on.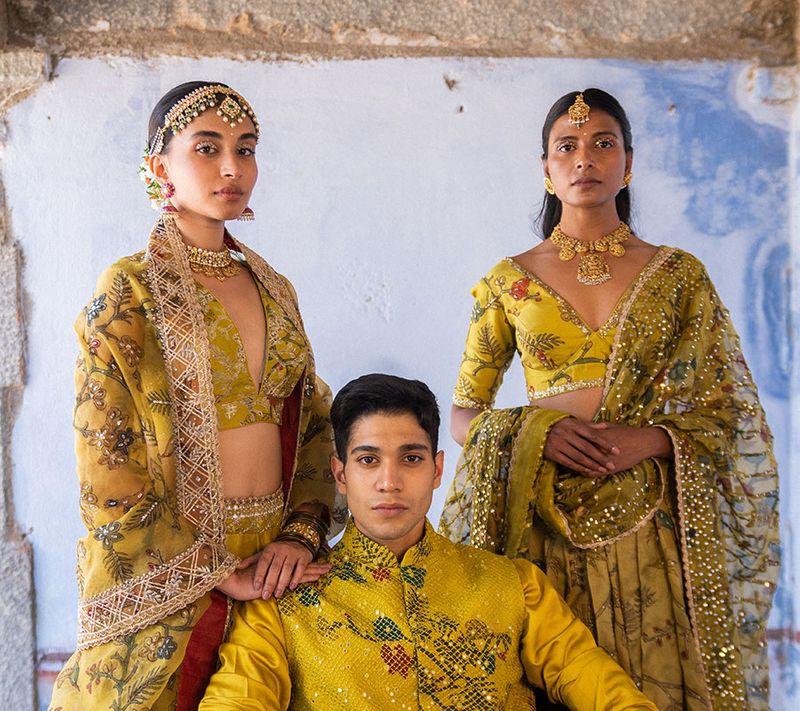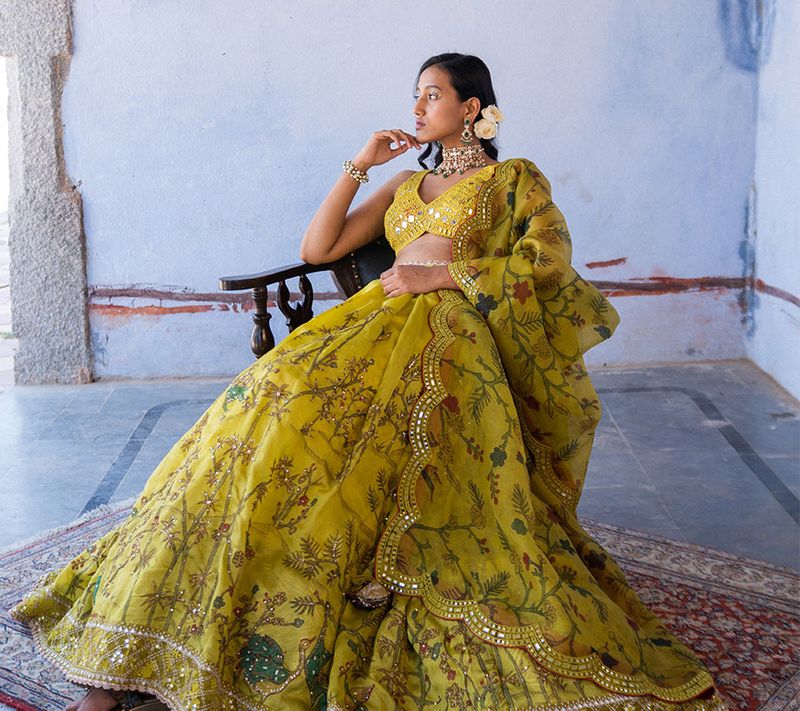 The repeat value is vital. "While building a trousseau, handloom textiles are great investment pieces to add since they can be passed down generations and worn multiple times by styling differently," Archana throws light on. For example, the lustrous Banarasi weave has lately become synonymous with giving wedding couture a handloom touch. Such an outfit can be worn again to your friend's wedding or other occasions, making it a mindful choice.
---
Photo: Archana Jaju