Admit it, at some point in your life, if not multiple times, you've had to deal with a wardrobe crisis. You know that moment when you look at your overflowing shelves and "don't have a thing to wear"? This tends to happen the most when we are heading out to a party and need to bring our A-game. But what if we told you about this silhouette that comes to the rescue without making you a fashion victim. What's more, it is super comfortable, and you won't have to be conscious of your body.
Enter kaftans: The breezy and laidback silhouette, the pandemic's fashion hero but mind you, they are no longer restricted to resort wear or as vacation staples. In the wake of returning to normalcy, the kaftan has jumped from loungewear to festive wear. With a dash of daring, courtesy slits and other surface ornamentation details, this elongated silhouette is a festive favourite of many.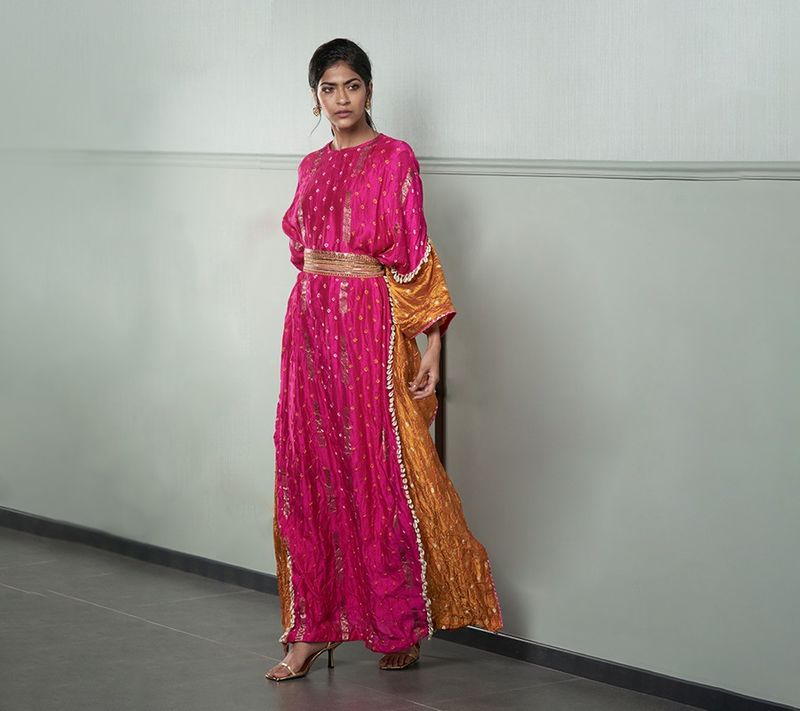 "It's hard to think of another garment more suitable and apt for comfort wear than a kaftan. The billowing silhouette is a universal favourite. From destination weddings to after-parties and receptions, kaftans are one of the most popular outfits, and given the change in how we are celebrating this year, the one-piece-fits-all silhouette is set to come in handy for almost any occasion on your calendar," assures Deepak Shah, founder of the clothing brand November Noon that makes chic and artsy-looking kaftans.
In a country where Bollywood fashion is given the highest nod when following a trend per se, on multiple occasions, we've spotted Kareena Kapoor Khan looking radiant as ever in loose-fitted kaftans, making the most of the festivities. New-gen actor Janhvi Kapoor is also a strong advocate of kaftans and manages to look stunning each time she shows up in one.
"I'm a true believer in comfort and personal choice, no matter what kind of a fashion space one is in. I wear kaftans for festivities all the time, whether they are trending or not. In today's day and age, no fashion or style choice has to be synonymous with any particular era or trend," assures designer Vrinda Sachdev, co-founder of Qbik that has been designing kaftans since 2020 in colour-blocked style, textured, panelled, bandhani with minimal embroidery details like feathers, shells, resham fringes and others. "Basically, we have tried to put it out there that the kaftan is not a boring silhouette. If done well, it can really be a great addition to one's festive wear wardrobe, one that makes accessorising easy as well."
The new-age kaftans
This garment is steeped in history, with roots in what was then Mesopotamia as well as the Ottoman empire. In the swinging 60s when Yves Saint Laurent, Balenciaga and Dior included it in their collections - this hot silhouette received its much-awaited appreciation. It's both red-carpet and wedding-wear chic. Case in point? Hillary Clinton, an undisputed fashion icon in her own way walked down the red carpet at the 79th Venice International Film Festival this year, wearing a powder blue, polka-dotted full-length sheer kaftan dress with silver embellishments.  Or remember when actor Sonam Kapoor Ahuja changed from her Anamika Khanna wedding reception lehenga into an Abu-Sandeep chikankari embroidered kaftan for the after-party?
"People are going beyond lehengas to make their own style statement. In fact, the plus point here is that you'll probably end up standing out from the crowd," Shah brings to notice. The kaftan's versatility is behind its presence in the collections of so many designers and brands. The once-only resorted to poolside kaftans are now reinvented as languorous party dresses, billowing evening-style gowns, and even more structured and tailored ones.
"We have really enjoyed making our kaftan collection. From making kaftans in playful colour blocks for destination weddings and holidays to giving high slits for a leg show for those dinners and cocktails to using bandhanis and traditional colours for festivals and smaller events to making a jumpsuit kaftan saree," shares Sachdev.
Evolved equation of festive comfort-wear
Today's fashion redefines the way we dress - it's more about comfort and conscious consumption as we embrace the festive season. "I feel it's more of a personal choice, which is being exercised now more than ever. After multiple lockdowns and restrictions, most people have finally developed a taste of their own. And with Indian wear, it's not really about what is trending. It's more to do with occasion and destination," says Sachdev. Consumers seek more comfort than style - it reflects the time we live in.
"People are not buying casually for festivals anymore. Comfort along with conscious buying is pretty major, adding that clients are choosing to go for pieces that can be worn and utilised later as well. It's nothing too loud but something more classic, people have understood the meaning of understated luxury," Shah adds.
But it's the kaftan's construction and tailoring that makes it so easily wearable. "Kaftans look great on all women, no matter their shape or size, and help to hide any parts of the body you would not like to be accentuated," Shah tells. With some smart tailoring, kaftans can be manipulated and adapted to fit different body types. "We have paired oversized kaftans with fitted pants and ghararas; added belts at the waist, which is a no-brainer. We have cinched an oversized drape on the upper body with a metal belt at the waist and let it fall straight in the lower half. These interesting pieces can be enjoyed by women of all sizes," explains Sachdev.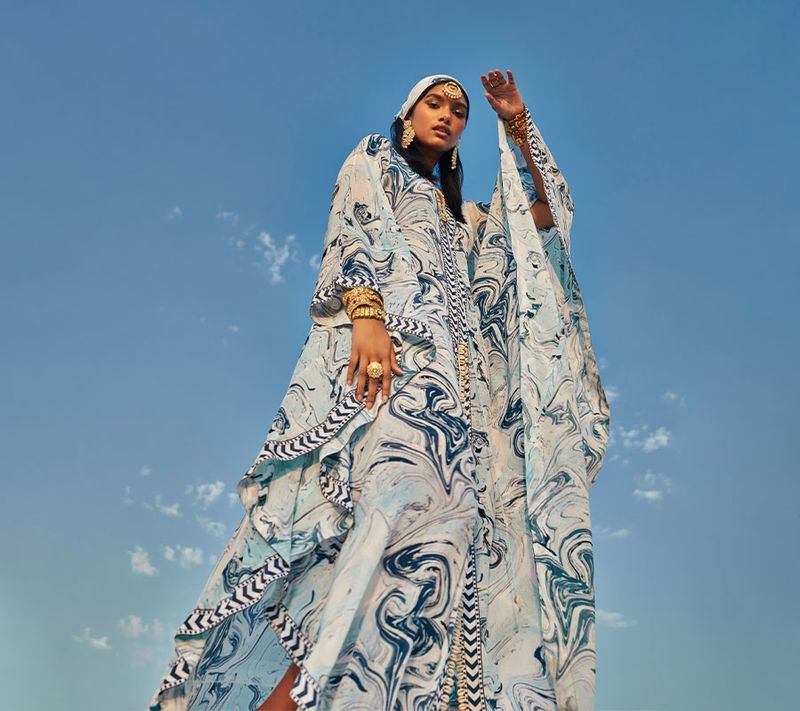 A festive we love
The versatility of the silhouette makes the kaftan the right pick for the festive season. "A classic kaftan in a solid colour, styled with a low hair ponytail, some stud earrings and a classic watch can do wonders. For the one who loves to go OTT, can get all the silver baubles out of the dresser, layer them up around the neck and stack them up around the wrist; and here we have a queen dressed in a kaftan," suggests Sarika Kakrania, founder and designer of the label Pink City by Sarika. "Pro tip: If you want to accentuate that waist and can't relate to the boxy vibe of the Kaftan, bring an embellished belt to the mix and flaunt some curves," Kakrania adds.
Most often crafted using breezy fabrics such as cotton, silk, linen and organza, kaftans manage to tick all the right boxes for festive occasions. "Look for eclectic prints, lightweight fabrics and trimmed lengths in your kaftans that will serve well even beyond the festive affair," advises Shah.
The kaftan is laidback, but it flirts with danger with its anything-goes vibe. Whether you're looking for easy-to-style kaftans or want to wear something comfortable, there's something for everyone:
1. Mudail silk and crepe kaftan, Rishi & Vibhuti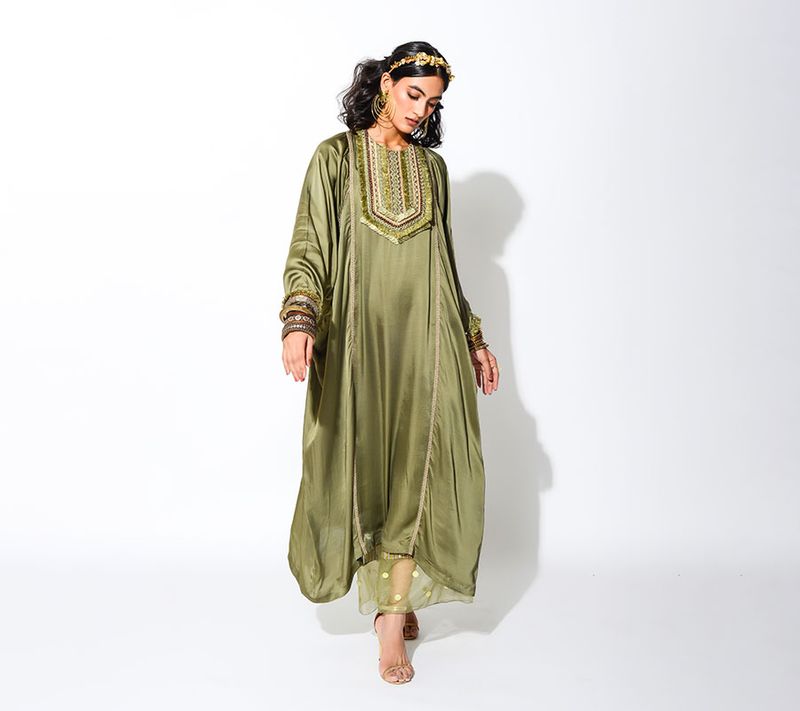 Soothing sorbet hues surely deserve some love in the fall season. Designer label Rishi & Vibhuti's olive-green kaftan pick crafted in mudail silk base makes the ideal choice, which comes with edgy embellishments done with dori and mirror work.  
2. Linen-panel led kaftan, Charkhee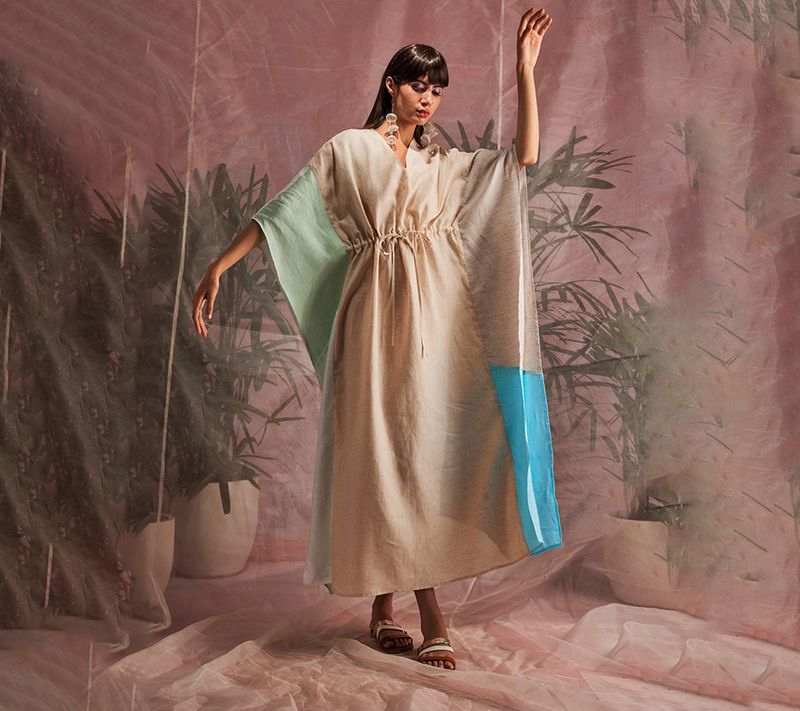 Looking for an outfit for your evening soiree? Label Charkhee's contrasting colour-block kaftan weaved in linen is a must-have for anyone who loves silhouettes throwing the spotlight on minimal accents.
3. Ombre bandhani kaftan, Pink City by Sarika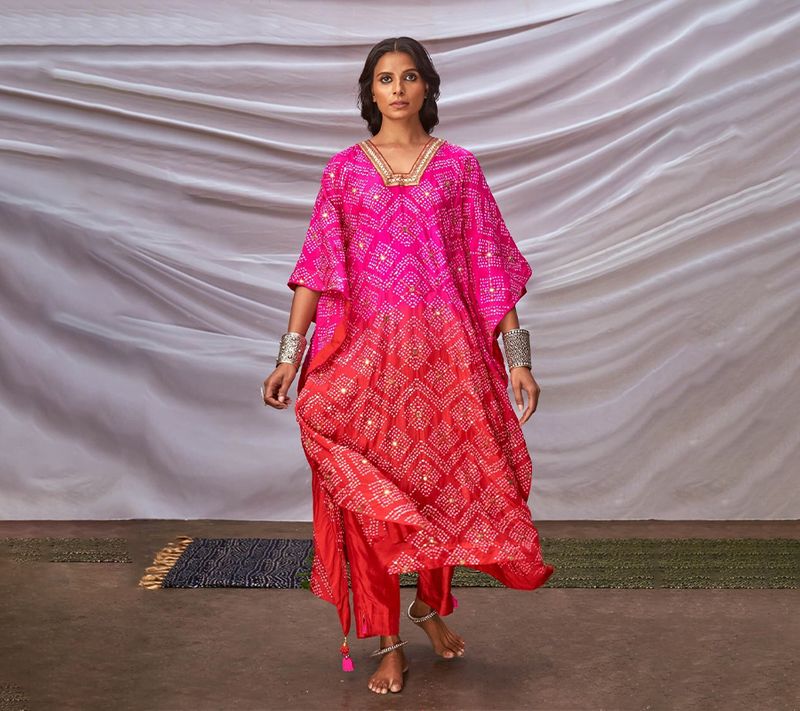 Leave room for experimentation and don this ombré kaftan in striking hues of pink and red from Pink City by Sarika. The distinct bandhani patterns and sequins embroidery adds a unique character to the ensemble.
4. Flaming red leaf print kaftan, Arpita Mehta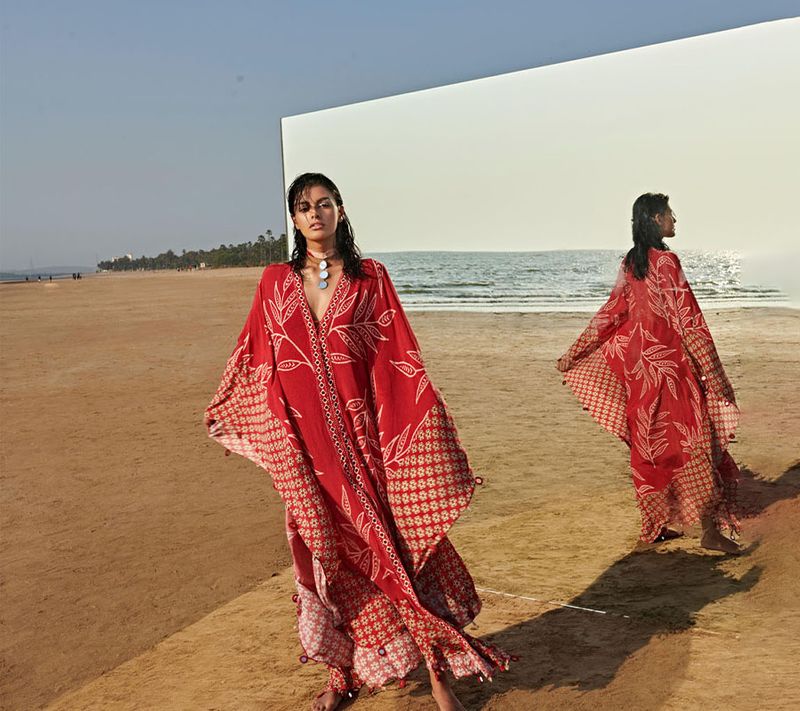 Designer Arpita Mehta's ravishing red kaftan piece with leaf and butti print is an ideal choice for a minimal aesthetic lover. The shell detailing gives a nod to the beauty of festive flair.
5. Mukaish silk-embroidered kaftan, Payal Singhal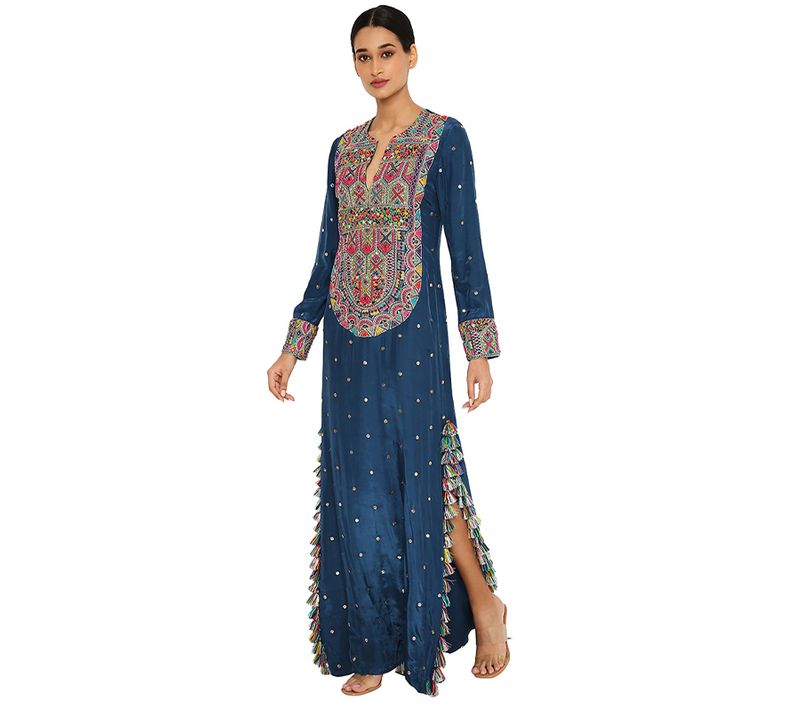 There's no denying the appeal of jewel tones, so why not pick a bold kaftan this season? Designer Payal Singhal's midnight blue coloured kaftan helps to bring an impactful look.
6. Darkha pink kaftan set, Saundh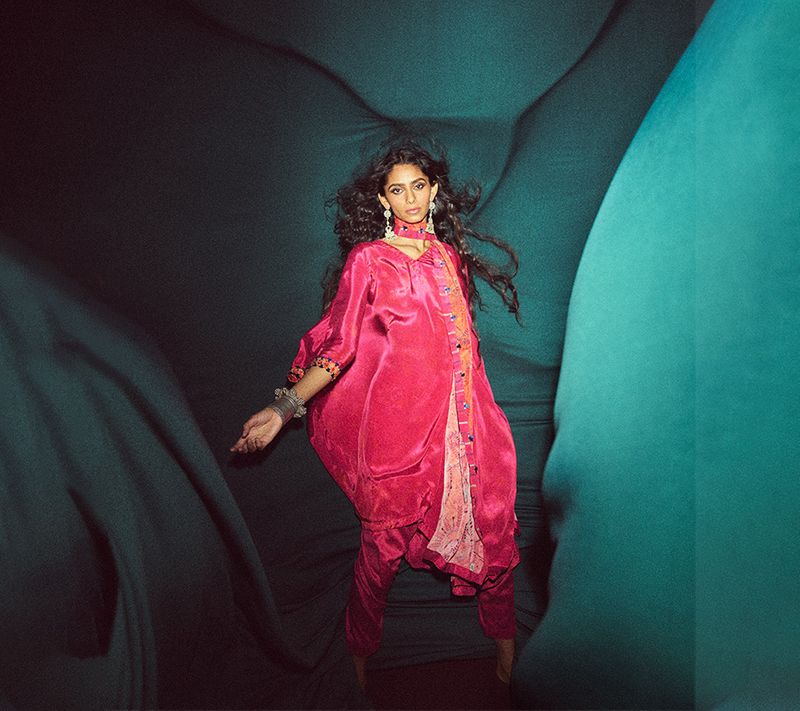 You can't go wrong with a designer label, Saundh's bold pink coloured kaftan styled loose fitted pink kurta set. Love a little lace? Don't miss the contrasting fringed lace at the sleeve that simply adds to the outfit's charm.
7. Georgette printed kaftan, Tamanna Punjabi Kapoor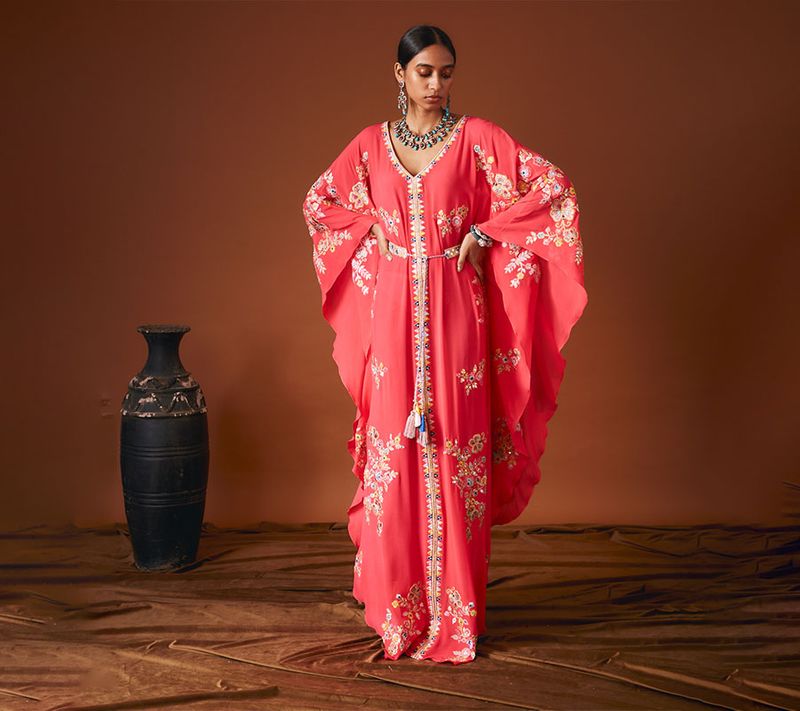 Say what you will, nothing beats the appeal of a printed kaftan. Play with florals via designer Tamanna Punjabi Kapoor's bright pink pick crafted in georgette. With the floral motifs with foil, mirror and gota embroidery, this kaftan can make standout in the crowd.
8. Textured silk kaftan set, trueBrowns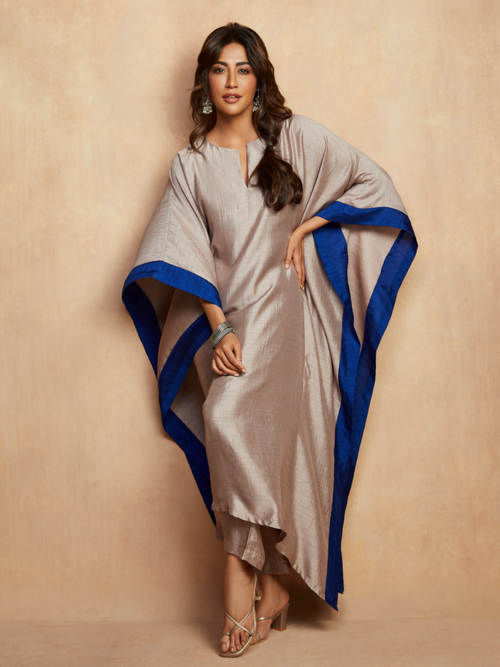 Fuss-free, yet fun, a monochrome version of the staple is a wardrobe must-have. Label trueBrowns' silk-blend kaftan set come with a contrasting blue border that adds festive elegance to the piece.
9. Jasmine kaftan, November Noon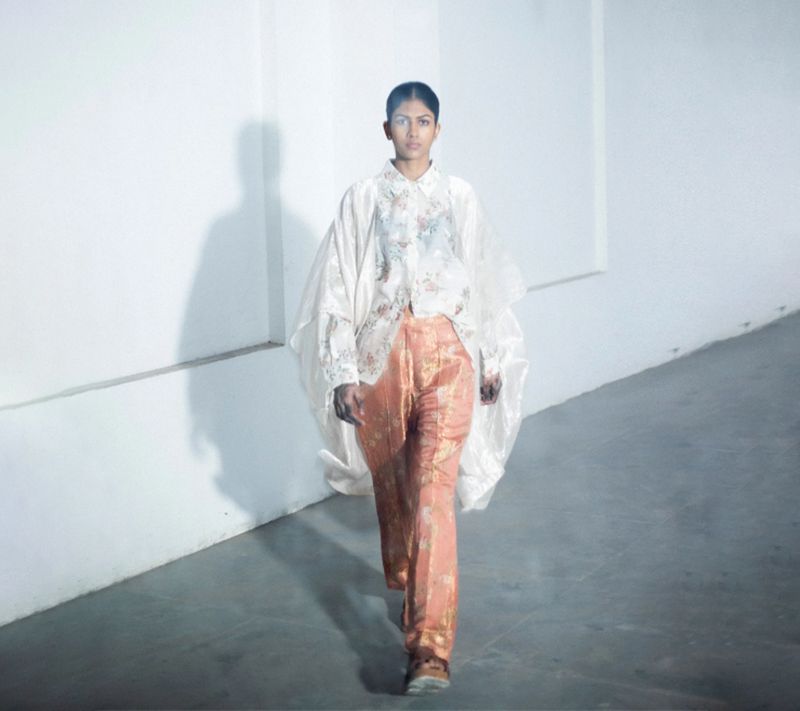 You don't always have to go ethnic to vibe with the festivities. November Noon's chic, semi-sheer, front-open kaftan adorned with silver zari pinstripes can elevate the elegance of any look, with whatever you pair with.
10. Maroon striped silk kaftan, Libas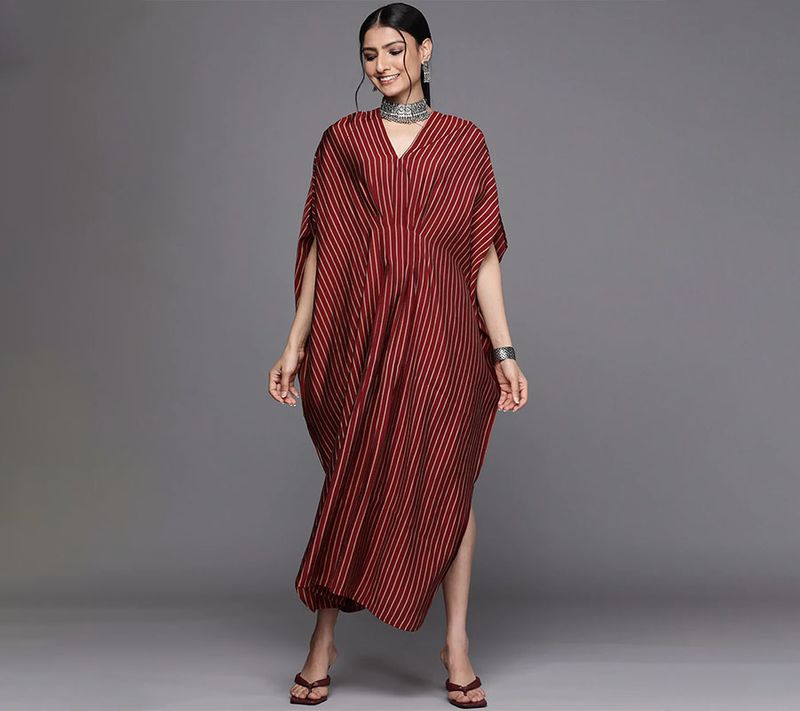 Look breezy in this ethnic-contemporary kaftan pick from the high-street clothing brand, Libas. Crafted in silk, the striped, maroon kaftan can attract quite a bit of attention. The stylish side slits and delicate cinched detailing around the waistline amp up the style of the silhouette.
11. Two-toned silk kaftan, Qbik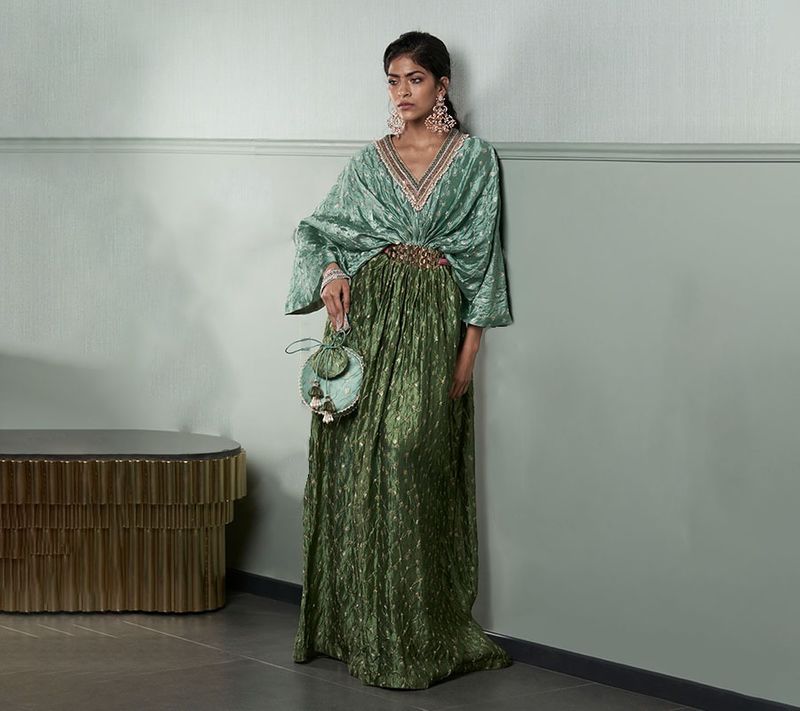 Every now and then, more really is more. For your next festive gathering, why not celebrate it with a vibrant kaftan? Designer label, Qbik's two-toned kaftan in mint green hues is a dreamy ensemble. With colourful beads, metal sequins and pearl droplets, this one is a must-have for anyone who loves a little drama with their outfits.
12. Abstract-printed kaftan, Saaksha & Kinni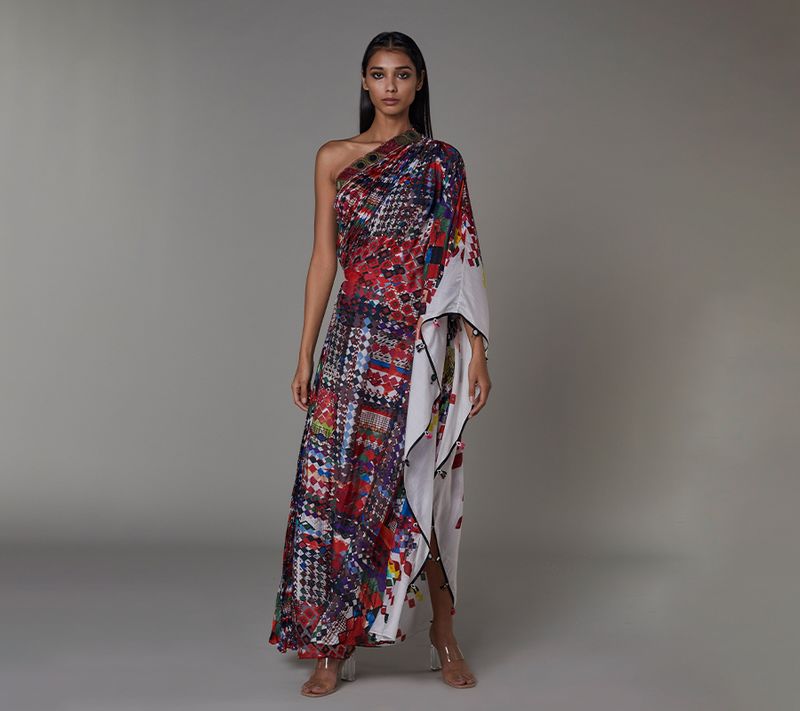 For those who never shy away from a strong dose of prints, designer label Saaksha & Kinni's abstract-printed, one-shoulder kaftan with hand embroidered mirror and thread work is as eye-catching as it is comfortable.
---
Photo: Instagram/Sonam Kapoor; Instagram/Janhvi Kapoor; Featured Brands