It's not just music videos that work as great inspiration for your makeup, but stars really dial up the glam when it comes to their tours. Just like singer Neha Kakkar (who is known for her natural, dewy looks) on her recent tour of the US. The multi-city tour saw the popular singer flaunt different looks that were uber glam and stage-worthy, yet something you could try in real life too. Kakkar's glam-partner-in-crime is hair and makeup artist Vibha Gusain, who even dolled up the singer for her wedding, and works on her TV appearances too.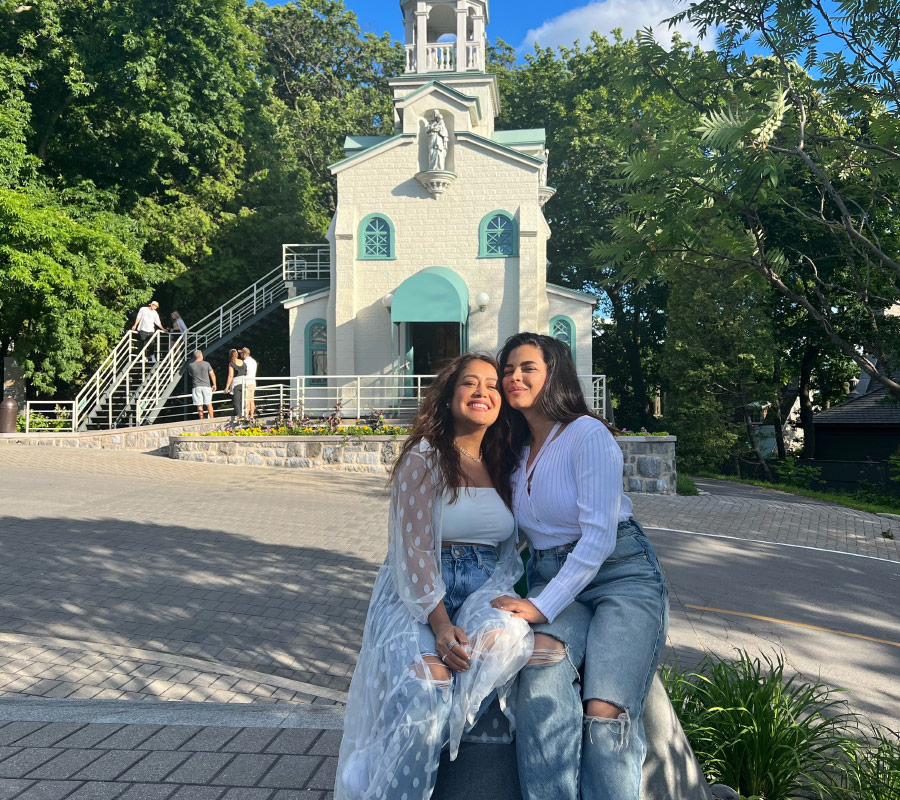 Kakkar says that she zeroes in on her complete look for any appearance or shoot on her own beforehand but she always shares ideas with her stylist and make-up artist for feedback. For Kakkar, it's always comfort over trend. "I feel confidence comes from being comfortable rather than overdoing things to achieve a particular look. Keeping it simple and understated works every time," says the star singer. 
Her makeup favourites are simple too, she says – long lashes, shimmery eye shadow, dewy skin and lots of mascara. "Only when I'm comfortable will I be able to give my 100 per cent on stage. So, I like to keep that balance between fashion and comfort. What really excites me is that we can experiment a lot these days and satisfy our inner creativity to the fullest," she further adds.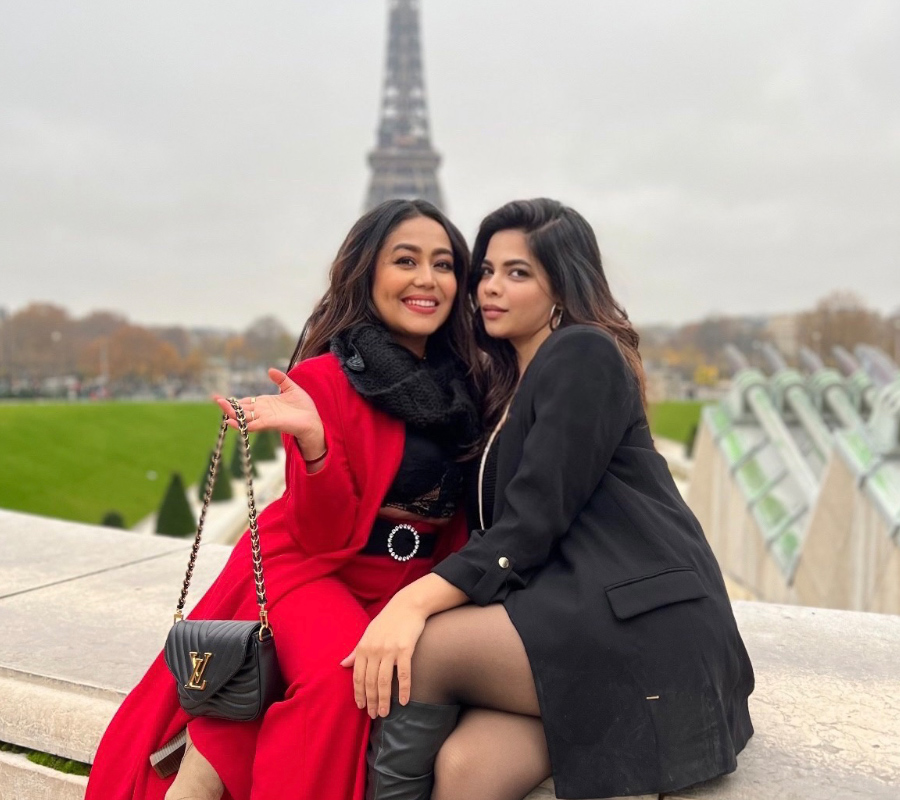 For concerts, she says what is most important is that her makeup doesn't wear off or run when she performs for long hours under harsh light and it is crucial that the look is maintained throughout  Her final look is based on the kind of event where she is going to be singing. And after careful consideration, Kakkar and her glam squad mutually decide on the makeup and the outfit, she says while explaining the whole process.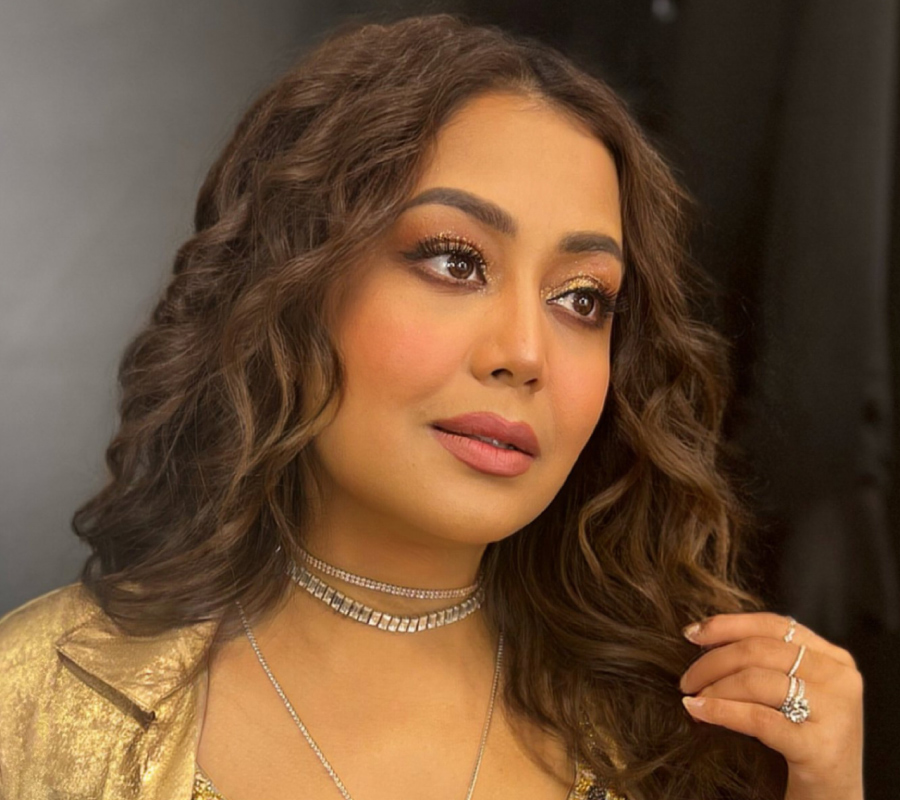 For instance, for the US tour, Kakkar wore variations of curly and wavy hair, as an ode to her original look when she entered the industry. "Long, curly hair is a part of Neha's identity, so we decided to make her look special on stage. But we created different textures such as waves, mermaid waves, textured curls, sometimes we added braids. There is so much you can do with curly hair too," says Gusain.
"Like any other girl I love to dress up and use makeup from the time I was a teenager. I believe in less is more. As for social media, it can be inspiring. However, the aim is not to replicate but to create something which I can relate to and has my own input and personal touch. Of course, I love shopping and I always pick up products abroad while travelling," Kakkar reveals.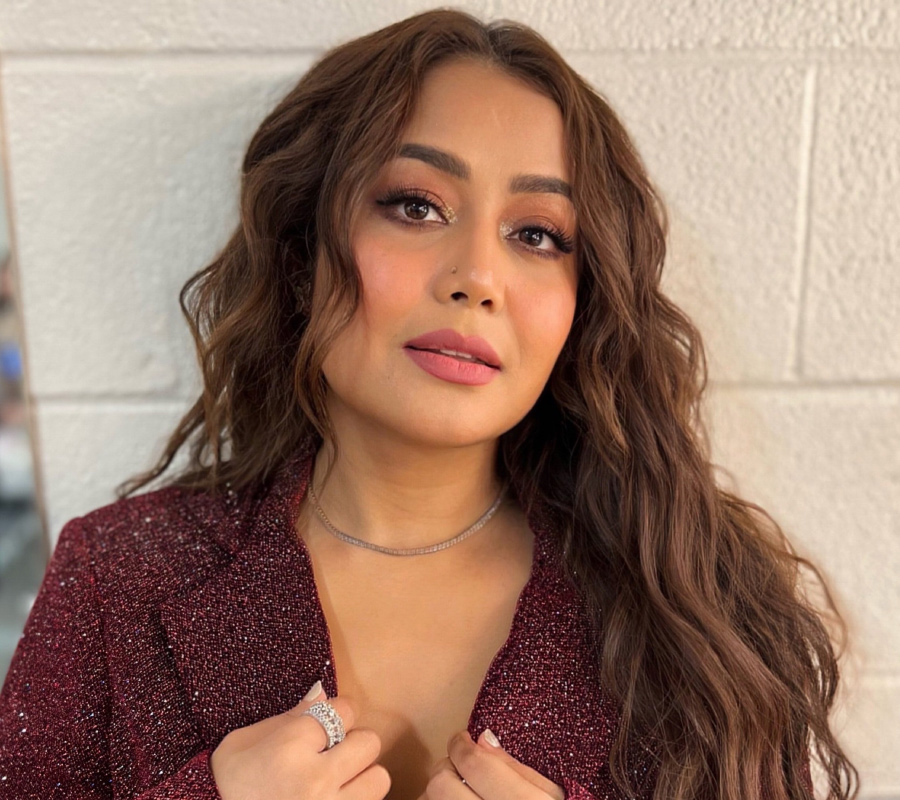 Gusain says that the team went all out for her recent concerts. "When you are performing and the stage lights are strong, if you go natural, it will just disappear. I had to go strong with the concealer, foundation and eyes, and amp up the makeup to make her look good on stage. Most looks are strong on the eyes, full of glitter and shimmer, and very dramatic. Use a little less product, and you can try these looks for your functions or events too. We did a colour pop on the inner corner of her eyes with a simple smokey look in a few. We also  tried coloured liners to add a dash of colour. One thing that was common ere the dramatic lashes, but we only added those to the outer corners of the eyes to make them look elongated and bigger. Even the winged eyeliner was just the tip and did not cover the whole eye. I have even used double lashes at times for added drama," explains Gusain.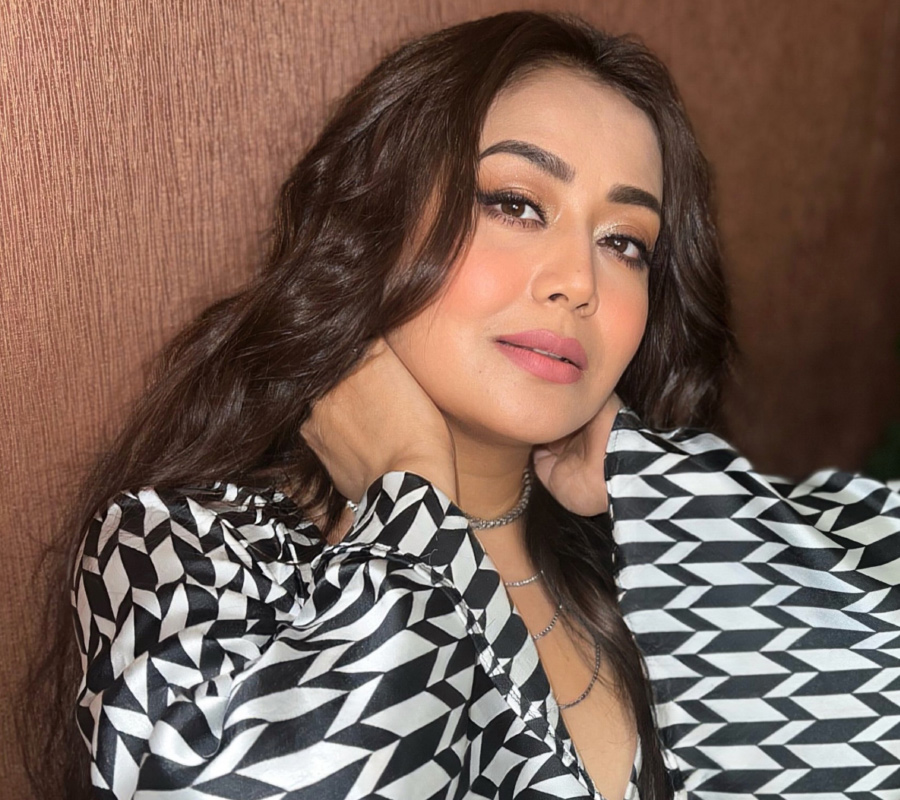 In addition to coloured liners, an easy look you can try is by adding tiny crystals on the eyes, paired with neutral makeup. "For Neha, since these were stage looks, we used a lot of bronzer even for the neutral looks, and strong contour depending on her look. Even when the makeup was nude, we used lots of highlighter, metallic eyeshadows on eyelids and glossy lips to make a fierce neutral look which sounds natural in theory. Still, the execution is strong," says Gusain. For some of her looks, the artist exaggerated Kakkar' slower lashes, be it curled like a doll, or like a '60s model Gusain shares that Kakkar loves the inner-eye corner pop look.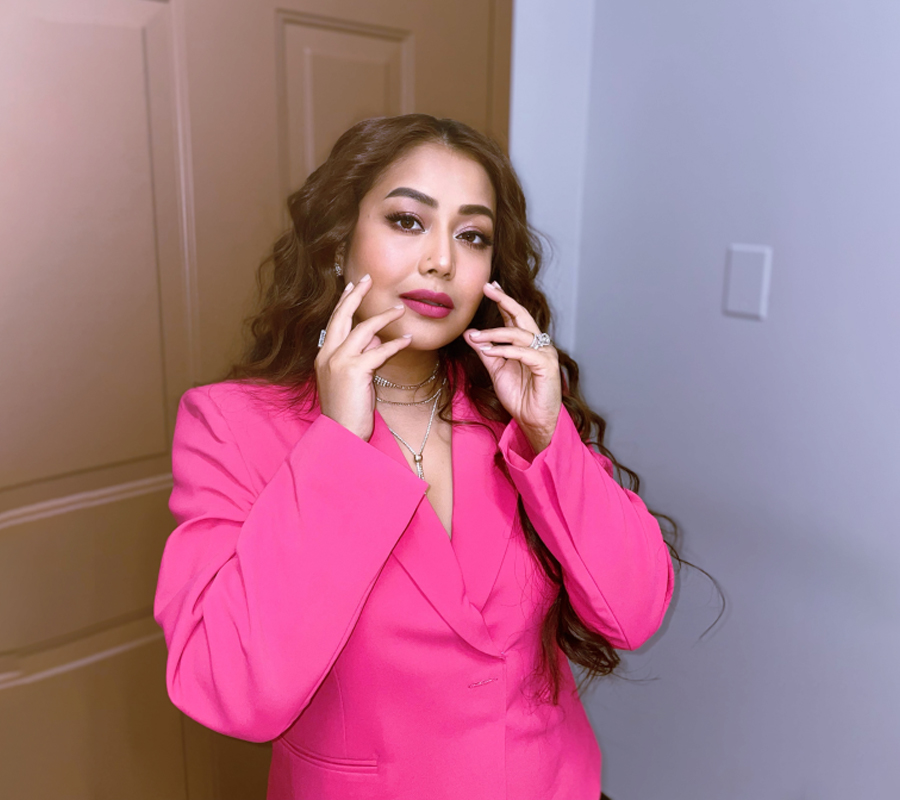 Lips were equally highlighted. Gusain used nudes, hot reds and pinks, lined and shaped her lips, and plumped them with gloss.  natural exaggerated her lips shaped and plumped, glossy. Gusain had to keep in mind that since they were touring different cities, she would only have 45 minutes to get Kakkar ready, so the looks had to be simple, quick, but impactful.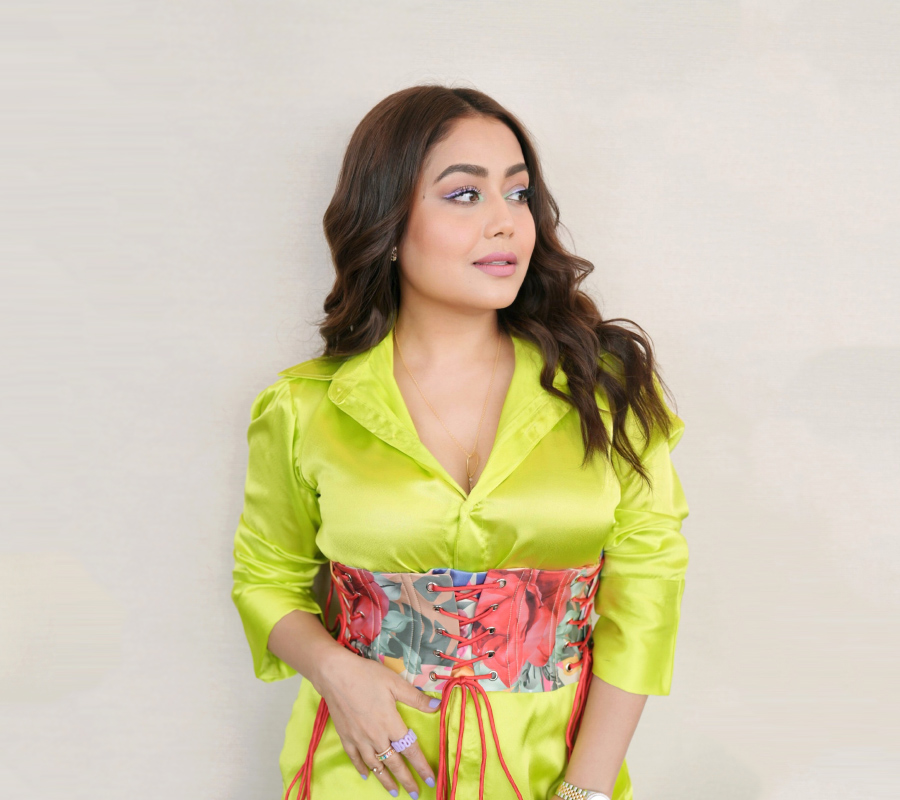 Brands that made Neha Kakkar shine on stage
VIbaha Gusain shares that the crystals and glitter used for Kakkar's looks were something she picked up from a nail store. "They are basically what's used as nail embellishment. We also put a lot of focus on the eyes during the concerts and my favourite eye shadow palettes are by Patrick Ta and Pat Mcgrath. I also used the Dior Backstage highlighter, and the bronzer by Charlotte Tilbury," shares the artist. 
Gusain also used a Nars concealer and the foundation is from Bobbi Brown. "For colourful eyes, choose a colour that complements the outfit or gives a poppy contrast. For Neha, we picked neon colours as per her outfit. Suva beauty has amazing shades. For the smoky looks, the colour combinations were tones of browns, bronze, black and shimmer," adds the artist. 
Photo: Neha Kakkar