Looking to embrace the ethos of the royal nomad through jewels? Designer JJ Valaya's unique designs that are immersed in luxury and timelessness can now be found in immaculate, precious jewellery as well. The eminent designer has forayed into the jewellery world for the first time.
Unveiled at the World of Valaya, a new flagship store in JW Marriott, Aerocity, New Delhi - the place houses a dedicated section showcasing a range of precious jewellery by the designer crafted in association with Jagdish Jewellers Chandigarh (creators of jewels for the Patiala Royals since 1866).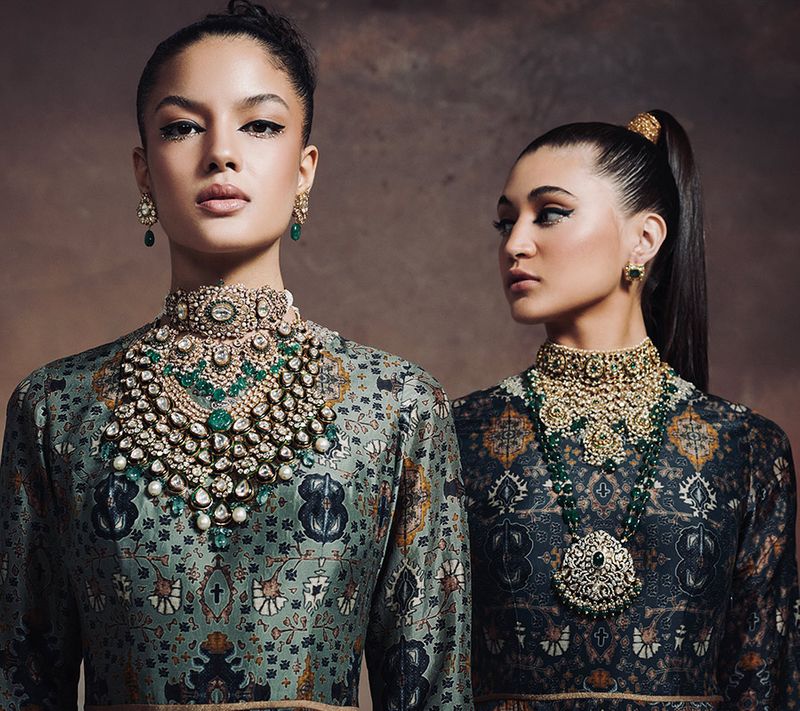 The jewels denote a perfect amalgamation of traditional processes and modern elements, each piece within the collection is exquisite. An ode to the hereditary craftsmanship skills passed down through generations, this collection offers rare, brilliant-cut diamonds and uncut diamonds (polki), inspired by nature and the exquisite masterpieces of India's past.
Featuring precious diamonds, Columbian emeralds, Syndicate polkis, rubellites and Paraiba tourmalines, rose red rubies, south sea pearls, and Persian jasmine pearls, these jewels are set in 18K and 22K gold. The collection honors the traditional craftsmanship passed down through generations. In addition to being handcrafted to perfection, technological innovation has helped create gorgeous textures and complex designs for the jewels. From intricate mathapattis, maharani haars, and long dangling earrings to maangteekas, each of the pieces is a work of art demonstrating Valaya's refined sensibilities that exemplify couture and jewellery as one.
The new luxurious jewels are unveiled at the brand's multidisciplinary space, World Of Valaya which is packed in multiple schools of design. Designed, developed, and curated by the designer himself, the store is a maximalist space that brings together fashion, home, and photography under one roof.
Over three decades, JJ Valaya is regarded as an institution in the industry, and his pieces are characterised by a vintage, decadent quality. If you're looking to add a piece of history to your jewellery collection, take a sparkling detour to check out his first jewellery collection. There's something for everyone of every age and liking.
---
Photo: JJ Valaya