Growing up in a traditional Indian household meant Sunday mornings were reserved for a relaxing hot oil champi. And it was nothing fancy, just your good old coconut oil that has been passed down generations as a miracle oil to nourish the manes. Packed with antioxidants and a fatty acid known as lauric acid, coconut oil for hair is recommended over others because of its superior chemical structure. It is easily absorbed by the strands and reduces protein loss when exposed to chemicals and natural UV rays.
Is coconut oil good for hair? Does coconut oil help hair grow? We answer these and more common questions about this miraculous oil for hair growth.
Coconut oil benefits for hair
A natural solution to boost scalp health, using coconut oil on hair tackles common problems of dryness, frizz, and dandruff and restores lost lustre.
1. Promotes hair growth
Lauric, a fatty acid present in coconut oil, acts as food to nourish the scalp and coat the strands with much-needed hydration. If you are wondering how to use coconut oil for hair growth, try massaging warm coconut oil gently on your scalp using your fingertips. This improves blood circulation which boosts new and healthy hair growth. A healthy scalp will prevent hair fall. You can use coconut oil as an overnight hair mask and wash it off with a mild, sulfate-free shampoo the next morning.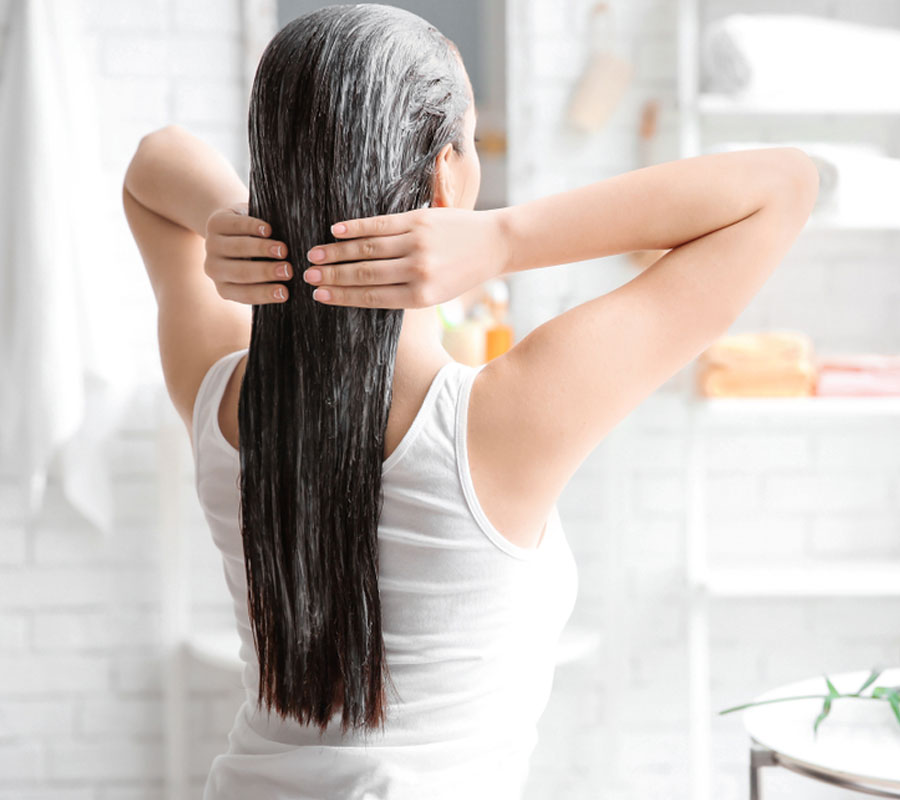 2. Reduces dandruff
One of the main causes of dandruff is a dry, flaky scalp. Coconut oil for hair feeds the scalp with antimicrobial properties that kill dandruff-causing fungi. Unlike sunflower oil, coconut oil has a very balanced chemical structure that makes it easier for strands to absorb nutrients. Regular application of coconut oil combats scalp yeast infection and reduces the production of excess sebum, oil on the scalp, that causes flaky scalp and dandruff.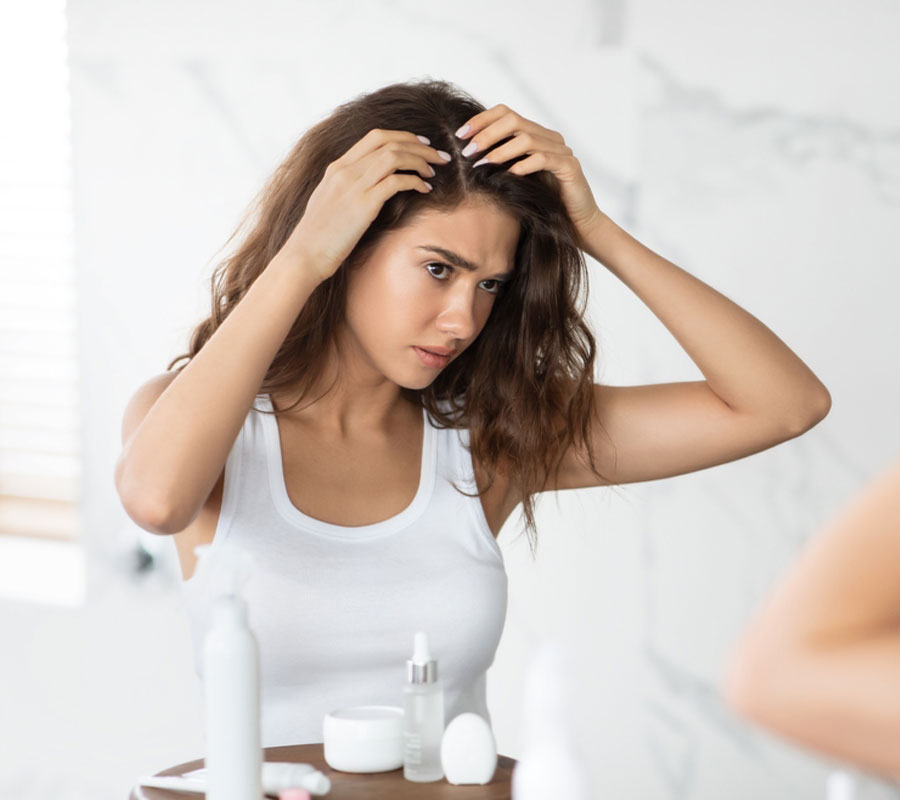 If not treated on time, dandruff causes itchiness and excessive hair fall by weakening the roots of the mane. Try these Oil Blends You Can Make at Home for All Your Hair Concerns.
3. Tackles breakage due to split ends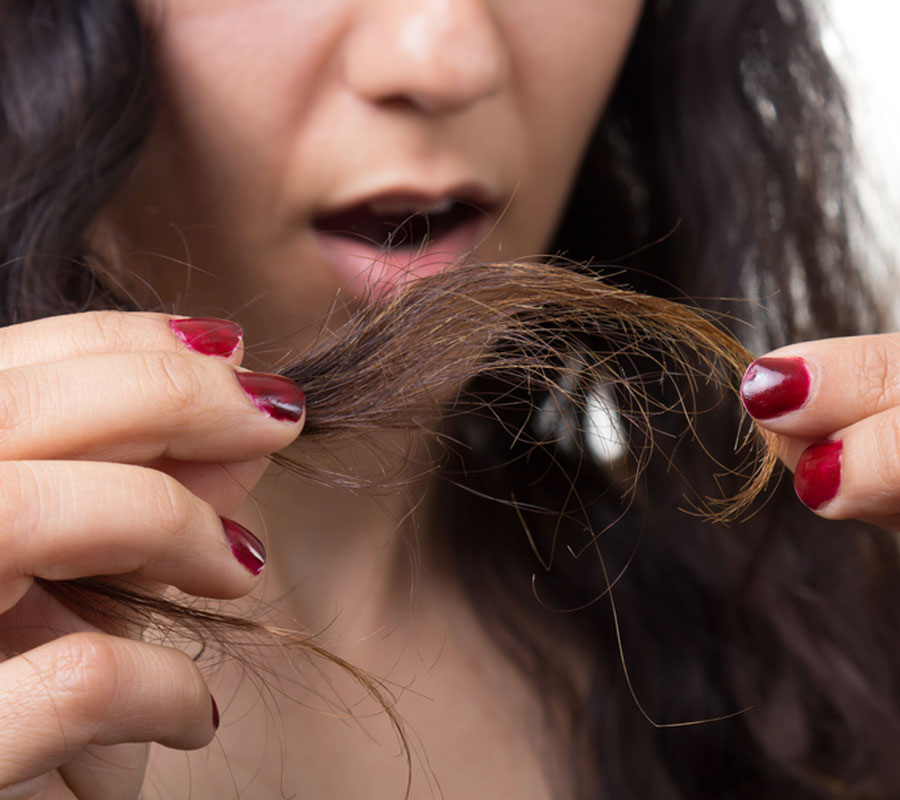 Whether you use cold-pressed, regular, or virgin coconut oil, benefits for hair are pretty much the same. Regular application of coconut oil as a pre-wash protector, conditioner, or overnight mask increases the production of collagen, a protein that acts as a natural remedy to combat split ends and breakage. A light oil that is also rich in nutrients, it gets absorbed in the locks faster than any other hair oil, giving quick and long-lasting results.
If you like to give your hair a good massage, here are 6 Hair Oils To Nourish Your Damaged And Dry Hair.
4. Controls frizz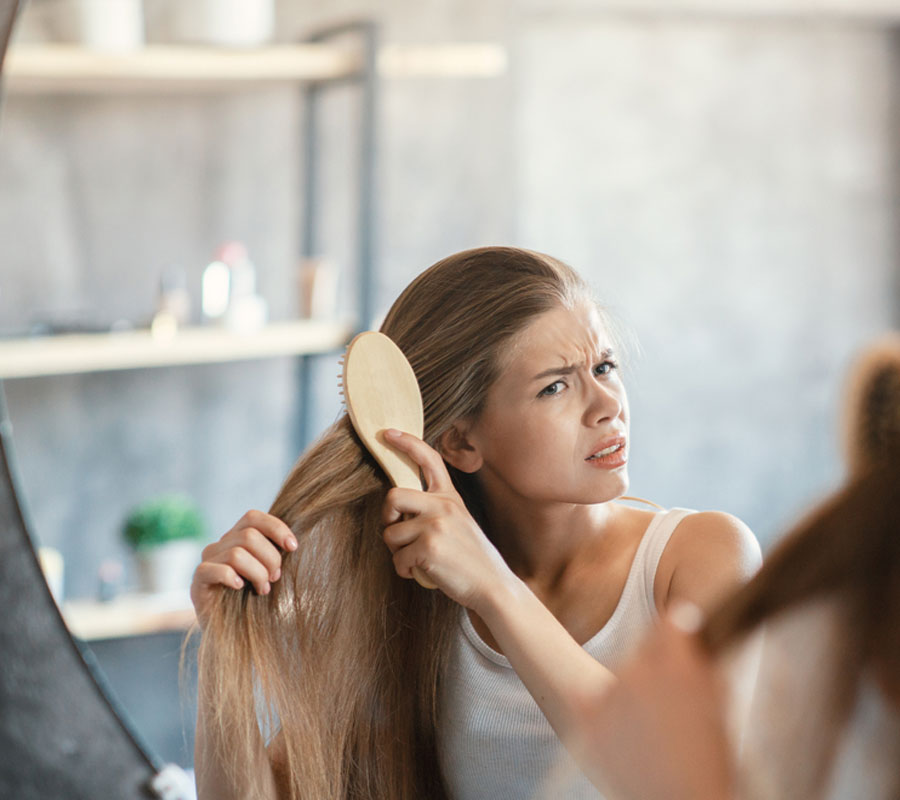 Only a frizzy hair girl will know the struggle of taming those manes every morning. If you are frustrated with making your hair more manageable, give coconut oil a shot. Despite being lightweight, a coin-sized amount of coconut oil applied along the strands will tame the frizz and leave you with moisturised shiny locks.
Lock in moisture the natural way with these 5 Home Remedies to Replenish Dry And Frizzy Hair.
5. Boosts shine and restores lustre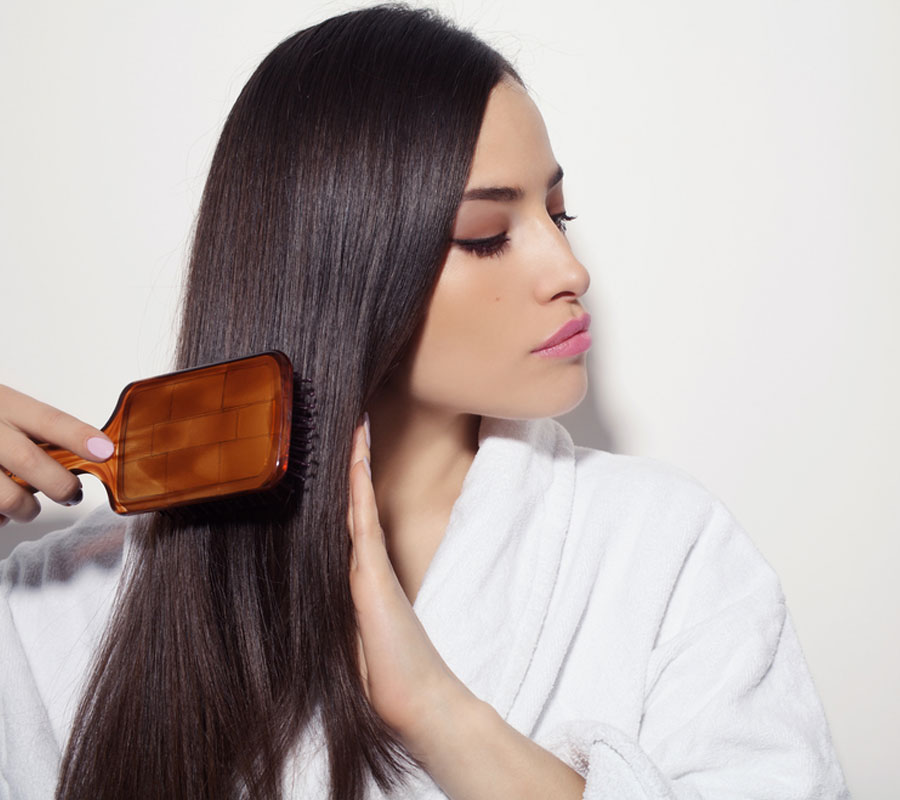 Who doesn't want soft, luscious locks that gleam under the yellow rays and sway gently as the wind ruffles through the hair? What we get instead is dull, lifeless hair that cries for hydration. Among the many coconut oil benefits for hair, shinier and lustrous locks are a prominent game-changer. For centuries coconut oil has been used as a natural moisturiser to replenish dull and dry hair. Fatty acids in the oil penetrate deep into the hair shaft to lock in hydration that leaves the hair looking and feeling healthy.
6. Protection from external damage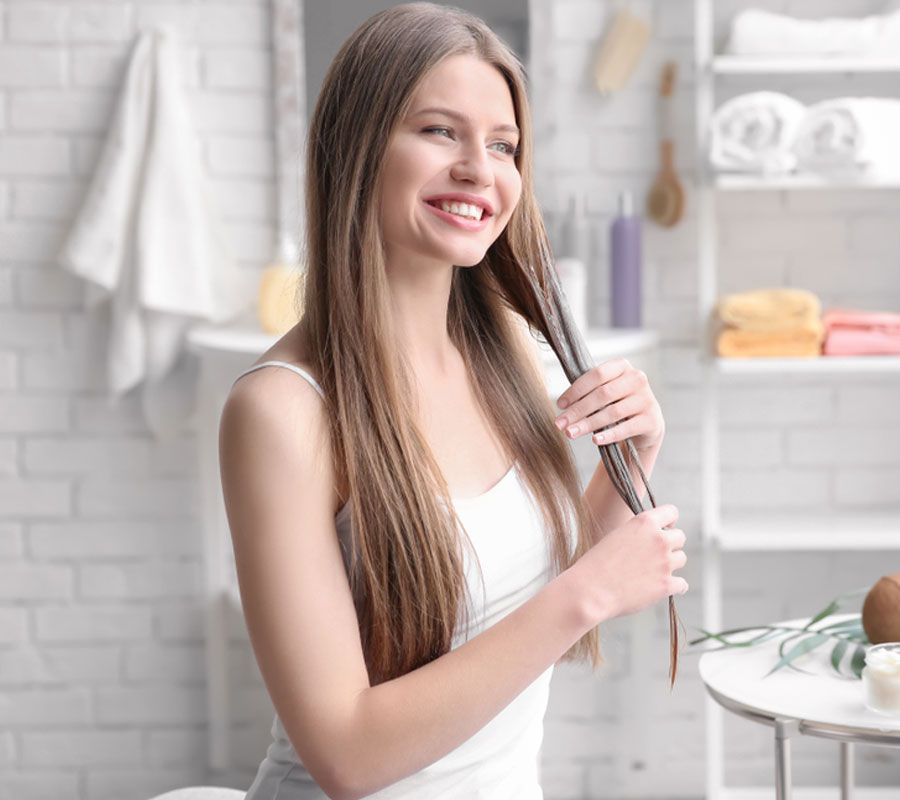 Our hair is exposed to dirt, dust, harmful UV rays, and hundreds of chemical components in the air. Many of these cause underlying hair problems like excessive dryness, frizz, and breakage when left untreated over a period of time. Coconut oil for hair protects tresses from damage caused by free radicals and pollutants. Applying coconut oil as a barrier oil overnight allows Vitamin E present in the oil to condition the hair shaft and restore the hair's natural texture. You can shampoo and condition your hair the next morning as usual.
7. Hydrates hair shaft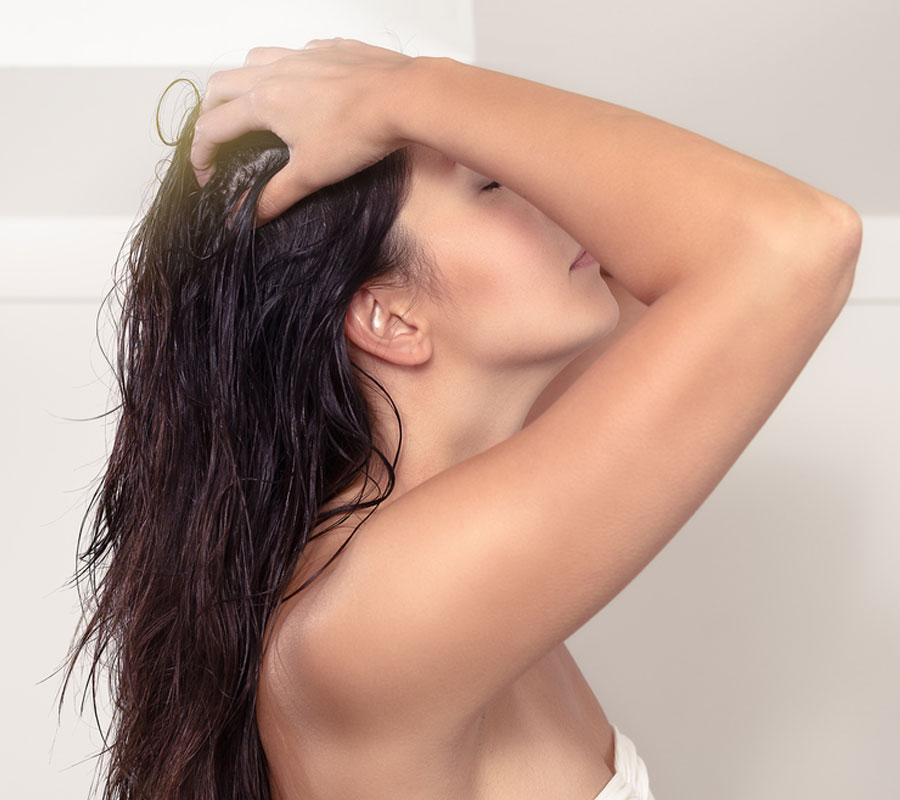 Like every part of our body, the hair shaft also gets thirsty with weather and temperature changes. Regular application of warm coconut oil as a pre-wash protector hydrates the hair shaft and stops the strands from soaking up excess water. When left for longer durations, the oil acts as a conditioner by binding protein and strengthening the hair shaft. You can add a few drops of coconut oil to your regular conditioner and use it for more effective results.
8. Prevents premature greying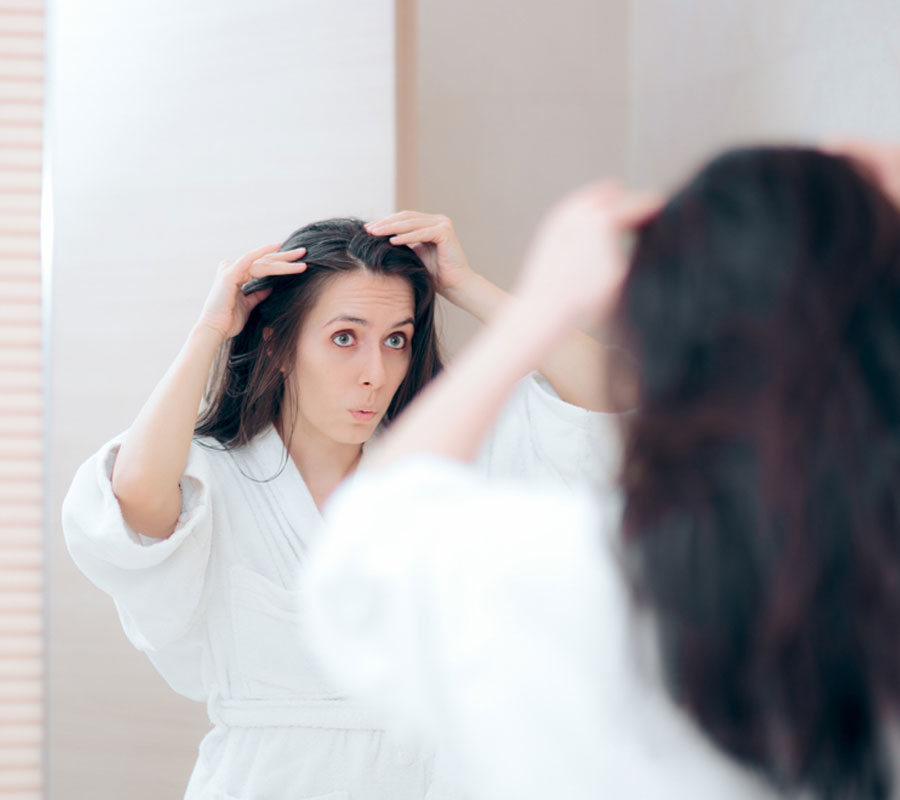 Using coconut oil to treat scalp issues will lead to healthier hair. But did you know that besides fuller and more shiny hair, regular use of coconut oil as an overnight massage oil also prevents premature greying of hair? It boosts the growth of new hair follicles leaving you with luscious black locks that are healthy and beautiful inside out.
If you are looking for coconut oil for hair growth in the market, always double-check for 100% organic products. An excellent moisturising product for the manes, coconut oil can be used as a conditioner before and after a wash. It can be left overnight as a mask and used as a medicine to treat scalp infections. It doesn't get more versatile than this.
Photo: Shutterstock