When the whole world of fashion and style is looking into the past for inspiration, then why should hairstyles be left behind? From OTT show Euphoria to the blockbuster film Barbie and even Rocky Aur Rani Kii Prem Kahani—the silver screen has only added fuel to fire for the nostalgia trip of hairstyles.
The retro hair inspiration is then given the 21st-century treatment with newer techniques and treatments. Celebrated hairstylist, Sylvia Chen, who has envisioned Godrej Professional's Dimension-Ombreyage Collection, agrees and shares more on hair trends in 2023.
Edited excerpts:
1. What are the three popular hairstyles that you cannot go wrong with, and why?
When it comes to hairstyles that are always in style and universally flattering, I believe there are three choices you can't go wrong with: 
1. The classic bob is a sleek and sophisticated option that suits various face shapes.
2. Effortless beach waves capture a carefree and natural beauty, working well on both short and long hair. 
3. And the timeless ponytail, which offers a quick and easy way to look polished and put together for any occasion. 
These versatile styles have stood the test of time and continue to be go-to options. With their timeless appeal and ability to enhance your natural features, the classic bob, beach waves, and ponytail are tried-and-true hairstyles that anyone can confidently rock.
2. When it comes to hair colour, what are some of the key developments for 2023?
Hair colour these days is not merely a cosmetic procedure; it has evolved with time to become a form of self-expression. This trend is exemplified by brands such as Godrej Professional, which have launched campaigns and collections like the Dimension-Ombreyage to promote acceptance, inclusivity, and self-expression through hair colours. The initiative aims to break barriers and promote the idea that hair colour transcends gender, race, size, or skin.
Furthermore, the hair colour trends of the '90s are making a comeback in 2023. The chunky colour contrast of highlights, popularised in the '90s, has resurfaced this season. However, it is now being combined with modern techniques such as balayage, ombre, or baby lights for a customised look. This blending of techniques adds depth to the hair colour while ensuring low maintenance. These developments reflect a shift towards individuality and creativity in the world of hair colouring.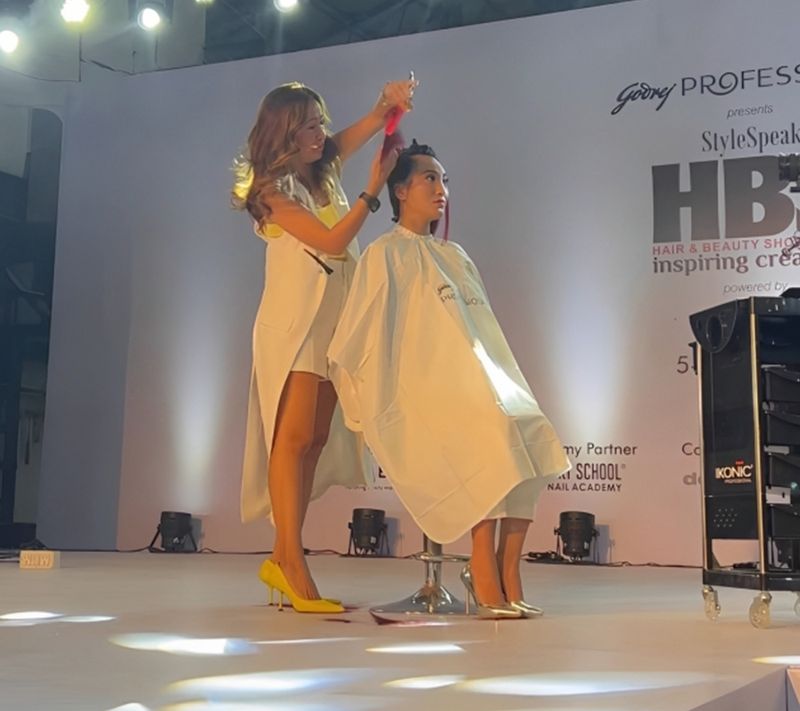 3. Which hair colour shades are popular in 2023, and why?
The popular hair colours of 2023 are: 
Light-to-medium brown shades: People are opting for deeper shades of brown, including darker, more blended shades of blonde or creamy mushroom brown. The Sandstone Ombreyage is inspired from the earthy tones of nature, the look has an infusion of cool and warm tones of blonde shades. 
Bright colours: Bright-coloured hair will continue to be a popular trend in 2023, carrying over from 2022. That goes back to self-expression. People use colour to radiate a more positive atmosphere for themselves. Take the shade red for example. This shade is energetic and bold. The crimson Ombreyage has deep red and violet colours of cherries and rubies. This look works beautifully for all skin tones because of its dimensional blend of hues.
Barbie-inspired blonde: With the movie Barbie's release and popularity, Barbie-inspired blonde will likely become a major hair colour trend for 2023. This shade of blonde is not as icy as commonly believed, so opting for a warmer, golden blonde will be ideal for nailing this trend. Although, for darker hair that most Indians have, a mix of blonde and brown might be more popular like the Pearl Ash from the Dimension-Ombreyage collection which uses a creamy, pearl blonde colour to give a luxurious statement to the hair.
4. Fashion and beauty trends are cyclic; what are some of the older trends you see coming back?
2023 is set to revive some remarkable retro-inspired cuts and colours. One trend that will make a strong resurgence is bangs and fringes. From wispy bangs inspired by Wednesday Addams to soft feathery bangs and even baby bangs, there are versatile options to suit different face shapes. Another trend making a comeback is the voluminous blow dry, reminiscent of the '90s. This style has remained a popular choice and has been embraced by fashion and beauty aficionados for the past few years.
When it comes to hair colour, chunky highlights are reclaiming the spotlight. Hairstylists are drawing inspiration from the '90s blonde trend to create light hair colours with bold, contrasting highlights. This technique adds depth and dimension to the hair, creating a playful and retro aesthetic.
Overall, the cyclical nature of fashion and beauty trends is evident in the resurgence of these older elements. Bangs and fringes, voluminous blowouts, and chunky highlights are just a few examples of how the past is being reimagined and reintroduced into contemporary hair trends in 2023.
5. How has social media impacted hair trends for 2023?
Social media has had a significant impact on hair trends for 2023, shaping the way people discover, share, and explore new styles. The hair styling industry has observed some significant influences of social media on hair trends. One of the most influential aspects is the role of celebrities. Moreover, social media has not only influenced the public but also professional hair stylists. Stylists actively seek inspiration and learning opportunities from online platforms. They turn to social media to discover new styles, find solutions to hair-related problems, and stay updated with the latest trends. The speed and accessibility of social media allow these trends and styles to reach a broader audience quickly.
6. Which hair trends do you never want to see make a comeback?
I am a true breed hairstylist and I love all trends. It won't be fair to opt any trends out. Hairdressing is about embracing each trend with grace, poise and confidence and giving your clients the same feel and comfort in the look you crafted for them.
7. What are the three big trends in hair care and treatments, and why?
The three big trends in hair care and treatments for 2023 are scalp exfoliation, gentle hair care using sulphate and paraben-free products and preventing and repairing hair damage.
1. Exfoliation is no longer limited to just skin, scalp exfoliation has gained popularity because a clean and balanced scalp is essential for maintaining healthy hair.
2. The gentle hair care trend reflects a growing preference for milder and more natural formulations that prioritise the health of both the hair and scalp. Gentle hair care products, like the Godrej Professional Probio range, provide effective cleansing and nourishment without the use of these harsh ingredients.
3. Preventing and repairing hair damage is a significant trend driven by increased awareness of hair health. It involves regular deep conditioning, heat protection, and incorporating nourishing ingredients like oils and proteins into hair care routines
8. What are three hair care myths that need to be busted?
With unregulated access to information, there are several hair care myths. The two that need to be busted on priority are:
Myth: Your scalp doesn't need special attention.
Fact: Just like your skin, your scalp requires proper care and attention. Using harsh and stripping cleansers can disrupt the natural balance of your scalp, leading to excessive oil production. It is essential to use gentle shampoos that are sulphate-free to maintain a healthy scalp and promote overall hair health.
Myth: Washing your hair too often causes more grease.
Fact: Washing your hair daily does not make your scalp greasier. Shampoo is designed to cleanse and remove dirt, oil, and build-up from the scalp. Excessive greasiness can be caused by overusing certain styling products or constantly touching your hair throughout the day.
---
Photo: Instagram/ Godrej Professional