If the glittering Cannes Red Carpet or the equally glittering birthday bash of Bollywood producer Karan Johar has you inspired and thinking about how celebs make head-turning statements with their fashion choices, know that there is a team of ace stylists dressing them up to the nines. From picking the right designer to staying en vogue with fashion trends and building a celebrity's personal style, these celebrity stylists are your best bet to know how to up your sartorial game. If current fashion trends confound you we got celebrity stylist and costume designer Leepakshi Ellawadi with a rich pedigree of clients and projects to help you out. She has styled the likes of Saif Ali Khan, Kareena Kapoor Khan, Akshay Kumar, and Jacqueline Fernandes and designed looks for films such as Bunty Aur Babli 2 and Ram Setu. 
She speaks to Zee Zest and shares her recommendations to rock summer fashion in style.
Biggest fashion trends for the summer of 2022
As is the nature of fashion, trends come and go and Ellawadi observed that 2022 has a lot of them floating around. 
"Sweatpants, for instance, have been around since the pandemic hit us and they're here to stay," she says.  But it is the colour palette that has her excited. "I'm very excited about seeing a bit of green since last season. There will be a lot more of green, from the neon shades to deeper green that will make way," Ellawadi says. Purple is the colour she has a bias towards.
The cut-out trend, whether it is dresses, tops or pants, that Ellawadi predicts will dominate this year's summer fashion. "You can pair a crop top with cut-out pants," she suggests. On the other end of the spectrum, there are the voluminous oversized silhouettes that are her personal favourites. She further adds, "We've done high-waisted for many seasons now, so it would be really nice to see low-slung and low-waisted skirts and pants come back."
Throwback to the noughties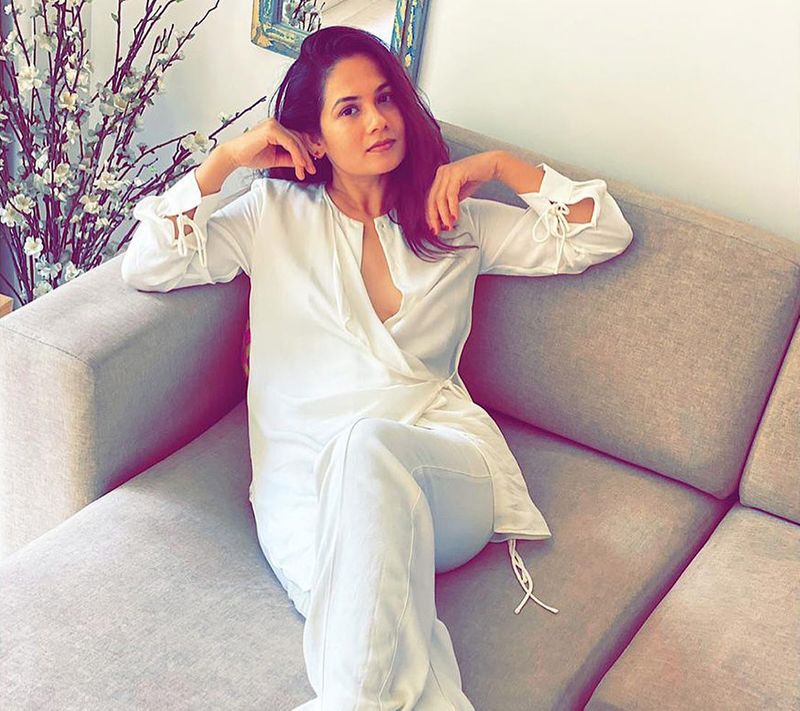 Why are we taking a page out of noughties fashion, you ask? "Fashion always moves in a cycle. The minute we get too used to a silhouette and then slowly to add that bunch of newness, freshness, surprise elements," Ellawadi explains. Trend forecasters bring in a sense of adventure and surprise by bringing back styles and reinventing them. "It's always fun to experiment so that your wardrobe is not stagnant because," she further adds.
Avoid fashion mistakes
She also shares how to go about styling for summer without faux pas. The most important aspect of that is to not get carried away by trends. "You need to understand your body type. I'm somebody who's very casual chic, I don't overtly try to fit into trends. A little bit of hint here in there, but I always, have my code which suits my body," she explains.
To avoid a fashion faux pas do not try to replicate an image that you see. "Just understand your comfort level where you're going and who you really are, what your personality is and you won't go wrong," Ellawadi reiterates.
The most important thing in summer is that you cannot be wearing something that a trend dictates only to be uncomfortable and sweaty in it. "We live in India; in a city like Bombay you wear something that is impractical for the season, you'll be sweating and have sweat patches," Ellawadi says.
Summer classics
"I am a boring person.  I have 20 white shirts in different materials, from silk to cotton and linen," Ellawadi confesses her love for classics. She further adds that her perfect summer look would be a white linen suit teamed with a pair of sneakers and a nice t-shirt. Over and above, she shares pointers:
 "Sneakers are a must for summers," she adds. There is a pair for everyone and every occasion—there are even pairs that transition from daytime to evening wear.  

"Of course, nice linen shirts are a must!" Ellawadi recommends classic blue denim with the linen shirt and sneakers—"It is my go-to summer afternoon look."

Trendy accessories are any easy way to jazz up your classic summer ensemble. "You throw in a big tote or a neon belt," she adds. 

A note for men, give it a twist by mixing it up and drifting away from the traditional looks. "Divert from there and try something more experimental. Rather than sticking to very conventional norms," Ellawadi says. Adding nice pastel shades or summer colours is a good way to start.
There is a misconception that what is stylish and fashionable will tend to be uncomfortable. Ellawadi wants you to break out of this thought process. "There are so many products and styles available at such amazing price points that fashion is very easy," she says. From online to offline there are so many options that suit every budget that you can always create a summer look that works for you.
---
Photo: Instagram/ Leepakshi Ellawadi