After a 10-day run, starting July 22, India Couture Week (ICW) ended with style, glamour, and fashion on Sunday, July 31, at Delhi's Taj Palace Hotel. Drawing the curtains on ICW with a spectacular collection was designer Anamika Khanna who presented 'An Experiment',  a collection that was all about style, unique silhouettes and fabric play. And no, this wasn't just another wedding collection. Quite appropriately, Khanna's collection stood apart from the sea of bridal lehengas, gowns and draped ensembles that made rounds during the earlier days of couture week. 
Echoing dialogues of gender fluid styles, Anamika chose actor Rajkummar Rao as her muse for the collection. There is an obvious similarity between the two individuals neither of them is hesitant to push boundaries when it comes to their respective art forms. Rao made way for a stellar appearance, wearing a black blazer teamed with flared pants - all in distressed design yet subtly eye-catching. An elaborate heirloom necklace added to his statement look.
Khanna began her career in 1998 and is known for modernising Indian craft.  Her constant urge to experiment with silhouettes and fabrics makes her one of the most prolific designers in the Indian fashion segment even today. Her ICW collection was yet another proof of her avant-garde designs, featuring delightful ensembles of desire. Though her collection remained graciously Indian, it bore strong shades of bohemian and goth. There was also reference to the ever-exuberant tribal India, approached from a modern perspective.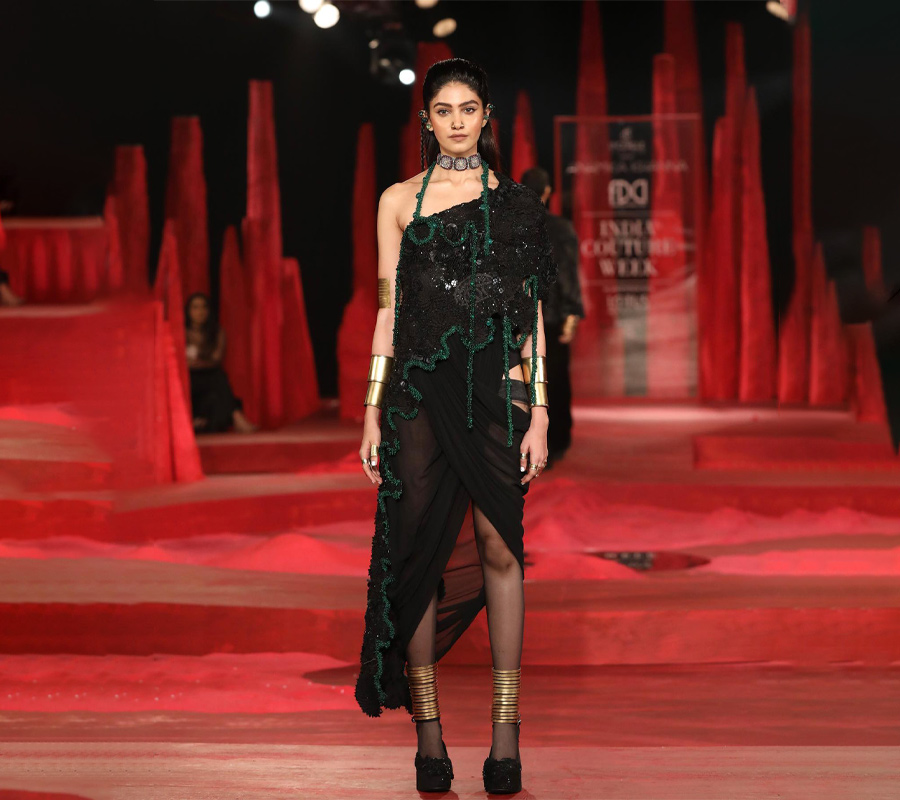 The show opened with the set depicting a scene from a red sandstone desert. The colour palette varied from pristine ivories, sombre blacks, powerful reds and emeralds and even, greens. There were metallic accents, patchwork involved, scalloped floral embroidery, and fringes that added more sheen to the whole collection. Draped skirts, capes and jackets, asymmetrical dresses, new-age pantsuits styled with bralettes and cropped blazers - were inspired by a 'goddess-like' aesthetic paired with deconstruction and pattern-making techniques. 
If you thought Khanna would showcase a typical bridal outfit with a lehenga, that's where she hit the nail on the head right once again, showcasing the classic Anamika Khanna bride who doesn't fall into the typical Indian couture mould. With just a long sheer but shredded veil worn with a draped skirt and a bralette, it was good to see an experimental and deconstructed bridal look, but at the same time with some Indian accents. 
For the menswear collection, models wore voluminous blazers and pants with the distressed aesthetic complete with man buns and septum rings while some bare-chested models walked with long elaborate necklaces. It was an amalgamation of something old and something new. 
What stood out most was the grunge, global nomad aesthetic of the collection - presenting shredded couture as the new pathway in fashion. It was a quintessential Anamika Khanna collection, breath-taking and boundary-breaking in one bold sweep.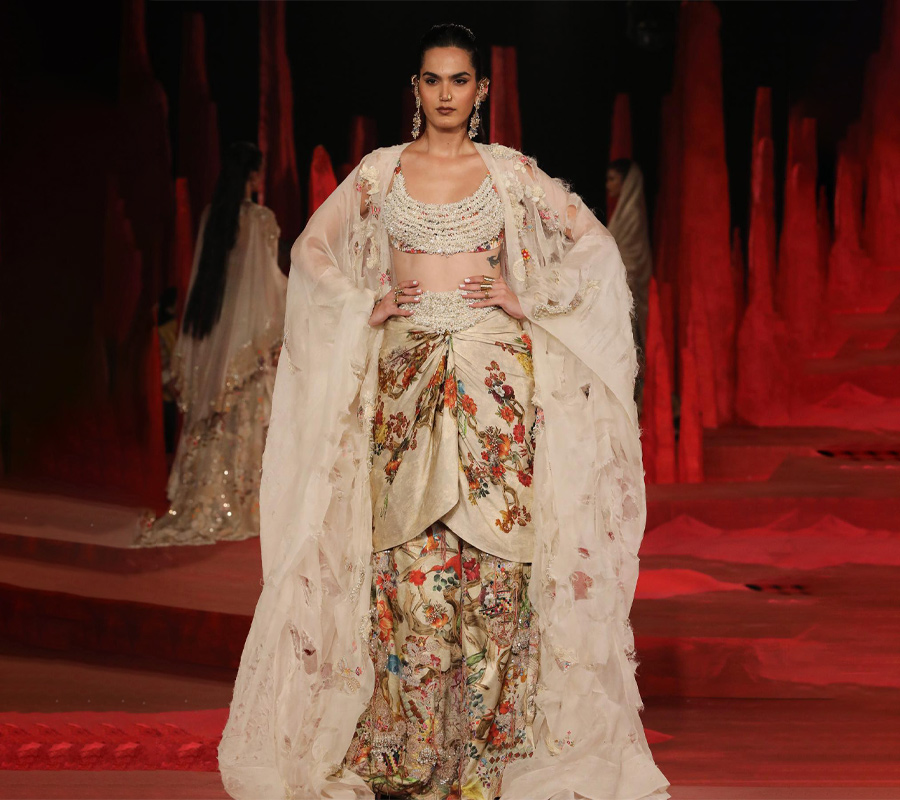 Another highlight of this entire collection was the grunge gold jewellery from Birdhichand Ghanshyamdas Jewellers through nose rings, arm and ear cuffs and chokers. There was also an unconventional line-up of old-world jewellery getting a contemporary spin with powerful rubies, emeralds and pearls taking centrestage.
Saving the best for the last in the India Couture Week, this Anamika Khanna collection was a revelation on how designers can make their creations look fresh while staying true to their design language. What a way to close the 10-day-long affair by the doyenne of Indian couture!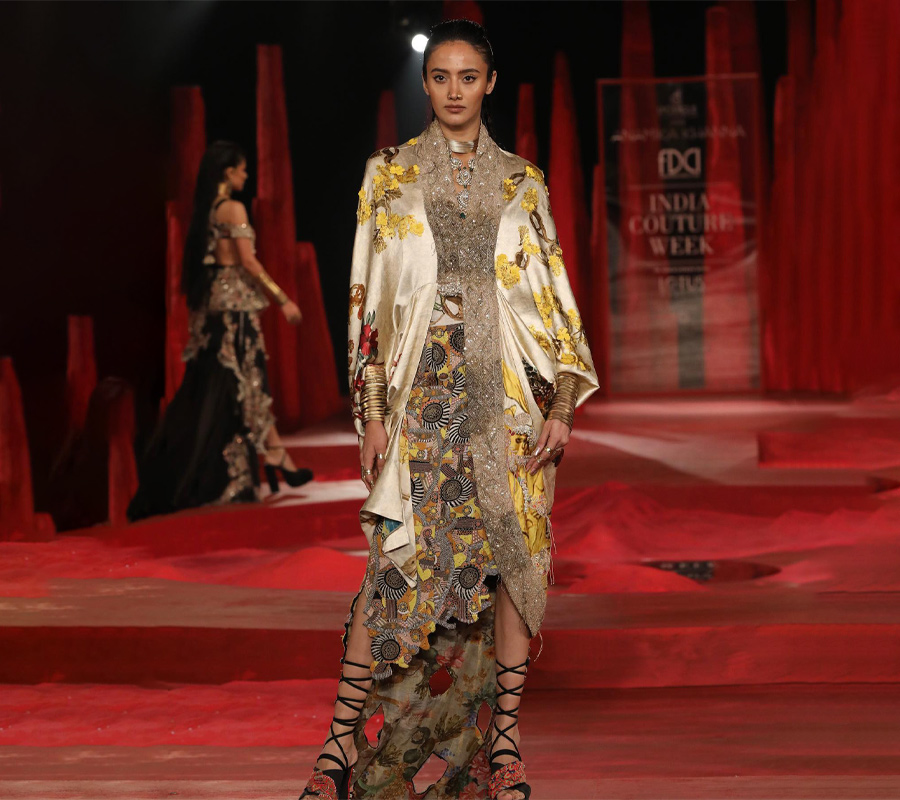 Photo: Instagram/FDCI