'Jogi' actor Amyra Dastur has a traditional, relatable approach to beauty, especially haircare – trusts age-old wisdom, is a sucker for home remedies, takes cues from her mother and her fave Bella Hadid, and yet has a beauty look of her own. Whether on the silver screen, red carpet, or a trek, you'll find the actor rocking her mane, mostly in her signature wavy blowout, with not a split end in sight.
Despite her erratic shoot schedule, regular hairstyling, constant travel, and crazy weather conditions all year round, how Amyra manages to keep her hair and skin game high is a wonder. We tried to discover her secret through a conversation with the Bollywood actor and Hair & Care brand ambassador. Read on to know about the hair potion she swears by, her hack to avoid dry hair and skin, her everyday routine, and, of course, her recent work with actor Diljit Dosanjh.
Edited excerpts below:
1. You impressed the audience with your acting skills in Jogi. What was about the film and the character that made you take the opportunity?
The fact that I had no idea about '1984' was a huge reason for me to say yes. I truly believe it's a story that needed to be told and clearly the audience wanted to see a film like this.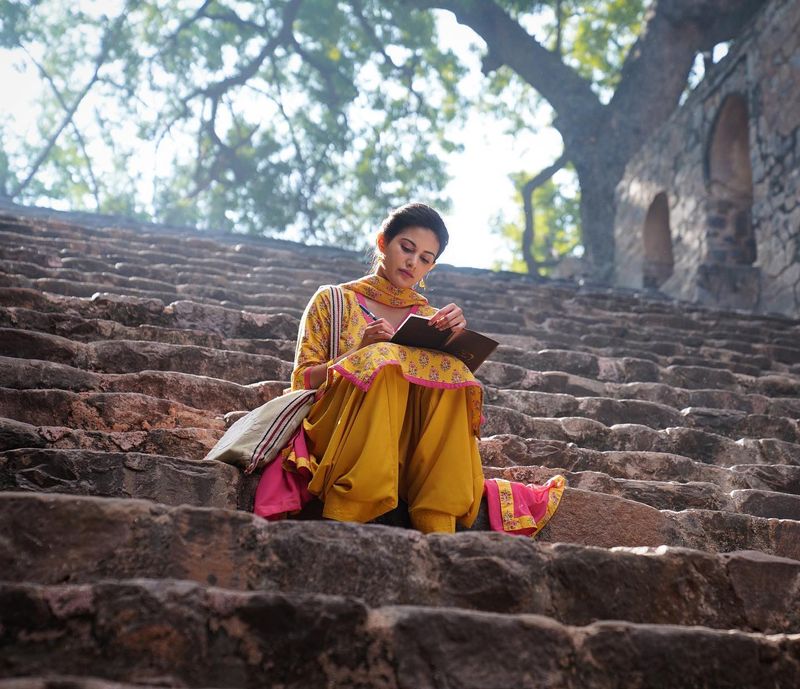 2. How was Diljit Dosanjh as a co-star?
He's a wonderful jovial soul and I really had a great experience working with him.
3. Diljit has a quirky sense of style. Any style lessons you took from him?
Hahaha no! I'm a fashionista in my own way but I can surely say that his looks are eye-catching. Our sense of style is different from one another. I think it's best to admire but not copy.
4. You are the brand ambassador for Hair & Care. How close is their brand philosophy to your beauty belief/routine?
I only endorse products that I use. I've been using Hair & Care ever since I was in school. One thing that I really appreciate about the brand is their inclination towards using natural ingredients like aloe vera, olive oil and green tea. These natural ingredients make the Hair & Care Triple Blend Oil the perfect choice for people with all hair types. Moreover, the oil is non-sticky, and it makes my locks smooth and shiny. I swear by the brand as it has been the secret behind my strong and nourished hair all these years. 
5. We all have a close relationship with our hair. What's your earliest hair/haircare memory?
My mom oiling my hair is one of my fondest memories. We'd do this every Sunday and I really cherish those memories with her. She'd ask me about my week, and we'd talk for hours while waiting for the oil to soak into my hair and then I would head for my hair wash.
Sunday has always been my favourite day of the week because of it.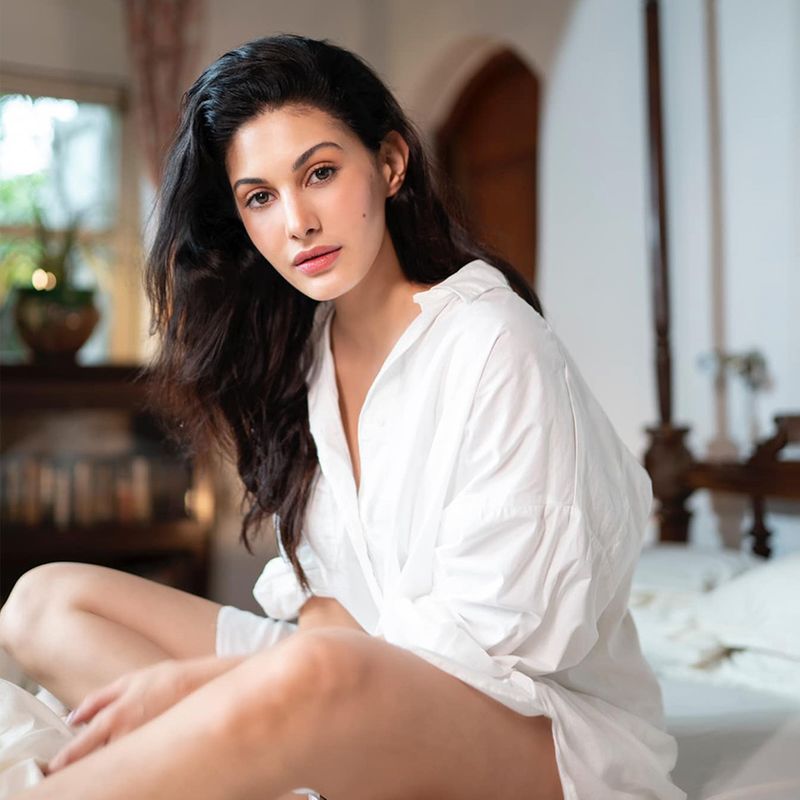 6. Any home remedies that have been passed on by your family to you, something that you swear by? 
I love making my own fermented rice water. Mom and I kept busy during the lockdown by creating our own little home remedies for skin and hair and we came across an amazing article about fermented rice water and its benefits. Ever since our first experiment with it, we've been using it constantly and both of us swear by it.
7. Based on your recent Instagram updates, we understand you love trekking. What is it about the outdoors that you love so much?
I'm a mature child. I love beaches and mountains. The weather has become perfect for long treks, and I look forward to this time of year so I can go on some fun adventures with my friends. 
I'm also a fitness freak so trekking for me is like meditation. I feel happy and calm when I'm around nature and it really helps me feel at peace with myself.
8. How often do you go on such adventure trips – short or long – and which one has been your favourite and why?
I try to do this whenever I get the time because I do have an extremely hectic schedule. I need these little adventures to calm myself down and help me with the anxiety and overthinking that we all face on a day-to-day basis. My favourite getaway is Maldives. Being in the sea soothes my soul and helps me reconnect with myself.  I find it extremely beautiful and soothing when I'm on a 2 by 3km island with nothing but the ocean surrounding me. It's my happy place. 
9. Being outdoors means dealing with dust, pollution and so much more, that can damage your skin and hair. What does your skincare and haircare routine during travel look like?
It depends on where you're travelling to. Colder destinations are less worrisome because your hair doesn't need much upkeep so here, I take my bottle of Hair & Care Triple Blend Oil with me and maybe a little serum. For skin, I'll take my skin oils and heavy creams, so my skin doesn't feel dry due to the cold weather.
For warmer places I carry my heat protector, split-end serums, hair oil and frizz prevent or because the humidity messes up my hair and causes it to need a little extra styling.
My skincare kit is lighter with just serums and night cream, that's all. 
10. What does your daily skincare and haircare routine entail?
My skincare is basic - facewash, toner, water essence, aloe vera gel, serum or cream depending on the weather. Once a week I do a skin peel.
I am little more finicky about my hair. I wash my hair every two days or every alternate day if I've been sweating and feel my hair needs cleansing. Before I shower, I apply oil on the ends of my strands, so my hair retains some moisture. Furthermore, I oil my hair once a week without fail. Also, I use heat protectors and strengthening serums during shoots.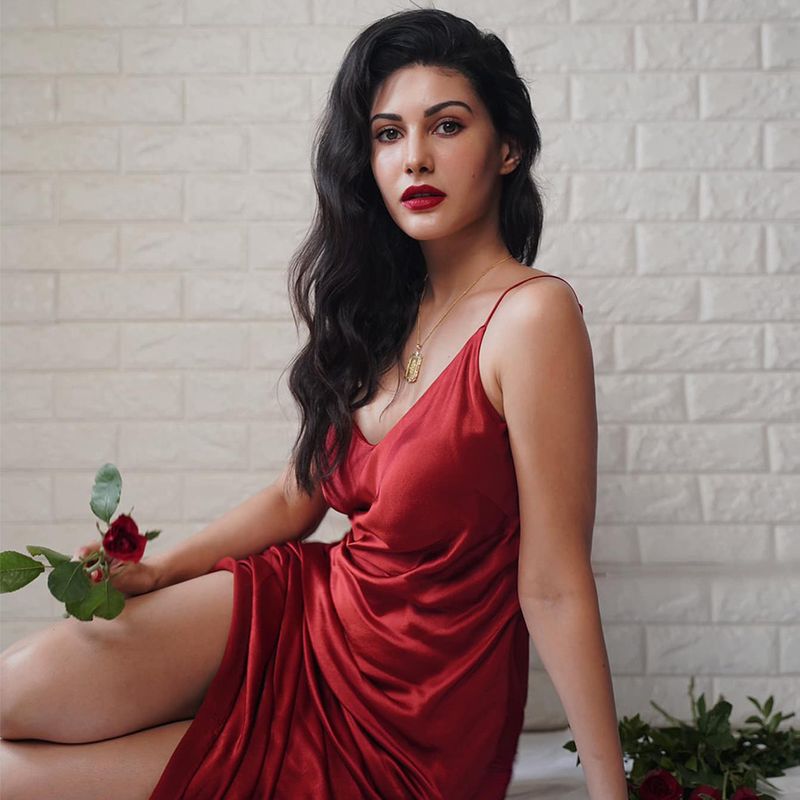 11. What are your go-to products for skincare? And how do you like to use them?
I'm someone who prefers products that are vegan and natural. I love creams with some haldi in them. I swear by aloe vera gel, and I love making masks at home. Honey and curd face masks, tomato & potato masks, and rice masks – these are some of my go-to DIY face masks.
12. Do you also face bad hair days? If yes, what's your go-to hack for dealing with bad hair days?
Of course, I do! On my bad hair days, I like to oil my hair with the Hair & Care Triple Blend Oil and tie it into a sleek top knot or bun. The oil is to ensure there's no frizz and it also gives it a slightly wet look. My inspiration for this is Bella Hadid and her sleek back updo. It works brilliantly every time.
13. Lastly, what's next on your plate?
After Jogi, I just feel so validated and grateful. I've recently shot for my first Punjabi film Furteela, opposite Jassie Gill. 
---
Photo: Facebook and Instagram/Amyra Dastur