Exuberant, extravagant, and full of emotions—that's how we'd like to describe the lavish wedding of Bollywood stars Katrina Kaif and Vicky Kaushal. On December 8, 2021, fans, followers, and media broke out in a frenzy as zoomed-in and blurred pictures of Katrina Kaif as a bride hit social media. The two of Bollywood's most famous A-listers, who were never even seen together outside of a professional setting, had tied the knot. The information was confirmed soon after, as they posted an array of pictures from their wedding ceremony on their respective Instagram accounts.
It's been over a week now, but the couple, especially Katrina, has continued to make headlines for the details and inside pictures of her ensemble that are being shared day by day—from her pre-wedding, D-day fashion, and beauty looks to the regal engagement ring. But what's really winning people over is the extreme detailing on her custom-made kaleeras. 
While the Sabyasachi outfits and the beaming smile on Katrina's face stole the show, we couldn't stop thinking about the beautiful pair of kaleeras that she chose for her wedding. Bespoke and handmade, these were designed by Lucknow-based jewellery designer Mrinalini Chandra. A National Institute of Fashion Technology (NIFT) graduate, Mrinalini is well-known in the jewellery space for customising unique accessories. She first introduced designer kaleeras at the Lakme Fashion Week in 2014—and ever since has been creating custom-made ones for brides-to-be. Her list of celebrity clients before Katrina Kaif include: Natasha Dalal, Priyanka Chopra Jonas, and Sonam Kapoor.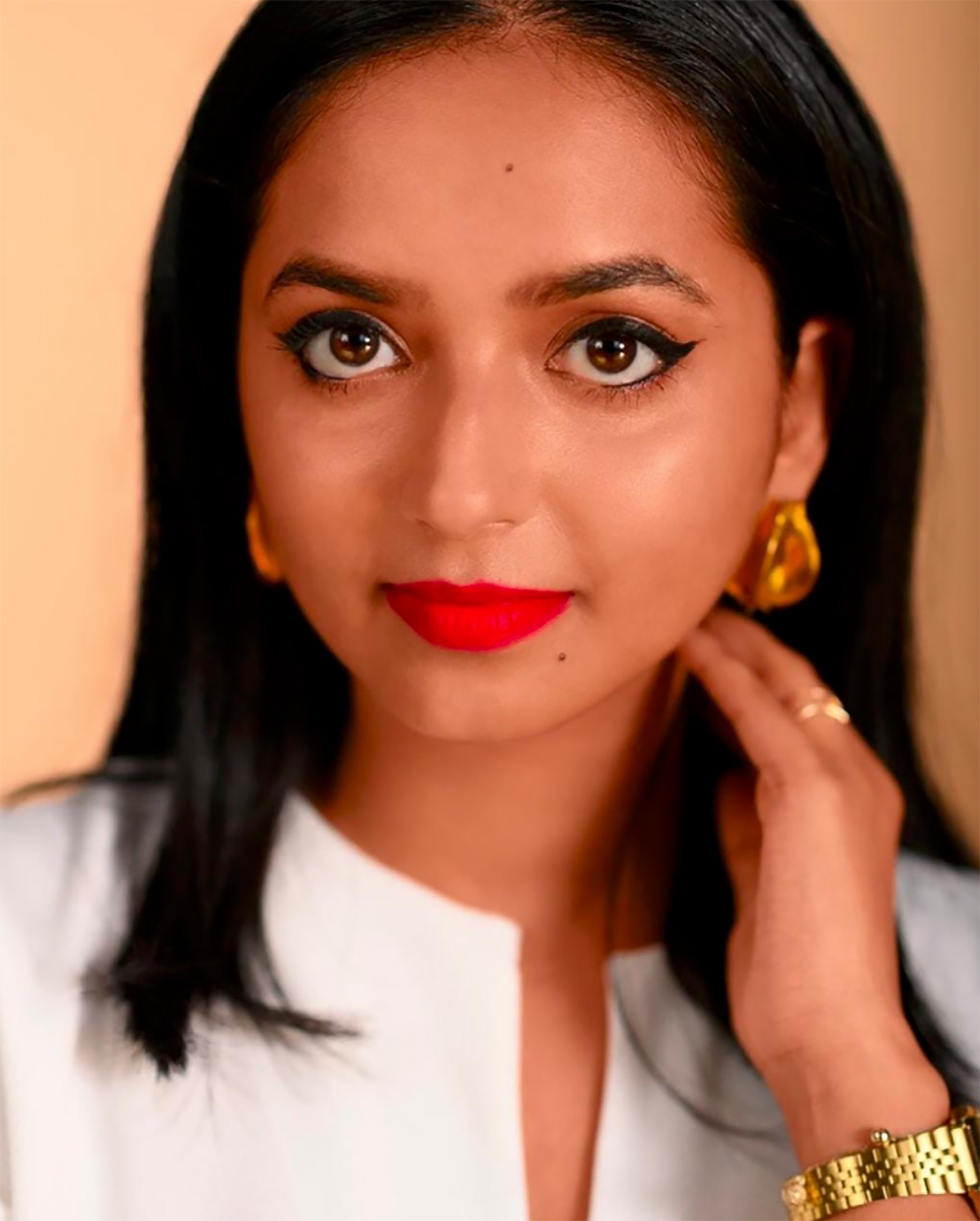 Mrinalini recently spoke to Zee Zest about the pair of kaleeras she designed for Katrina, the process of customising accessories for Bollywood stars, and her most favourite creations so far. Here are some edited excerpts:
1. What was the brief that you received from Katrina for her wedding kaleeras?
Anaita Shroff Adajania, who styled Katrina for the wedding, got in touch with me a month before the wedding. The brief was simple: Katrina wants something delicate, dainty, and personal. There were certain dates and words like 'Cleep', 'Om' (written in a certain person's handwriting), and 'Elysian'—special to Vicky and her—that she wanted me to incorporate in the design. Another important point was to not make the accessory too heavy or cluttered, she wanted a clean design. Also, Katrina didn't want the dates and words she mentioned to be too obvious. 
2. What was the process of creating this customised kaleeras? And what did the finished product look like?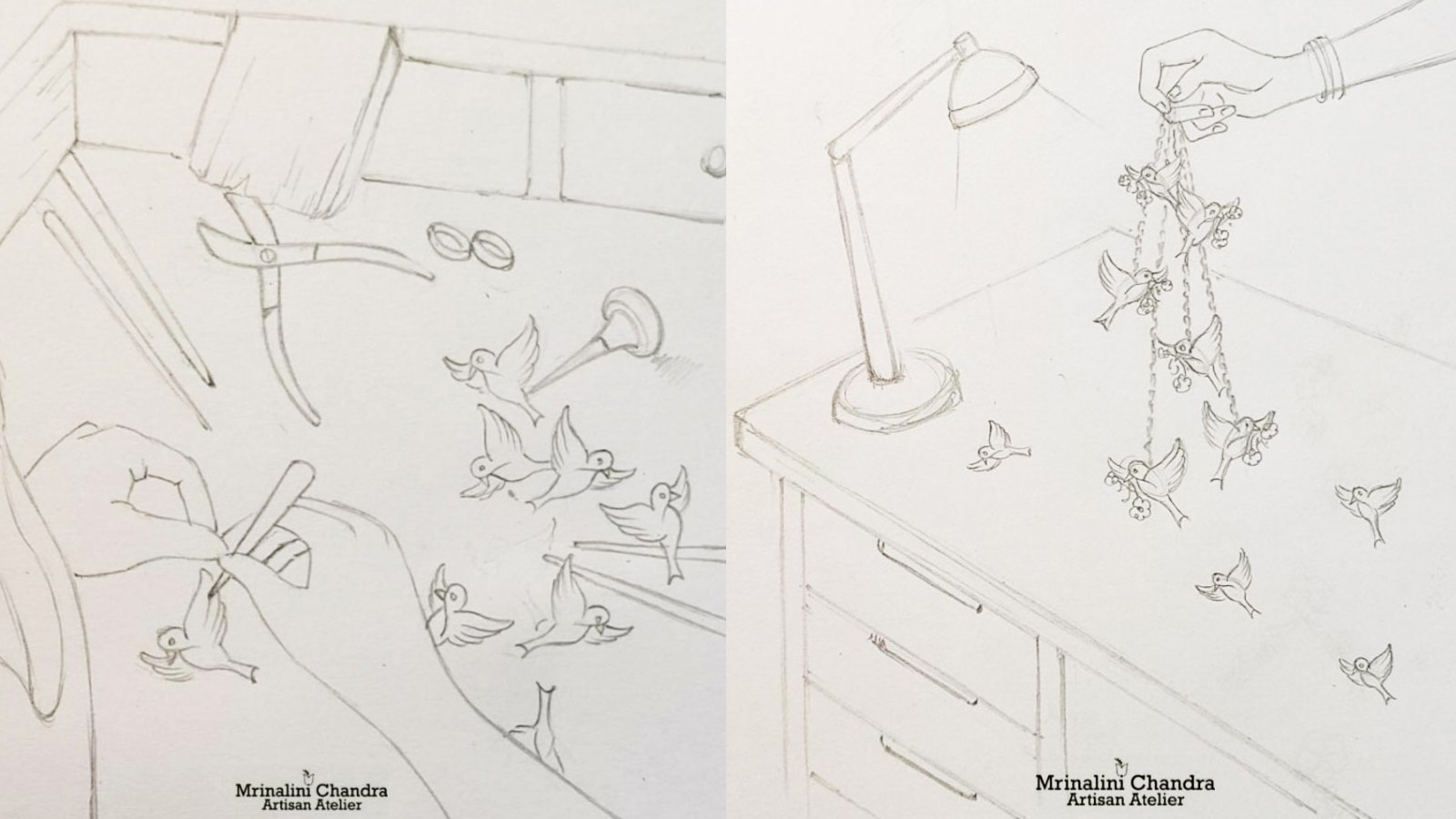 It all started with a sketch. Based on the brief and the elements mentioned, I submitted almost 15-20 designs to her and even developed a few samples. The final kaleeras had a pair of bangles and to those, attached with chains, were messenger doves with tiny, hand-carved twigs of flowers in their beaks. Onto the twigs, I added these beautiful coin ornaments which were inscribed with the messages and words Katrina asked for. She has an angelic personality and I wanted to create something that reflected that. While thinking on those lines, I came up with the idea of adding messenger doves. You must know of the age-old concept of sending messages via pigeons. I find that fascinating.
Coming to the production aspect of it, the entire accessory was made using an alloy of seven recycled metals. We make all things from scratch in-house and don't buy anything ready-made—from the chains to links. The doves were made in Lucknow, the coins and other elements were crafted in Jaipur, and the kaleeras were assembled in Lucknow. The final product was then coated in 24 karat gold.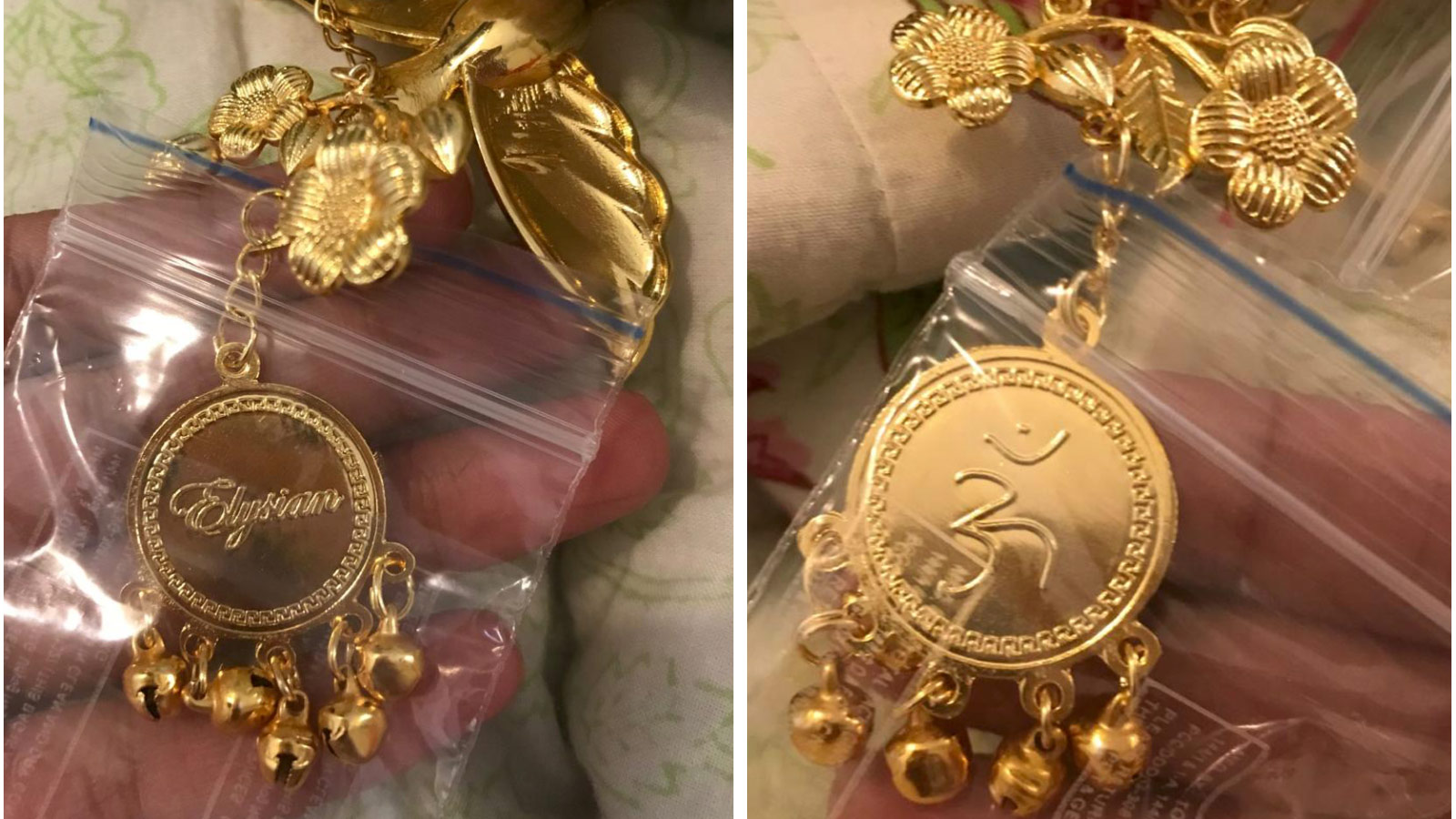 I have designed it in a way that she can wear it in the future as well—for a family function or probably, karwa chauth. It's a single bangle that she can wear in each hand. Also, since she wanted to dance the night away during her pre-wedding festivities, I kept the length of the kaleeras shorter than usual.
3. Is the process similar for all brides?
Yes! Personalization is a big part of our brand and to do that, I spend hours with the brides listening to their needs, how they envision their wedding, tidbits about their relationship that can be incorporated, and so on. Once I understand where they are coming from and what their expectations are, I throw in some ideas. Whatever eventually resonates with the bride, goes from a sketch to reality.
The aim behind customised jewellery like kaleeras that I designed for Katrina is to preserve special moments and memories and, at the same time, create new memories too. We live in a fast-paced world, and these bespoke things have to potential to help us not only cherish but also relive those moments from time to time. 
4. You've designed kaleeras for Priyanka Chopra Jonas, Kajal A Kitchlu, Natasha Dalal, and even Sonam Kapoor. What sets these celebrity brides from others?
These women are trendsetters. They are risk-takers and love experimenting—which is always a plus point for a designer. People follow celebrities and try on stuff that they see on them. For instance, doves on kaleeras wouldn't have been a choice for brides-to-be earlier, but now that they've seen it on Katrina, this may give them the confidence to invest in a design like this, or at least invest in customisation.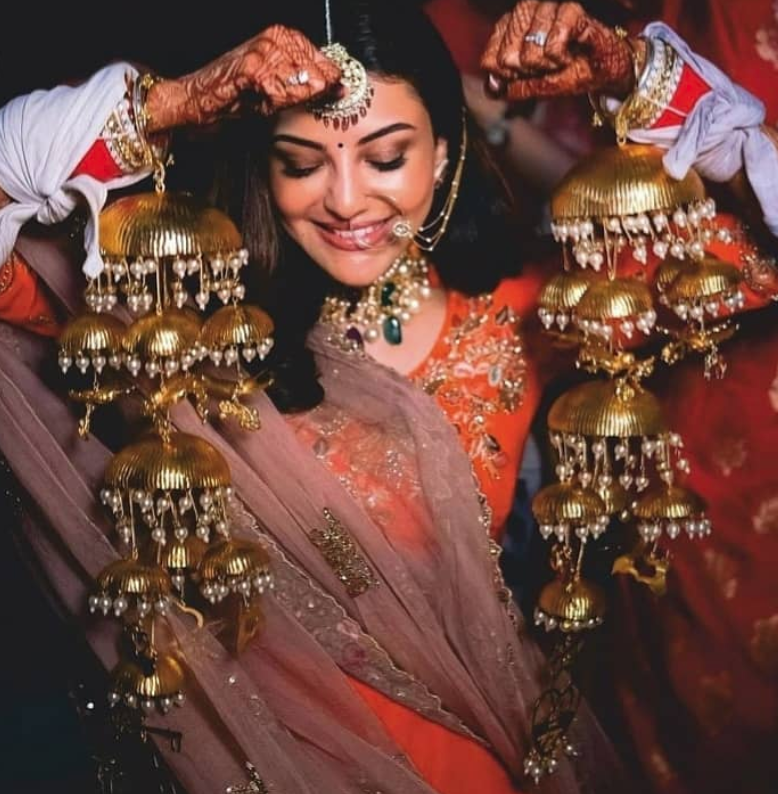 Their willingness to take risks is great for designers. We have these innovative and experimental ideas, and these people become our canvas—which, in a way, helps us reach more and more people and showcase our talent. They give meaning to our designs and set trends.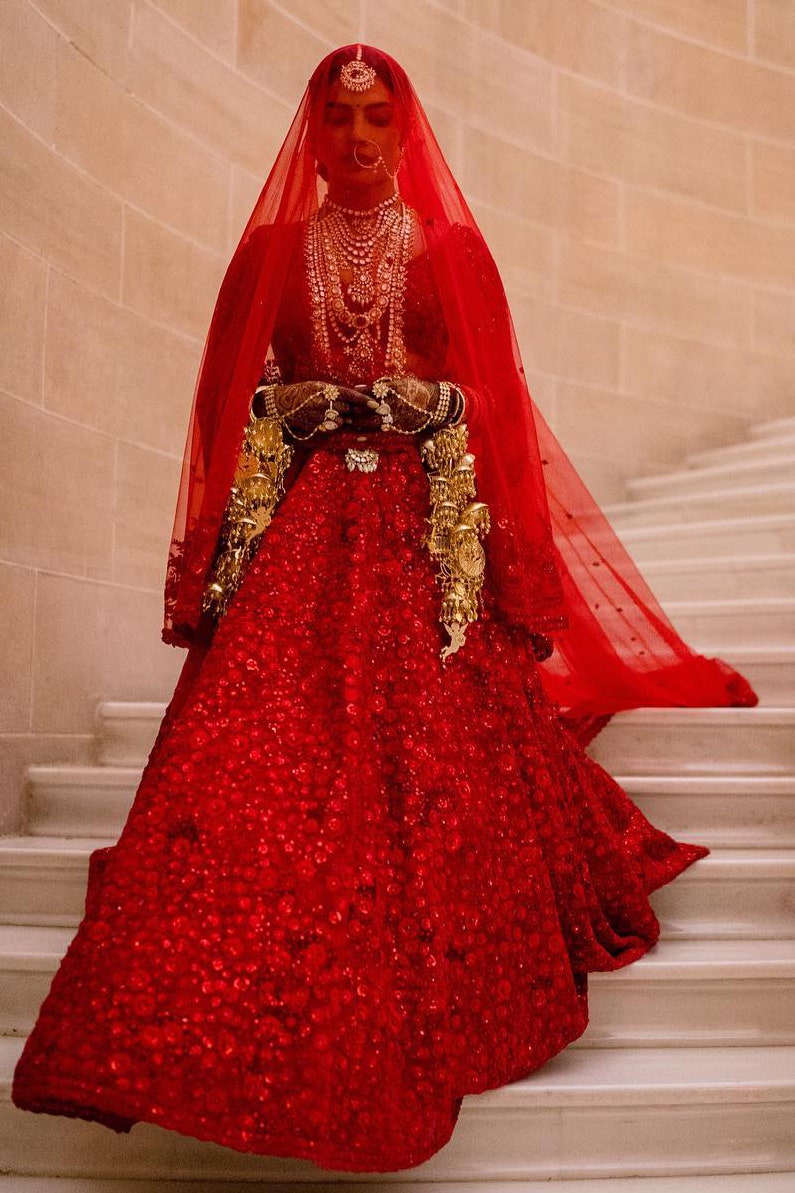 5. Of all the kaleeras that you've customised for brides, which one is your favourite?
All my celebrity brides have been my favourite. I have given my 100%with designs, and they've done justice to it by pairing them with equally beautiful ensembles and accessories.
I absolutely loved what I created for Natasha Dalal, fashion entrepreneur and wife of Bollywood actor Varun Dhawan. She got married early this year, and her brief was like Katrina's: to create something dainty and delicate. Natasha didn't want to go for yellow gold way, so for her, we made stardust kaleeras in a silver alloy, which was coated with 22-karat white gold and decorated with princess-cut moissanite. 
We also made a set of ivory-coloured chuda and diamond bangles to complement it.
Another one of my favourites is the set of kaleeras that was custom-made for Priyanka Chopra Jonas. That one told the star couple's love story. It featured a symbol from Greece, where Nick proposed to Priyanka, a cupid, a cross, and even a Trishul to honour both of their religions. Her kaleeras even had silhouettes of them, and their favourite cartoon character Mr Chip Potts (from Beauty And The Beast).
6. Apart from custom-made kaleeras, what are the other bespoke accessories that you make?
We also make custom-made gifts for bridesmaids, grooms, and other relatives. Soon, I'll be launching a page that will be dedicated to custom-made shehras for a groom. Each shehra will tell a story. Just like in the case of kaleeras, the shehras will have lines and words that are important for the bride and the groom. 
Photo: Stories by Joseph Radhik and Mrinalini Chandra