While it is Pride Month, we're all about supporting and celebrating the LGBTQIA+ community all year through. But you have to admit there's something amazing about the beauty, creativity and individuality that's on display this month. We picked some stunning eye makeup ideas for you to recreate along with product suggestions that'll help unleash the artist in you!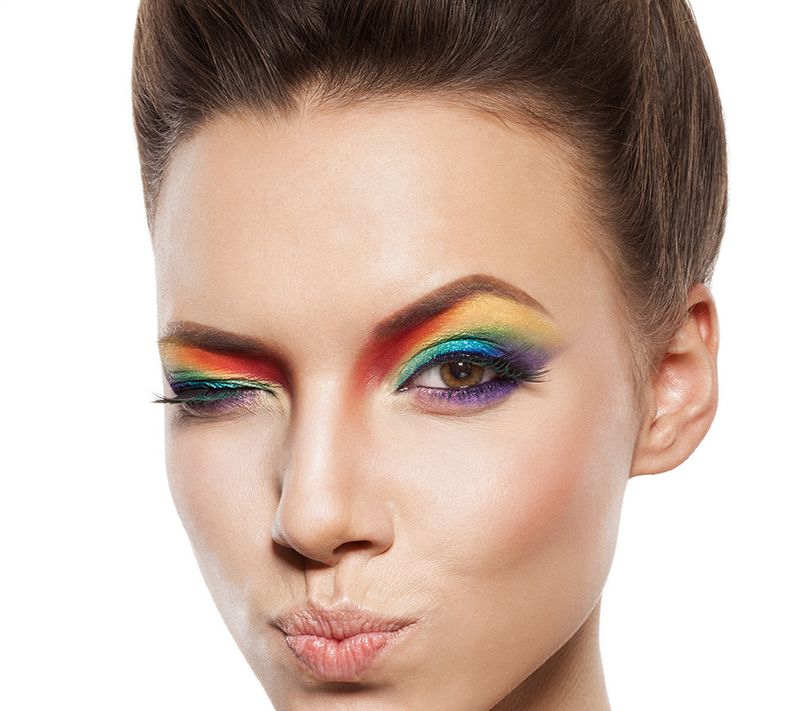 1. Rainbow Line Up
If all those well-blended multi-coloured eye looks leave you feeling like there's no way you can attempt it, then try this simple but stunning look. Take 4 or 5 shades of liquid eyeliners, like MyGlamm's Lit Glossy Liquid Eyeliner, and simply line them one over the other on your lid. You can also do this in the corners of the eye to create a rainbow cat eye look. Liquid eyeliners will ensure the sharp lines needed to create this look. A good idea before you begin, is to use a primer like the Colorbar Perfect Match Primer and a concealer such as the Maybelline Fit Me Concealer on the lids. A primer will help keep makeup on longer without budging, while a concealer will allow the true colours of the eyeliners show up on the lids especially if you're dealing with dark circles or lids.
2. Lower lash fun
Who said eye makeup has to be restricted to the eyelids only, right? Work in bright eyeshadows or coloured eye pencils like the Health & Glow Kajal or Lakme's Absolute Explore Eye Pencil in multiple colours on the lower lid and blend these well into each other for a fun, lower lash line look! Don't forget to use a good primer so that the eyeshadow stays on for longer. You can create a seamless lined lash look, or a coloured faux lash look pulling each colour downwards, the options are endless. 
3. Pastel rainbow wing
Loving pastels? Then dip into those beautiful shades and create a beautiful angled wing with a pink, yellow, lilac and aquamarine eyeliners or eyeshadows. The best way to use eyeshadows as liners are by dipping your fine tip makeup brush into micellar water and then picking up the product. Watch it go on like magic! We recommend using a pastel palette like the Suva Beauty UV Taffies Palette.
4. Graphic glitter eye
If you don't want to paint on all the colours of the rainbow, pick 2 or 3 in glittery shades like the Sephora Intense Ink Metallic Eyeliner and create this graphic eye design. The key is to try and pick colours that will blend well into each other for example a green, blue and purple. Don't have glitter eyeliners? Simply wet a fine tip brush in micellar water and dip into a glitter palette like the PIXI Glitter-Y Eye Quad and start drawing on. Voila!
5. Rainbow undereye
Heard of the faux dark circle trend that's all the rage thanks to TikTok? The bizarre trend basically involves people drawing on dark undereye circles using all kinds of makeup like brown eyeshadow, brow definers, etc. Yep, we don't get it either. Instead, we suggest this cool rainbow undereye trend! Here, you don't limit colour only to your lower lash line and rather extend it downwards and blend well. Use vibrant hues from a colourful palette like the Revolution Maxi Reloaded Big Shot and blend them into each other. Swipe on highlighter like the Smashbox x Becca Shimmering Skin Perfector Pressed in C-Pop on the cheekbones, brow bones, inner corners of the eyes…and you're all set! This look is giving us serious unicorn vibes. 
6. Smudge me not
Throw caution to the wind as you create this freehand look. Giving almost a masquerade mask look with colours going over and under the eyelids, as well as across the bridge of the nose, this is a bold look you can flaunt for a party. To recreate this, start by ensuring the skin is prepped with a primer and concealer is applied. Use either a sponge or a flat brush dipped in micellar water, and then use your bright eyeshadows like the MAC Cosmetics Art Library: It's Designer to deposit the vivid colour. There's no right or wrong here, just dab on colours like purple, blue, green, yellow, orange and red. Go with a black or nude coloured lipstick to finish off this gorgeous look.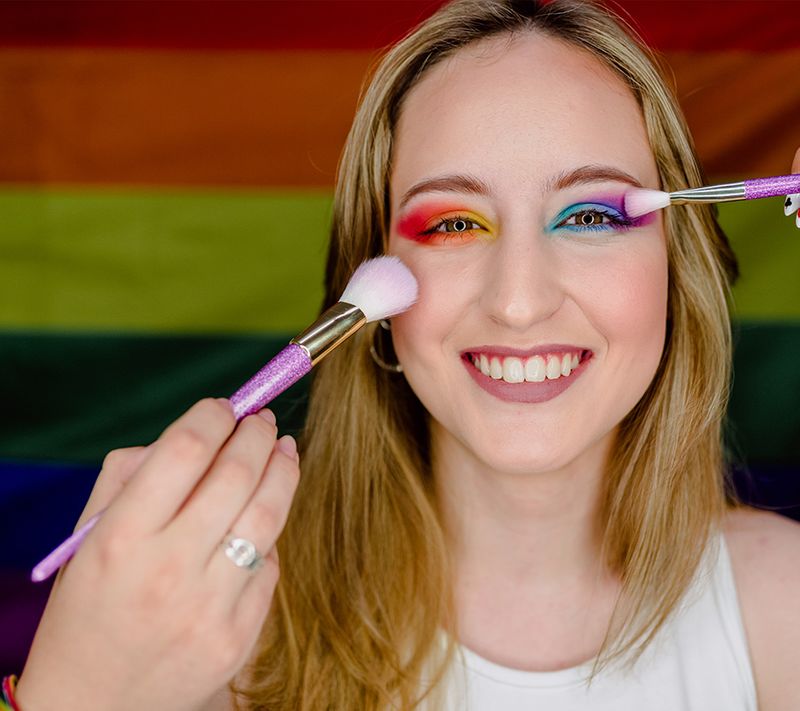 7. Fire & ice
Instead of going rainbow-coloured on both eyelids, try warm colours on one lid and cool on the other. Using a palette like the NYX Ultimate Brights Shadow Palette work in yellow, orange and red on one eyelid, and green, purple, blue on the other, for a fire & ice look. You can also accentuate this with a graphic white liner like SUGAR's Eye Lit You So! Vivid Eyeliner in White Heat or a silver glittery line in the crease like the Kiko Milano Glitter Eyeliner. You can alternatively stick on diamantes for some blingy fun! Put on fake lashes for the added drama and you're done.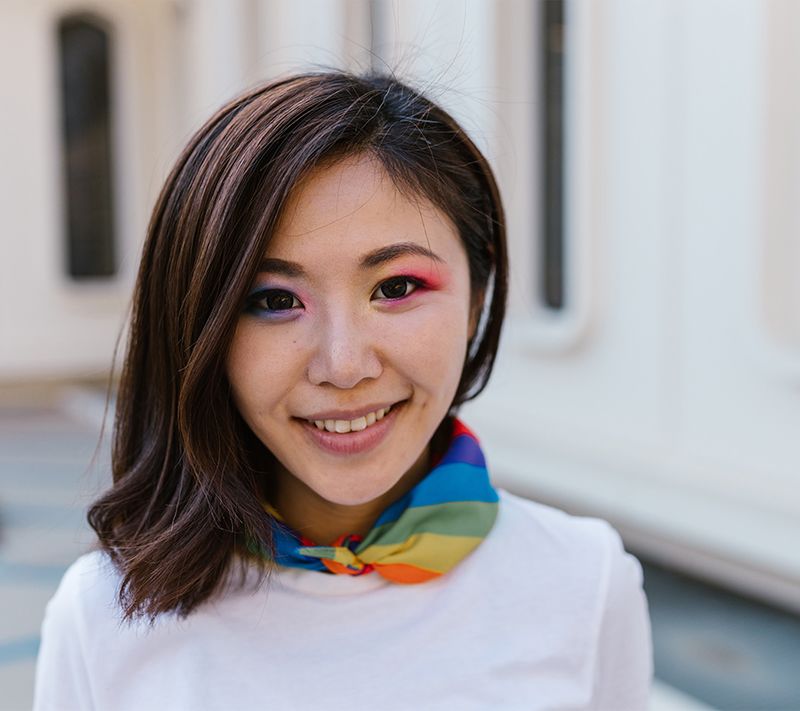 8. Cut crease rainbow
For the uninitiated, a cut crease eye make-up look involves drawing a curved line across your eyelid's crease and then defining the lower portion with a lighter eyeshadow, while adding darker shadow to the top. This is a fun, optical illusion style beauty trend and looks great if done well. For a rainbow cut crease, simply apply concealer on the eyelid and create a curved line. Work in coloured eyeshadows only above this crease and a fine liner along the lash line, which will create a negative space on the lid. You can add a light-coloured glitter or shimmer eyeshadow like the Insight Cosmetics Metallist Glitter Eyeshadow in the shade Bare, to the negative space for some added drama. With a thin eyeshadow brush also work in a hint of colour on the lower lash to complete the look.
 
---
Photo: Shutterstock; Pexels