The winter of weddings seems to be shaping up to be a long and busy one. If you are the one getting married, your wardrobe is your most significant decision. After all, you need to be at your sartorial best.
At the same time, while wedding invitations may continue to arrive in your inbox, finding the best wedding guest ensembles can be quite a challenge. Most of the time, you might be left with a question you haven't asked yourself in a while: What should I wear?
A winter wedding is the perfect occasion to play with modern classic silhouettes. Whether you're attending a wedding ceremony or getting married yourself, here are some recommendations to help you win being the best-dressed version of yourself: 
1. Trencadís, Aisha Rao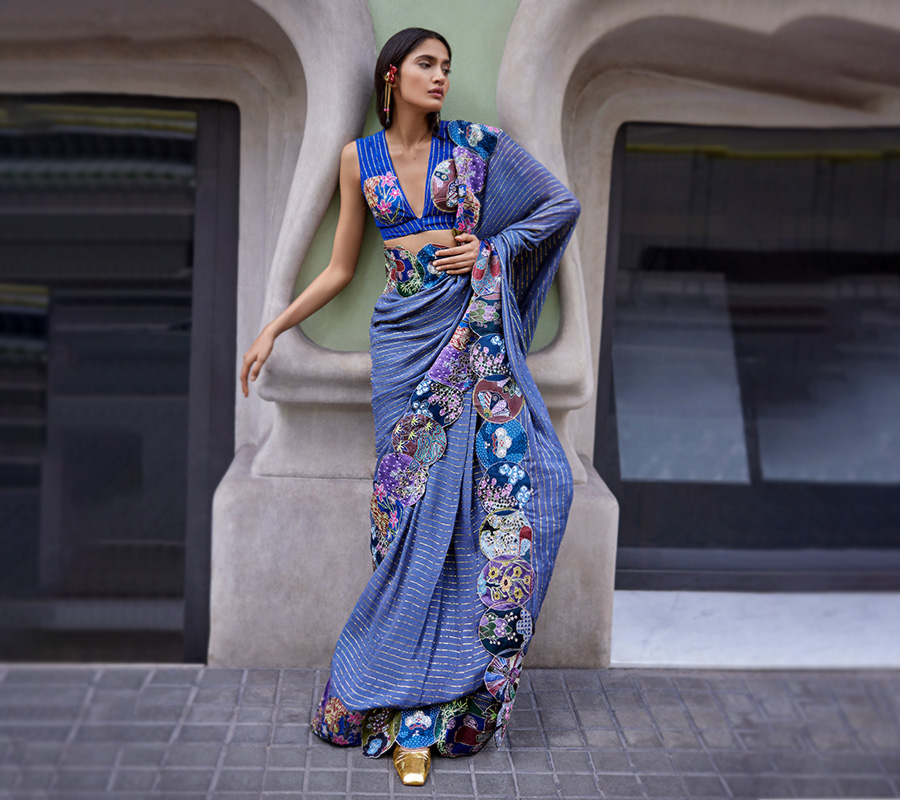 Hyderabad-based designer Aisha Rao's new winter-festive collection is titled Trencadís. It refers to Spain's traditional folk art that uses broken tiles to create mosaics put together piece by piece like a jigsaw. The collection is a sartorial spin on Catalan Modernisme which refers to not just an artistic style, but a cultural movement that spanned architecture, art, music, literature, and society. The fusion of colour connections between Spain and India is the foundation of this collection. 
It is a mix of prêt and couture with signature applique lehengas, sarees and dresses inspired by the panoramas of Spain. Many of the ensembles are crafted with upcycled fabrics. Even the prints have been given a new lease of life with intricately-executed badla work with rich hues like Spanish red and lapis lazuli blue across vividly-coloured creations. 
Check here
2. Khush Rang, Anjul Bhandari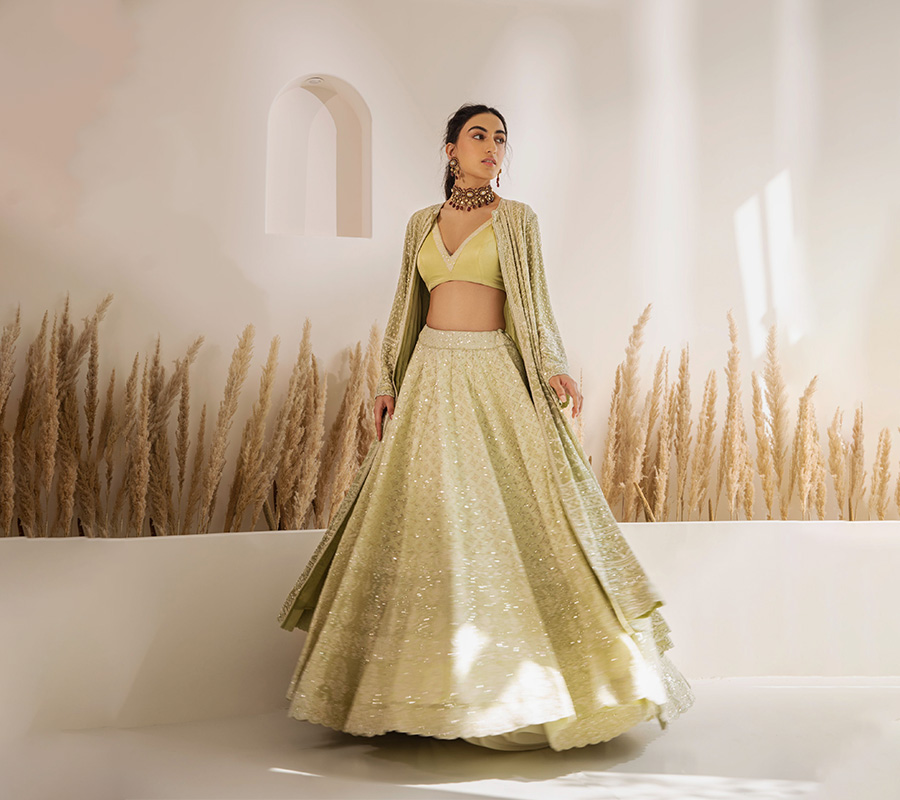 With her expertise in traditional embroideries such as Chikankari and Mukaish, Indian designer Anjul Bhandari uses a graceful and classic aesthetic and combines it with her signature subtle pastel hues for this new collection. Her latest offering, Khush Rang, symbolises the euphoria of new beginnings with pop colours and her signature craft. It follows a neutral colour palette which merges into pastels and pops. 
The new collection features asymmetric cutouts, colourful beads and a modern silhouette, and puts the limelight on chiffon and georgette. A hint of organza gives it a feminine touch while delicate embroidery lends it an authentic and light look, instilling a sense of youthfulness to age-old artistry.
Available at Ensemble in New Delhi, Hyderabad and Mumbai; Ogaan in New Delhi.
3. Tantva, Ankita Lath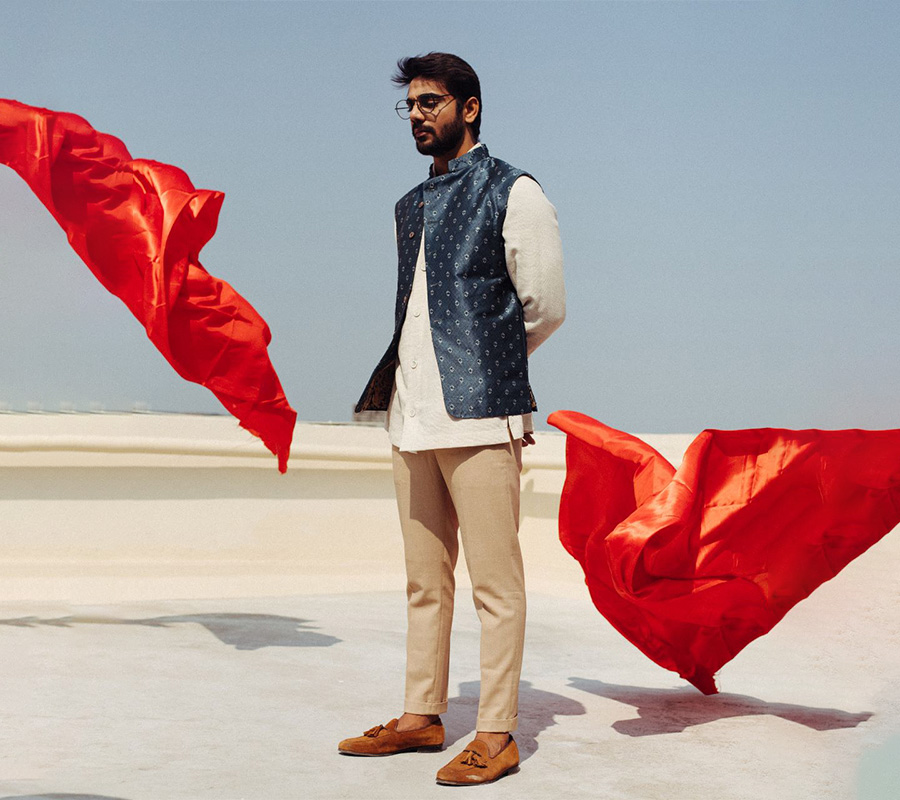 Kolkata-based designer Ankita Lath unveiled her second collection. It is titled Tantva which means textile in Sanskrit. Imagine Indian silhouettes in rich jewel tones, unique bandhani prints, floral motifs with geometric patterns and tonal embroidery complementing the prints and adding an edge to the garment. The collection is a glimpse into Indian textiles comprising organic silk specially made from bamboo fibre, cactus and mushroom.
The designer's debut collection was an Indo-fusion one, crafted in natural and comfortable fabrics like linen and khadi in minimal earthy notes.
Check here
 4. Ibtida, Amrin Khan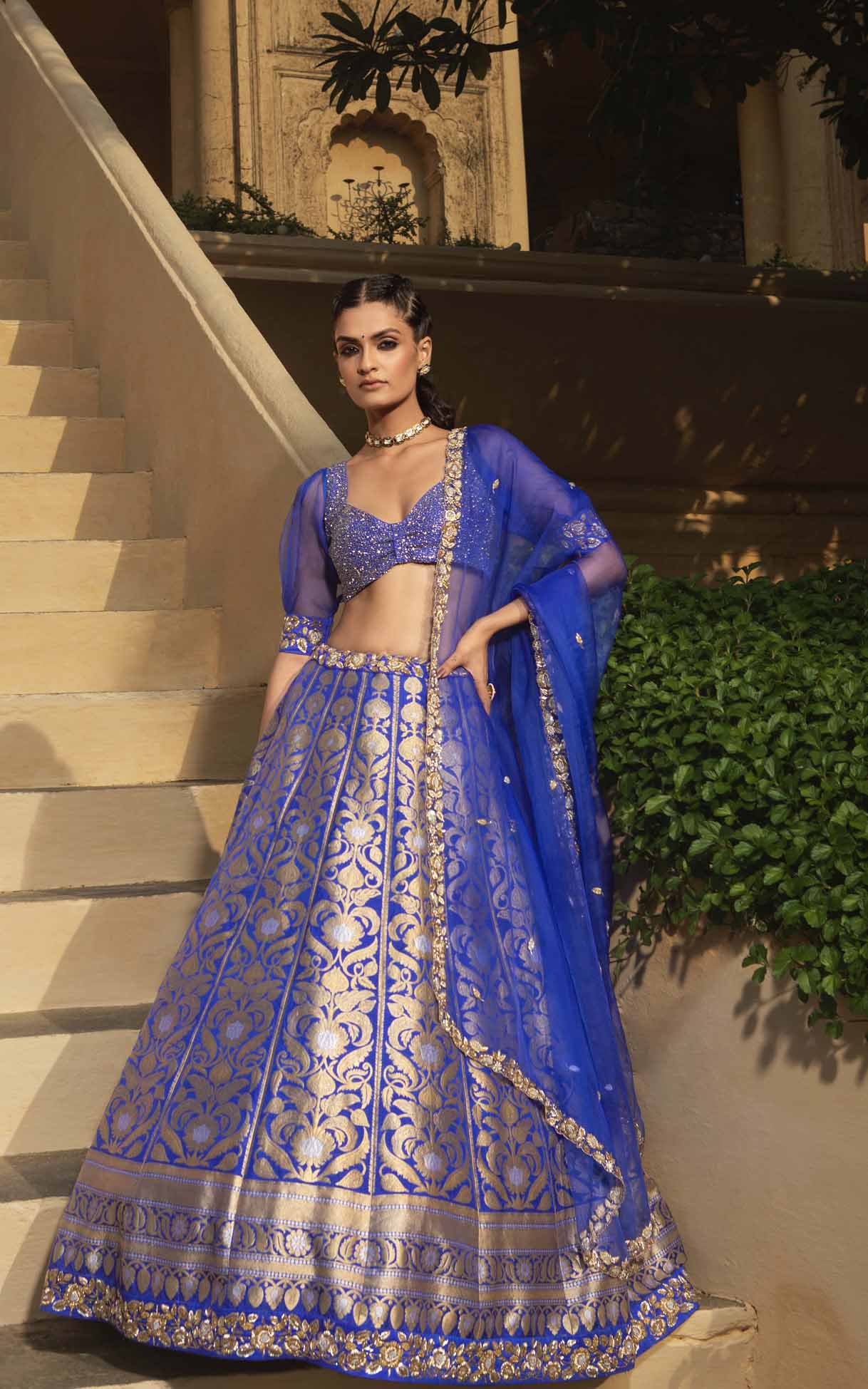 Designer Amrin Khan encapsulates the sentiments of a new bride and groom in her new bridal collection titled Ibtida. Translating to new beginnings, the silhouettes in a varied colour palette — from deep reds, dreamy off-whites, greens, pinks and gold — evoke old-world charm and modern craftsmanship. The collection is aimed at the modern-age bride, groom, and wedding guests.
Available at the brand's flagship store in Vadodara, Gujarat
5. Vrindavan, Asha Gautam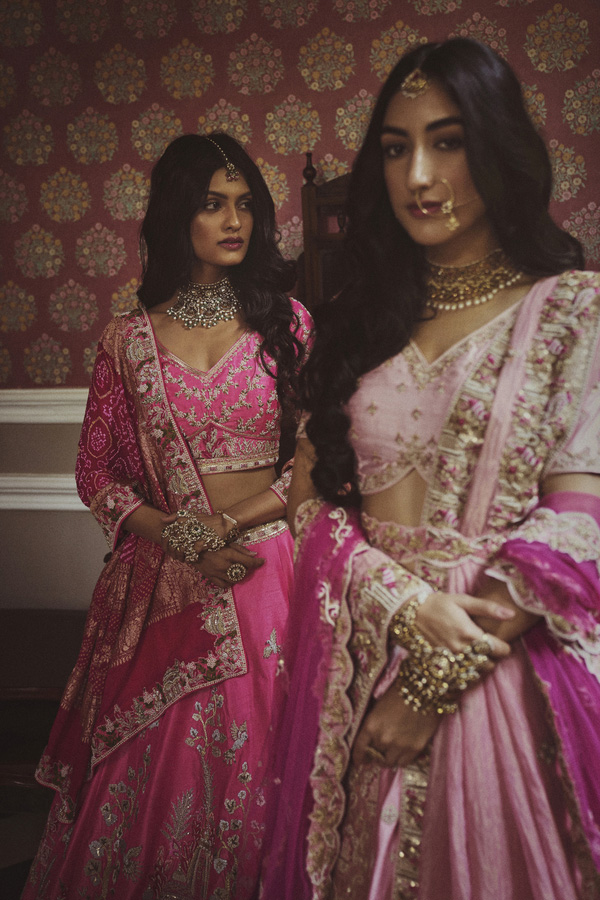 Veteran design brand Asha Gautam launched its bridal collection for 2023 titled Vrindavan. An ode to the eternal love story of Radha-Krishna, the collection is inspired by the architecture, fauna and the people who make Vrindavan. "We always strive for uniqueness, to create something spectacular that can be passed down as worthy of an heirloom. Vrindavan's bridal collection offers meticulous craftsmanship that brings in 12 to 15 different types of materials and 15 to 18 types of embroidery techniques - obscure and almost lost to time - revived and replenished in these new clothes. We work closely with artisans who pour their all into creating each piece, which is reflected in aspects like hand embroidery, which took anywhere between 3,600 to 4,000 hours to make one bridal ensemble," explains designer Gautam Gupta.
The collection is replete with handwork involving appliqué, zari, rich embroideries like convent and French knots, nib painting, bandhani and chikankari. The collection depicts traditional love in a modern age with conventional textiles and intricately designed pieces bursting with vibrant hues like iconic bridal reds, pinks and peaches. 
Check here
6. Velvet Edit, Simar Duggal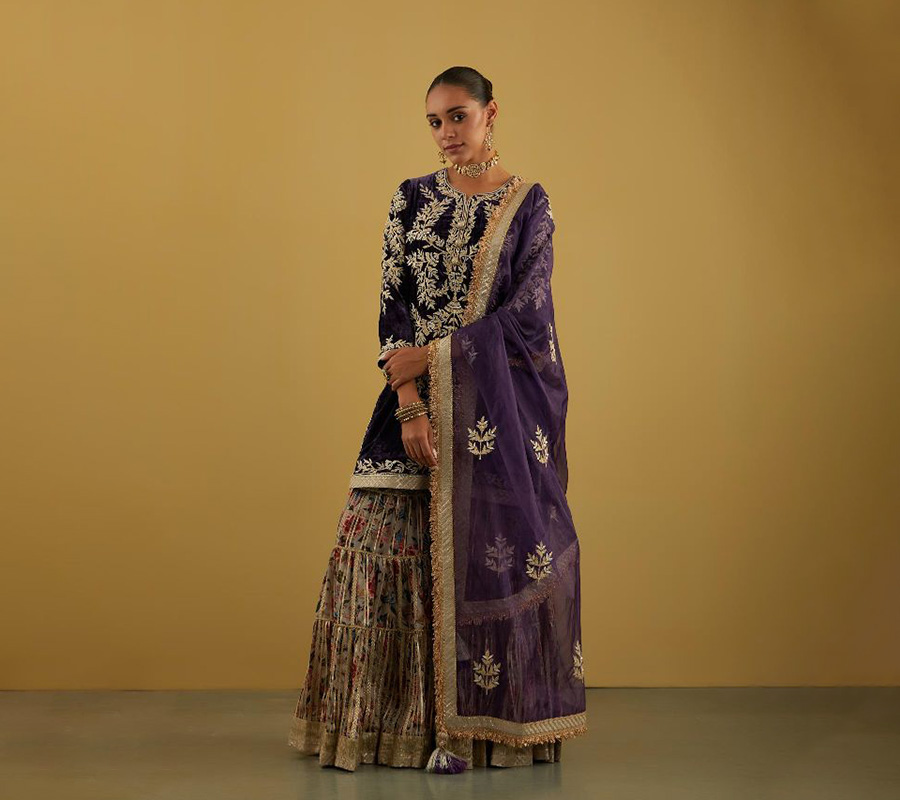 Design label Simar Duggal, now helmed by Arjan Dugal, presents The Velvet Edit which is apt for the winter wedding season. With a range of silhouettes in striking threadwork of zardozi and gota in deep colours, the collection comprises sharara pants, salwar suits and more that beautifully merge the old and new, understated and edgy.
Available at Emporio, Bharat Nagar and Ogaan Hauz Khas Village, New Delhi
7. The Sequins Collection, Gulabo by Abu Sandeep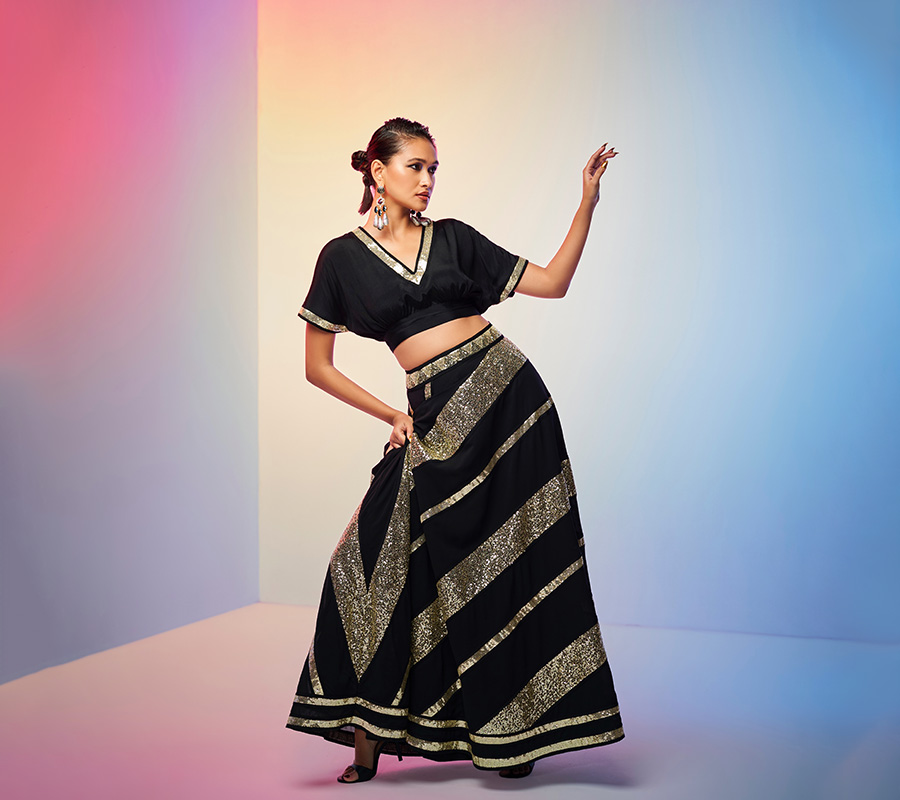 Noted designers Abu Jani and Sandeep Khosla's prêt wear label, Gulabo by Abu Sandeep, has a new collection dedicated to the allure and shine of sequins. The silhouettes are crafted in georgette and satin, elevated to new heights of glamour with sparkling sequins in geometric motifs. 
Whether you want to make a statement as a wedding guest or exude elegance at a formal event, the collection has something for everyone — ranging from sarees and capes to kaftans.
Check here
8. Saanjh, Indya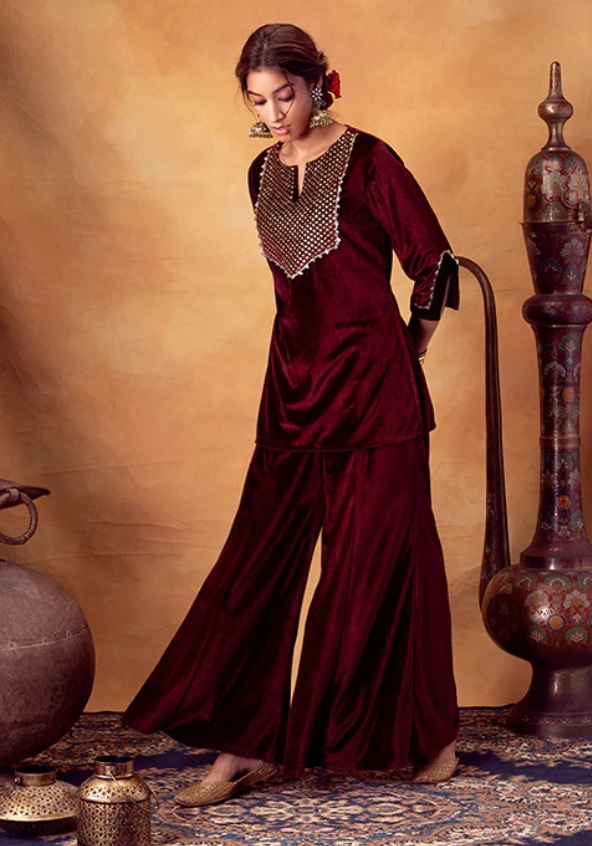 Ethnic wear brand Indya presents Saanjh which is replete with velvet silhouettes and serves as a must-have apparel for the winter wedding season. The collection consists of makhmal kurtas, kaftans, sarees, blouses, sets and stoles in rich jewel-toned colours and adorned with intricate threadwork, golden zari embroidery, gleaming foil prints, and sparkling trims. The collection spells effortless glamour. 
Check here.
Photo: Gulabo by Abu Sandeep; Featured Brands