When it comes to Deepika Padukone, there is no denying that the world takes notice. Queen D is a stunning actress and a fashion icon who slays the game with her unparalleled style and jaw-dropping looks on every platform imaginable. It's no wonder that we are all living in Deepika's world!
With her impeccable fashion sense, it's no surprise that Deepika has garnered immense recognition and respect in India and abroad. The versatility in Deepika Padukone's style has always left us in awe, be it her glamorous red-carpet looks or her casual yet chic street style.
But not just her fashion makes her a force to be reckoned with. Her acting prowess and graceful elegance have catapulted her to the top of the industry, making her a true inspiration to millions.
So, if you're a fan of Deepika Padukone or someone who admires her style, you're in for a treat. This article will showcase Deepika Padukone's top 7 iconic looks. These Deepika Padukone outfits and looks will leave you in awe and may even inspire you to upgrade your wardrobe.
Get ready to witness Deepika Padukone in all her glory as we look at the stunning fashion statements she has graced us with lately.
Deepika Padukone's top seven iconic looks
These looks have become iconic because every detail has been carefully crafted to perfection, from her attire and accessories to her impeccable hair and makeup. So, let's roll out the red carpet for the top 7 Deepika Padukone's iconic looks.
1. Barbie in the Zac Posen pink gown
Deepika Padukone stole the show at the Met Gala 2019 with her stunning pink Zac Posen dress that perfectly embodied the essence of camp. The fitted bodice and multi-tiered sculpted skirt with delicate embellishments added a touch of sophistication to the buttery pink shade. She styled her look with a voluminous high ponytail, a bejewelled pink hair band, striking burgundy lips, and bold purple eye makeup to complement the bold aesthetic. The style looks 'Barbie', yet it distinctly reflects her persona.
2. Deepika in a dramatic black and white gown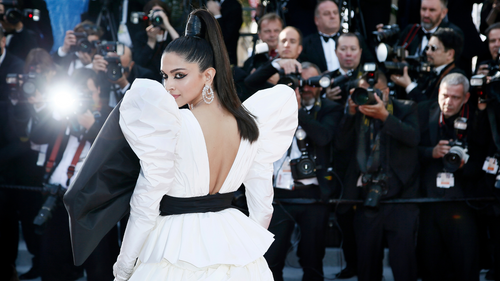 At the 2019 Cannes Film Festival, Deepika Padukone made a grand entrance in a stunning full-sleeved white Peter Dundas gown, the epitome of high impact. The Deepika Padukone outfit featured an enormous black bow positioned perfectly in the centre, with a uniquely long train and a plunging neckline to add a touch of sultry appeal. Deepika amped up the drama with striking upside-down cat eyes, an Egyptian-inspired high ponytail, and a chic nude pout to complete the look. This iconic red carpet style looks stunning and will continue to inspire fashion enthusiasts and beauty lovers alike.
3. At her 'Camp best' in the lime green tulle gown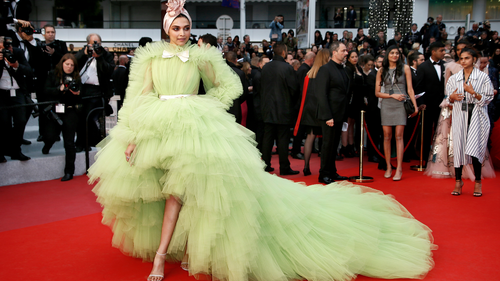 Deepika's outfit choices have always been bold and experimental, as demonstrated by her lime green tulle gown. The actress had walked the Cannes Film Festival 2019 red carpet in a ruffled lime green gown with a train by Giambattista Valli, offset by feminine blush bow and a floral turban in the same colour. Deepika had paired her stunning dress with dewy makeup, smokey eyes, and nude lips had added to the glamour of her overall look. Once again, Deepika proved her fashion prowess in one of her best outfits as she set a benchmark for others.
4. Perfect in a purple sculpted gown
Deepika Padukone's dress stole the 26th Annual Crystal Awards show, where she was recognised for contributing to mental health. The 2020 ceremony in Davos, Switzerland, saw the star in a stunning purple gown from Alex Perry's spring/summer 2020 collection. This Deepika Padukone outfit featured cascading cape sleeves, structured power shoulders, and an interesting knot at the waist. With a wide neckline, the gown drew attention to her décolletage and hugged her curves perfectly. Deepika Padukone kept her makeup subtle with nude lips and a smoky eye in shades of brown and accessorised with a pair of chandelier earrings by Mahesh Notandass.
5. Suave in a cobalt blue sari
When it comes to fashion, Deepika Padukone's dresses never fail to turn heads. For a premiere night of her movie Chhapaak, the actress took the timeless sari to new heights with a dazzling twist. Her sequined cobalt blue Sabyasachi sari was paired with a matching blouse featuring a plunging neckline and low back. To enhance the glam factor, Padukone adorned herself with an assortment of gold jewellery, including mismatched kadas and rings. Her bold blue smokey eyes, matte nude lips, and slicked-back wet hair perfectly complement her glamorous yet traditional look.
6. Classy in a navy blue velvet gown
Deepika Padukone walked the red carpet at the screening of her film, 83, with elegance in a custom navy blue velvet gown that hugged her curves in all the right places. The plunging neckline and train of the Gauri and Nainika creation screamed sophistication and glamour, as did the statement diamond and emerald necklace and rings that adorned her. Deepika Padukone opted for a classic take on old Hollywood glam with her hair styled in a side-swept wavy bob, double-lined eyeliner, and nude lips to complete the timeless look. It's no wonder this is one of the best outfits she's worn on a red carpet!
7. Flawless in a fuchsia pink gown
The fuchsia pink gown worn by Deepika Padukone at the Oscar after-party was so impeccably styled that it captured the attention of international media, who couldn't help but shower it with praise. Deepika Padukone truly stole the show in that fuchsia pink feather dress by Naeem Khan. She further complemented the outfit with faux leather gloves and a matching waist belt. A trendsetter in every way, Padukone effortlessly flaunted opera gloves and sheer stockings with black heels. And if you're curious about her makeup secrets, opt for a soft base and perfect the winged liner for that quintessential Deepika Padukone look. As for accessories, a pair of diamond earrings from Cartier completed the signature top-knot hairstyle flawlessly. One of the best outfits in Deepika's collection of iconic looks.
    
Deepika Padukone's style exudes confidence and sophistication, making her a fashion icon. Whether it's her casual airport-style looks or her red-carpet Oscar gown, Deepika manages to stun everyone with her sartorial choices. With her top 7 iconic looks, she has inspired her fans and set a new benchmark for fashion enthusiasts worldwide.
Can't get enough of Deepika Padukone's iconic looks; check out Deepika Padukone's looks in Pathaan. Deepika has served some jaw-dropping fashion looks at the Cannes film festival; check out Deepika Padukone in Cannes Film Festival looks. If you are a makeup enthusiast and want to recreate Deepika's looks, check out Deepika Padukone's nude makeup looks.
---
Photo: Shutterstock