Sweltering sun. Cool brackish water. A swimsuit-clad lad running along the coastline in slow motion. The zephyr from the sea ruffling her brown beachy waves.
No points for guessing that the lad was me and the scenario was but a figment of my imagination, a full-blown side-effect of my OTT excitement before a beach vacay. I was finally getting to travel after three years, two major covid waves, and a pandemic baby! Naturally, my inner fashion freak made me drown into celeb-approved vacay looks for some outfit inspiration. But as I scoured the Gram, I had an epiphany. Each ensemble was shorter, tighter, and with a steeper neckline than the other. This struck me as odd. 
While I'm all for body positivity and the got-it-flaunt-it philosophy, my postpartum body wasn't quite ready to adhere. I am sure there are many others like me, who're uncomfortable with revealing too much skin for their own reasons. Does that mean we let it put a dent on a fabulous summer or redirect our vacay plans to good-ol' Nainital? Hell no! 
My quest for modest beach looks helped me discover some genius ways to rock swimwear with an unostentatious-yet-sexy vibe. I am sharing five styling tips with you hoping for them to help you make the most of your summer holiday and well–your curves. Check them out:
Rock that onesie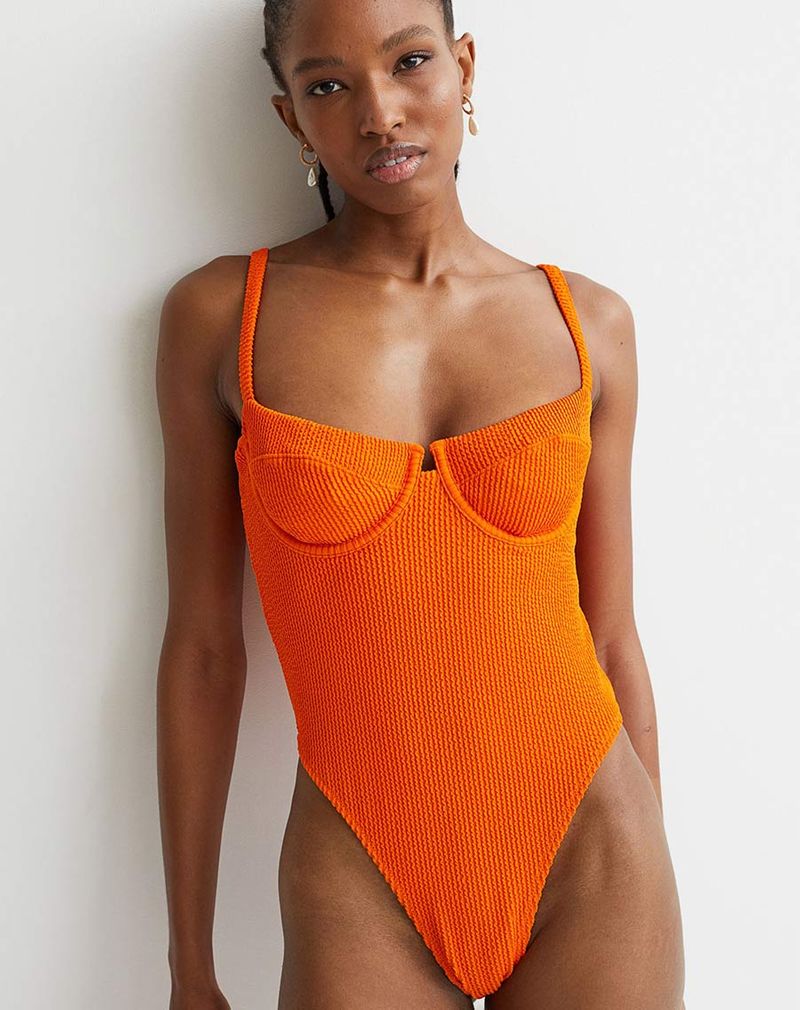 Gone are the days when the words "covering up on the beach" didn't have that alluring ring to them. Thanks to the 90's fashion making a comeback, the one-piece swimsuit is on a roll. In fact, recent vacay pics of fashion influencers and celebs are proof that being bikini-shy can be even chicer. Check them out: 
A high-waist bottom to the rescue
This styling hack can kill two birds with a stone. One, it can offer more coverage than the classic thong. Two, it can be quite flattering for your curvaceous bod. You can opt for a high-waisted bikini bottom, shorts or a sarong thong without a doubt because guess what? Even the fashion world approves. Take a look:
Ditch the 2-piece for a breezy 3-piece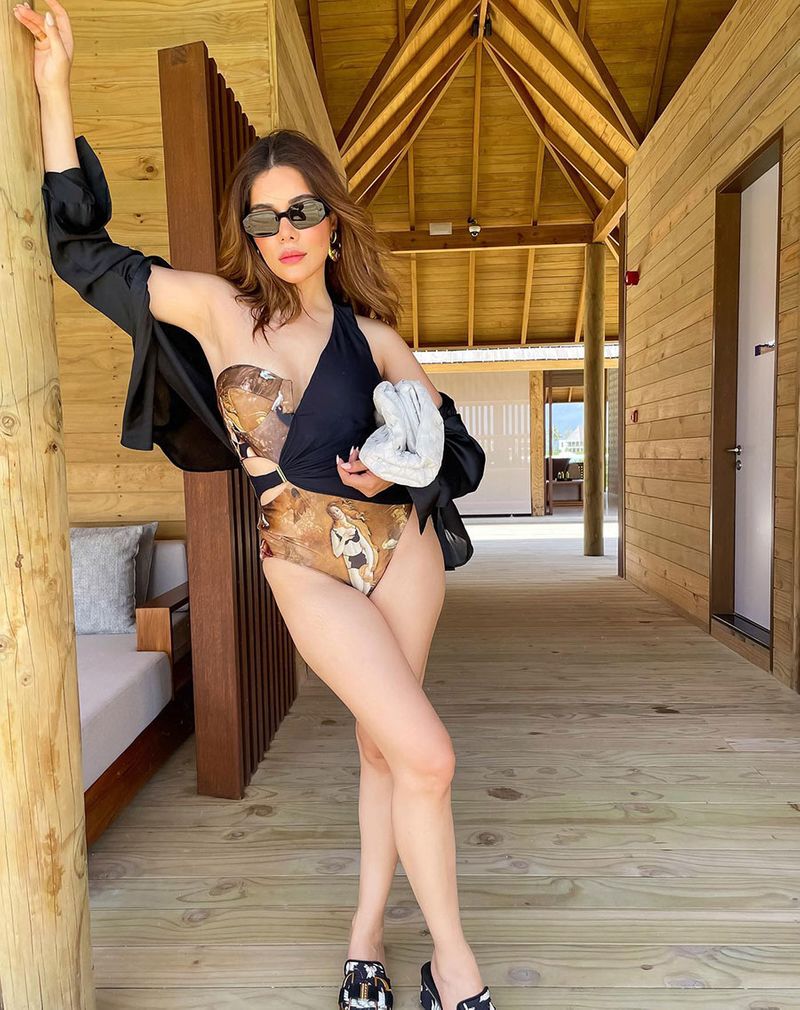 If you're looking for a seriously conservative beach look, a 3-piece resort attire is a godsend for you. A flowy cape, a bikini, and a draped skirt or flared pants–this look is sure to grab eyeballs while keeping you super comfy. Even your favourite fashion bloggers swear by it. Here's proof: 
Layer up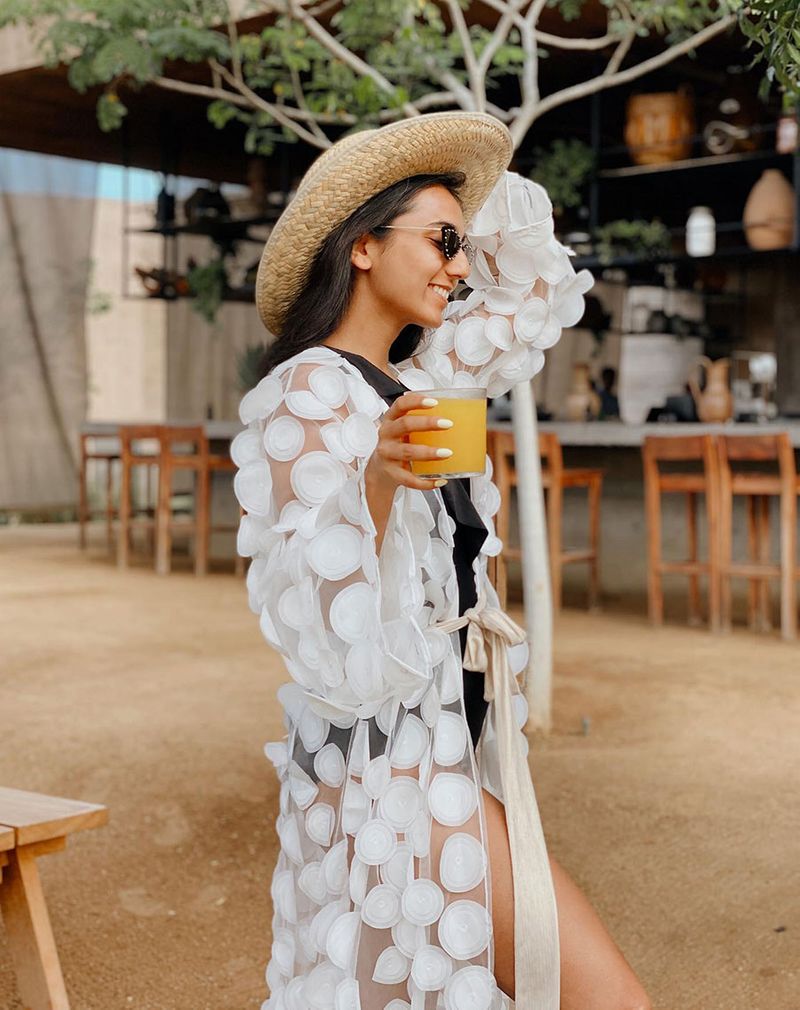 Believe it or not, it is possible to amp up your swimwear by following the evergreen 'layer-up' styling mantra while staying fashionably cool–even when it's over 35 degrees at the beach. The best part? You can use existing pieces from your wardrobe to create this look. A beach cover-up, a sheer tee, crochet pants, a scarf, a transparent kurti, a wrap-around skirt, an oversized shirt–you can get creative here and save some big moolah. The trick is to opt for airy and breathable fabrics, prints with a beachy vibe, and see-through garments giving just a little sneak-peak for an overall sexy vibe. Here's what I mean:
Kaftans all the way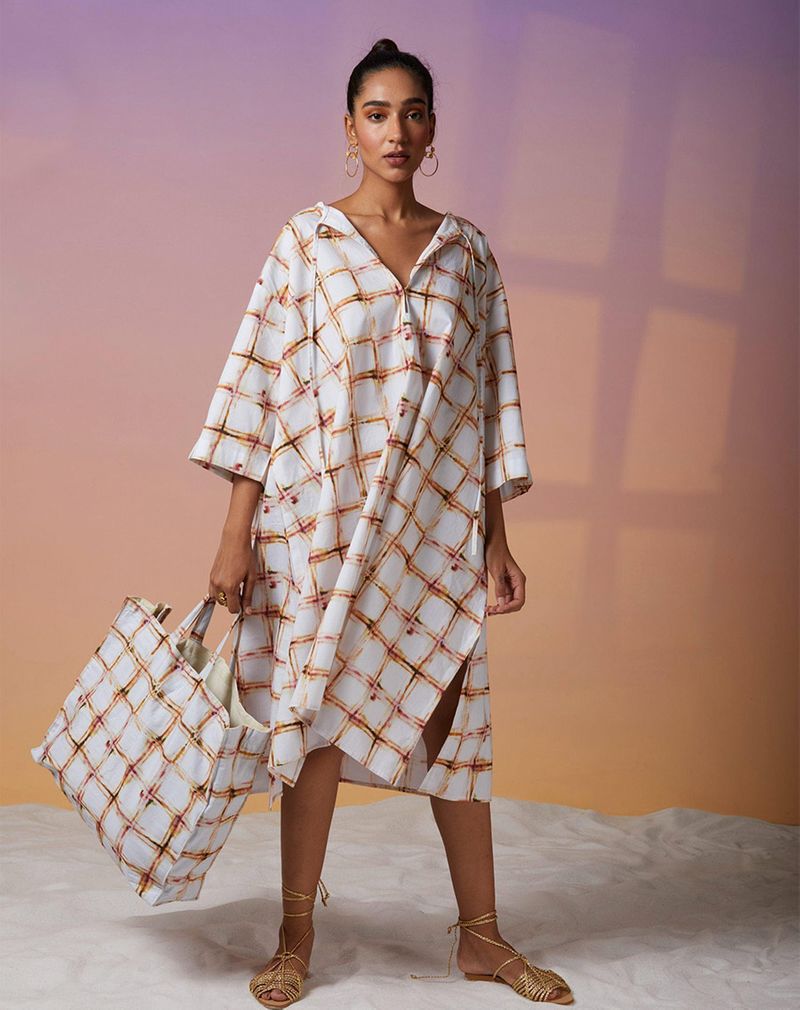 Scan your loungewear and get hold of all the comfy kaftans buried in there. I'm talking from personal experience here, they are the beach-friendliest garments and can keep you covered, cool, and glam even in the scorching heat. You can wear them over your swimsuit and take them off right before a dip. Here are a few ideas. 
The final word
Whether you're vacationing by the beach or plunging into a pool at a hotel, these suggestions are legitimate and can help you create a modest-yet-stylish statement in your swimwear. Remember, the key is to find a piece that makes you feel confident and good about yourself so you can make the most of your vacay in style. Happy holidays! 
---
Photo: Instagram/saraalikhan95, featured brands