Are you ready to turn heads and make a fashion statement that leaves everyone in awe? We get it—wearing white jeans can be intimidating for many. But trust us, once you discover the art of creating the right combinations with white jeans, there's no looking back. Lucky for you, we're here to guide you through some incredible and one-of-a-kind ideas to style your white jeans. From casual gatherings to chic evenings out, white jeans have become a versatile wardrobe staple for fashion-forward individuals. So, get ready to unleash your inner fashionista. 
10 fashionable white jeans outfit styles for women
1. Girl next door
When it comes to nailing a casual yet chic ensemble, white jeans are your ultimate secret weapon. Pair them with a relaxed t-shirt, knotted at the waist, and slip into some comfortable sneakers. This combination exudes an effortlessly cool vibe, making it ideal for brunch dates, weekend shopping sprees, or catching up with friends over coffee. Throw on a denim jacket or a bohemian-inspired kimono for an extra touch of flair.
Pro tip: On busy days, throw on some white jeans with a matching shirt or slip into a simple red top with white jeans for some effortless chic vibe.
2. Sophisticated and sleek
Who says a white jeans outfit is limited to casual outings only? With the right styling, white jeans can effortlessly transition into your work wardrobe, exuding elegance and professionalism. Opt for a tailored white jeans silhouette, pair it with a crisp button-down shirt, and finish the look with a tailored blazer. Add some sophistication with sleek pumps or classy loafers. This ensemble is perfect for meetings, business lunches, or when you simply want to command attention with your impeccable style.
3. Boho chic
Tap into your inner bohemian goddess and rock a boho chic look with white jeans as the centrepiece. Start by pairing them with a flowy floral or printed peasant top, embracing the relaxed and carefree vibe. Layer on some delicate gold jewellery, throw on a wide-brimmed hat and slip into some suede ankle boots. This ensemble is ideal for music festivals, outdoor picnics, or those days when you want to express your individuality through your fashion choices.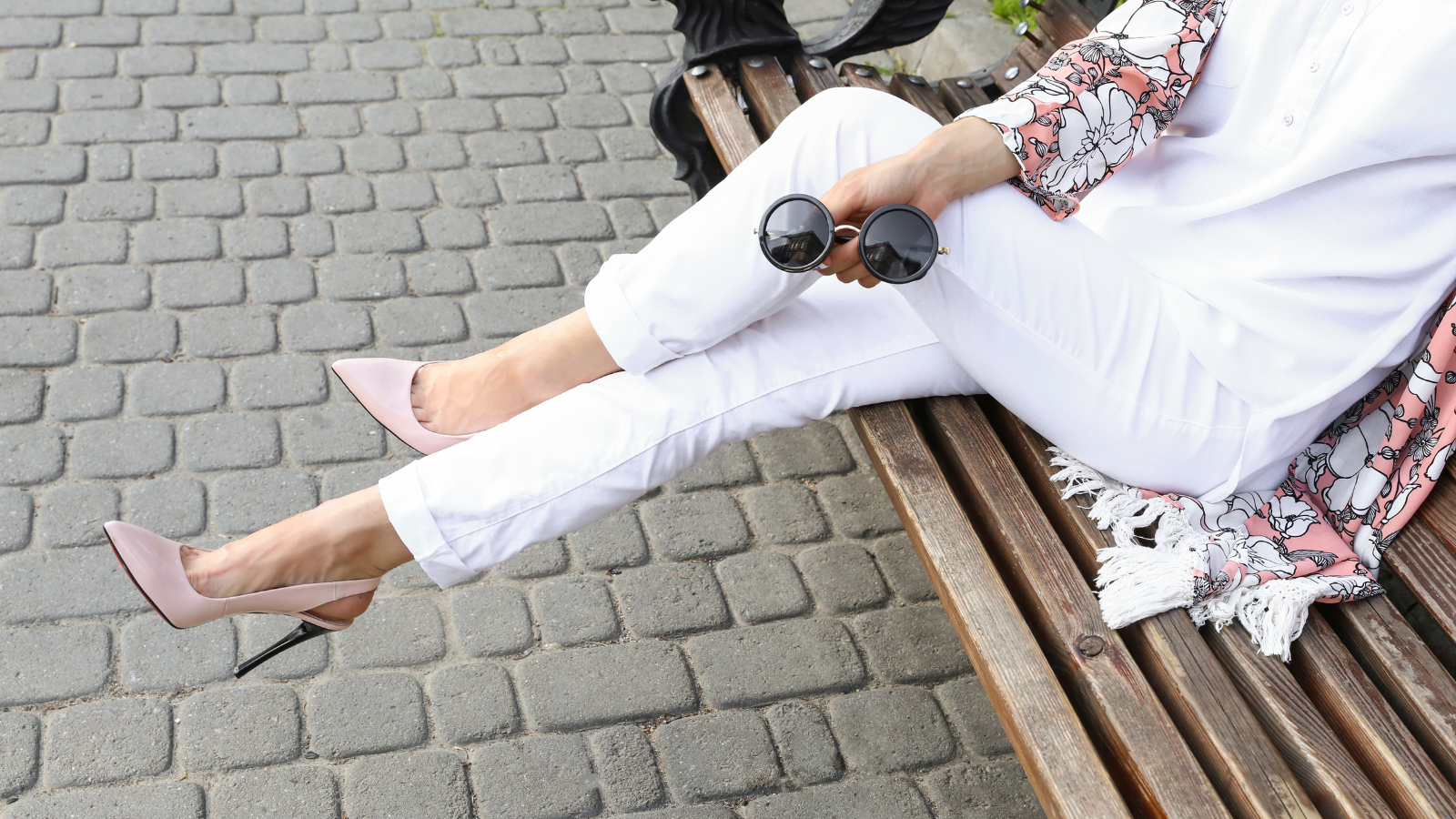 4. Date night-worthy
White jeans outfits have the power to transform your evening attire into a show-stopping ensemble. Combine them with a dazzling sequined or metallic top to instantly elevate your look. Go for strappy heels or metallic sandals to complete the glamorous effect. Whether you're attending a cocktail party, a fancy dinner, or a night out on the town, this outfit is guaranteed to make you the centre of attention.
5. Effortlessly edgy
If you're a fan of edgy fashion, white jeans can effortlessly channel your rebellious side. Combine them with a leather jacket, band t-shirt, and ankle boots to create an outfit that exudes attitude and confidence. Accessorise with studded belts, chunky jewellery, or a statement bag to further enhance your bold aesthetic. This look is perfect for concerts, rock-inspired events, or when you're simply in the mood to embrace your inner rebel.
6. Playfully preppy
For a fresh and preppy look, pair your white jeans with a top in navy and white stripes. This white jeans combination instantly evokes a nautical vibe. Add a touch of sophistication with a navy blazer and complete the ensemble with some boat shoes or espadrilles. This outfit is perfect for sailing trips, beachside strolls, or simply when you want to channel that timeless coastal charm.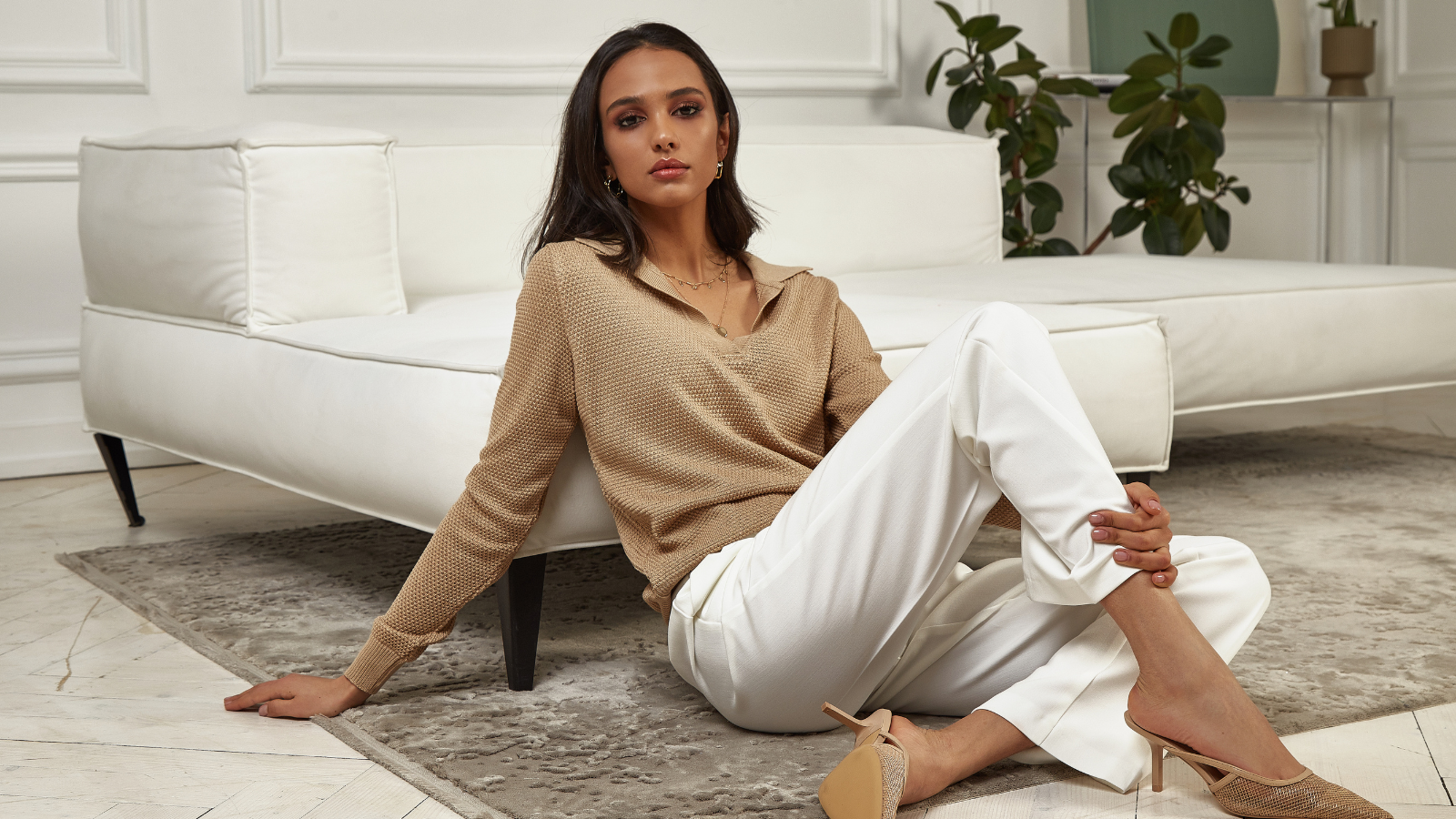 7. Parisian chic
Create a whimsical and romantic look by pairing your white jeans with neutral hues. Choose a delicate flowy blouse to add a touch of femininity. Throw on some dainty accessories like floral hair clips or delicate necklaces. Finish the look with nude or pastel-hued heels for an ethereal effect. This ensemble is perfect for romantic dates, garden parties, or any occasion when you want to exude pure elegance.
8. Street-style chic
White jeans can be the key to achieving an effortlessly cool street-style look. Combine them with a graphic tee or a statement sweatshirt, and add a layer with a trendy oversized denim jacket. Complete the outfit with chunky sneakers or ankle boots and accessorise with a backpack or a crossbody bag. This urban-inspired ensemble is perfect for exploring the city, attending music festivals, or unleashing your inner street fashionista.
9. Athleisure fusion
Merge fashion and comfort effortlessly by creating an athleisure-inspired look with white jeans. Pair them with a cropped sweatshirt or a sporty hoodie for a laid-back yet stylish appearance. Complete the ensemble with sleek sneakers and accessories with a baseball cap or a crossbody bag. This outfit is perfect for running errands, casual outings, or when you want to exude a sporty chic vibe without compromising on style.
10. Resort glam
Channel your inner jet-setter with a holiday-inspired look that showcases the versatility of white jeans. Pair your white jeans with a top having a flowy tropical print or a colourful off-the-shoulder blouse. Add some glamour with statement earrings, oversized sunglasses, and strappy sandals. This ensemble is ideal for vacation getaways, poolside lounging, or when you want to infuse your style with a touch of an exotic paradise.
With their undeniable versatility and undeniable charm, white jeans combinations have become a must-have in every fashion enthusiast's wardrobe. From a red top with white jeans to flaunting a white top and jeans to styling your white jeans with a matching shirt, the possibilities for creating a myriad of combinations with white jeans are endless. So, experiment with these outfit ideas, adapting them to suit your unique taste and occasion. Let your creativity run wild, and embrace the magic of white jeans as you embark on a stylish journey that is uniquely you!
PS: We are guilty of loving denim a tad bit much. Check out the articles below for some 101 of the denim world!
Photo: Shutterstock