The feel of silk against one's fingers is incomparable, as is the comfort a pair of good leather shoes provide. But then again, vegan silk or plant-based leather footwear can provide the same level of comfort and appeal. Truth of the matter is, what makes fashion even more fashionable is when it's made with a sense of responsibility as part of its ethos. 
From Vegan clothes and accessories – be it bags or shoes – to even makeup and skincare, the world is slowly shifting towards a more conscious place where plant-based raw materials are considered seriously. If you've been curious about what vegan fashion really is and how you could make it a part of your life, Zee Zest gives you a list of 10 brands, some of which are even certified by PETA tp be vegan and cruelty-free. Take a look, and happy shopping: 
1. Paio
 Based in Mumbai, Paio is PETA-certified and makes comfortable and lovely shoes and they are all vegan. Their footwear is made by hand and can be custom ordered as well. Founded by Shweta Nimkar, the 2016-brand uses plant-based leather such as mushroom leather, and offers a range of designs for all sorts of occasions. 
Find them here  
2. H[oo]man Wear 
This really hip brand uses plant-based fabrics to make really hip T-shirts, hoodies and other casual wear, uses 100 per cent biodegradable, compostable, reusable and plastic-free packaging, and is PETA-approved. The brand also manufactures upon orders to cut out waste and keep their inventories tight. 
Find them here 
3. Aulive
From pleather (constructed fabric to resemble leather) to pineapple leather, Aulive, a Delhi-based label, creates fashionable bags for your everyday use. And they come in a whole range of colours and styles too. 
Find them here 
4. Arture 
Founded in 2015, Arture makes vegan leather products using 100 per cent natural cork and other plant-based materials. Cork is known to be durable, light, flexible and also resistant to fungus and water. Arture is also PETA-approved and makes wallets, handbags and travel-related accessories. 
Find them here 
5. House of Anita Dongre 
Certified by PETA for being cruelty free, the House of Anita Dongre is where luxury meets responsible fashion. The brand sources from companies that are known for manufacturing biodegradable fabrics. The fashion house also takes its sustainability goals seriously by adhering to energy renewal and recycling rules. 
Find them here 
6. Shobitam 
Shobitam's premium range of vegan silk sarees, made from banana fibre, is definitely worth a look. The natural sheen and texture of this material is as close to the real deal and comes in a range of styles and designs, not to mention the touches of zari that is also vegan. 
Find them here 
7. Kalamargam 
Vegan and conscious of its environment, Kalamargam not only designs a range of clothes that focuses on India's traditional craftsmanship, but also works towards empowering artisans from marginalised communities. Kalamargam is also PETA-certified. 
Find them here  
8. KANABIS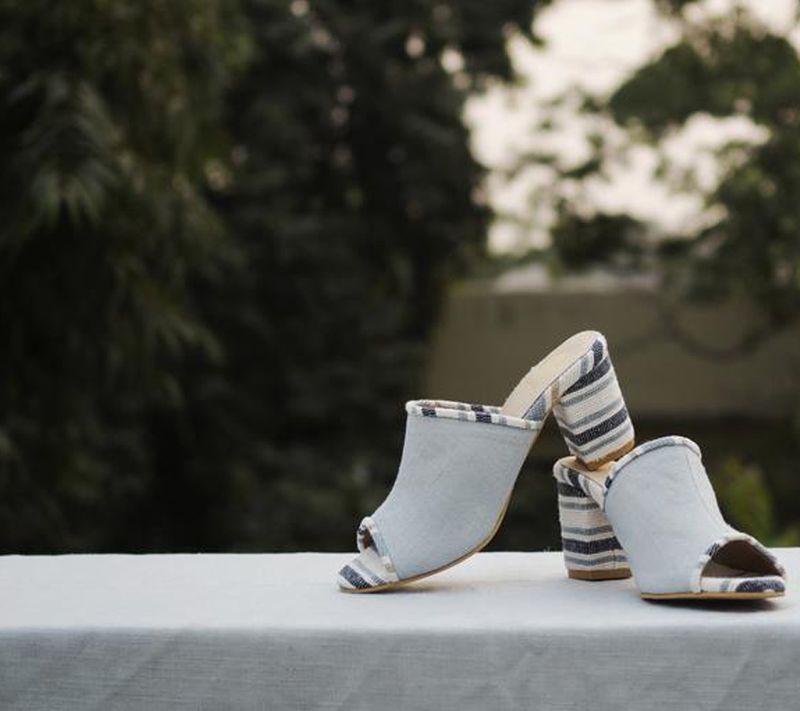 Shoes made from cannabis? You read that right. KANABIS is PETA-approved and gets its leather from the cannabis plant. It makes fashion footwear that will make your feet happy. As the name suggests, the PETA-approved brand derives its leather from cannabis. 
Find them here  
9. Shubam Sarees 
The Coimbatore-based brand designs sarees that are made from rayon and cotton but has the same feel as silk, making the brand vegan and cruelty-free. The brand sells its creations via social media and Whatsapp.
Find them here 
10. Lake Peace
Clean, compassionate and conscious - that's how Lake Peace, a brand that manufactures stylish and sustainability-created clothes, would like to describe itself. And might we add, cruelty-free. From tops and tees to dresses and jumpsuits, Lake Peace offers a wide range of apparel that are simple and environment friendly. The label was founded by Delhi-based Richa Johri in 2019. 
Find them here 
---
Photo: Shutterstock; Featured brands