The dining table, which serves as a focal point for social gatherings with family, friends, and loved ones, is more than just a piece of furniture that serves its intended purpose. The dining table transforms into a canvas onto which we express our aesthetic preferences and embrace the art of hospitality as we bring people together to share meals and make memories.
Dining tables are available in a wide variety of styles, materials, and sizes to suit a wide range of tastes and preferences, from sleek contemporary marvels to painstakingly built traditional designs. We dig into the world of dining table design, revealing the skill and creativity that turn these basic edifices into alluring interior focal points.
The world of contemporary dining table designs, where clean lines, minimal design, and cutting-edge materials flawlessly meld to produce visually stunning pieces that transform modern living spaces, is where we start. 
Here are 10 types of dining table styles for your home
1. Modern minimalism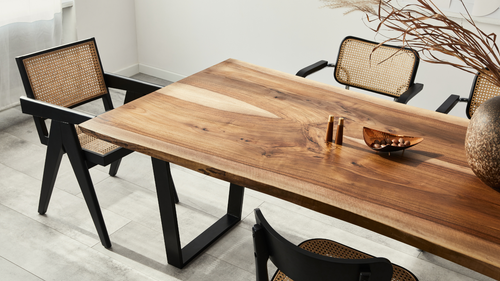 The modern minimalistic dining table design embraces simplicity at its best with its sleek lines and modern beauty. The clean, geometric lines and minimalist appearance of this design, which is made of materials like glass, metal, or high-quality wood, easily complement contemporary environments. Due to its subtle elegance, the surrounding area's beauty is kept at the forefront.
2. Rustic charm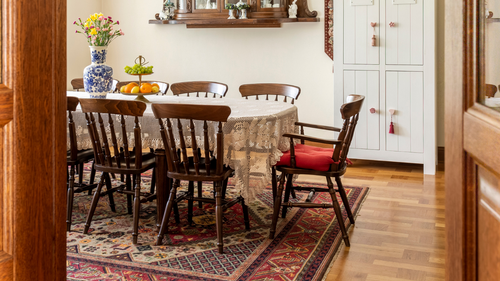 The rustic dining table design transports us to a comfortable rural retreat since it is filled with warmth and nostalgia. With its rough surfaces and worn finishes, this style, made from organic materials like reclaimed wood, celebrates the beauty of flaws. It emanates an air of classic elegance and encourages a laid-back and welcoming setting for family get-togethers and private dining.
3. Industrial chic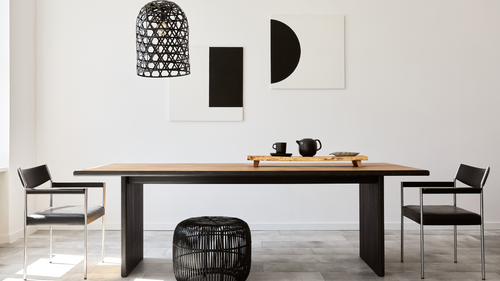 The industrial chic dining table design mixes sturdy elements like metal and wood to produce a raw and urban feel. It is inspired by industries and warehouses. This design, which adds a touch of edginess to any dining area with its exposed bolts, faded finishes, and reclaimed materials, offers a special fusion of old charm and modern flair.
4. Scandinavian simplicity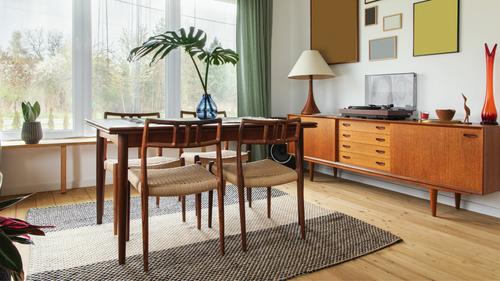 The Scandinavian dining table design incorporates clean lines, light wood tones, and a minimalistic approach, upholding the values of simplicity and functionality. Its simple layout and organic shapes produce a calm and welcoming environment. The emphasis on hygge, which promotes a feeling of cosiness and comfort, is highlighted by this style, which is frequently paired with modern seats.
5. Creative masterpiece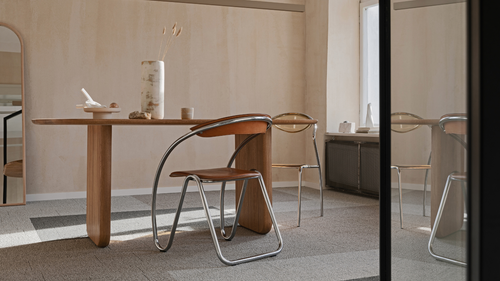 The creative dining table design blurs the distinction between furniture and art to create a fascinating centre point in any room. These tables, which were created by expert craftsmen, have unusual shapes, elaborate patterns, and aesthetic features like hand-painted surfaces, mosaic inlays, or sculptural bases. They make a strong statement in any eating area and are a wonderful celebration of craftsmanship and ingenuity.
6. Space-saving options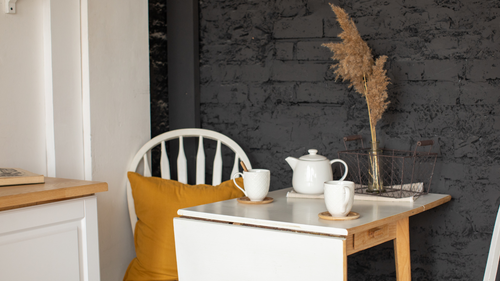 The space-saving dining table design combines aesthetics and functionality and is intended for small living spaces. Tables that fold up, have drop-leaf designs or have extendable mechanics make it simple to adjust to different demands. These tables are perfect for apartments or little dining nooks since they smartly maximise space usage without sacrificing beauty.
7. Farmhouse chic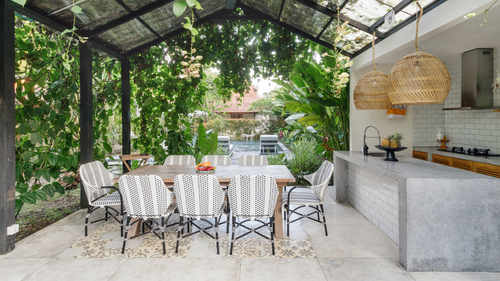 The farmhouse chic dining table design radiates warmth and character as it combines rustic and vintage features. This design creates a laid-back and welcoming atmosphere reminiscent of farmhouse gatherings with its faded finishes, twisted legs, and country-inspired features. It creates a warm and welcoming environment when combined with mismatched chairs and lovely decorations.
8. Glass elegance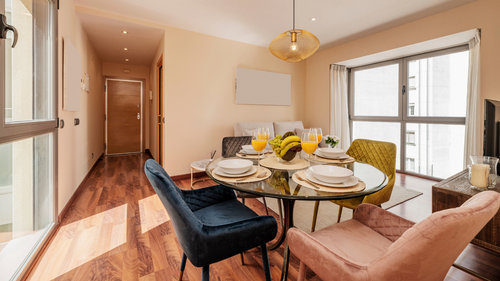 The glass dining table design emits a sense of elegance and sophistication by capturing light and giving the impression of space. Any eating space is given a contemporary touch with transparent or tinted glass tabletops paired with sleek metal or wooden supports. Those who value a bright, breezy atmosphere will love this design.
9. Retro revival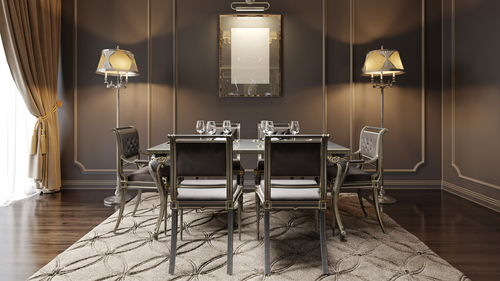 The retro dining table design features wistful motifs from the middle of the 20th century, bringing back the charm of yesteryears. This pattern's striking colours, rounded edges, and unusual patterns give it a retro and whimsical feel. It gives eating areas a bright and vintage vibe that promotes lively conversations and a nostalgic ambience.
10. Nature's inspiration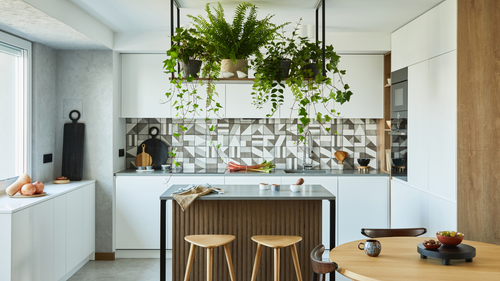 The nature-inspired dining table design incorporates organic features into its form, drawing design cues from the surrounding environment. The beauty of nature is celebrated with live-edge timber tabletops, tree-inspired bases, or exquisite flower designs. The dining rooms are given a calm and calming atmosphere because to this design's seamless integration of the interiors and outdoors.
---
Photo: Shutterstock