If you are still struggling to enforce a disciplined work from home routine and be productive while juggling multiple responsibilities at home, fret not. With the Covid-19 vaccine still a distant dream away, you may find yourself in a prolonged work-from-home situation. For the longest time, and for most corporate employees, work from home was been a perk that topped the work-life wish list, considering it comes with freedom and minus the soul-crushing commute and without managers or co-workers hanging over your head. 
But the long-term risk of WFH burnout is real. 
While the Coronavirus outbreak has led offices to function from home, there are several challenges that are making it less fun than one had imagined. Many of us are perhaps finding it difficult to maintain a work-life balance with this new routine, often slipping into chill mode without notice, and then, working ourselves to the ground to overcompensate. This affects productivity, and eventually, our mental health.   
It makes one wonder – perhaps freelancers are better equipped for this? So, we spoke to 8 at-home professionals, who have been acing the work-from-home game for years, to share their mantras on working from home. 
1. Set Ground Rules 
It's easier to get distracted  when you're working from home because you're more accessible to friends and family, shares Mumbai-based author and food blogger, Kalyan Karmakar. Whether it's family members having a random discussion, relatives/friends calling in to check on you, pets creating a ruckus and/or delivery people.  
"Self-discipline is key. So, you need to set a few boundaries. Set your working hours and inform your family members about it to ensure they don't disturb you during that time. Also, avoid attending casual calls, as they can affect the focus," Karmakar explains, adding that it's okay to take calls that are urgent, but one must return to their task immediately so that their schedule doesn't go for a toss. 
2. Self-Discipline is Key 
"There's a sense of freedom which comes with working from home. Since you don't have hours to clock in, you may get into a comfort zone. But by getting, lackadaisical you'll soon be behind all deadlines," cautions Magandeep Singh, a sommelier, writer and columnist. To combat this, he suggests you understand your work schedule and set a routine. However, this need not be according to a traditional 9-to-5 schedule. "I work in the food and drinks space, where meetings can happen at any time of the day. So, if I know I have one in the evening, I complete all other tasks in the first half of the day. This way,  I can dedicate the second half of my day to meetings, without stressing out about pending work." 
Another important thing that Singh points out is to remember to wrap up on time so your work life doesn't bleed into your personal one. 
3. Create a Designated Workspace 
Working from home doesn't mean cosying up in bed or on the couch with your laptop. Neeti Mehra, Founder and CEO, Beej Living, a sustainability-forward consultancy, believes  designating an uncluttered part of your house as the workspace helps. "My mantra is to create a pleasing workspace by setting it up with work-related odds and ends. Such as my notepad, electronic devices I'll be using and a light snack," reveals Mehra, adding that she also changes out of her pyjamas for work.  
4. Make a To-Do List  
Independent communications consultant Rachna Raichandani swears by to-do lists, for household chores and work.  "When you tick off these tasks from the list, it feels good," she tells us, adding that it also  provides you the opportunity to look back and self-evaluate.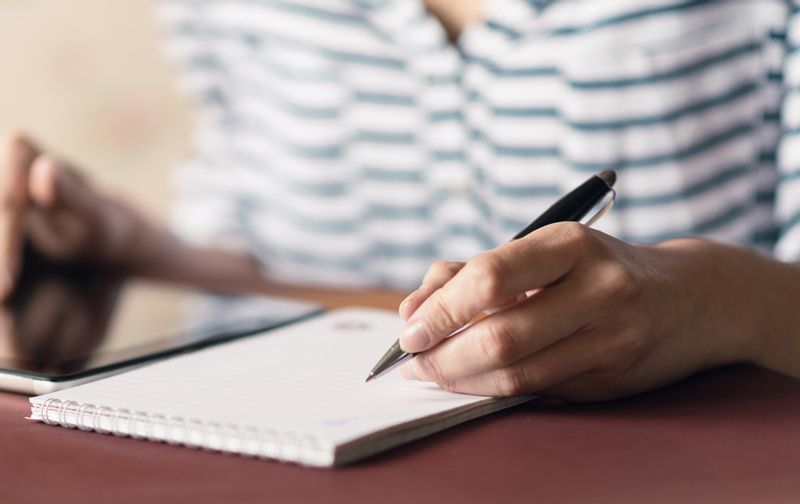 5. Start Your Day Slowly 
Waking up at 8:59 am and getting to work at 9 am, is a big no-no. "Remember the commute time? You need a little buffer to begin your day," shares freelance journalist Phorum Dalal. "I like to enjoy two cups of black coffee in the balcony while soaking in some Vitamin D. During this time, I listen to a lift-me-up song and scroll through motivating memes and quotes on Instagram." After a light breakfast and shower, she settles at her designated work area to begin the day. 
6. Eat a Live Frog 
Like Raichandani, Dalal too creates a to-do list. But when it comes to completing her tasks, she goes by what celebrated American author Mark Twain once popularly said – "If it's your job to eat a frog, it's best to do it first thing in the morning". Dalal advises you to tackle the toughest task of the day head-on straight and first thing in the morning, so the rest of the day can flow easily.  
7. Get Dressed 
"I'm not saying you suit up but try not to sit it your pyjamas to work from home," suggests Raichandani, adding that taking this tiny effort helps one prepare mentally. "Staying in your pyjamas is bound to make you feel  lethargic," she opines. Plus, you're also prepared for unannounced video calls. 
However, Dalal begs to differ. "One  of the advantages of working from home is that you don't need to dress up or put on make-up. So, if you're comfortable working in your pyjamas, that's totally fine," she says.  
8. Don't Forget Household Chores 
Anirudh Menon, co-founder Mesa Branding and Advertising, has been working from home since 2017. Menon advises you to chalk out time for your household chores, too. "If you start pushing/ignoring other commitments, they are bound to pile up." Imagine washing the entire day's dishes at midnight, when you could have binge-watched a favourite show. Or, realising you've run out of groceries late in the day because you pushed it for a client call. 
9. Cultivate Healthier Habits 
From unmindfully consuming alluring  snacks to skipping meals, WFH can throw up unique challenges that go on to affect one's health. To keep them at bay, Mehra recommends walking around the house or stretching in intervals. She also advises snacking on fruits and drinking nimbu paani. 
10. Stay Connected 
"I am a sucker for the written word. So, I write to my peers  and friends every once in a while to discuss developments in their work-life and the challenges they are facing. And to also share a light moment, which helps keep the morale high," Dalal shares, suggesting taking a few moments in between work to reach out to your near and dear ones. 
11. Don't Sleep it Off 
Spending more time at home can disrupt your sleep routine and affect your health and productivity. Shweta Shinde, a freelance fashion stylist and founder of the clothing brand, Label Poshaaq, advises strongly against dozing off intermittently or spending the entire night indulging in a movie marathon "Don't fall into the trap of believing you have all the time in the world. Your job as a remote worker, even though temporary, or as an entrepreneur, requires reliability and smart work. To make that happen, you need to be awake," she asserts.  
12. Take Short Breaks
"It's important to finish tasks on time, but equally vital to take short breaks, too," shares Ashwin Rajagopalan, content strategist and cultural intelligence expert from Bengaluru. Catch up on your favourite show or social media updates while you're eating lunch. "Don't be too hard on yourself. At the same time, don't get carried away," he says.  
Be that as it may, the truth is, everyone has a different learning curve and their own clocks. Coronavirus is not just a novel virus but has also created novel situations for us. Be it learning to cook  with less or understanding how to work from home, we're all figuring this pandemic as we go. In the meantime, we hope these tips help. Tomorrow is a new day! 
---
Photo: Shutterstock