Christmas is a time for celebration and joy, filling the air with festive excitement. Elevate your holiday fun with incredible DIY ideas for decorating your home this Christmas. Whether done solo or as a family activity, these DIY projects create lasting memories and bring an extra dose of happiness to the season. Not only are these ideas easy and enjoyable, but they also provide an affordable alternative for those looking to beautify their homes without breaking the bank. Embrace these DIY Christmas décor ideas to transform your space into a festive wonderland without limitations like budget constraints or limited space.
DIY Christmas décor ideas to explore
1. Pine Cone centrepiece 
Create stunning and simple DIY centrepieces for your Christmas decor with ease. Gather jars of different sizes, floating candles, springs from a tree, pinecones, and a touch of colour to add vibrancy. Arrange these elements in the jar, making the pinecone the centrepiece, and fill the jar with water. Finish it off with a floating candle, and you'll have gorgeous, all-natural, and budget-friendly centrepieces to enhance your Christmas decorations.
2. Knit it up
Add a creative twist to your classic Christmas decorations with a lovely DIY Christmas wreath. Wreaths play a significant role in festive decorations worldwide, making DIY Christmas wreath ideas a great way to bring innovation to this timeless ornament. A quirky and sustainable DIY Christmas wreath idea involves using thick wool or similar material to knit your wreath. Create a chunky wreath pattern, adorn it with a bow, and complete the look with a string of lights for a unique and charming DIY Christmas wreath this holiday season.
3. Nature's ornaments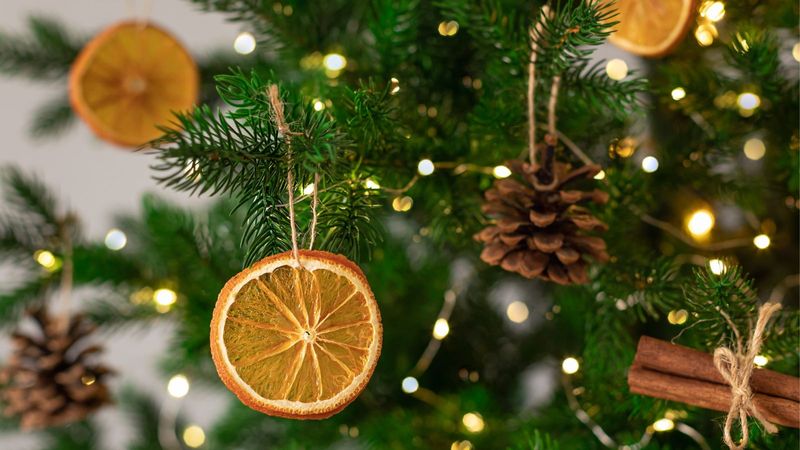 Add a touch of eccentricity to your Christmas décor by crafting unique DIY Christmas tree decorations. Dried orange slices are a splendid example of such DIY Christmas tree decorations. Beyond their aesthetic appeal, these decorations infuse a delightful aroma into your living room. What makes them even more special is their sustainability and eco-friendly nature, making them an outstanding choice for DIY Christmas décor.
4. Simple elegance 
Elevate your Christmas décor with thoughtful and all-encompassing ceiling decoration ideas. DIY ceiling Christmas decoration ideas provide enjoyable opportunities to unleash your creativity and craft something beautiful and easy to make. Simple DIY ceiling Christmas decoration ideas, such as these star-shaped hangings made from paper, add a cheerful and festive touch to the room. These crafty DIY ceiling Christmas decoration ideas infuse a sense of fun and personalization into your Christmas ceiling décor, making the festive season even more special.
5. Paper creations
Explore the crafty side of Christmas décor with an array of DIY paper Xmas decorations that allow your creativity to shine during the holiday season. With DIY ideas, you have the freedom to customise, mix and match colours, patterns, and more to your heart's content. Paper ornaments, like these, serve as fantastic examples of how you can integrate your DIY Xmas paper decorations into your overall Christmas décor theme, adding a playful and festive touch to your holiday decorations.
6. Paint your way ft DIY Christmas balls 
Embrace the DIY Christmas décor spirit by creating captivating Christmas balls, transforming simple ornaments into elegant decorations reminiscent of high-end settings. With just some paint, clever use of a blow dryer, and a beautiful ribbon, you can turn these DIY Christmas balls into instant eye-catchers. Besides adorning your Christmas tree with these ornaments, consider incorporating them into other décor arrangements, such as centrepieces for your dining table or other festive displays around your home.
7. String lights creativity 
If space is limited and a traditional Christmas tree isn't feasible, don't worry. Opt for a DIY Christmas tree to explore a variety of alternative ideas for spreading holiday cheer in your home. A unique and simple approach involves using string lights and Christmas decorations like ribbons and stockings to craft your DIY Christmas tree directly on a wall of your choice. This low-maintenance option is perfect for small spaces or for those looking to try something new.
---
Photo: Shutterstock