The bed is undeniably the focal point of any bedroom, and the headboard plays a crucial role in defining its style and adding a touch of elegance. A thoughtfully designed headboard can transform a plain bed into a stunning centerpiece, elevating the overall aesthetic of your bedroom. If you're considering a bedroom makeover, this article will present a curated selection of beautiful bed headboard design ideas to inspire your creativity and help you create a dreamy sanctuary that reflects your personal style. 
These recommendations are divided into five categories
1. Classic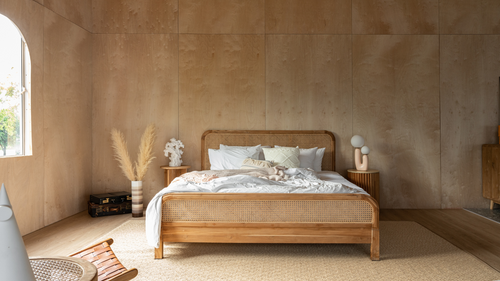 Tufted headboard: A tufted headboard exudes timeless elegance with its button-tufted upholstery and plush padding, creating a luxurious and inviting atmosphere.
Wing back headboard: Incorporate a touch of sophistication with a wing back headboard, featuring distinctive curved wings on either side that add a sense of grandeur to the bed.
Carved wood headboard: Opt for a handcrafted wooden headboard with intricate carvings for a traditional and refined look that adds warmth and texture to the room.
2. Rustic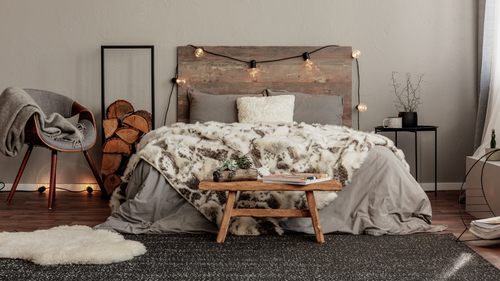 Reclaimed wood headboard: Utilise reclaimed wood to create a headboard with a weathered, rustic appeal that brings nature's charm indoors.
Pallet headboard: Embrace a trendy and eco-friendly option by repurposing wooden pallets to craft a unique headboard with a rustic, industrial vibe.
Barn door headboard: Transform salvaged barn doors into a headboard to infuse your bedroom with a rustic, farmhouse-inspired ambiance.
3. Modern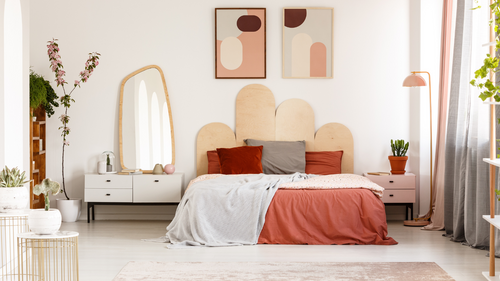 Floating headboard: Create a sleek and minimalist look with a floating headboard that appears to be suspended from the wall, adding an element of visual intrigue.
Upholstered panel headboard: Opt for a clean-lined, upholstered panel headboard in a solid color or subtle pattern to achieve a contemporary and streamlined aesthetic.
Geometric headboard: Introduce a modern focal point with a geometrically shaped headboard, featuring clean angles or abstract patterns that make a bold statement.
4. Stylised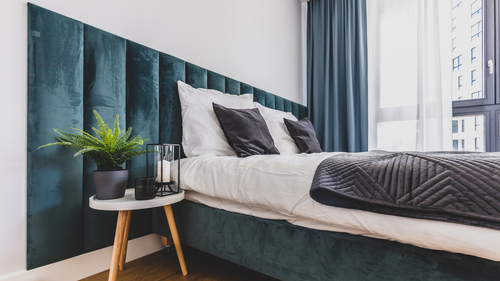 Mirrored headboard: Incorporate a touch of Hollywood glamour by selecting a mirrored headboard that reflects light and adds a sense of opulence to your bedroom.
Velvet headboard: Introduce a sumptuous texture and a touch of luxury with a velvet headboard in rich jewel tones like emerald green or royal blue.
Crystal-embellished headboard: Elevate your bedroom to a glamorous level by choosing a headboard adorned with sparkling crystals or rhinestones for a dazzling effect.
5. Artistic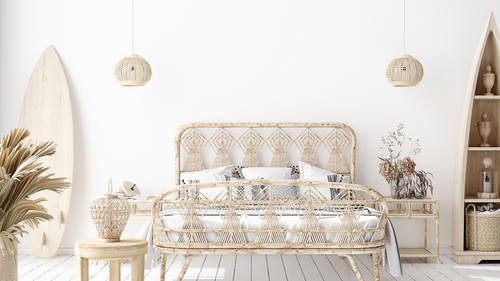 Mural headboard: Turn your headboard into a captivating work of art by painting a mural directly on the wall, extending the design above the bed.
Gallery wall headboard: Arrange a collection of framed artwork or photographs behind the bed to create a gallery wall that doubles as a headboard, showcasing your personal style and memories.
Macrame headboard: Add a bohemian touch with a macrame headboard crafted from intricate knots and patterns, adding texture and visual interest to your bedroom.
---
Photo: Shutterstock