We often only concentrate on decorating our house and ignore our bathrooms. The place where we spend quite some time washing our days away is neglected while furnishing our house. More attention should be put in a bathroom so that it becomes a place of escape and relaxation.
Here is a list of bathroom design ideas curated for you to decorate your bathroom under a budget:
1. Install space saving furniture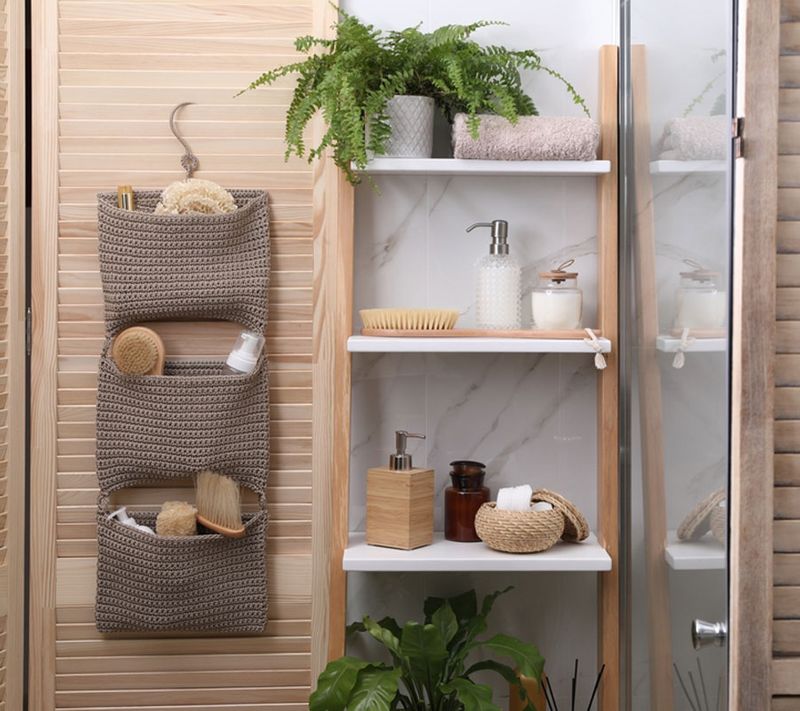 You could install shelves that are sleek, modern saves space. They look soothing to the eyes and serves as a nice space to store all your bathroom requirements. You can also get tiny shelves that you can fit to the wall towards the shower so that everything you need is at your arm's length. You can also keep hanging shelves or baskets that you can use to store your fancy bathroom toiletries. You can always find these storage units in your local store or online where they have a varied collection in different materials and price range.
2. Install a big fancy mirror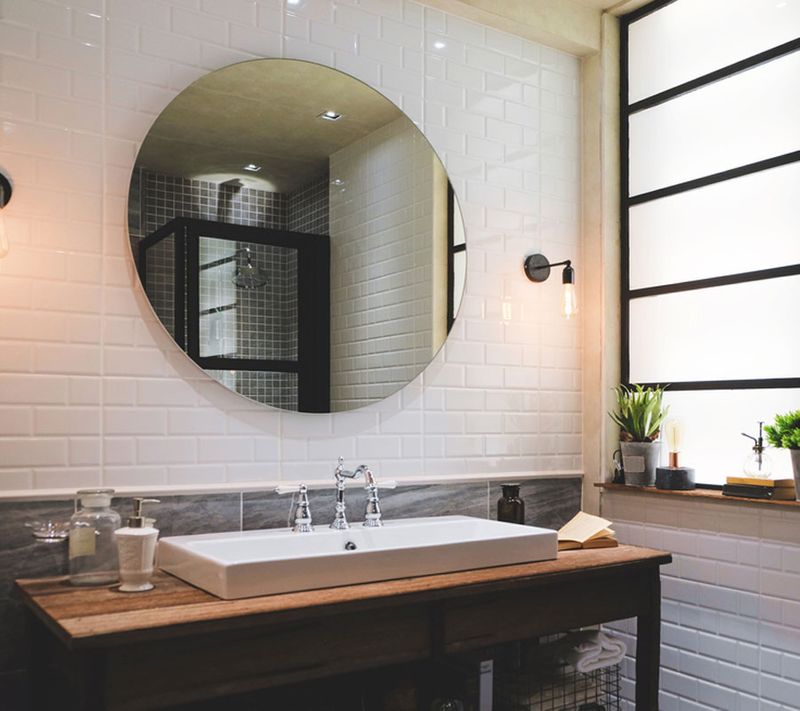 A big fancy mirror will give your bathroom more character and if you pick out a mirror that is unique, you will end up admiring it more than yourself. You can find a mirror with stonework or just plain and simple mirrors, whatever suits your bathroom décor. You can consider buying a floor to ceiling length mirror as well so that you can look do your complete skin care regime before you head out. You can find these mirrors in thrift shops for a steal.
3. Put nice lights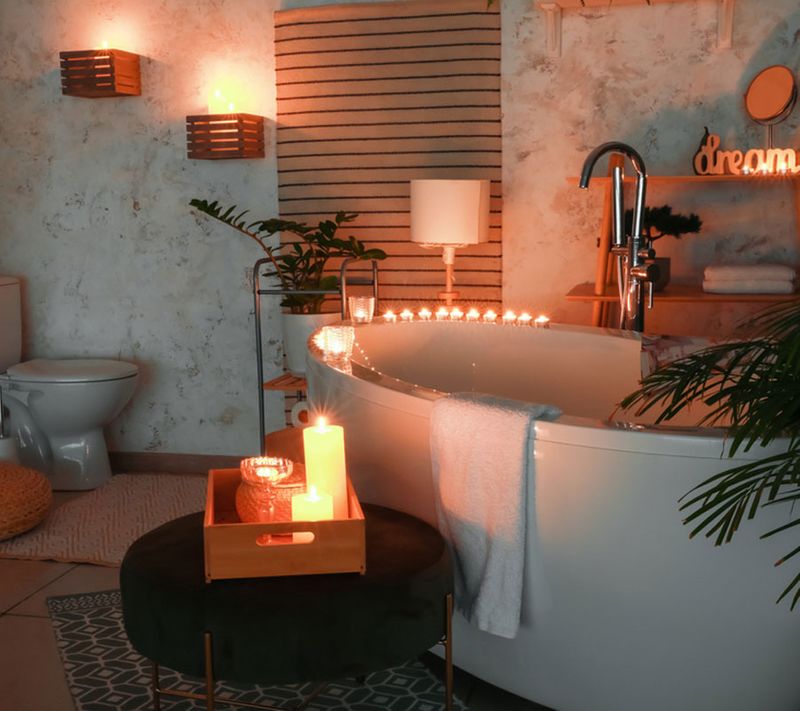 If you are looking for the easiest bathroom décor ideas, this one could be the easiest and cheapest one that will transform the look of your washroom in an instant. You can put either bright or warm lights, whatever suits your liking and see how your bathroom transforms.
4. Hang waterproof fixtures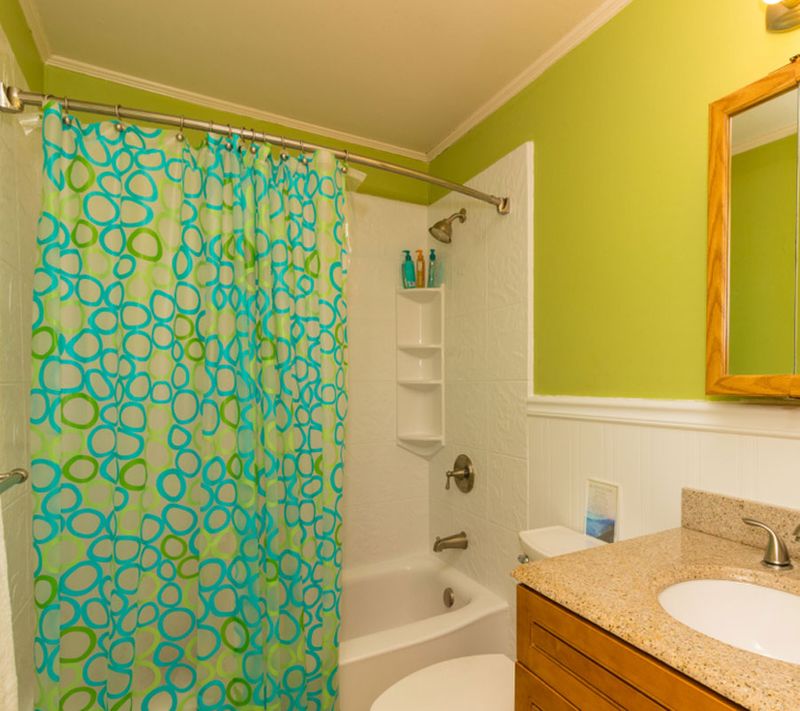 Bathroom is one place where you should not take a chance and take all the precautions that you need. To do that, few things that you consider buying for your bathroom is a waterproof curtain. This is not only easy to clean, but also does not retain moisture. You can also get a water-resistant mat that you can place in front of your shower space so that you don't have a big fall.
5. Keep a chic storage basket
You can place a jute basket in your washroom to store your extra towels or clothes. The jute basket will give your washroom a rustic look and will also serve the purpose of storage that your bathroom needs. 
AlsoRea0
6. Install window shades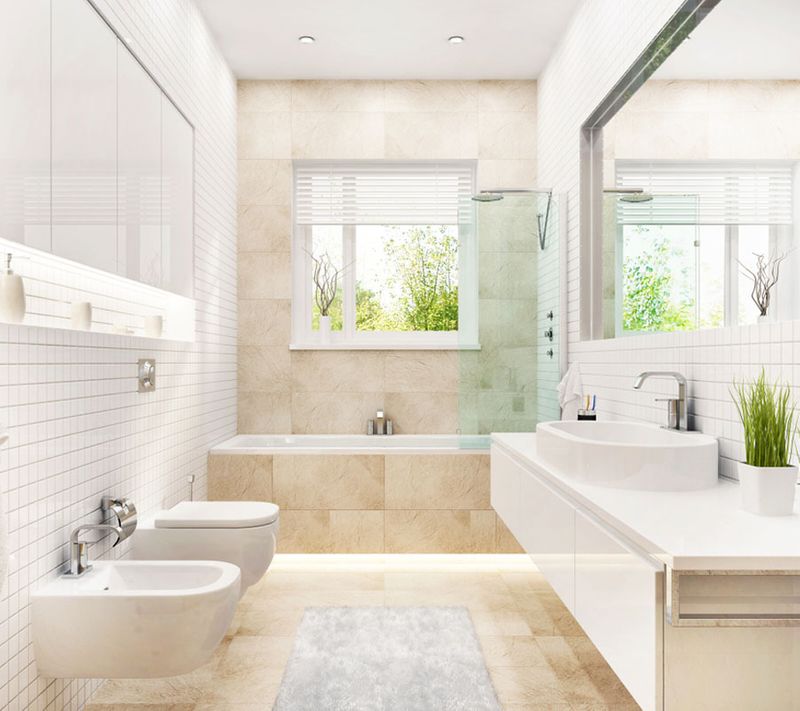 f your washroom has big windows that gives you a nice view to the outside world, you most definitely should buy yourself shades or curtains that gives you total privacy. You can install shades that look pretty, so that it gives your washroom a nice look as well as changes your bathroom design completely.
7. Choose a fun shower head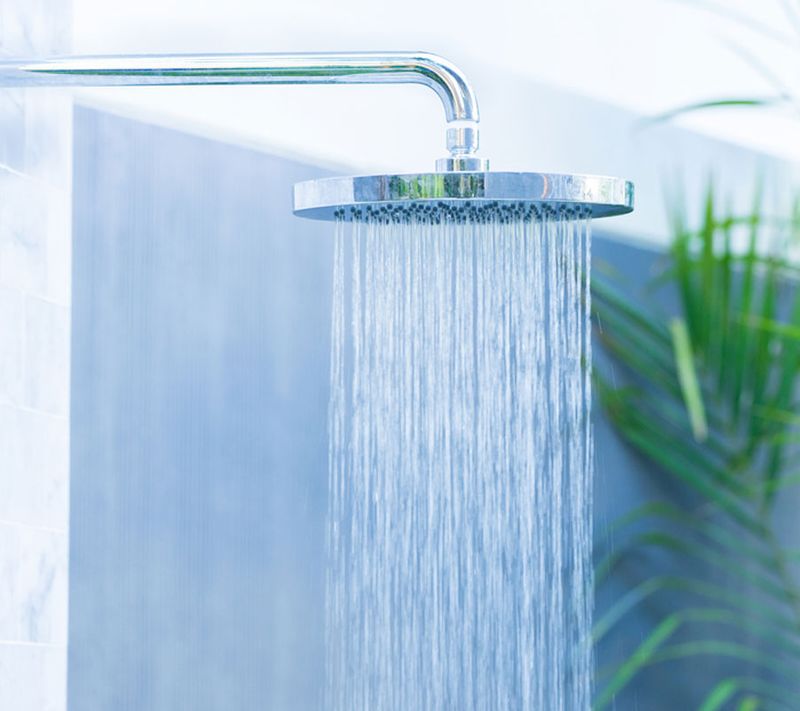 If you like winding down by taking a warm shower, you must invest in a fun shower head. The showerhead does not have to be expensive or luxurious but the water flow should be according to your liking. If you have a shower that you like, you will want to spend more time there, maybe even have some fun singing or dancing under the shower and wind down after a rough day.
8. Invest in bathroom fresheners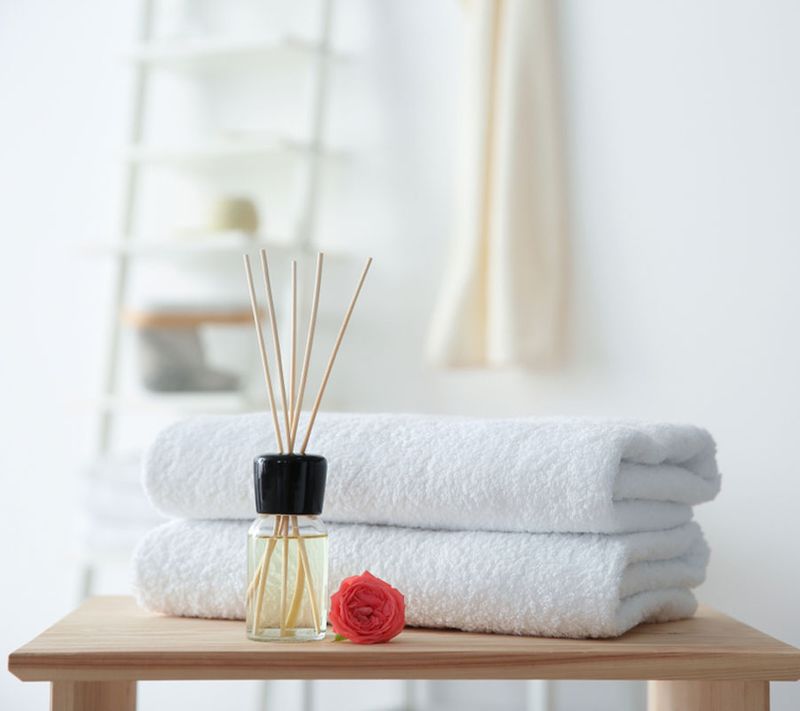 This is one of the most important bathroom décor ideas that cannot be seen but one must have. We cannot emphasise enough how essential it is to have a fresh bathroom freshener. It will give your bathroom a nice fresh smell and everyone will like going to the bathroom even more. It will not be a problem spending time in the bathroom anymore. 
9. Add some greenery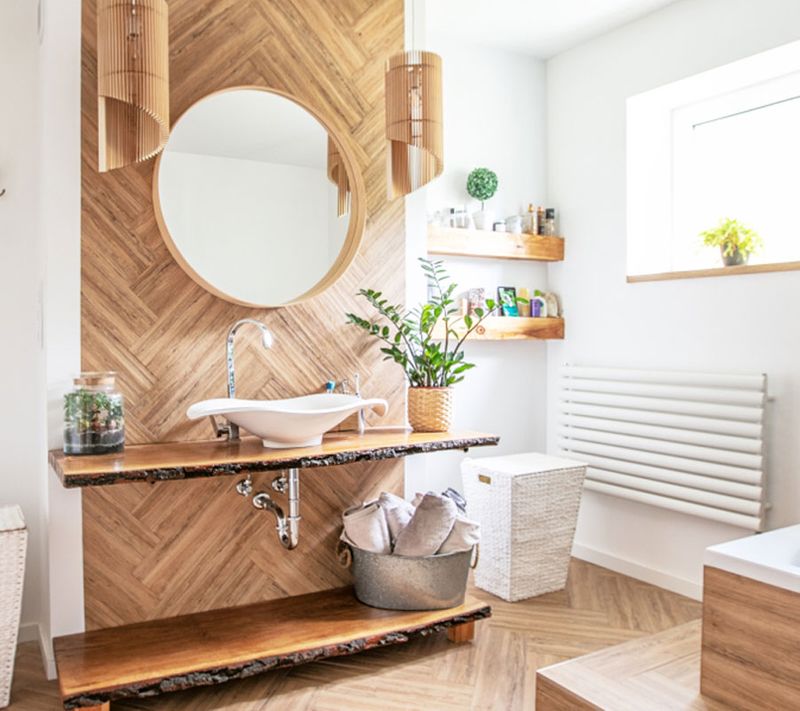 One of the least expensive bathroom décor ideas is to add some water plants in your bathroom. It will brighten up your bathroom with a little bit of life and will give it an aesthetic look. When you choose plants for your bathroom, make sure you do some research and find plants that are low maintenance and ones that can survive in low light.
10. Keep something to read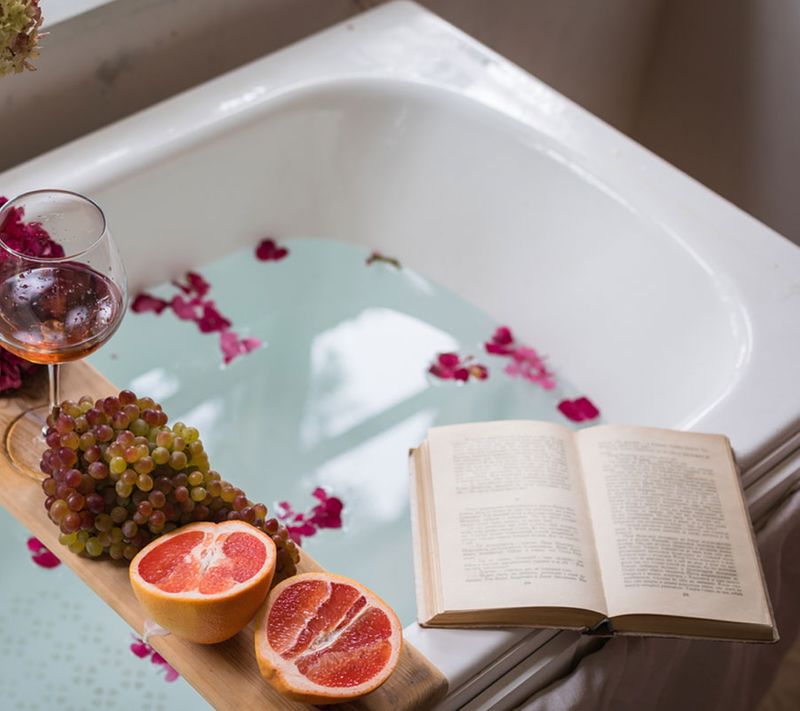 Another inexpensive bathroom décor ideas are to keep something to read in your bathroom. The idea is to keep a variety of magazines and books so that you don't get bored while you are going through your skincare regime. A skincare regime can be long and tedious and one can tend to get bored without entertainment. This is one of the few ideas that will not require any extra investment and you can just keep the books and magazines that you already have in your bathroom.
Your bathroom does not have to be the neglected corner of your house. With these low budget bathroom décor ideas, it can be the main attraction and win over everybody's hearts.
---
Photo: Shutterstock