What is a wedding without the perfect decor? Decoration is everything. Following the pandemic, weddings are back to their original avatar — bigger, bolder and even more in your face. But almost three years later, things are of course different. So what's changed?
Well, couples are more keenly aware of how precious shared time with family members and friends is and want their weddings to be a celebration of this. So, now it's all about creating a day that's highly personal, creative and fun.
These top décor trends are all worth exploring as you plan your own wedding. Even if you're looking to keep most aspects of your wedding traditional, it could be fun to add one or some of these elements to your special day.
1. Relaxed luxury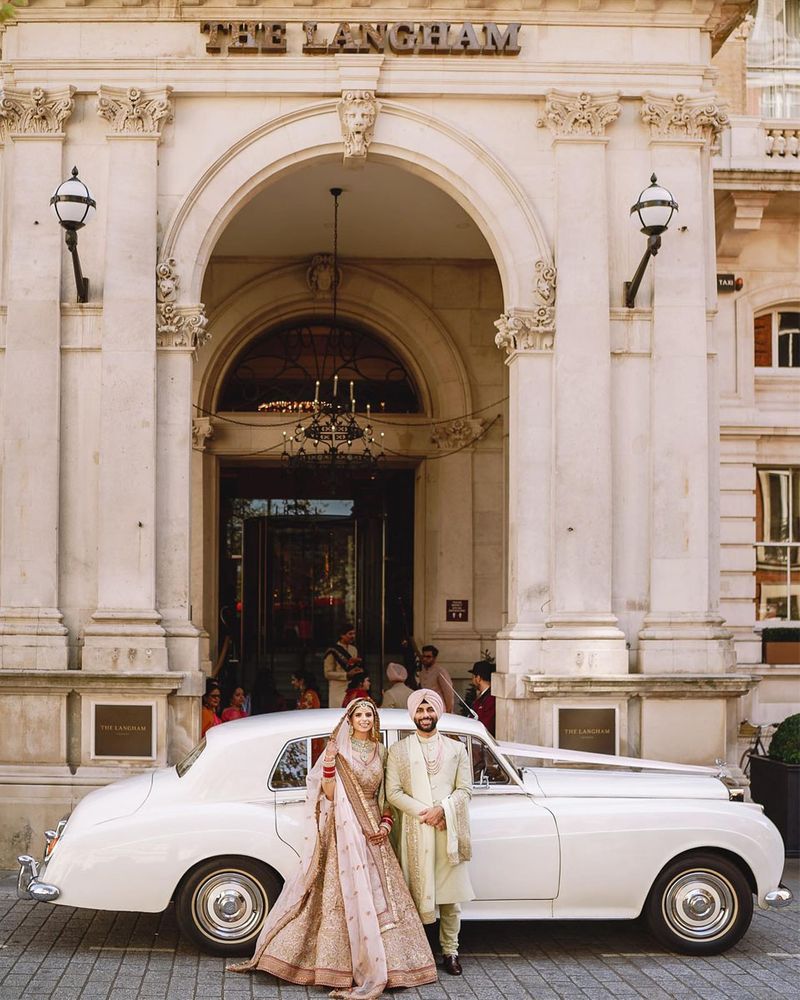 The formality of even the most lavish weddings is now being slightly pared down. The post-pandemic vibe is 'relaxed luxury'. This means there's less fuss about the traditions and more fun. Couples are leaving behind super formal, black-tie celebrations and exploring cocktail-style parties, food truck parties, dance parties — everything outside of the typical wedding box. Celebrities like Telugu star Rana Daggubati and Bollywood singer Neha Kakkar opted for more intimate weddings with lesser people on their guest list. While Rana's wedding ceremonies were all about vibrant and bright colours, Neha Kakkar and her husband a created warm and cozy decor with the help of flowers that were easily available. 
Back in 2021, Dia Mirza's garden in her backyard became the magical setting for her sustainable and eco-friendly wedding to businessman Vaibhav Rekhi in Mumbai where local flowers were used instead of exotic flowers. "While couples still prefer to go the traditional route for functions like the main wedding and mehendi, etc., they ask for one cool function where they can go berserk. This allows them to show their quirky side. We have created parties with themes like airport and casino," shares Aashna Lalwani, Co-founder, Three Entertainment.
2. Vintage furniture and nods to nostalgia
Vintage is one of the most romantic and loved wedding themes today. Couples are insisting on different eras, different styles and a huge array of vintage ideas in their wedding. As a result, décor specialists are spicing up the venue with clocks from yesteryears, baroque mirrors, antique picture frames on the walls, books, teacups and knick-knacks grouped together on tables, art deco seating, heirloom accents and even renting a vintage car for the grand exit. Bright silver and gold accents are giving way to antique brass and patina mirrored finishes that swing less glam and more dramatic.
3. White wedding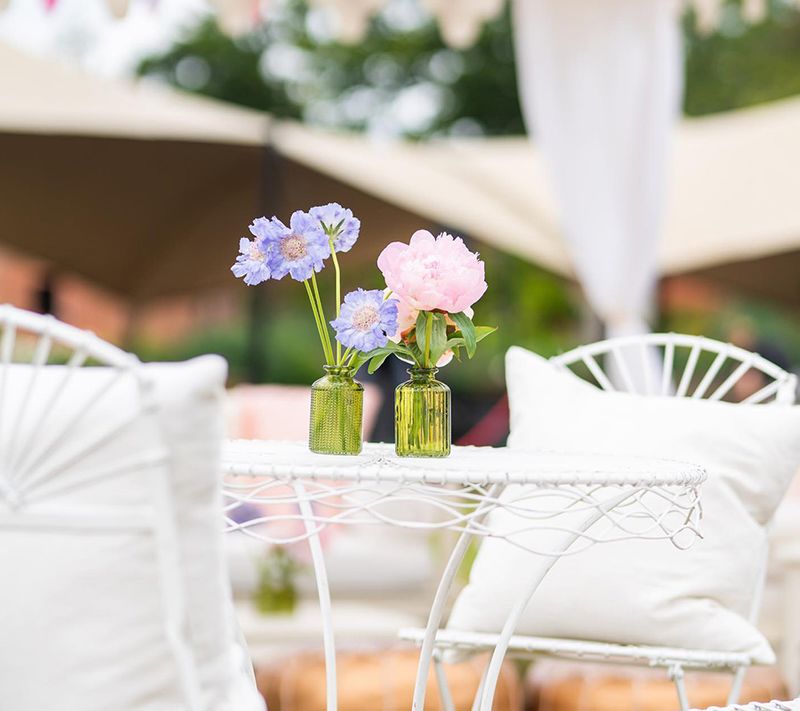 An all-white wedding ( à la Kim Kardashian) has always been popular in the West. But it's now catching on in India. White decor adds a bright, fresh and a traditional feel in the most elegant way. Couples are giving this super traditional theme a modern makeover with the addition of decadent gold and a few hints of foliage. "The western influence on India has always been real and the increasing trend of white weddings is proof of that," says Lalwani.
"Post the pandemic, people prefer to have a limited guest list to eliminate clutter. White weddings are perfect as the guest list is small and the ceremony quick yet meaningful. The outfits and decor too are minimal, westernised and fuss-free," adds Lalwani. She continues, "Another reason why white weddings are so trending is that a lot of couples opt for destinations that don't necessarily allow pheras (Maldives being one such example) as per their government laws and this function is a good way to tie the knot, express your love and feel like you have had a "wedding" and not just a party abroad for your guest."  
4. Phool is cool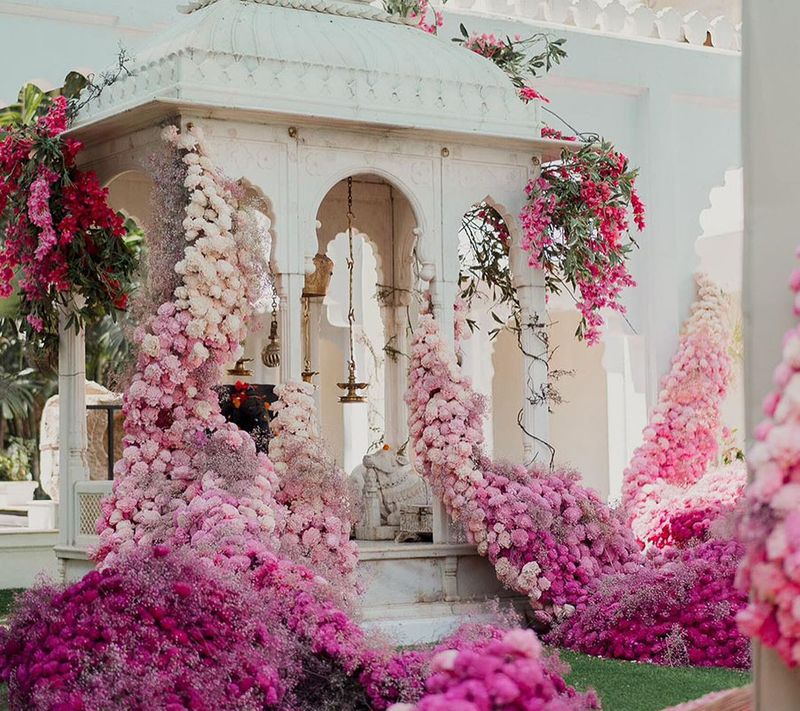 Natural flowers and leaves make for an excellent décor element while also helping couples be sustainable. Just like Anushka Sharma-Virat Kohli and Deepika Padukone-Raveer Singh did at their wedding. Both the celeb couples chose simple, yet elegant décor, where flowers did all the talking at their wedding ceremonies.  For the Virushka wedding, a beautiful overgrown garden that symbolised prosperity and growth was created in ash rose and lavender by Devika Narain and Co. While the dreamy wedding of Deepika Padukone Ranveer Singh at Lake Como saw a dreamy set-up of beautiful white and gold for the Konkani ceremony and a bed of red roses for the Anand Karaj ceremony. Some of the most popular styles include dramatic floral installations, floral arches in various shapes and sizes, elegant cascading flowers, floral borders that combine various colours and textures, suspended abstract designs, floral ceilings and floral chandeliers. "New-age couples want a balance between exquisite and timelessness. Classic colour palettes like white and gold with experimental props never go out of style," says Anuja Joshi, co-founder and CEO of Interflora. "This season we are noticing an embrace of everything organic. The wedding decor scene is filled with references to nature — from structures to mood. The use of organic arches, moss, minimal centrepieces, etc., are all micro trends of this. Locally sourced flowers are in demand as also foliage and textured dry flowers," adds Joshi.
5. Floral Haldi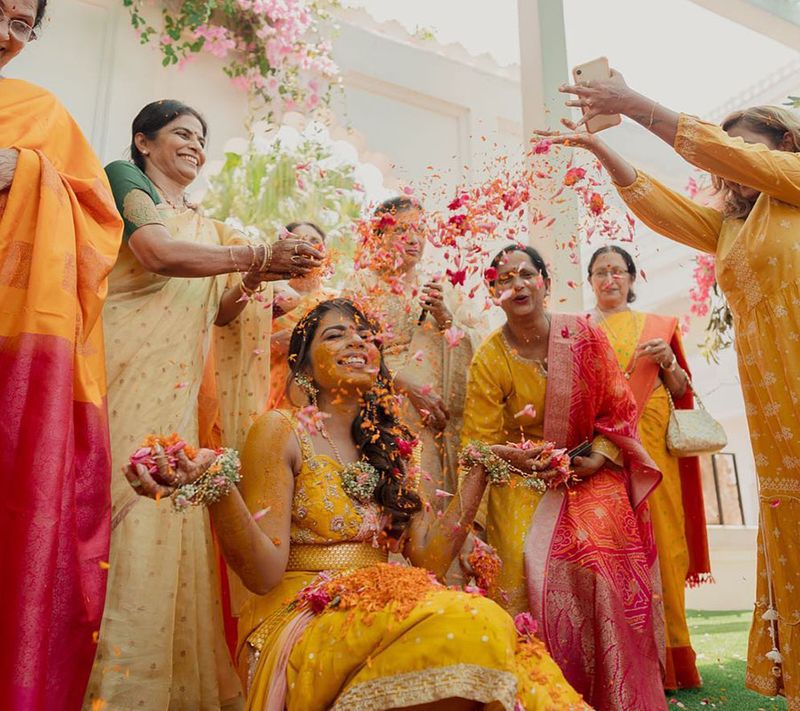 Haldi is the most enjoyable and fun part of any wedding and the decor too is catching up. Floral haldi in a tub along with flower rain is getting increasingly popular. Here the bride and groom are seated in different tubs and pampered with turmeric paste and fresh flowers. From celebrity couples to not-so-celebrity couples, everyone is opting for this theme which gives their haldi ceremony a fun vibe. 
Ankita Lokhande and Vicky Jain had one for their wedding where they ditched the chowki setup for trendy inverted floral domes that looked extremely classy. Mouni Roy and Suraj Nambiar too had a fun floral haldi in Goa. 
6. Fairy lights and chandeliers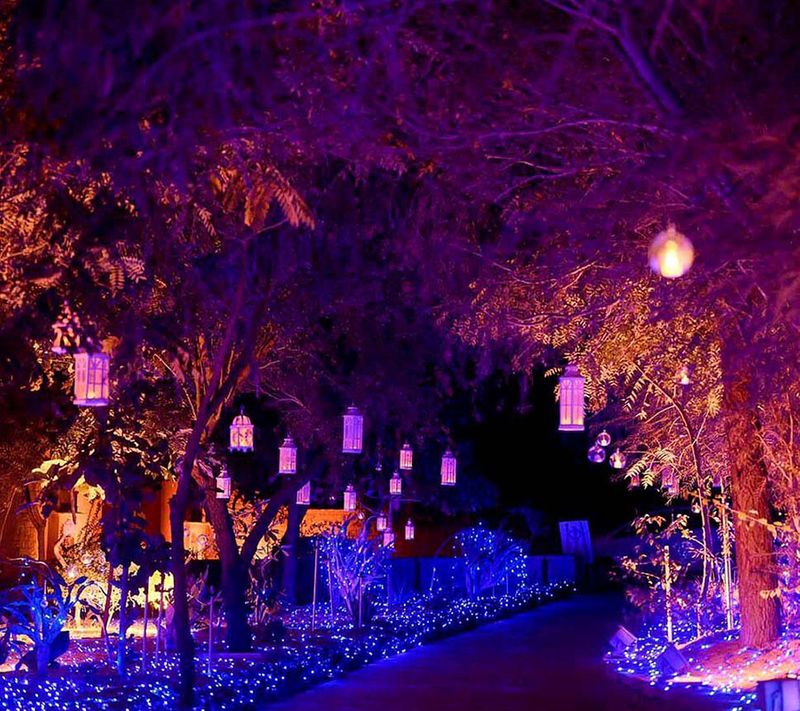 Lighting is a fabulous way to set the ideal atmosphere for your wedding ceremony and reception. It not only sets the tone and mood for the entire evening but will also make your photos look great and keep the party going even after the sun goes down. Fairy lights are preferred as they create a magical, dreamy setting while vintage chandeliers add a classic touch to the venue. Festoon lights, also known as bistro lights or string lights, are also gaining momentum as the romantic lighting of choice for weddings. Indoors or out, they lend an instant vibe to any setting. 
7. Fun wedding signage
Big or small, all weddings need direction. Enter cute, quirky and personalised signs that convey all the important information like the venue for the cocktail party, when guests should file in for the reception, what's for dinner, etc. While chalkboards were popular for a long time, fabric, acrylic, salvaged wood, felt letter boards and light boxes have entered the frame. Use these to add some personality to your party. Signboards are the perfect opportunity to personalize your wedding with quotes, photos and sentiments that mean the most to you and your new spouse.
8. Fresh, green and sustainable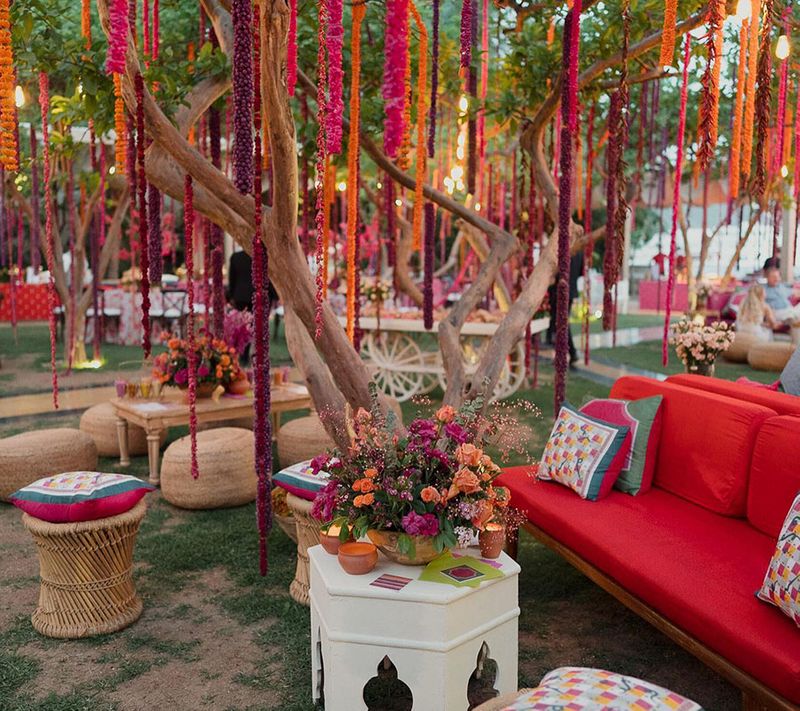 The wedding industry remains fraught with waste, but a growing contingent of brides and grooms is pushing for more sustainable changes. From the way they invite guests to the food they serve and the clothes they wear. Many couples are also refining their entire wedding décor to focus on ways they can promote and support local businesses. 
While Sonam Kapoor and Anand Ahuja sent e-invites for people to save the date, TV actors Rubina Dilaik and Abhinav Shukla used biodegradable invitation cards made of MDF wood and recycled paper. Bollywood actor and producer Anushka Sharma and cricketer Virat Kohli invited their friends and well-wishers by sending them a sapling along with the invitation card and asking them to plant it.
"More and more couples these days are choosing eco-friendly décor as they are aware of the social and environmental consequences of their choices," informs Saanya Sharma, Co-Founder of Three Entertainment. "One of the biggest contributors to this is plastic. 
Couples are increasingly opting for more clay and earthy options for the decor along with replacing artificial bouquets with small flowerpots. A huge part of being sustainable is also including local vendors for their décor, recycling and donating the flowers after their special day," adds Sharma.
9. Neon fun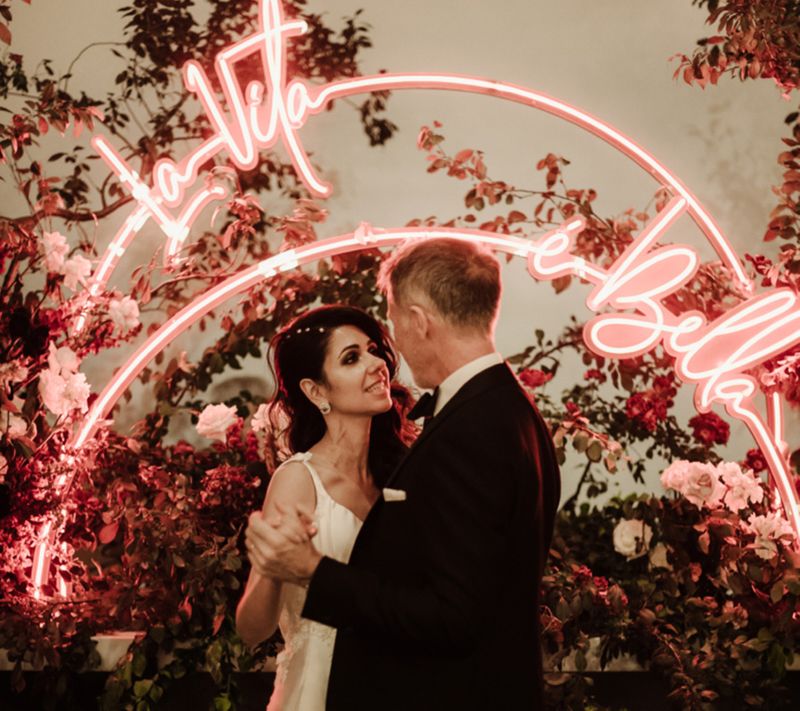 Can we call this wedding trend lit? After all, who doesn't want to see their name in lights? Neon signs are popping up at more and more weddings lately and it's adorable. This modern-meets-retro wedding decor adds some serious wow factor to a venue and makes the perfect Instagram fodder. They look great on the dance floor, as a reception focal point or as a ceremony backdrop. Moreover, chic and creative neon lights on a floral background add more quirk to the venue. Because they can be custom-made, they make the perfect wedding keepsake to hang in your home long after your big day has passed.
10. Quirky photo booths
Lots of couples love the idea of capturing fun candid photos of their guests long after the professional photographer has gone home. A photo booth makes perfect sense. It can also help fill in the gap between functions, keep guests entertained and the mood light. It's a perfect distraction while you and your newly minted spouse are snapping those breath-taking photos. Want to add a retro touch to the booth? Rent a vintage car and transform it into a mini photo studio. Your guests will love having a take-home memento, whether it's in digital or print form. 
---
Photo: Instagram/ Ankita Lokhande