On International Yoga Day 2022, Zee Zest speaks to certified yoga expert and professional dance artist Tanvi Mehra, who is also the founder of Tangerine Arts Studio, Mumbai, on the benefits of yoga beyond physical ones, how yoga has influenced her life, self-acceptance, the practice's role in healing and transformation, and asanas that can help detoxify our body and make us feel refreshed.  
1. What is your life mantra?  
Live and let live.  
2. What does healing mean to you, and what facilitates the process? 
For me, healing is being the most authentic, best version of yourself. To be able to find yourself and to facilitate that you need to do more and more things that you love without thinking about what the world thinks.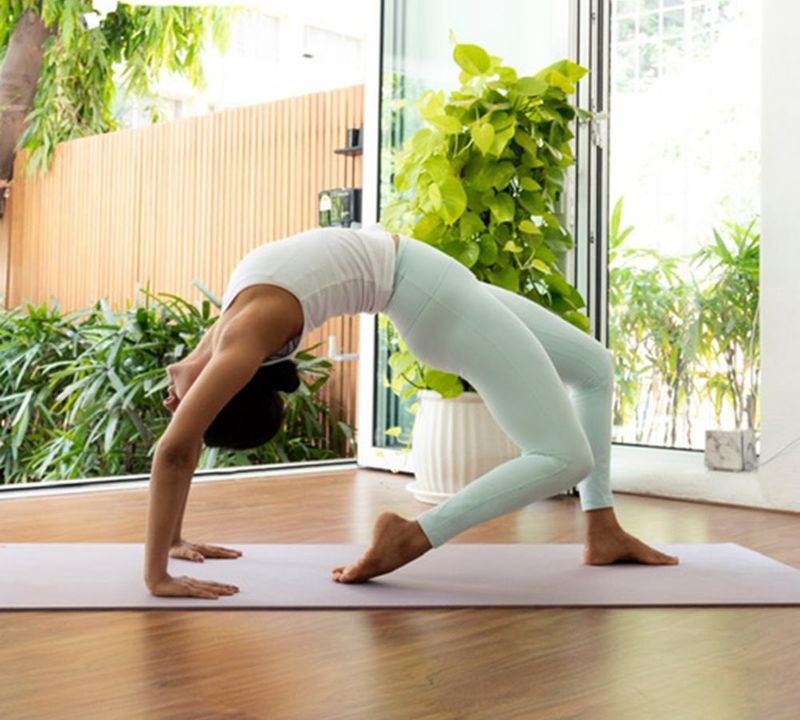 3. What does a typical day in your life look like?  
My day starts early, at 6am, then from there on, I am teaching yoga till noon or one in the afternoon. Then I have my lunch, I study and rest for a bit, and do a lot of the studio work with my team. Post that, 4pm to 8-8.30pm I am again teaching yoga or practising or dancing.  
As far as my fitness routine goes, I do everything – from cross-training, and strength training to weightlifting, and gymnastics to dancing, swimming, and even kickboxing. I don't limit myself to one thing.  
4. When did you start yoga and how has your yoga practice influenced your lifestyle? 
My mother's always been practicing yoga, so I was influenced by her. Also, I've been dancing since I was a child. I am trained in Indian classical (Bharatnatyam) as well as Western forms of dance and would perform a lot on various platforms. That's the time when I had a big show and then I turned to yoga to help my dance – help me be more centred, better my stamina, and just control my mind. That's when I fell in love with it. This is easily 15-16 years back.   
Post that, I decided to learn how to teach it and ever since, I've been teaching yoga it all across – from my house to my building's terrace, a close-by club, and then finally, I started the Tangerine Arts Studio.  
5. You were a professional dancer first and then became a yoga teacher. What made you teach yoga over dance?   
I decided to teach yoga instead of dance because this is something in which I found my cause in. It helps me feel centred and makes me feel truly the best version of myself. I feel like the way has helped me mentally, and emotionally throughout my life, no other medium has helped me as much. 
Yoga has also helped me reach out and meet so many amazing people, and for that, I've grateful.  
6. What is the purpose that you have been aligning your life towards? And where do you want to go from here?  
I found my purpose through yoga itself. And I aim to build a community where more and more people can come together under one roof, a place where they feel empowered, where they feel like they belong; a place/community that can hold them and support them.  
I want people to realise that more than medicine, social media and shopping, there is something where you can just roll out your mat and you can find all the answers.   
7. The physical benefits of yoga are most talked about. Can you tell us about its benefits beyond fitness?  
I'll begin with an example of one of my students. She came to our studio a few months ago with the aim to lose weight. Three months into the practice, she came up to me and said that, losing weight aside, she has been enjoying the practice so much and that she feels so much calmer and more confident. You know, she hasn't mentioned weight even once after that.  
That's true, the benefits of yoga today have gone beyond the physical ones.  
1) Yoga is an experience  
The beauty of this practice is that we use the means of an asana to route to something that's beyond question. We use the asana to pay attention to our breath, we use the breath to get into our mind, and use our mind to get into meditation – it's a beautiful ladder.  
2) Aids healing 
The beauty of being still and silent, and we must understand how a lot of healing lies right there. All of us are restless souls, including me, and yoga helps you to be a better human being. And that's the biggest takeaway. 
3) Improves self-awareness
It sort of builds a voice within you that helps you become the best version of yourself. This voice makes you more self-aware, aware of your emotions and actions, and makes you feel more connected with your body and mind. This voice becomes your guiding light.  
4) Helps you connect better with people around 
Only when we feel connected with ourselves – our body and mind – can we go ahead and build a better connection with the people around us. And yoga helps you there.  
5) Builds self-confidence 
Regular yoga practice can help one understand one's self better and once you do that, you are much calmer and your confidence levels improve. There is a certain affirmation within yourself, and that can help you be more confident.  
8. Can yoga really help cleanse/detox one's body? How does it work?  
Let me begin with the example of a lemon. We all know how refreshing it is, and after a tiring day, we all want a big glass of nimbu pani to feel a little detoxified. This is symbolic and something that is giving you a relaxing experience by virtue of having it.  
The thing about detoxifying is, and why I gave the example of lemon is, that when you squeeze a lemon, you are kind of extracting something that is giving you that life and energy. Similarly, in the practice when you twist, twists are associated with this kind of refreshing effect. When you twist, what you're doing is contracting and squeezing all the organs and everything that's stuck in limbo, not moving, or is static. When you contract and release, you're sort of creating a route for that squeeze to happen.  
It makes everything flow better and because of that, you start feeling livelier and more energised. Doing these twists, it may help you breathe better, improve circulation, and of course, flexibility.  
9. What is your message to those aspiring to take up this form of exercise?  
Don't look at yoga as exercise or workout but look at it as a lifestyle. Also, my suggestion is please start young and don't wait until you get older to begin your yoga practice. 
---
Photo: Tanvi Mehra