A common notion is that yoga is an ancient practice that's best left unchanged. But even though rooted in traditional science and knowledge, much like any other form of fitness, the practice of yoga is constantly evolving – the credit for which goes to new-age teachers wanting to keep students engaged and students yearning for innovation. Yoga is no longer limited to the mat, but an ocean of opportunities has appeared.
In the present day and age – unless you are really into yoga – it's hard to maintain one's attention span towards it, observes Samiksha Shetty, a celebrity fitness trainer, yoga educator and the co-founder of The Moon Village in Khar, Mumbai. She further explains, "Yoga involves a lot of repetition and getting your breath right with the same asanas. So, we [teachers] try to add props and each has its unique role in the practice. For instance, in our class, we use socks and ankle weights to help increase resistance, sticks to better posture, and chairs for accessibility and support." One of the trends in yoga, which Samiksha mentions, chair yoga is a current favourite among beginners.
For International Yoga Day 2022, the celebrity trainer, who has taught yoga to the likes of Mandana Karimi and Kajal Aggarwal, joined hands with Zeezest.com for a video tutorial on easy chair-yoga poses that one can practice anywhere and everywhere if they have a chair.
What is chair yoga?
Chair yoga involves yoga stretches that you can perform while seated on a chair. Think exercises with easy to intense bends, twists, and folds that help relieve tension and tightness from the shoulders, spine, and neck. They also help hip movement and hip mobility, among other benefits. Chair yoga exercises are great for people who want to take a quick fitness break at work, at their desk itself. Here are 5 easy chair-yoga poses by Samiksha Shetty:
1. Warm-up exercises
When you practise chair yoga or any other form of fitness, warming up is essential. It not only helps prep the body for the workout but also improves performance and prevents injury.
Samiksha's chair yoga warm-up features three types of stretches. The first one involves stretching one's hands on either side, as though someone is pulling them. You need to hold this stretch for 30 seconds to a minute and relax. The second one involves placing your right palm on your left knee, stretching the right hand behind, holding the chair with the right hand, and twisting. Repeat this with the opposite legs.
The third warm-up exercise features stretching the hands behind to hold the chair, and then pushing the chest away from the chair, and lengthening your spine.
2. Seated figure four stretch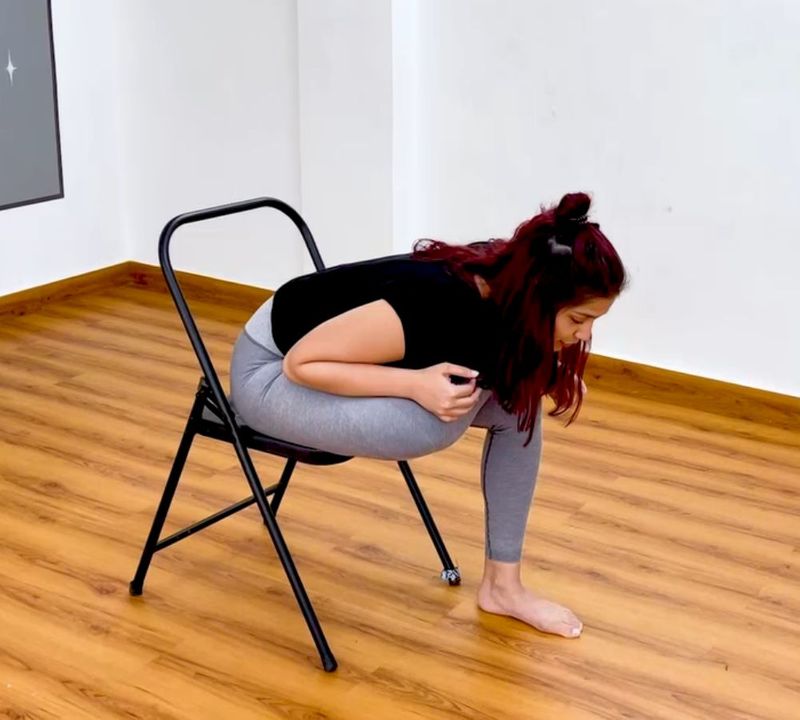 The figure four stretch is great for the hips. To perform this asana, sit upright on the chair with your legs hip-width apart. Then keep your right foot on the left knee, flex your ankle inwards, push the left knee downwards, lengthen your spine, and push your upper body towards the ground. Take a few breaths and then slowly come up and repeat with the other side.
3.  Seated figure four stretch – extension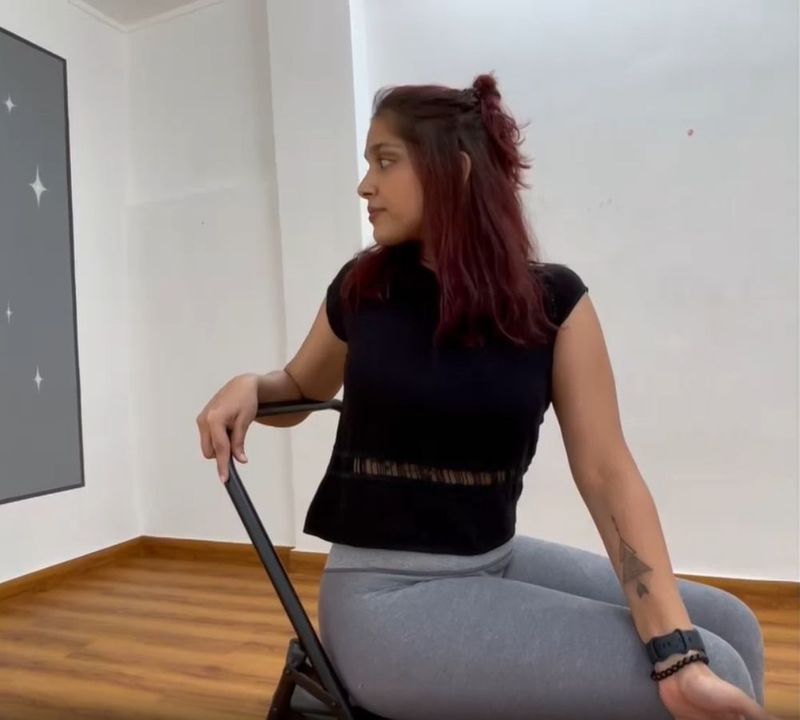 The third chair-yoga pose is an extension of the seated figure four stretch that improves hip mobility and facilitates healing. For this, you must sit in the figure four stretch position and then place your left elbow on your right knee, join the palms of both hands at the side, and then push and turn. Repeat on the other side. 
4. Lizard pose
The fourth chair-yoga asana, the lizard pose, is beneficial for our quadriceps, and hip flexors, and improves balance and flexibility. This involves standing up, placing the left foot on the chair, extending the right leg behind, and stretching. This makes your quads stretch from the backwards and hip flexors from the front. Repeat this on the other side as well. 
5. Shoulder stretch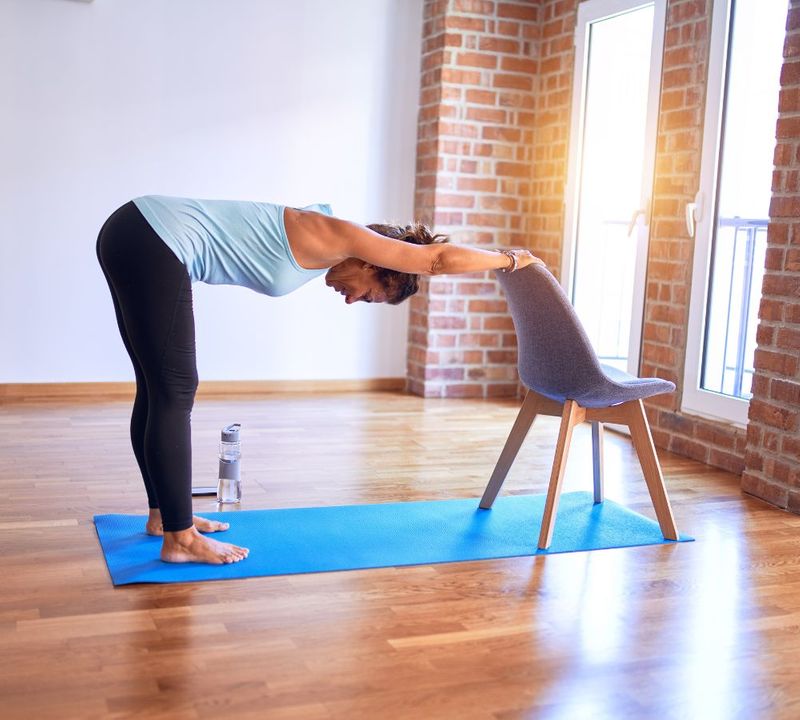 The last pose in Samiksha's easy chair -yoga poses series for International Yoga Day 2022 is the shoulder stretch. It is great to relieve tight shoulders, back and chest. It is also known to improve body posture. For this, stand behind the chair and place both hands, shoulder-distance apart, on the backrest. Take a big step away from the back rest and then drop your chest towards the ground to stretch. You must feel the stretch from your torso to the back of your shoulders.
Now that you've read about chair yoga and learned about its benefits, learn how to practise these asanas at home with the help of the video tutorial, available at the beginning of the story. 
---
Photo: Zee Zest and Shutterstock