Prefer natural and healthy home remedies for skin and hair issues? We've got you covered. Here's an exhaustive list of easy, tried-and-tested beauty remedies and grandma's recipes for all your beauty woes.
Water for healthy skin
Don't forget to drink plenty of water (8-12 glasses a day) even when it's cool outside.

Water nourishes skin, clears ugly spots and pimples and improves the health of your skin.
How to make fruit and vegetable face packs for a healthy skin
Fruit and vegetable packs make for excellent home remedies. Ripe mashed papaya makes a very good 'renewing' face pack because the papain in it dissolves the layer of dry skin cells on top. Do not leave it on for more than 10 minutes. Do a patch test under your chin or behind the ear for sensitive skin, and do not use it on breakouts.

Rub the inner peel of ripe papaya or banana over your face and neck. Wash off with tap water, and wipe with a soft towel after 15 minutes. This leaves a cool, fresh look on the face for hours. Regular use makes the skin soft and glowing.

For a glowing complexion, sundry orange peel until it is brittle, then grind. To 2 tbsp of this powder, add 1 tbsp besan, the juice of half a lemon and a few teaspoons of milk (enough to make a paste). Apply on face and neck, leave for 15 minutes or until it dries out and wash off with water.

Grind carrots into a paste, and apply as a beta carotene-rich face pack. Keep it for an hour before rinsing. You'll get smooth and glowing skin.
How to use honey for better skin
Honey makes a good homemade moisturiser, apply for 10 minutes and then wash off with warm water.

For a homemade skin conditioner, mix one tbsp of honey and 2 tbsp cream. Apply this mixture on your face and wash it off after a few minutes.

Mix oatmeal and honey and use it as a face pack to soften your skin. 
How to use tomato juice for glowing skin
To 50 ml of tomato juice, add one tsp lemon juice. Apply this mixture to the face. It helps to make the skin soft and glowing.

For a boost to your complexion, mix tomato juice with bread (without crust) and apply for 10 min in a circular motion for 2-3 min, then wash off.

To reduce open pores and blackheads, take halve a tomato and rub it all over the skin. Leave for 15 minutes, allowing the juice to saturate into the pores, then wash off.
How to cleanse your skin with leftover food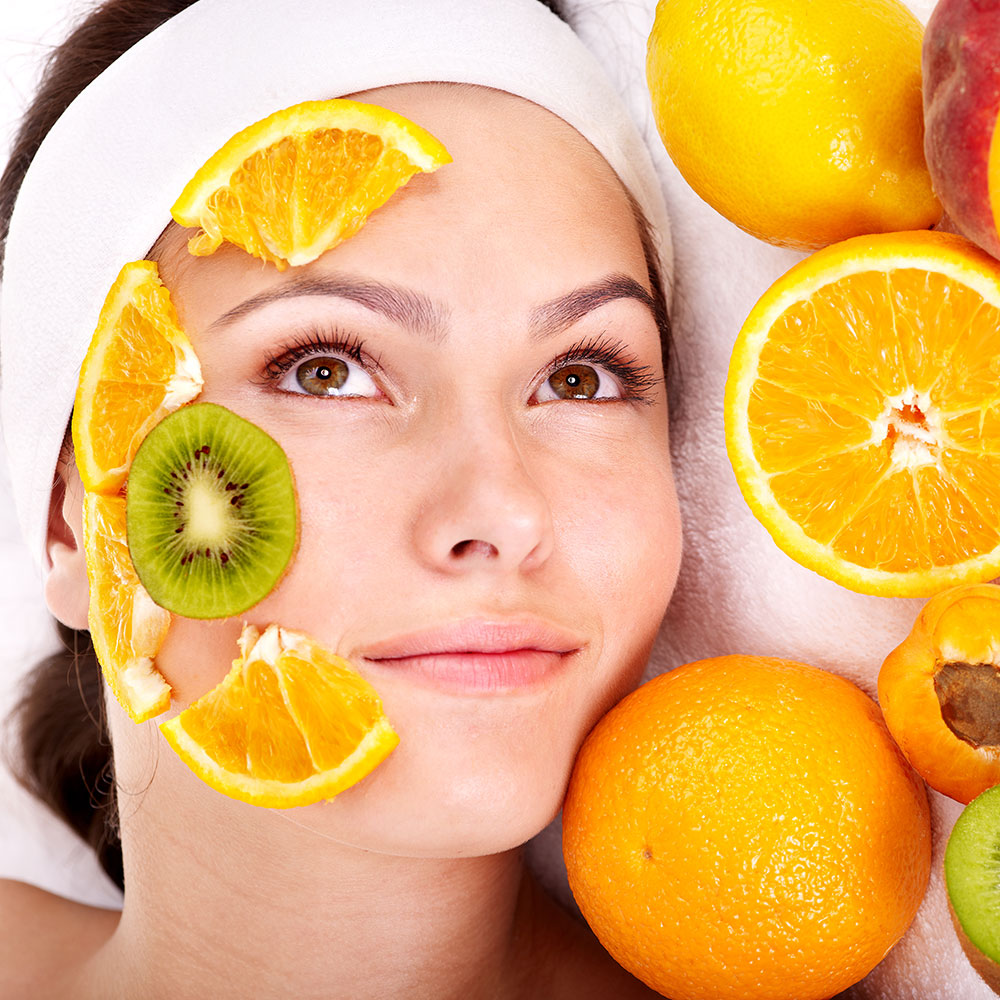 Leftover idli or dosa batter (should be well fermented) can be used to apply on the face. Let it dry. Then sprinkle water on your face pack and massage slowly again. Let it dry, then wash. This face pack is good for cleansing and softening your skin.

Dry almond skins in the sunshine until they turn brittle. Powder, mix with gram flour and turmeric. Add curd and honey to a tablespoonful of mixture and rub your skin clean while bathing—this makes an excellent cleaning agent for the body and face.

To remove dirt from your face, make a mixture of besan (gram flour) and cold milk and apply to your face. Leave it until it dries thoroughly. Scrub slowly with your hands using lukewarm water and then wash your face.

Scrub your face with stale roti (bread) soaked in milk. It cleanses the skin and makes it soft.
How to use foods for different skin types
Avocado is delicious to eat and also good for dry skin in winter. It has oleic acid, a fatty acid that helps the skin retain moisture and plumpness. Apply the avocado pulp on your skin and leave it on for 15 minutes, then wash off. You'll score supple, dewy skin.

For dry and patchy winter skin, use the most underrated seasonal food in skincare—sweet potato. Make a pulp, mix with some curd and apply on the skin for 5 minutes. Then wash off. The beta carotene in sweet potatoes acts as a sun barrier, which is important especially on winter days. It also keeps it moisturized and fresh.

For sensitive skin, gently scrub with oatmeal soaked in raw low-fat milk.

If you have oily skin, tomato or carrot juice makes a good facewash.

To get rid of extra oil on the face, mix yoghurt and a pinch of turmeric and apply liberally. Keep for 10 mins and wash off.

The above beauty remedies will help you tackle your skincare issues in a normal way.
How to use foods to remove skin tan
Grated potato juice is great for removing tan and cleansing your skin. Rub the juice on your face, keep for some time and then wash it off.

Curd with besan is an excellent cleanser and it works to remove the tan.

Aloe vera also works wonderfully to remove tan from the skin. Mix equal quantities of fresh aloe vera pulp and lemon juice. Gently apply on the tanned portion of your skin, let it dry, then wash off after about 10 minutes.
How to reduce pimples, pigmentation and marks
Have a pimple problem? Make a paste of Tulsi (holy basil) or mint leaves and apply to your face. Leave it on for 15 minutes before washing it off. Use for a week, and then again as and when you feel the need.

Rub raw fresh aloe vera on pimples. Leave it on until it dries and you get an itchy feeling; then wash off. Follow for a few days, the marks will vanish soon.

Pigmentation problems can be tackled with good old potato. Cut a potato in half, dip in water and rub on the pigmented skin in a circular motion for about 10 minutes. Do this every alternate day.

Papaya also helps cut hyperpigmentation. Take mashed papaya, mix in some milk to make a paste and add some honey. Apply it to your face and allow it to stay for about 15 minutes. Do this twice a week.
How to tackle skin pores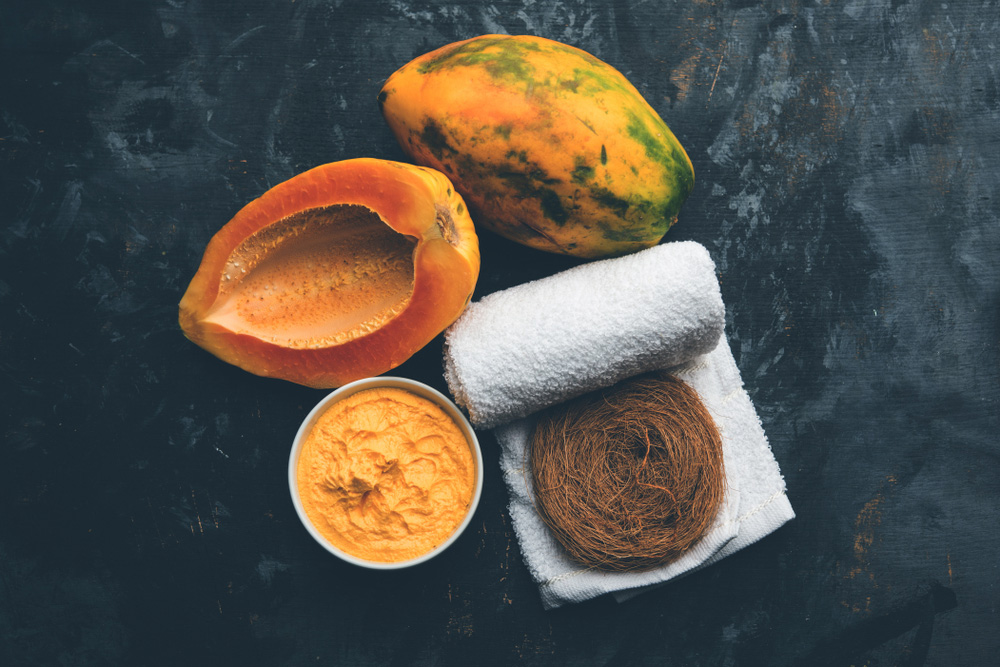 Rub cucumber juice all over the face and then apply an ice pack. This will tighten your skin pores.

Grated papaya with lime juice makes a good face pack for tightening skin pores.

To squeeze out blackheads, soften heads with butter first. It makes the task super easy.
Easy ideas for luscious hair
Curd is an excellent nourisher for hair. Mix curd with water, apply on hair, leave for 15 minutes and wash—you'll see the difference right away.

Steep hibiscus flowers in oil – it helps hair growth.

Curry leaves in oil give you dark black and beautiful hair

Banana makes a good moisturising mask, not only for skin but also for your crowning glory! Apply the hair mask of overripe bananas, and wrap a hot towel and leave for 10 minutes.

Wash your hair with a paste of cooked urad dal (black lentils) and fenugreek, two to three times a week. It helps keep the hair healthy.

Add 1tsp cider vinegar in a mug of water as a last rinse for your hair post shampoo to make them stronger and shinier.
How to get rid of dandruff
Apple cider vinegar helps. The acidity of the vinegar helps stimulate the shedding of dead skin cells on the scalp and get rid of dandruff.

Apply fresh aloe vera pulp and leave for 15 minutes, then wash the hair thoroughly.

Neem leaves have anti-fungal qualities and work effectively against dandruff. Apply a combination of neem and curd all over your scalp. Leave it on for 15-20 minutes and then rinse. You can even boil neem leaves in water and give a rinse to your hair with that water.
How to care for your nails
Got brittle nails? Massage cod liver oil into your cuticles and nails. It is rich in vitamin A and in a few months your nails will be much stronger.

Simply soak nails in a little bit of lemon juice for a few minutes to make them less brittle.

To make the nails softer, dip them in milk for a few minutes before doing the manicure.
How to soften the skin around the elbows
Prop your elbows in lemon halves to lighten black patches. But please do not go out in sun without washing or you will make matters worse!

Oats and yoghurt both are great for lightning darkened, dry skin patches. Combine equal parts oats and yoghurt, then apply to your elbows or knees. Leave for 10 minutes then wash off. Do this every day for a week.

Besan also works wonders. Mix it up with water (or lemon, if the skin is very dark) to make a paste. Apply on the elbows, or knees, leave for 20 minutes, wash off. Do every day for a week or two.

Mix apple cider vinegar with honey, apply to the skin and leave it there for 10 minutes. This can be done daily as it helps lighten dark elbows and knees.
How to make body scrubs and bath salts
Lemon juice and sugar is an easy and effective homemade scrub for the whole body, and face.

Make your own bath salts with coarse sea salt, a pinch of pepper, and dried rose petals. You could also add a few drops of rose water.

Add neem leaves or lime leaves to bathwater. The scent is refreshing and it also has an antibacterial function, especially when a little haldi (turmeric) paste is also mixed into the water. This is also effective if you're recovering from a fever.

When avocados are available, apply the pulp to dry areas of the skin. It gives the skin a happy healthy glow.
Make the best of the natural home remedies suggested above and attain glowing, healthy skin.
Photo: Shutterstock