Everyone loves a piece or two of chocolate. They taste amazing, provide a moment's respite from your stressed-out lives and elevate your mood. Because it contains serotonin, an antidepressant that improves your mood and we know about all the other benefits of having chocolate. But did you know that it can also prove to be good for your skin when applied topically?
Here are some benefits of using chocolate on your skin and some handy tips on how to use it to reap all the benefits from this heavenly ingredient.
What does chocolate do to your skin?
Chocolate rejuvenates your skin, it acts as a moisturising agent and is also good for skin repair. The caffeine in chocolate stimulates the circulatory system making the skin firm. It is made from antioxidant-rich cocoa and is high in soluble fibre, iron, magnesium, copper, manganese, zinc and selenium. 
"Topical application of chocolate is totally fine on acne-prone skin too. However, it also depends on the other ingredients mixed with chocolate and whether or not they will block your skin pores and increase acne. In case one has acne-prone skin or has active acne, any product which is thick and creamy must be avoided for fear of mechanical blockage of the pores", says Dr Apratim Goel, laser surgeon and cosmetic dermatologist, Cutis Skin Studio.
The flavanols packed in chocolate can also limit sun-induced skin damage. Due to high antioxidants, theobromine as well as polyphenols, chocolate has detoxifying properties, it reduces cellulite and water retention. Also, it works against pollution and sun damage. This gives you all the more reason to start adding this ingredient to your skincare regime.
Organic chocolate soap
Get your hands on organic chocolate soaps, as the caffeine in the product will help fight the pollution that your skin is exposed to every day. Also, it will leave your skin hydrated and moisturised post your shower.
Chocolate scrub
Sandhya Sakhuja, Head of Personal Care at Fabindia, suggests that a scrub containing cocoa powder is a good add-on. Follow up with cocoa butter, rich sunscreen and your skin is moisturised and protected all through the day.
DIY chocolate face and body scrub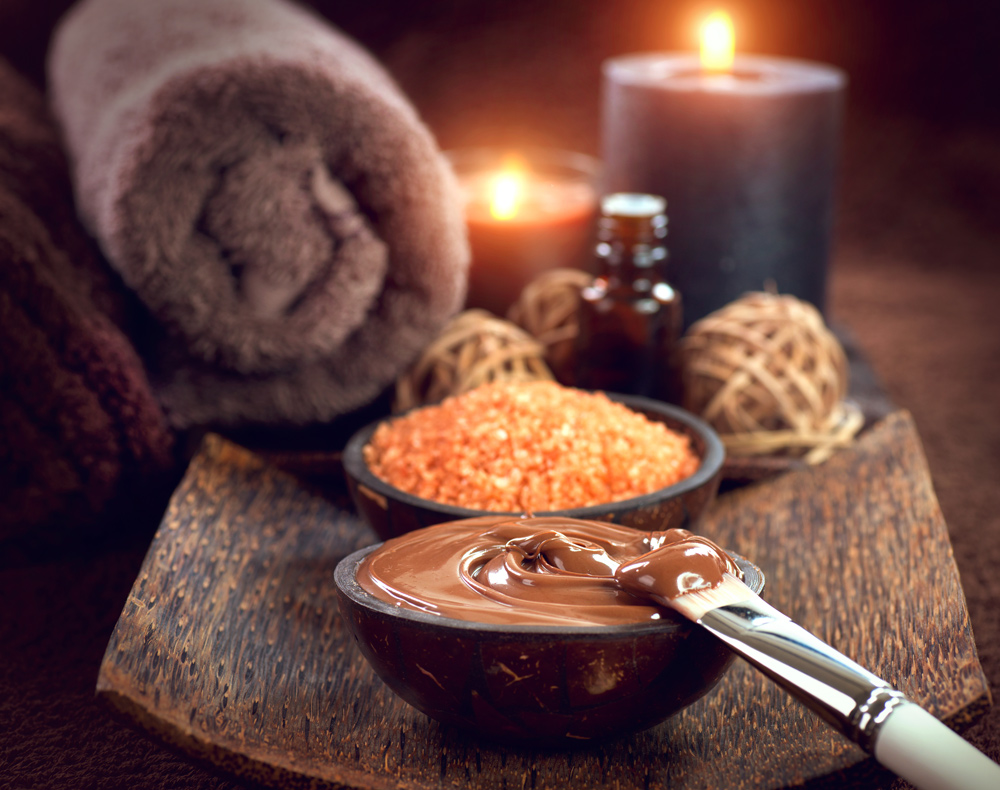 You can make your own DIY chocolate scrub if you don't want to rely on readily-available products. Simply heat up a mix of equal portions of cocoa powder and coffee powder with some water. Then add coarse salt or sea salt and fresh cream to the mix. Use this as a scrub all over the body. You can also use this mixture on your scalp.
DIY chocolate face mask
Use a double boiler to heat a cube or two of dark chocolate. Add an egg yolk to it after it cools down. Mix well and apply this to your face. After 20 minutes wash it off with warm water. Those who don't like the smell of egg yolk can substitute it with some honey to get the same effect.
DIY chocolate lip balm
If you are suspicious of the lip balms that leading brands offer, whip up your very own at home. All you need is two teaspoons of beeswax, a teaspoon of cocoa powder, 2 teaspoon of coconut oil and few drops of peppermint oil (optional). Melt the beeswax in the microwave, remove it and then stir in the rest of the ingredients. Pour into a bowl, let it set and start using it on your chapped, dry lips.
With inputs from Dr Apratim Goel, laser surgeon and cosmetic dermatologist, Cutis Skin Solutions, Mumbai
Photo: Shutterstock