Calm down. Don't fret over the extra square of kaju katli or motichur laddoo you popped during the festivities. What you eat and drink once the celebrations are done and dusted, plays an important role in determining your overall well-being and stemming some of the toll of the festive season on your body. A simple detox regime will help ease your digestive system back to normalcy and in the bargain rejuvenate your skin and overall health.
Here's how you can detox the right way after the festive season.
1. Take a sugar break
Now that you've had your fair share of mithais and pedhas, it's time to take it easy and control your sugar intake. An online article published by Harvard Health Publishing concluded that an unhealthy diet, particularly one high in sugar risk increases the risk of dying from heart diseases. The American Heart Association recommends about 6 teaspoons or 25 grams of added sugar per day for women and 9 teaspoons or 38 grams for men.
As your system is now on a sugar overload, it's best to go without this white devil for at least the next two to three days. And while at it, it's important to understand that sugar is hidden in almost anything and everything – from sauces, dips, bread, biscuits, flavoured yoghurts and even breakfast cereals.
Don't forget to double the nutrition labels. Avoid sugar-loaded fruit juices, sodas and ice creams, and cut down the sugar in your morning cuppa. Artificial sweeteners are also best avoided at this stage. You can instead, satisfy your sweet tooth by adding honey, jaggery, dry and fresh fruits to your diet.
2. Don't Skip Your Meals
Skipping meals is often considered the easiest way to undo the damage caused by binge-eating. However, Kanchan Patwardhan, a Mumbai-based clinical nutritionist states that when one skips a meal, the body goes into starvation mode and the metabolism slows down. This means that the body tries to compensate for the inadequate calories by burning fewer calories than it normally would, making it impossible to lose weight, let alone stay on a healthy track.
And when you happen to eat, the body ends up storing those calories, rather than using them, as it expects you to starve it again. Jaee Khamkar, Dietician, Fortis Hospital, Kalyan, warns against consuming a diet of fewer than 1,000 calories a day and instead insists on loading up on foods rich in protein and good fats such as avocados, cheese, dark chocolate, eggs, fish and chicken.
3. Eat Right
Remove simple carbs (foods made from refined flour and sugar) and cut down on dairy. "Also avoid popping laxatives and diuretics (over the counter medications for constipation and fluid retention), and turn your back from all amphetamines such as alcohol, Ceylon tea, coffee, cola drinks, carbonated cold drinks, chocolate, and cigarettes," says Khamkar. Energise yourself with fresh and whole foods—fruits, sautéed vegetables, salads, whole grains and nuts.
Toss up a vegetable salad or sip on some fresh vegetable smoothie or hot soup. A wholesome meal of vegetables, soup, a simple grilled chicken and/or fish will also help you feel full faster and stabilise blood sugar, making you less likely to overeat. Snacking on fresh fruits, especially citrus fruits such as oranges and sweet limes, and even tomatoes is gut-healthy, as citrus is a great natural detoxifier. Opt for a bowl of curd or yoghurt, a source of gut-friendly bacteria.
4. H2O for the Win
Keep yourself hydrated. While it is recommended to have at least eight glasses of water daily, it's best that you listen to your body and drink water whenever you feel thirsty. You can also infuse your water with ginger, lime slices or even mint and basil leaves to help you stay hydrated.
Delhi-based dietician Sheela Seharawat suggests carrying a water bottle at all times as it's the easiest way to stay hydrated. Drinking coconut water is another way to stay hydrated and it is also rich in potassium and low in calories. You can also opt for fresh fruit juices, which are rich in antioxidants. When on a detox, it's also important to avoid calorie-rich drinks such as milkshakes, energy drinks and aerated drinks, as your body is already loaded with sugar and consuming these will do your body no good.
5. Detox Meal Plan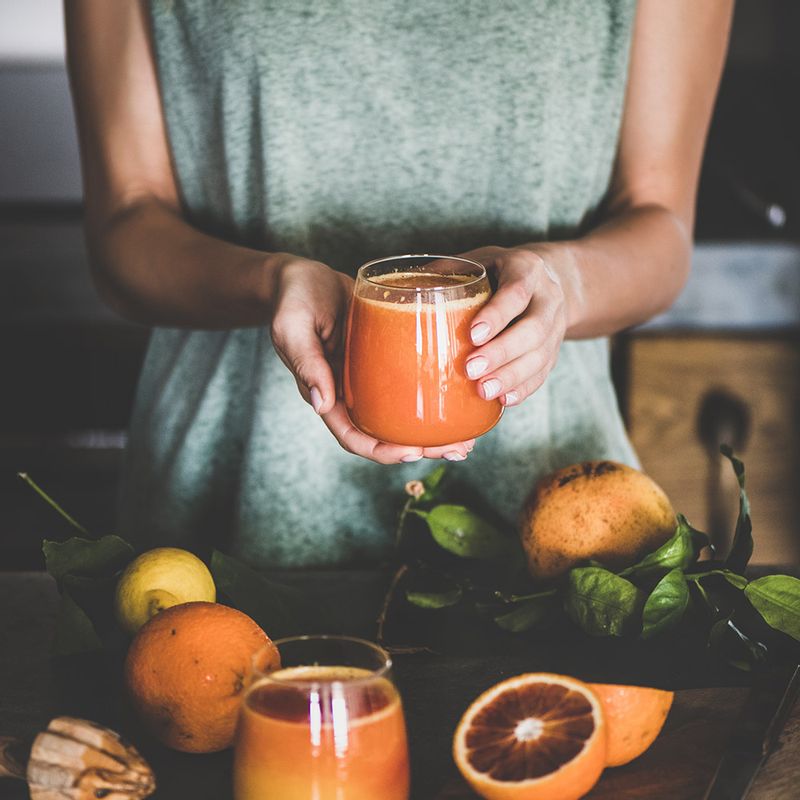 Here a two-day detox meal plan by Khamkar to help you get started:
DAY 1
Early morning: Green tea/Lemon tea
Breakfast: Vegetable and/or fruit smoothie
Mid-morning snack: One fruit of your choice paired with around 3-4 almonds and/or walnuts
Lunch: Big bowl salad (carrot/cabbage/ kale/cucumber/tomato) with vegetable dal khichdi/brown rice. Wash it all down with a tall glass of freshly prepared buttermilk.
Snack: Lime water with a bowl of sprouts.
Dinner: End on a light note with a warm bowl of lemon coriander soup
DAY 2
Early morning: Herbal tea/Black tea 
Breakfast: Yoghurt fruit smoothie
Mid-morning: A handful of Trail mix (preferably homemade; sunflower seeds, pumpkin seed, flax seeds, muskmelon seed)
Lunch: Mix vegetable soup (pumpkin/bottle gourd/tomato/spinach/mushroom) with a bowl of vegetable dalia khichdi. Finish off with a small bowl of freshly prepared curd
Snack: Chia seeds water with a bowl of flakes, best to opt for the ones made with wheat/ multigrain/makhanas
Dinner: Aim for something light such as a sprout vegetable stew.
6. Break a sweat
Apart from altering your diet, it's also important that you shrug off those extra calories. "Exercise can improve the health-boosting benefits of a detox plan," says Khamkar. Moreover, she adds, "Physical activity improves digestive function and boosts the metabolic rate, helping stimulate elimination channels through breath, sweat and circulation."
The best way to get rid of that post-festive fatigue is by including a few quick workouts such as push-ups, squats, etc., that you can try at home. If you don't have time for exercises, simply go for a 20-minute walk or take a yoga break.
7. Post-Detox
No matter how tempting it may be, and even though you will want to eat everything in sight post detox, it's important that you go slow and introduce one food group at a time to help ease digestion. Eating too much and too quickly after a detox can undo the cleansing process and positive effects of the detox. 
After your detox, you could start having grains like rice or roti for the first two days, slowly include milk and other dairy products, and eventually, when your appetite gets a bit stronger, you can include meat and other high-calorie items into your diet.
---
Photo: Shutterstock