In the pre-pandemic world, what was your experience of buying your favourite bottle of gin or wine? Shady and jostling around in a heavily crowded counter—would be most of our answers. In a country where anything with ABV (alcohol by volume) is weighed down by taboos, it takes courage to break away from the misguided negative hype to offer a fresh, new experience. Mansionz by Living Liquidz is such an endeavour.
Living Liquidz is one of Mumbai's biggest wine shop brands. Mansionz by Living Liquidz is Managing Director Moksh Sani's first step towards initiating an organised retail business model in the shadowy consumer alcobev segment."Since I started working in the wine and spirits industry from a very young age, I was always thrilled to share my passion for specific products or categories over tasting events with close and new friends. Meanwhile, I am also a food enthusiast who believes that a delicious dish paired with the right wine or spirit can create unique flavours, elevate the senses, and offer an amazing experience. Hence the idea of The Tasting Room and Mansionz was born – to offer people a space where there can be a greater appreciation for beverages and a deeper understanding of the same," says Sani. After a successful launch in Mumbai, Sani and his team have opened outposts in Pune and Bengaluru. Plans are to take the concept across India.
We came back impressed with the concept, execution and operations of Mansionz and have zeroed in four distinctive reasons why you must make a beeline for the place.
1. One compound, myriad experience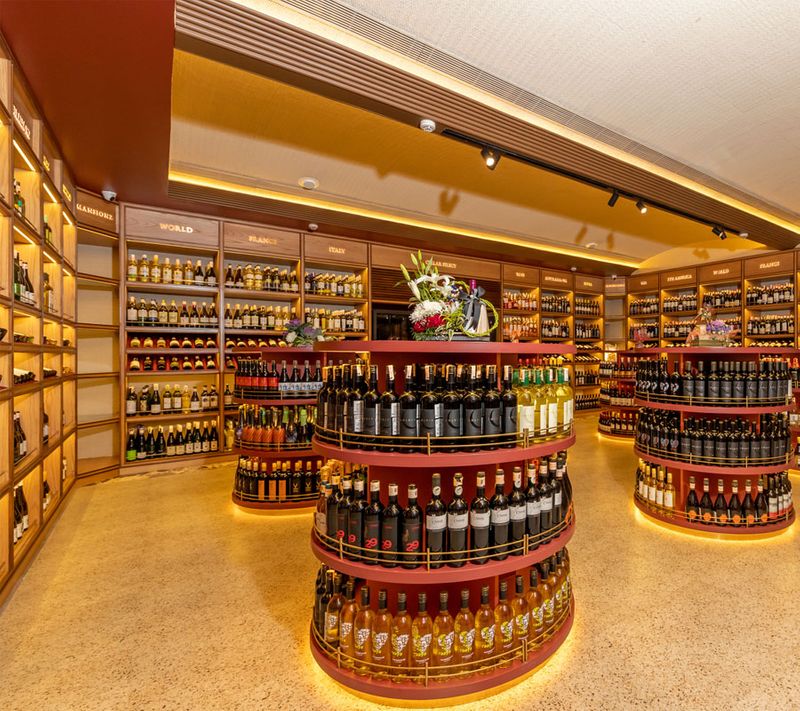 Located in a renovated and reimagined bungalow in Lower Parel, adjoining Kamala Mills, Mansionz is spread across three levels. The ground floor is where the main spirits and beers are available for purchase—The Liquor Lounge. The first floor is dedicated to wines. There is also a good-looking bar where you can try out some of the wines and spirits, and even savour classic cocktails. The rooftop is not open yet but will be a private event space. Be sure, once you step in, you won't be getting out for hours.
2. Aesthetic design and ambience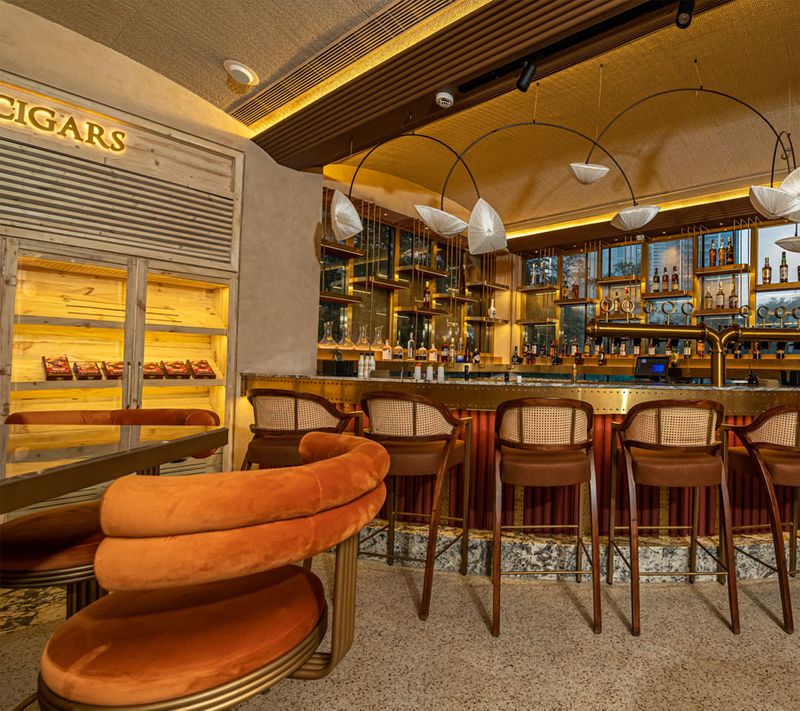 The space is designed by Mumbai-based interior designer Sumessh Menon. The unmissable archway entry of Mansionz by Living Liquidz gives way to a bright and well-lit courtyard that is home to three exciting restaurants (more on that later).
As you step inside the two-floor structure, everything looks and feels plush. The Liquor Lounge uses backlit granite and terrazzo flooring with brass inlay as a base on which the dark wood tones of the shelves shine. The arches of the shelves tie in the external to the inside while the vaulted ceiling adds warmth to space.
A distinctly art-deco inspiration is clearly visible in the décor, which becomes more pronounced in the tasting room and wine cellar. The light fixtures at the bar steal the show while the use of copper and browns adds a sense of cosiness to the space—very unlike wine shops in the city!
3. Mind blowing offers and deals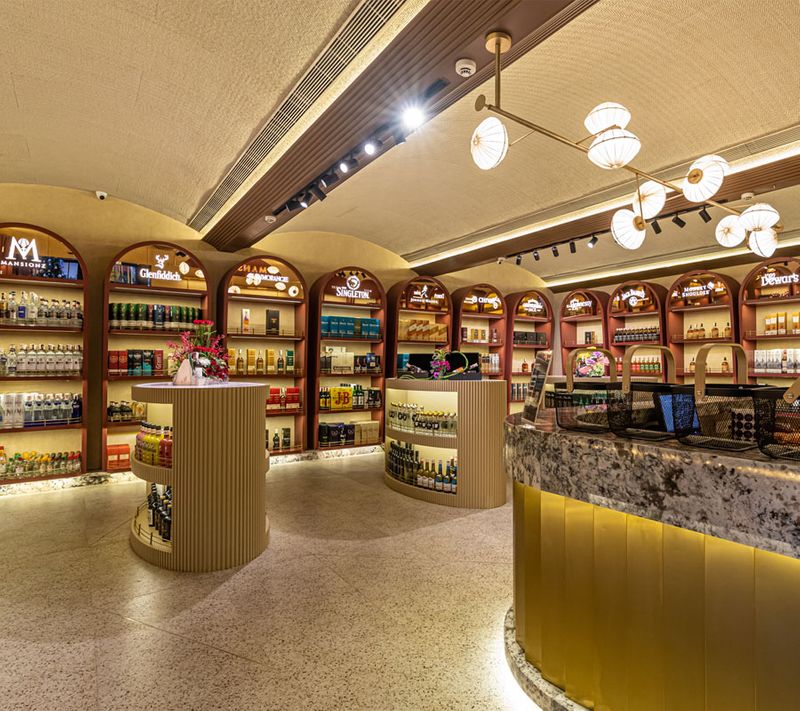 Once you're done gaping at the décor time to settle at the bar and check the menu. The friendly sommeliers and bartenders, under the watchful eyes of Craig Wedge, Mansionz's director of retail operations, take you through the competitively priced wine flights and spirit flights.
For as little as Rs 1000, you can try three brands in one spirit category. Whether it is gin, whisky, vodka or rum, you can taste it before you decide to make a purchase. Similarly, there are wine flights based on country, region and wine varietals. Their 'try before you buy' experience takes away the guesswork from an average wine purchase—something a lot of people struggle with.
Mansionz also has its in-house beer, Clap, and a house wine brand, Amaris, available in more than 10 red and white varietals.
4. Dining redefined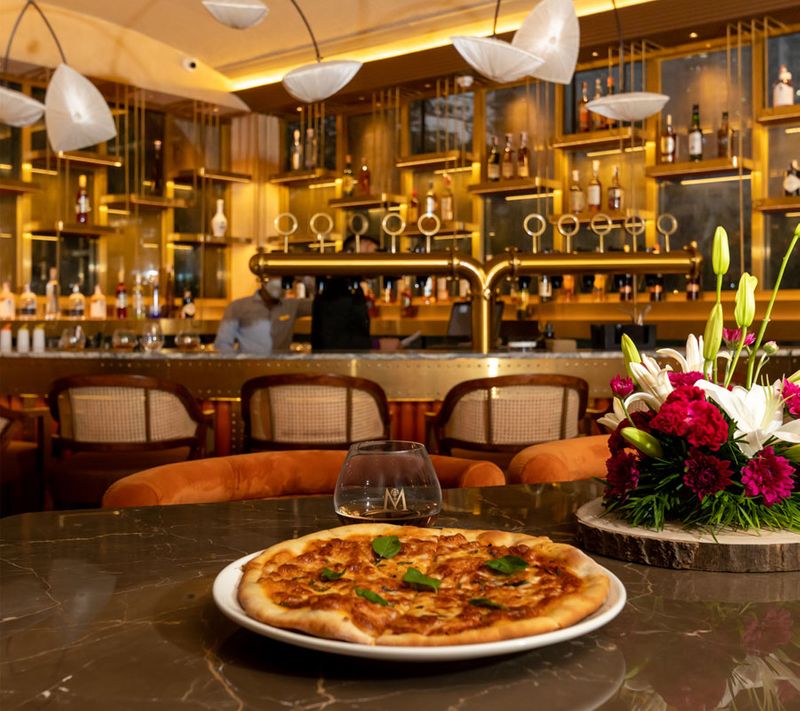 Though dining is not the key experience at Mansionz by Living Liquidz, they won't let you starve. They have tied up with a local gourmet kitchen, I'm Wholesome, to curate grazing platters that you can have at the bar or take home along with popcorn similar nibbles.
However, if you want a full-fledged dining experience, you need to make your way back to the courtyard where there are not one but three restaurants to choose from—SAZ American Diner and Brasserie, Ping's and PCO! All three are brainchildren of Delhi-based serial restaurateur, Rakshay Dhariwal, and have a loyal following at their other locations, be it Delhi or Goa. This is Dhariwal's first foray in Mumbai. 
The experiential spirits and wine sale model is not new to India, Bengaluru and few select outlets in Delhi-NCR have dabbled with it. It is the scale of Mansionz by Living Liquidz and the speed at which they want to grow that is lofty. At the same time the success of such endeavours, past, present and future, is much needed for an open conversation about spirits and wine to flourish rather than a clandestine approach. There is also a case to be made towards 'drinking better' than 'drinking more', and it has become a subject du jour for many in urban centres.
Address – Mansionz By Living Liquidz, Senapati Bapat Marg, NRK House,
---
Photo: Mansionz by Living Liquidz Mumbai