Of all places in the world, I didn't expect to hear a sales pitch on raw jackfruit at a restaurant in Lake Tahoe in California. A growing band of vegans in the US, like my friend Linda, have discovered the textures of raw jackfruit that has emerged as a hero mock meat ingredient. She was the one who took me to West Shore Café and insisted I try out the carnitas taco that is typically made with slow-cooked pork shoulder. At this lakeshore restaurant, the pork makes way for griddled, raw jackfruit and I couldn't tell the difference. 
Almost a year after that visit to Lake Tahoe, I was at Kappa Chakka Kandhari (KCK) in Chennai, one of India's finest restaurants for Kerala cuisine. The restaurant takes its name from three ingredients that are unique to Kerala cuisine including chakka or jackfruit.  "Growing up there - one always saw jackfruit in different forms during season - either as fruit to relish after lunch or as a midday snack or even in our meal so it truly is nostalgic food for me.  One saw tender raw jackfruit in curries, raw jackfruit fried in coconut oil to make crisp delicious chips, or as puzhukku when cooked, mashed and mixed with delicate Kerala spices and coconut," says Chef Regi Mathew, the co-founder and culinary director of KCK. He believes that jackfruit is one of the most versatile ingredients and I couldn't agree more. Regi and his team spent a lot of time researching different ingredients across Kerala before they set up KCK. One of the learnings was that all jackfruit trees aren't the same and don't yield the same taste or quality of fruits. There are different varieties of jackfruit, each for a specific use. The ripe jackfruit is not just a star in fruit platters during jackfruit season it is also cooked with jaggery and stored for later use in making pradhaman (a traditional payasam made using dal) and other sweet delicacies like kumbilappam (a sweet dumpling-like snack) well after the season ends. One of the most delicious dishes I tried during my meal at KCK was the idichakka cutlet (see recipe) that is a great alternative to the traditional Kerala meat cutlet. 
Chef Manu Chandra, chef partner, Olive Group, believes that raw jackfruit is more than just a mock meat option. "I use it for its versatility and integrity of texture in varied applications - the endeavour was never to replace meat, but to add more variety in the vegetarian offering. People do find the fibre reminiscent of meat, hence the faux meat moniker. But the tender fruit has a lot more on offer, from its seeds to the ability to weather more robust cooking applications such as braising, barbecuing and smoking." You'll find raw jackfruit play out in the Toast and Tonic menu from burger patties to toppings for noodles. Manu also adds that raw jackfruit is a traditional ingredient used in Kayastha cuisine (from UP) and shares his family recipe (see recipe) for the kathal biryani that uses raw jackfruit instead of meat. 
Raw jackfruit maybe the new wonder ingredient for a growing band of vegans around the world but in Kerala and many parts of India, this versatile ingredient has always held sway, especially in summer when it's jackfruit season. 
Idichakka Cutlet (Tender jackfruit cutlet) recipe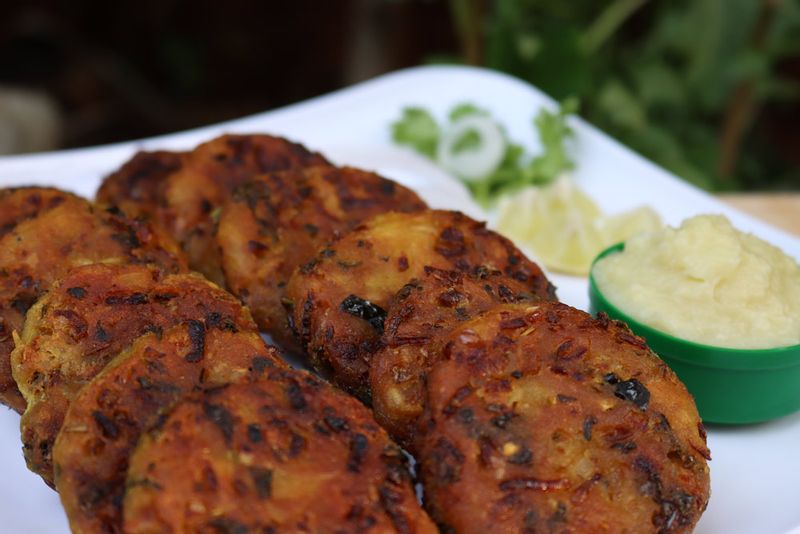 Ingredients
1 no or ½ kg tender jackfruit 

2 nos or ¼ kg potatoes

2 nos or 150 gms onionchopped

5 nos or 15 gm green chilli chopped

20 ginger finely chopped 20 gm

1 sprig curry leaves. 1 sprig [chopped]

15 ml cold pressed coconut oil

100 gm breadcrumbs.

2 gm turmeric

100 gm refined flour

2 gm cinnamon

2 gm cardamom

2 gm cloves

2 gm saunf/fennel

5 gm pepper powder

Salt to taste
Method
Remove the green skin and cut the jack fruit into chunks and boil with turmeric and salt.

Boil potatoes, remove skin, mash and keep aside.

Heat oil in a pan, add onion, ginger, green chilli and curry leaves. Crush cinnamon, cardamom, cloves and saunf. Add this mix and the pepper powder.

Sauté for a while till the raw flavour goes.

Mince the jack fruit and add it to the mixture. 

Add salt as required.

Add mashed potatoes and mix gently and keep aside. 

Make a semi-thick batter with refined flour, salt and water.

Make small patties of the jackfruit mixture and dip them in the batter and then coat each cutlet with bread crumbs.

Deep fry the patties in hot coconut oil.

Goes best with: Onion salad and beetroot sauce
Recipe by Chef Regi Mathew, Co-Founder & Culinary Director – Kappa Chakka Kandhari
Kathal Biryani recipe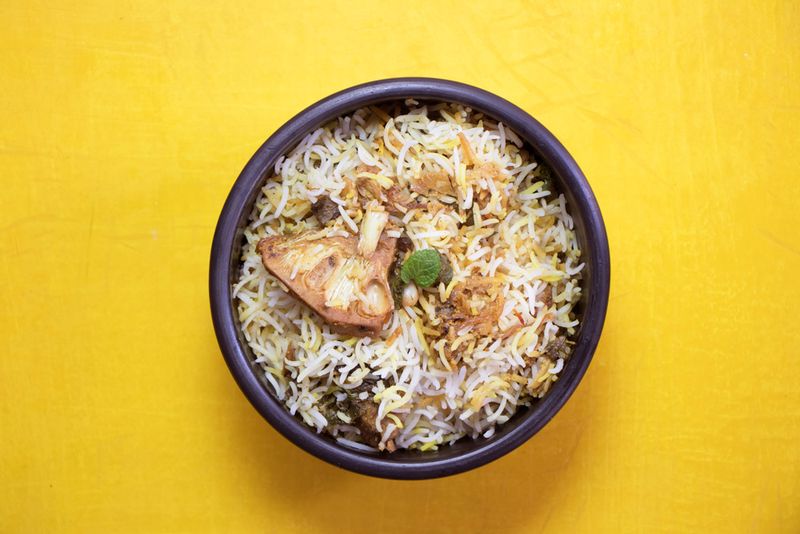 Ingredients:
450 grams raw jackfruit (kathal)

2-1/2 tablespoon 

ginger garlic paste

1/2 teaspoon red chilli powder

1/4 teaspoon turmeric powder

1-teaspoon 

garam masala powder

Salt to taste

1-1/2 cup basmati rice

2 tablespoon sunflower oil

3 onions

4 tomatoes

1-inch cinnamon stick

2 cardamom pods

2 cloves 

1 teaspoon whole jeera 

1 black cardamom 

1 star anise

1 bay leaf

Coriander leaves, a few sprigs finely chopped

Mint leaves, a few sprigs finely chopped

3 green chillies

3 tablespoons 

ghee
2 tablespoon oil

10 cashew nuts, toasted for garnish
Method
Th

oroughly wash and soak the rice for about 60 mins.

C

ut the raw jackfruit. In order to do that, first grease hands and knife with oil.

 

Keep a bowl of water ready, mixed with some salt. This is to put the cut raw jackfruit pieces to avoid discolouration. Cut the jackfruit in half, discard the skin, and make 1-inch pieces, and soak in the salted water. 

Put cut pieces of raw jackfruit in a pressure cooker with 1/4 cup of water and pressure cook for 2 whistles. 

In a mixing bowl, combine boiled raw jackfruit pieces, fresh chilies, ginger- garlic paste, chili powder, turmeric powder, garam masala powder and salt. 

Meanwhile, in a pan heat oil and ghee on medium heat, add half the whole spices and then add onions. Fry onions until they turn golden brown.

Add tomatoes, marinated jackfruit, and sauté it until it turns brown in colour and starts to leave oil. 

Boil water in a large pan.  Drain the rice and add along with salt, and the remaining whole spices- cinnamon stick, cardamom, cloves, black cardamom, star anise and bay leaves.  

Cook the rice until it's 70 per cent done. Once done, drain the rice and keep it aside.

Grease a deep, wide pan with ghee, sprinkle some fried onions, some chopped mint leaves and chopped coriander leaves. Next, spread an entire layer of the cooked jackfruit mixture. Now add a layer of rice over the jackfruit mixture. 

Add the ghee, sprinkle the remaining chopped mint leaves and coriander leaves.

Cover the pan with aluminium foil and put it on a low flame for 15 minutes. 

Open the pan, and start fluffing the rice from the sides, so that the rice and the jackfruit mix well together. 

Garnish with toasted cashew nuts and coriander leaves and serve hot.  
Recipe by Chef Manu Chandra, Chef-Partner Olive Group Of Restaurants
---
Photo: Shutterstock