A man pours a big bowl full of batter onto the griddle and moves his hand in quick swivels to create a perfect circle. He follows the same process to create multiple such circles over the large, hot ¬griddle. Next, he puts in a generous portion of white butter over each one. As the butter melts and the batter sizzles he starts to flip the crepe lookalikes in quick succession. No sooner than the flipping is done — it takes barely a minute — he is back to the first one; now folding each into a neat semi-circle and placing two each on small steel plates. This pouring, sizzling, flipping, and serving goes for hours every morning and intermittently through the day and is the heart and soul of the legendary benne dosa of Bengaluru.
Growing in the northern parts of the country, dosa to me was essentially a Tamilian dish, until I moved to the Garden City of India, that is. It is here, at the many, many darshinis (quick-serving food joints) and tiffin rooms, that I learnt to appreciate dosa in all its myriad forms—set dosa, plain dosa, masala dosa, neer dosa and my favourite, benne dosa.
I also discovered that the dosas in Bengaluru are thick and flavourful. Unlike the thin, papery dosas of Tamil Nadu, also called roast dosa in Bengaluru, these are more than just a foil for picking up a chutney or sambar and have a distinct character of their own. Crisp and golden on the outside and soft and fluffy inside, they often come slathered with a spicy red garlic paste inside and dollops of hand-churned white butter outside — commonly known as benne or butter dosa.
The legend of Benne Dosa
Not every dosa in Bengaluru is a benne or butter dosa but it is something of a legend, one that every Bangalorean, young or old, is in love with. No one can tell exactly when this rustic, flavourful and filling dosa came to Bengaluru. As the legend goes, the original benne dosa was created in the town of Davengere, about 250 kms from Bengaluru, sometime in 1927-28. "There was a great famine in the area and a lady called Chenamma had relocated to the town from her village in search of work. Here, she set up a stall where she would make and sell dosas from her own recipe," informs Anurag Mallick, a food researcher, writer, host and a proud Bangalorean. "Chenamma's dosas were made with ragi or finger millet, the original recipe also had puffed rice. Since the area around Davangere has many rice mills and puffed rice was available in plenty, it may have to do something with the addition," he adds. Unlike other dosas, the benne dosa is served with a pale yellow palya, or potato curry, on the side and a spicy chutney, "and it was always served in a pair."
What sets the benne dosa apart from the regular masala dosa is the texture. The dosa is best made on a wood fire. This slow wood flame, which many locals call the jungle wood, lends the dosa not only its unique texture but also the aroma. Having close to 15-20 dosas on the griddle means the heat is gentle and regulated. The butter, homemade and hand-churned, is the only medium used for cooking and lends the dosa a unique crispness on the outside while the inside remains soft. "The scale and the way it is made makes the Davangere benne dosa special. Many Bangaloreans travel all the way to Davangere only to eat the dosa," informs Mallick. Over the years, he says, the sons and grandsons of Chennamma have set up their own angadis (small shops) and these hole-in-the-wall shops make the finest benne dosas, each a bit different from another and equally unique.
Bengaluru's benne dosa 
Even though it did not originate in Bengaluru, the benne dosa has been a favourite in the city for decades. Even here it is mostly small hole-in-the-wall shops that make and sell it and the city's favourites keep changing depending on the closing and opening of new shops. "Bengaluru is a microcosm of everything, with people from all over Karnataka migrating to the city, their food has also travelled with them and benne dosa is one of the many such regional recipes," quips Mallick. "Most people who make the benne dosa in Bengaluru are from Davengere and use their family recipes."
That said, the benne dosa in Bengaluru have a character of their own and they are as intrinsic to the hyperlocal cuisine of the Uru as anything else. Small hidden gems such as Sri Guru Kottureshwara Davangere Benne Dose, Davanagere Benne Dose Ruchi, and Hotel Sarakki, offer some of the best benne dosas in the city. "I have been eating benne dosa ever since I was a child, and so I know it has been here for at least two decades," says Panjury V, a restaurateur, who now offers this humble street food in her South Indian speciality restaurant, Karnatic.
According to Panjury, the batter, texture and generous amount of white butter used to make the benne dosa sets it apart from the more popular Udupi style dosas. And while many people may add a dollop of butter on the masala dosa to call it benne dosa, the base and treatment of both are completely different. "The Davangere dosas are smaller and fluffier in size compared to other dosas. The ones here are crispier and often use ghee instead of white butter and of course are eaten with sambar. The benne dosa that we make at Karnatic, meanwhile, is the quintessential butter cooked soft and crunchy benne dosa served with a spicy chutney and palya, just as they do in Davangere," she adds.
Benne dosa recipe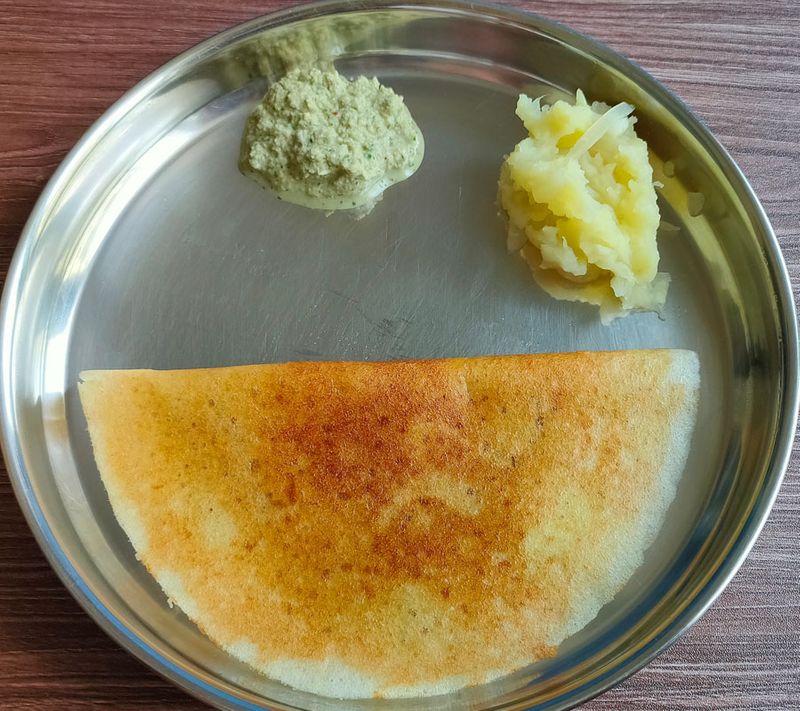 Ingredients
For Dosa batter: 
1. 2 cups dosa rice
2. 1 cup parboiled rice 
3. 1 cup urad dal 
4. 1 cup puffed rice/ poha 
5. 1 tsp Fenugreek seeds 
6. Salt to taste 
7. ½ tsp sugar 
8. 1 tsp Maida
For Potato Palya:
1. 4 big potatoes
2. 2 small onions
3. Salt to taste
4. 5 green chillies
5. 1tbsp oil
Chutney:
1. 1 big cup fresh coconut
2. 5 green chillies (cooked in boiling water for 6-8 mins)
3. 1 cardamom
4. 1 clove
5. ½ inch cinnamon
6. Salt to taste
Method:
Batter
Wash rice, urad dal, methi seeds and boiled rice three times with water.
Soak rice, urad dal, methi seeds and boiled rice for 8-9 hours.
Grind the soaked ingredients to a smooth paste.
Soak puffed rice for 10mins and grind it with rest of the batter
Keep batter for fermentation overnight. Batter will increase half in volume.
Just before making the dosa add maida, sugar, salt to taste
Spread the batter on the tawa, put blobs of white butter and let it roast until you see the edges turning deep red in colour.
Fold it into half and place a dollop of fresh white butter and serve it hot.
Palya
Pressure cook potatoes with green chillies and salt to taste for 2 whistles.
Once the cooker is cooled, remove green chillies, mash the aloo and keep it aside.
In a kadai heat oil and fry onions till translucent.
Add salt if needed and mix well.
Now add the mashed aloo mixture and mix it well.
Chutney
Grind coconut, boiled green chillis and the rest of the ingredients into a fine paste.
Serve the benne dosas hot, with palya and chutney on the side.