The 2014 Jon Favreau film, Chef, has epitomised what a perfect grilled cheese sandwich should look like. Two slices of bread slathered generously with butter and thrown on a medium-heated pan till it roasts to a crispy brown. While the bread sizzles, thin slices of cheese (we counted at least four different varieties) slowly melt to become a decadent gooey mess squished between the bread.
Five years later, Favreau converted his love for food into a Netflix show, The Chef Show, inspired by the foods that rocked the food truck in the film. In the show, Favreau and American chef Roy Choi reprise the perfect grilled cheese sandwich by sharing the nitty-gritty of the sandwich.
The alchemy of heat brings together one of the most simple yet decadent meals. The grilled cheese sandwich is considered the ultimate comfort food by many and it is easy to tweak and experiment with. "It always leaves you full and happy. It is also something that is made all over the world across cuisines, countries and cultures," says Annie Bafna, Founder & Director of Mumbai's The Nutcracker cafe.
So if you're running out of ideas about what to munch on as you binge-watch the TV show de rigueur, get cracking on a grilled cheese sandwich with some expert advice.
Components of a grilled cheese sandwich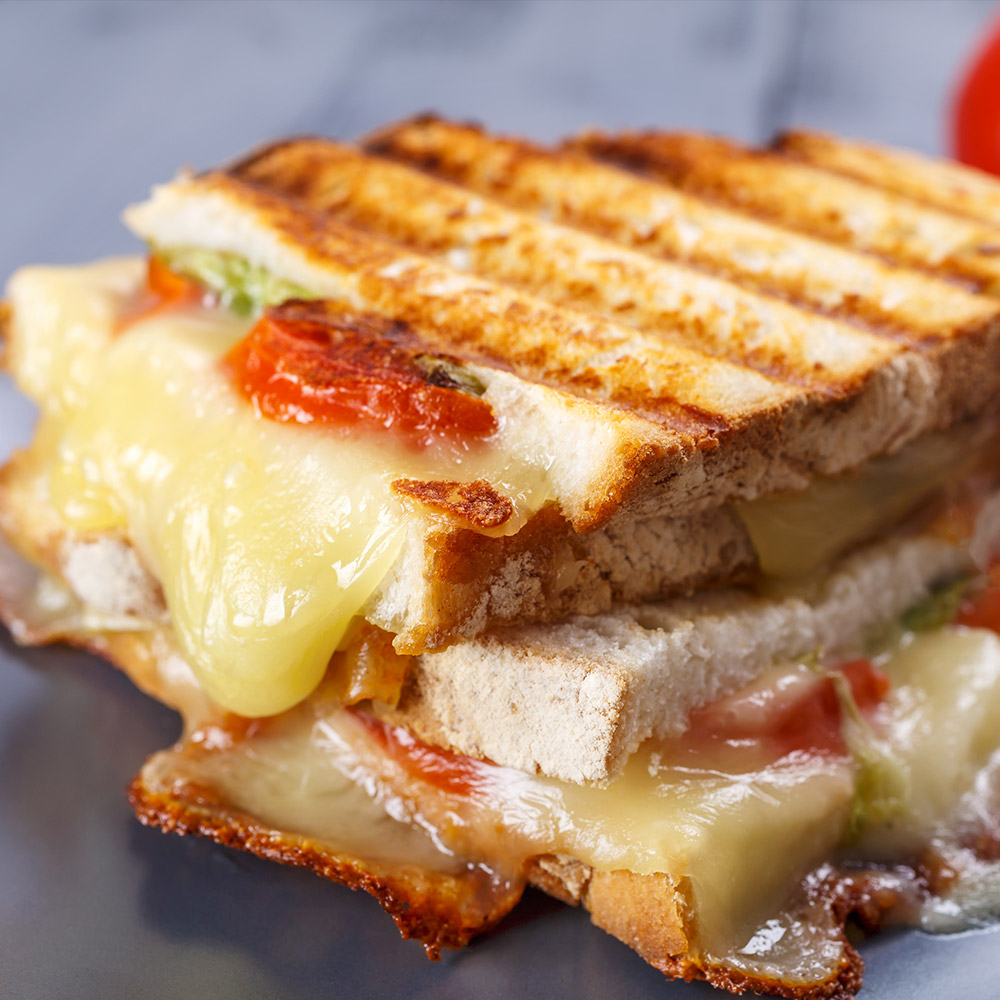 The bread is the foundation on which depends the success of a good sandwich. "Simple white bread can be used to make this sandwich but it should be sturdy enough to hold the cheese without breaking out," explains Chef Ranjan Rajani, Executive Chef, Hotel Sahara Star Mumbai. Good sourdough bread is generally the preferred choice for chefs and grilled cheese aficionados.
The cheese should not only add flavour but also have the ability to melt, which will give you true satisfaction. Commercial processed cheese is great for the melt but you may find it lacking in flavour. For Bafna, "A mix of cheeses versus only one type is super important."
She suggests a sharp-flavoured cheese such as sharp red cheddar, one medium flavoured cheese such as a Monterey Jack or young Edam. Most important is a cheese that melts well such as mozzarella: "It gives you the perfect stretchy melt-in-your-mouth cheese filling." Gruyere and goat's cheese are also good cheeses.
Don't skimp on the butter. "For golden brown crispness and the cheese bursting from the seams you have to be generous!" explains Bafna. If you were wondering which side to butter the bread—it's both sides.
Getting the heat right
Medium heat is the only way to get the perfect grilled cheese sandwich. Chef Rajani makes it clear, "Making a grilled cheese sandwich is child's play, making a great one takes effort. The grill should be hot enough to brown the bread on all sides."
Also as Choi and Favreau explain to their guest on The Chef Show, American stand-up comic Bill Burr, medium heat and slow cooking ensure that both the slices of bread crisp up and the cheese melts all the way through. Patience is the key!
AlsoRead2
Making grilled cheese sandwiches at home
Now that you have your basic technique sorted how about you take your grilled cheese sandwich to the next level? You can add some extra fillings along with the cheese. Slices of ham and salami are easy choices. Chef Rajani suggests veggies or boiled chicken whereas Bafna prefers sweet chilli jam, caramelised onions, grilled and charred jalapeños and even kimchi!
Here are two Grilled Cheese Sandwich recipes by The Nutcracker's Annie Bafna and Chef Ranjan Rajani that you can try at home.
Jalapeno-Onion Cheese Grilled Sandwich recipe
Ingredients
2 slices bread

100 gms cheese mix

30 gms butter

2 charred jalapenos chopped up

2 onions, cut into rings and caramelise

d
Method
Generously butter both slices of the bread on both sides.

Load the cheese, caramelised onions and jalapenos and cover with the other side.

Put into a grill and press down till crisp and golden.
Homemade Bombay Sandwich recipe
Ingredients
2 slices of multigrain bread (brown bread is also ok)

2 teaspoon butter

1 teaspoon of coriander pesto

1 pinch roasted cumin powder

1 pinch crushed roasted black pepper

1 small onion, cut into thin circles

1 small potato, boiled and sliced

1 small beetroot, boiled and sliced

½ capsicum, cut into rounds

75 gms processed cheese grated

Salt for seasoning
Method
Take the bread slices, apply the coriander pesto on one side of both slices.

Put slices of onion, potato, beetroot and capsicum.

Sprinkle cumin powder, salt and crushed black pepper evenly.

Spread the grated processed cheese evenly. Cover it with another slice.

Apply soft butter on both the side of bread and place it under toaster or griller. Pre-heat the griller or toaster, apply some butter on the griller by using a brush, if required. Toast or grill it the bread becomes crispy. 

Serve it hot with homemade green chutney.
Photo: Shutterstock