As vivid as the Blue God's own personality—and just as marvellously multi-splendoured - comes a meal whose origins are traced back to the Bhagwat Purana. And while modern-day interpretations are a given, even as Krishna bhakti spreads far and wide, the essential character of the Chhappan Bhog (aka 56 offerings to God) remains the same. As does the message it conveys.  Lest you thought it's restricted merely to a story of opulence, read on.
56 flavours of joy
Law graduate Arati Sharma recollects the sheer scale and grandeur of celebrating Janmashtami - the birth of Lord Krishna back home in Uttar Pradesh (UP). "The preparations would commence days before - and our grandmother would make up lists of items to be brought from the grocers' - all the better to leave nothing to chance. Then the maharaj (professional cook) would help supervise the making of the delicacies - even as his duly assistant made faces to keep us kids out of the kitchen. I still remember his ominous tones warning us that tasting anything before offering bhog to Krishna would send us straight to hell," she chortles. "Of course, even then, we believed none of it. Lord Krishna had too much of a sense of humour to ever resort to such extremities. But the story definitely reflected our grandmother's take on the subject as well as a promise: a sound thrashing after the pooja if we didn't keep our grubby paws off the array of delicacies that tantalisingly made their way out of the kitchen one by one...56 in all." 
Legend has it...
Noted Vedic scholar and award-winning Pune-based Sanskrit journalist Pandit Vasant Gadgil points out: "The Bhagwat Purana, as you may know, is one of Hinduism's 18 great Puranas. The Puranas are ancient stories on a host of subjects - including cosmology, genealogy, mythology, music, dance and yoga - as well as tales from the great epics like the Ramayan and Mahabharat.  The Bhagwat Purana is dedicated to the bhakti of Krishna/Vasudev, explaining how the Lord in every age battles the forces of evil to restore justice and order in the world."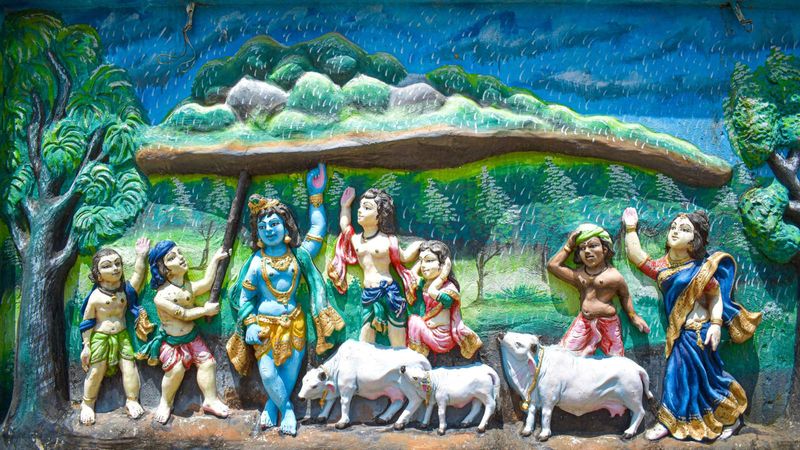 A prominent tale in the Bhagwat Purana narrates the story of Chhappan Bhog. "As it were, the good denizens of Vrindavan, where Krishna spent his formative years, followed a practice of offering lavish meals to Lord Indra - the God of Rain and Storm - so as not to anger him. They believed this would bring a bountiful harvest. Ever the realist, little Krishna thought the practice was both extravagant and unfair to the poor farmers. He asked them to stop. And since this little boy had something special about him, they listened to him. This angered Indra and he decided to lash out at the errant people of Vrindavan by sending them thunderstorms and massive rainfall. The storm threatened to become a deluge, houses were flooded, and everyone was in danger," narrates Gadgil. 
Never fear, little Krishna was on hand to help. He asked everyone to proceed to the nearby hill of Govardhan. To everyone's amazement, he balanced the hill on the tip of his little finger, where both man and animal, could be safe. The rain continued to lash out in all their fury for seven days, even as little Krishna held the hillock on his little finger all. He did not move an inch and didn't consume a single grain of food. Ultimately, Lord Indra relented. Once the crisis had given ever, the villagers decided to honour Krishna with a special meal. Given that he ate eight meals a day, it made sense to make him 56 dishes, for all the days he hadn't eaten."
That is but one story...
Another logic says: since there are 24 hours and traditionally every three hours is called a pahar. In temples, there is a change of guard and new decor for the mandap as well as a new dress for the Lord every three hours, where a new bhog is offered, thus making eight offerings a day. This is done for seven days, totalling 56 in all. Ayurvedic practitioner Pooja Upadhyay points to the scientific part of it." As per Ayurveda, there are six basic flavours in all: sweet (madhur), sour (amla), spicy (tikhta), bitter (katu), salty (lavan) and astringent (kashaya). But six of these basic flavours can result in as many as 56 combinations—hence the name Chhappan Bhog." Simply put, says Gadgil, the Bhog symbolises the assorted flavours of life.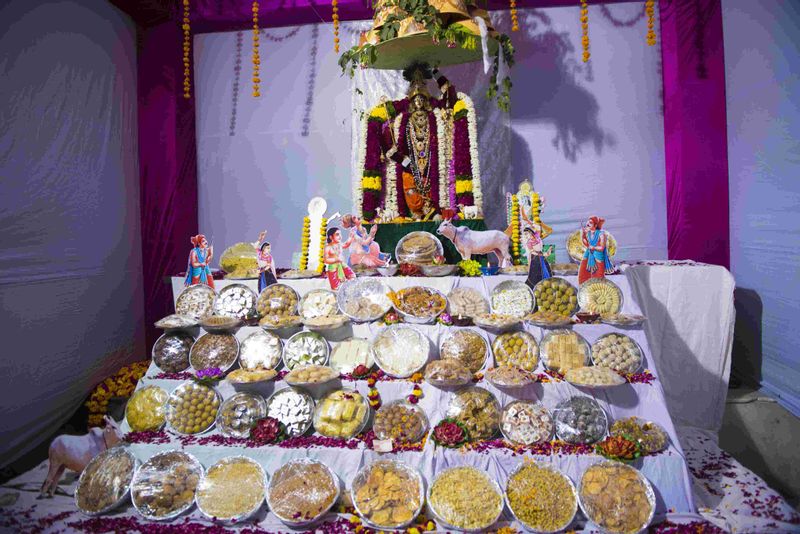 An elaborate sequence
The meal is served in a systematic line-up. Milk items go first, followed by besan-made goodies. Next come the salty items, followed by the dry fruits and sweets in the end. A few worthies include kheer, rasogulla, jeera laddu, jalebi, moong dal ka halwa, Mohan bhog, murabba, pakoda, khichadi, brinjal and lauki ki sabzi, poori, badam milk, tikki, cashews, almonds, pistachios and makhan mishri, amongst others. Celebrity chef Pankaj Bhadouria, also a resident of Lucknow, where Janmashtami is celebrated in a big way, says that preparing Chhappan Bhog is a Herculean task, meant only for the very brave—or the hugely devout. "A strict protocol must be observed from the buying and cleaning to the actual preparation of the items. After all, the food is to be offered to none other than Baanke Bihari Ji. 
While the constituents may vary a bit depending on the availability of local ingredients, the basic sequence is followed." Devotees fast through the day and the Bhog is first offered to the Lord. Only after the 'birth' of Krishna is officially said to have happened by the officiating priest may everyone else partake of the feast. "Considering the sheer effort involved in making the items, another way is for everyone to chip in with an item or two each. I have seen this at the Radha Krishna Mandir, ISKCON, Mumbai, where several devotees shouldered the responsibility. It is precisely this joyous involvement of one and all that makes Chhapan Bhog so special," she rounds off. 
---
Photo: Creative by Vartika Pahuja