Growing up, Janmashtami was special for two reasons. First, it was the day my younger brother was born, believe it or not, at the stroke of midnight, his birth coincided with Janmashtami, and that is why I have a fondness for the festival (not so much for him as per my birthright). The second reason was a mysterious fruit from my grandmother's stories. Every year, she would fondly recall a fruit called tal (pronounced as taal) and the many dishes that were made with its pulp as an offering to Lord Krishna on Janmashtami. The fruit remained a mystery to me because we never found it in the Delhi markets; only in my grandmother's stories.
Years later when I moved to Kolkata, I finally discovered tal (palmyra fruit or sugar palm) filling the markets of Bengal just before Janmashtami.
Ripe or raw: Choose your tal carefully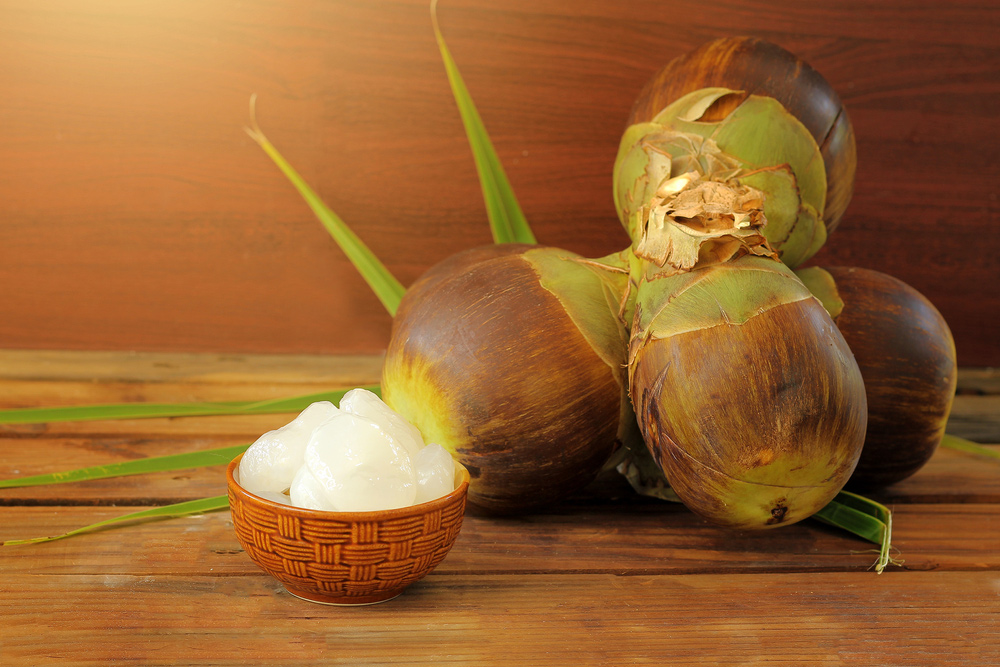 The fruit is consumed both in its raw and ripe form. In its raw form, palmyra fruit has a black husk. Inside it rests translucent, white, sweet, jelly-like seed sockets known as ice apple. They resemble the lychee fruit but are larger in comparison, have a mild flavour and no seeds or pits.
Let the fruit ripen and you will find that the black husk has taken on a purple-blackish hue while the translucent seed sockets have been replaced by a yellow viscous substance with pits. The ripe tal bears a resemblance to mangoes, but is mild with mellow sweetness. More importantly, they form the base for several dishes offered to Lord Krishna on Janmashtami.
Cleaning up your tal
Even before you start thinking of what to make with tal, you will first need to clean it and separate the pulp from the pit. This pulp will form the basis for all your dishes. The process can be time-consuming and messy, with juices running down your elbow. But once done, the rest will be a breeze.
How to peel tal fruit
When you first get the tal fruit from the market, make sure that you wash it under running water for a couple of minutes.

Once it is clean and dry, pull open the green top and start peeling it from the sides. The husk is easy to pull apart and can be done by hand.

Inside you will find one, big yellow fruit. Gently put your fingers through the opening at the top and pull it apart.

You will see the fruit easily fall into two or three parts, depending on the number of seeds inside. These seeds are the source of the pulp.
AlsoRead0
How to extract pulp of the tal fruit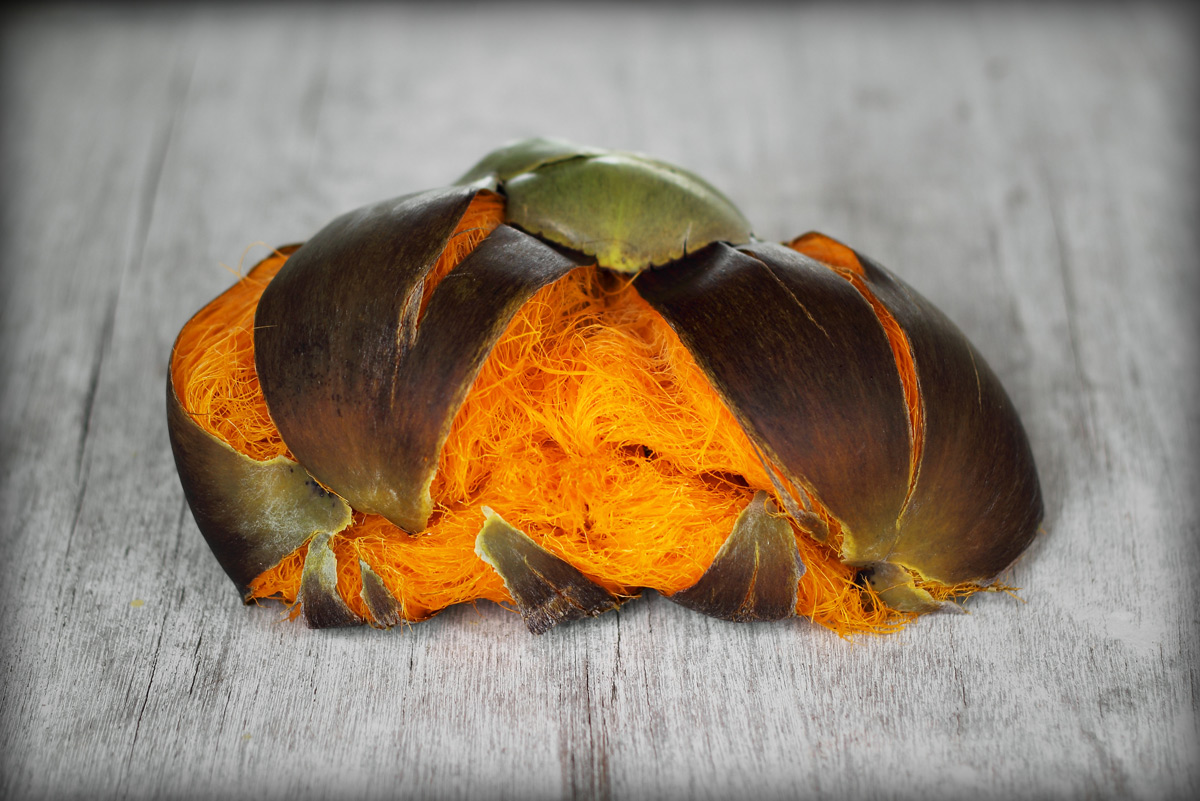 There are two ways of extracting the pulp. You can take your pick depending on the amount of time you have on hand.
Method 1
This is the traditional method. You may still find some households that practice this method of extracting pulp.
Take a large bowl or pot, preferably one with a good amount of depth. Fill it with lukewarm water, enough to partially submerge the seeds.

Soak the seeds in this water for around 10-15 minutes.

After 15 minutes, start rubbing the seeds with your hand as if you were washing them in the water.

The water will start changing its colour and slowly get thicker. You may have to repeat the process a few times. Each time you repeat the process, the water will become less thick.

Once all the pulp is extracted into the water, take out the seeds.

At the end, put all the extractions together in one pot.

This pot of extraction will have both pulp and some amount of fibre. Pour the entire extraction through a muslin cloth or strainer to separate the fibres.

Once your extraction is fibre-free, put it all in another muslin cloth and leave it hanging for the next few hours, similar to what you would do for hung curd. This will separate all the water from the extraction. What you will be finally left with is a thick, yellow pulp that can be used for any dish that you want.
Method 2
If you find yourself short of time, take this route:
Grate the seeds on a hand grater or a large sieve and collect all the pulp in a dish.

The larger the size of your grater or sieve, the less time it will take you to collect all the pulp.

This method also ensures that there is no fibre in the pulp.

If you want to be extra careful, run all the collected pulp through a sieve one more time, and you will have a fibre-free pulp ready to be cooked.
Pro tip: The tal pulp will easily last you up to 15 days. Extract as much pulp as you want from all your fruits, and then store it in an airtight container in the fridge. You may find online tips that suggest preserving it in the deep freezer for a whole year. But constant defrosting and frosting will destroy the subtle flavours of the fruit. It is best to use it fresh.
AlsoRead1
5 Tal recipes to make at home
You have got all that beautiful, yellow pulp ready. Here are five recipes for you to put it to tasty use.
1. Taler bora (Palmyra/sugar palm fritters)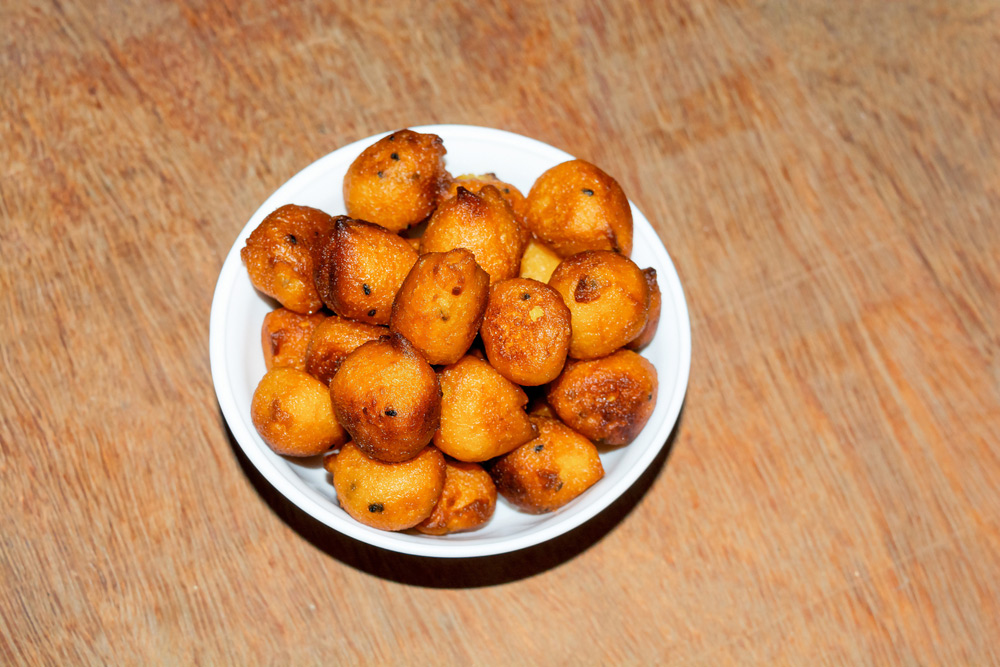 You won't find a Bengali household that does not have its own variation of this recipe. I learnt this version from my mother-in-law.
Ingredients:
2 cups tal pulp

¼ cup wheat flour

½ cup rice flour

½ cup grated coconut

⅓ cup grated jaggery (optional; use it if you want to boost the sweetness without disturbing the original flavour of the fruit)

A pinch of cardamom powder

A pinch of salt

Oil for deep frying
Method:
Take the pulp in a heavy-bottomed pan and cook for 5-7 minutes or until it changes its colour to a darker yellow. Be sure to keep stirring it so that it does not stick to the bottom of the pan. Once done, let the pulp cool down.

Take the pulp in a bowl and add rice flour, plain flour, and jaggery. Mix it all to form a thick batter without lumps.

Now add the grated coconut, salt, and cardamom powder. Mix it well.

Heat oil in a pan. Add small scoops of the batter into the hot oil. Fry them over medium heat till they turn golden brown. If the oil is not sufficiently hot, the batter will not hold its shape in the oil. Do a tester before you add a whole lot of scoops.

Let it cool down on a kitchen towel before being served.
AlsoRead2
2. Taler pitha (Palmyra/sugar palm cake)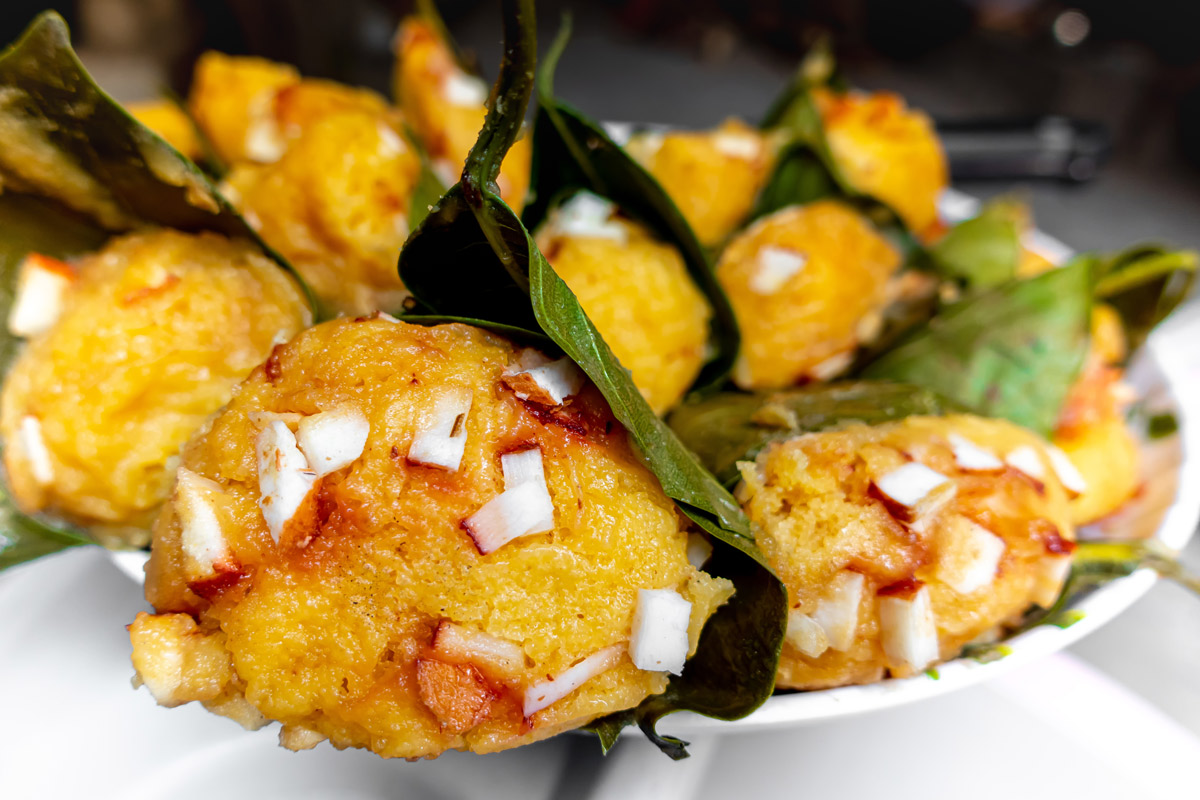 Food steamed in banana leaves is an important Bengali cooking technique. If this is your first time, it may take you a few attempts to get it right. But don't lose heart. The time and effort is worth the wait.
Ingredients:
2 cup tal pulp

1 cup rice flour

¼ cup soaked semolina (do this just before you start cooking)

½ cup grated coconut

⅓cup grated jaggery (optional)

A pinch of cardamom powder

A pinch of salt

Banana leaves for steaming
Method:
Take the tal pulp in a heavy-bottomed pan and cook for 5-7 minutes or until it changes its colour to a dark yellow. Keep stirring so that it does not stick to the bottom of the pan. Once done, let the pulp cool down.

Take the pulp in a bowl and add all the other ingredients. Mix it all to form a thick batter. Make sure there are no lumps in your batter.

Cut off the central vein of the banana leaf and trim the edges. Wash the leaves well and dry them properly. Warm the leaves on a flat frying pan on low heat. Make sure the leaves are not burned or charred.

Cut the banana leaves into pieces. The pieces should be big enough to be folded and formed into a parcel but not so big that it requires multiple folds.

Take a small amount of your batter and put it at the centre of the banana leaf piece. Fold it from all four sides and secure it with a string. Make sure there are no gaps for water to seep in.

Steam these parcels for 15-20 minutes in a steamer. 

If you don't have a steamer, fill water in a heavy-bottomed pan. Let the water come to a boil. Place your parcels in an airtight container and put it in the pan. Make sure that the container is heavy enough or sits in a manner that it does not tilt over in the boiling water.

Serve them at room temperature.
3. Taler kheer (Palmyra/sugar palm pudding)
If you have ever made any type of kheer then this will be a breeze.
Ingredients:
2 cups tal pulp

1 litre milk (preferably whole milk)

½ cup grated coconut

1½ cup sugar

Dry fruits, for garnishing
Method:
Boil milk in a heavy-bottomed pan. Once at a boil, reduce the flame to low. Stir continuously to ensure that the milk does not burn and stick to the bottom of the pan.

When the milk starts to reduce to half and thickens in consistency, switch off the flame and keep it aside to cool down to room temperature.

In a heavy-bottomed pan, add the tal pulp, grated coconut, sugar, and the reduced milk. Stir on low heat for 20-30 minutes or till the pulp becomes dark yellow in colour and the whole mixture thickens.

Once it reaches a consistency that you like, take it off the flame.

Garnish with dry fruits of your choice before serving or just dig in.
4. Taler luchi/paratha (Palmyra/sugar palm fried bread)
The steps are the same for both. The end result depends on whether you like your fried bread fluffy or flaky.
Ingredients:
½ cup pulp (just enough to knead the dough)

2 cups maida

3-4 tbsp Ghee/Oil

A pinch of salt

Ghee/Oil, for frying
Method:
In a large bowl mix flour, ghee and salt.

Add the pulp and begin to knead the flour. Add small quantities in batches so that you can achieve the right texture for your dough.

Add ghee/oil to knead the dough and make it soft and smooth.

Once the dough is ready, massage it with a little ghee/oil, cover it with a moist kitchen napkin/cloth, and let it rest for 20-30 minutes at room temperature.

Now, as per your choice, use the dough to make luchi or paratha or both.
Pro Tip: If this is your first time frying luchi, make sure that the ghee/oil is sufficiently hot. An easy way to test it is to drop a small rolled-out dough into the oil. If it floats to the top, your oil is ready.
AlsoRead3
5. Taler malpua (Palmyra/sugar palm pancake)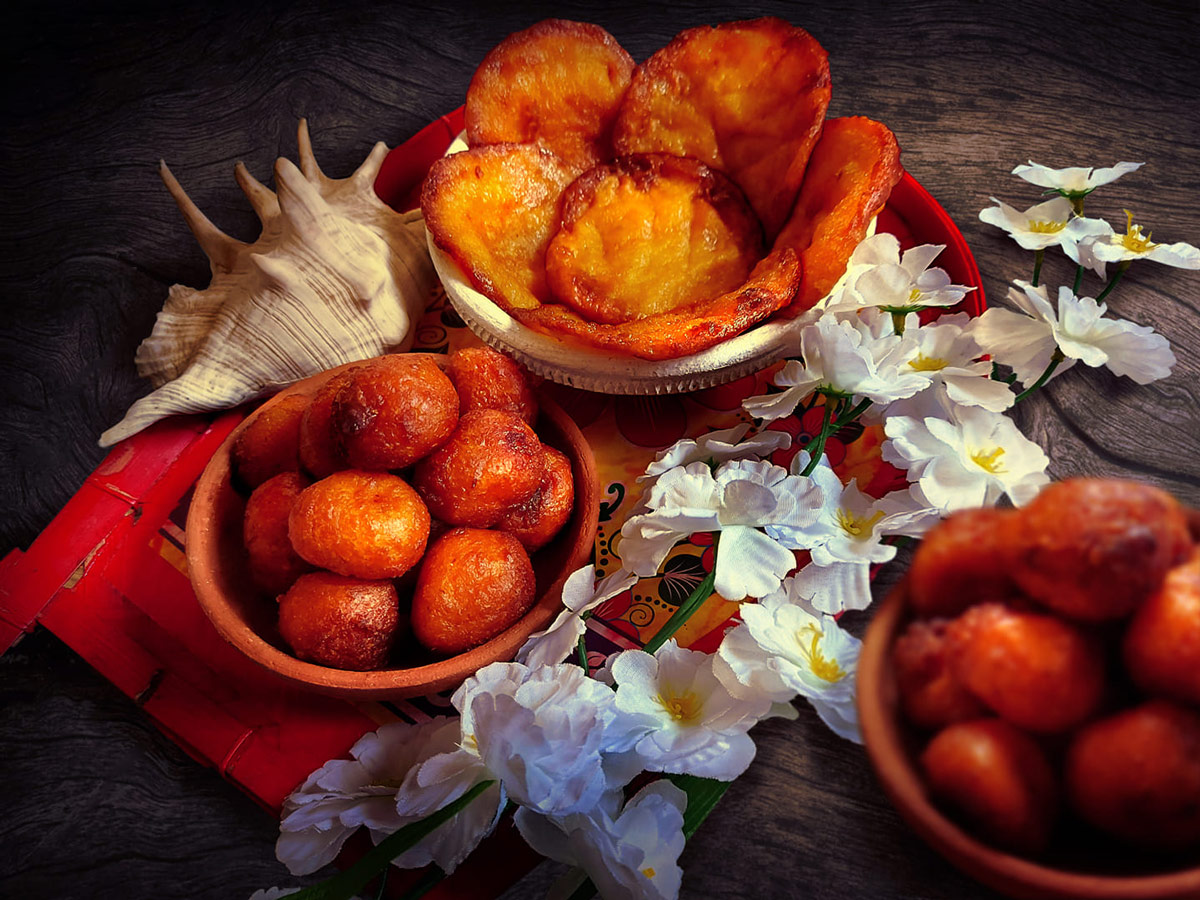 If you have made malpua before, this will be easy. If you haven't, the sweet result is worth all the effort.
Ingredients:
For batter
2 cups tal pulp

2 cups maida

1 cup semolina

1.2 tsp baking powder

2 cups milk

1 cup sugar

A pinch of salt

1 tsp fennel (optional)

Oil, to fry
For sugar syrup
4 cups sugar

3 cups water

2 cinnamon sticks

2 green cardamom
Method:
For batter
Mix flour, semolina, baking powder, sugar, and salt in a bowl.

Add the pulp and mix it well.

Slowly start adding milk and stirring to form a thick batter. Make sure there are no lumps in your batter.

Add fennel to the batter and mix well. Cover this batter and keep it aside for an hour.
For sugar syrup
Boil water in pan. Add sugar, cinnamon and small cardamom.

Cook till the sugar starts to become slightly sticky. Test it by cooling down a little syrup, then dipping your forefinger in it. It should be sticky but not have a one-string consistency.
For making the malpua
Heat oil in a pan. Add the batter to the oil with a ladle to form round shapes.

Fry it till golden brown.

Dip these golden fried discs in the sugar syrup till they have soaked enough syrup.

Serve at room temperature.
Photo: Shutterstock