It's easy to get overwhelmed when you step inside The Liquor Store, and we won't blame you for it. Done up in black marble and gold finishes and spread across two floors and four sections, the swanky new experiential gallery of one of the largest collections of luxe spirits opened its doors in CBD Belapur recently. What's more, it also has a tasting room for private tastings and special curations.
Conceptualised by third-generation owners of VK Group and brothers Dinesh, Jayesh and Pritesh Kathuria, TLS's highlight is its strategic location between Mumbai and Pune and its collection of rare and handpicked labels across liquors. "Having 30 years of experience gives us a unique insight and background into the liquor industry, which we have utilised to bring this concept from inception to conception," says Dinesh.
Take in the alcohol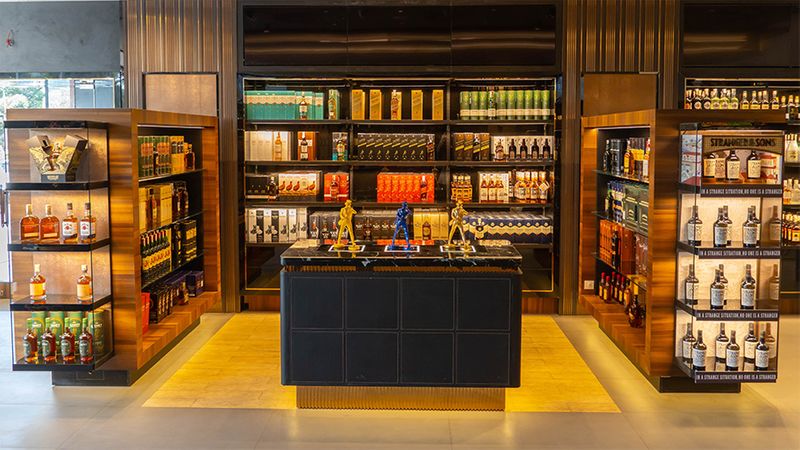 As you step inside the glossy interiors of TLS, drink in the sight of bestsellers from the world of scotch, whiskey, tequila, rum, gin and vodka labels. Their superlative collection includes Speyside Scotches such as Macallan No 6, Macallan 72 YO and Glenfiddich 26 YO, as well as Johnnie Walker King George V. Blended whiskies include Royal Salute and Dalmore. Scottish pours from Islay include Ardberg, Kilchoman and Laphroig. Irish whiskies include Irish Bushmill and Glenallachie12-Year-Old from Speyside. They also have India's very own Paul John. Gins include Cotswold, Citadelle Jardin d'Été, Bathtub and Hepple.
You are bound to feel like a kid in a candy store as you browse through the racks of their wine collection on the first floor. The collection is divided into young wine countries like India, Australia and America and old wine regions including Argentina, Chile, Spain, Italy and France. From Chassagne Montrachet (Rs 19,000), Championnet (Rs 25,500) to Clos de la Roche and Grand Cru (Rs 47,000), the collection is meant to impress.
With love from Japan
What caught our eye was a section dedicated solely to Japanese whiskey brands. "Japanese whiskey has become incredibly popular over the past few years. Bottles have become increasingly rare and expensive, as distilleries have claimed to struggle to meet the demand due to the category's rapid growth. Brands have stepped in to fill the void by offering new blends and NAS (no age statement) whiskies, and many of these are great cocktail components. Listed in Whiskey Bible by Jim Murray, the likes of Yamazaki, Hibiki, Tenjaku, and Akashi are a must try and you will find them all with us at TLS," adds Dinesh.
AlsoRead1
AI-enhanced experience
One of the most interesting aspects of visiting TLS is experiencing the AI technology that lets you get information about any bottle within seconds. Just place any bottle on the special table-tops and the label's information will be displayed on the screen in front of you. Although they have capable employees on hand to assist the customers, the AR system comes in handy if one wishes to browse and explore on their own. "We are in an age where we have all the information at our fingertips due to enhanced connectivity through our mobile phones. Our AI system just takes this one step ahead to the next logical conclusion of enhancing your interactive experience by giving you the freedom of self-exploration and self-education of our exquisite and premium liquor section," says Dinesh.  
Cigar special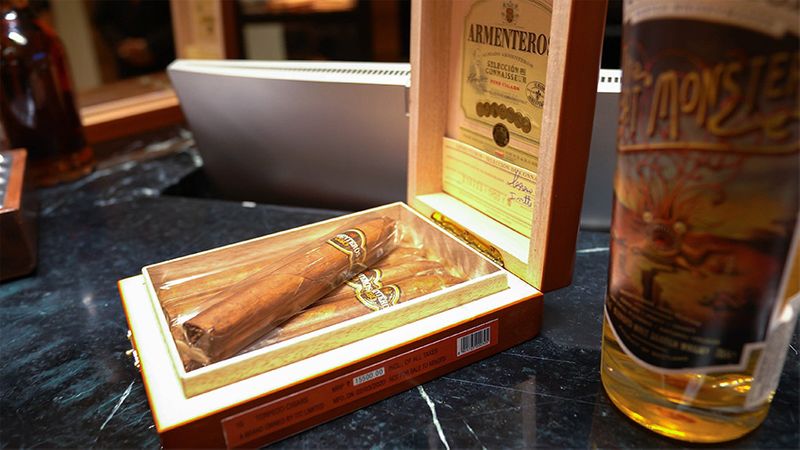 It may be the alcohol that brings you to TLS but your experience will remain incomplete without going through their extensive cigar collection. Some of the popular cigars that are available at the store include Bolivar no 2, Guantanamera Cristale, Romeo y Julieta, Don Tomas and Coronation among others. Pair the cigars with some of your favourite Single Malts or just ask one of the Sommeliers and Cigar experts they have on the floor to assist you with the same. "While for most, it is enough to just sit back and relax after lighting up a cigar, many of us also like to explore and push our palates to understand exactly what we are drawing on. We intend to cater to all such prospects where a customer can now walk in, select a cigar and based on that, select a whiskey or a wine to pair with it or vice versa," shares Dinesh.
Dining at The Tavern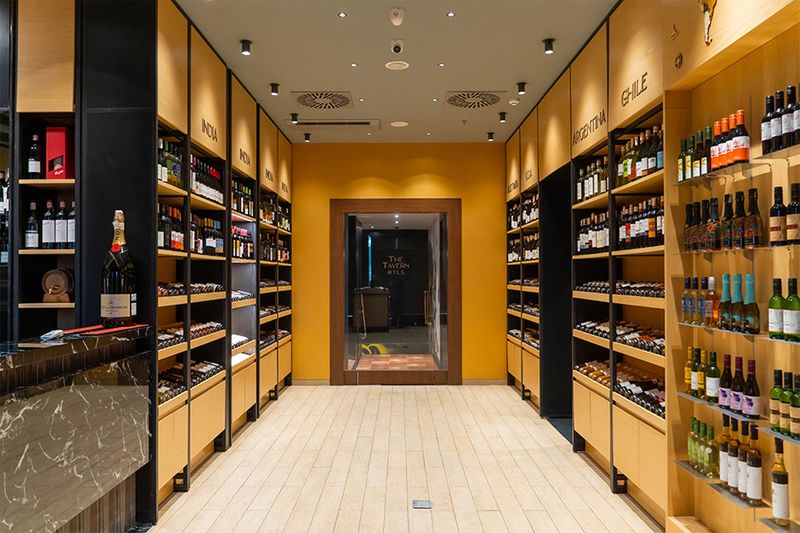 Once you are done browsing through the alcohol collections, take a break and head to The Tavern, the British-inspired resto bar that serves creative cocktails and dishes. At the beautifully designed bar, you will find interesting cocktails such as the Brocotini, a vodka cocktail made with farm-fresh veggies and the Negroni which is served with a pandan leaf. Plenty of breakfast, lunch and dinner options make this the perfect place to end your TLS experience.    
---
Photo: The Liquor store