What do you bring back from a place you have travelled to? For me, it is culinary souvenirs. Recently, when I visited Nagaland for the first time, I remember how the locals were keen I try rice beer. In the first sip, the beer had a strong and sweet flavour with a mild fruity odour. After three sips, the taste began to build on my palate. And with that grew my perennial curiosity about this indigenous liquor.
Called Zutho in Nagaland, it is prepared mostly by the Angami tribe and owes the umbrella title for all Naga rice brews. The drink is said to be similar to Japanese sake and sprouted rice sake and is served in a tall bamboo jar-like glass. Some tribes even brew beer with millet, like the Changs and Lothas. Later on, I found that different communities, not just in Nagaland but in the entire northeast India, have different versions of rice beer. However, the basics and folklore remain somewhat the same.
Whether it is called apong for Misings and judima for Dimasas in Assam; chubitchi by Garos in Meghalaya or yu by Meitheis in Manipur, the drink has been an integral part of the tribal culture across northeast India for centuries. You could consider this elixir the common thread that connects the various tribes and people living here.
Brewing folklores
Rice beer was initially a drink for refreshment or merry-making occasions. "In tribal societies, rice beer is typically served around a bonfire while members tell stories or amuse themselves with their own sense of humour," share Lyang B. Sangma and Rohan Ch. Momin, who own Chibisik Beverages, a local rice wine company in Meghalaya. "It is also served as a token of gratitude to whoever stays with a tribal family in a village, for instance. You can take the drink as part of lifting spirits around a fire or a hearth. Folklore, song and dance and humour are what bring together tribal people with rice beer being the drink of choice," they add.
As far as folklore enthusiasts are concerned, it carries a contentious but multifaceted history, both written and oral. In addition, it sheds light on how tribal cultures and habitats are constantly changing. Considered to be Mother Nature's elixir as it is enriched with probiotics, the drink is taken to be a rich source of nutrients and a natural anti-oxidant, owing to the presence of many herbs. For most tribes, it is an antidote to boost strength, a muscle relaxant and more. In idioms, songs, and various styles of folk dance, rice beer is associated with forging strong bonds between nature and humans.
However, the brewing of rice beer is not purchased or learnt from external sources; it is only homemade — an art passed down through generations within the family. It is also a woman's domain; customarily only women can produce, brew rice beer and serve it.
Speaking to Gitika Saikia, one of the most popular Assamese home chefs based in Mumbai, she confirms rice beer's prominence in celebrations and rituals. Folk songs, especially those sung at weddings, allude to the richness of rice beer as a mark of fertile union between the newlyweds. In marriage feasts, it was customary for the bride's family to send off the newly married couple with sufficient brewed rice beer. And for a woman's competence in marriage, it was essential for her to master the art of rice brewery. In fact, if the first batch of brew by a woman doesn't turn out to be sweet, she may not be allowed to brew again.
The drink even finds its relevance in occasions of mourning. Newborns get a taste of this elixir before they are even introduced to the outside world. The locals in Nagaland also told me how rice beer is sprinkled on the infant's forehead at naming ceremonies as it is believed to cast away bad omens and malevolent spirits. From village to village, community to community, the knowledge of rice beer travels from the old to the new and so do stories, myths and rituals where drinks perform a major role.
Cheers to the brews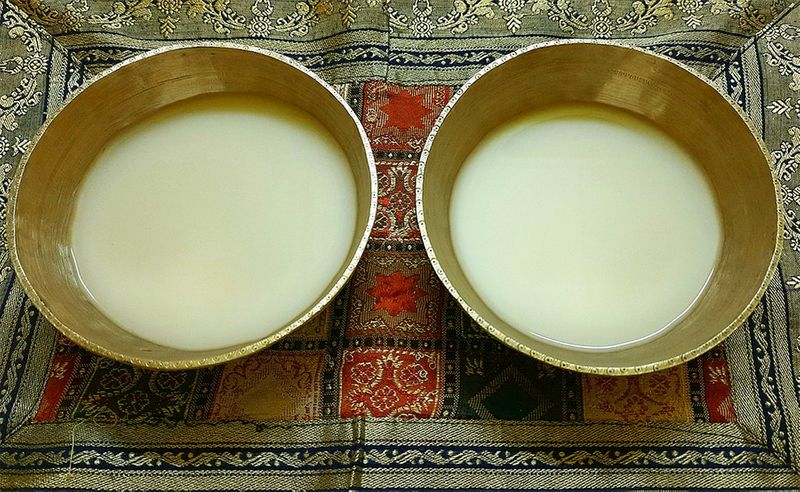 In the entire region's rice beer tradition, the differences are found in the preparation and consumption. More often, it can vary from even home to home. While there are similarities in its prominence in rituals, its preparation mostly varies in density or the grains used of sticky rice, which is the common staple ingredient.
Explaining the variation of preparation in Meghalaya, Sangma and Momin explain, "For instance, most rice beer among the Khasis is made by soaking and cooking the rice after which local strains of yeast are added. The rice is then dried in the sun and kept in jars for fermentation to start. Typically, it takes about three days to ferment properly. The Garos however make it differently using special clay pots and a bamboo basket. The rice is packed in the sides of the pots using the bamboo basket to hold the rice. After the fermentation process, water is poured on the rice from the sides and as it is filtered, the rice beer is collected in the centre bottom of the pot. Then, it is drawn using a long bamboo container and served."
They also share that some of the Garos are secretive about the strain of yeast used and that is why the same chubitchi may taste different. You see, within a single community or a village, every household has its own recipe which is often kept secret with the knowledge being passed to the next generation by oral instructions.
Similarly in Assam, one of the many tribes, Misings brew apong which tastes similar to a good, smooth wine. Karpum Pegu, who runs Rice Tales, an ethnic Assamese-themed restaurant in Guwahati, explains that this beer is primarily of two kinds: nogin and po:ro where the former is a simpler, fermented preparation while the latter requires time, skill and perseverance. While the river-dwelling Misings of Majuli Island traditionally use bora saul (one type of sticky rice) for making both the rice beers, the only difference between the two lies in the addition of burnt husk/chaff of rice grain that gives a distinct smoky flavour to po:ro apong. It even has a distinctive darker colour since it uses the sai (ashes) of semi-burnt rice chaff. Apong generally takes about 12-15 days to ferment (that's the minimum) but can even be kept for longer for a more mature taste.
In addition, herbs are a crucial ingredient in this indigenous brewing space. A good amount of wild botanical herbs that go into the preparation are added to the yeast cake and have medicinal benefits. Some are added to influence the preservative qualities and enhance the taste. Those who make fine rice beer must have a thorough knowledge of nature in order to identify and collect the herbs in the right proportions.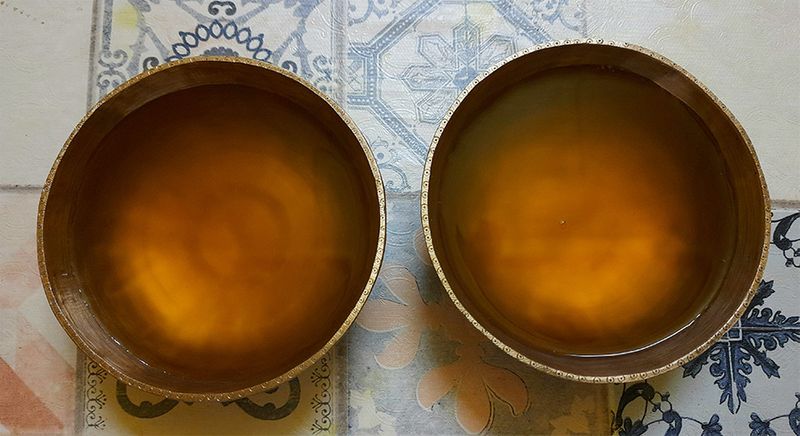 For instance, to brew apong, you need 101 herbs. Pegu explains, "Apop is the main ingredient for apong. It is a mix of various herbs picked up from foraging in the backyard forest and gives that distinct flavour to both varieties. Originally apop consists of 101 herbs mixed with coarse rice powder made into a ball. But nowadays it has reduced to some 20-30 herbs." The foraging for plants takes place in small forests between fields and rivers, and near people's homes in the villages.
The water of life at present
You will find that drinking rice beer is an intrinsic part of festivities, aimed at bringing tribes together. Particularly during harvest festivals since rice is the major crop here. A bountiful harvest and good life call for a special celebration. For festivals like Ali-a-ye Ligang celebrated by the Misings, marking the start of the agricultural season (on the first Wednesday of February or phagun month), apong is prepared in large quantities. For Bhogali Bihu, the festival of harvest and community feasting in Assam, the preparation of rice beer by the various tribes here is imperative. The Dimasas of Assam even have their own rice beer festival, Judima named after their traditional rice brew, celebrated in December.
The brewing of rice beer is now restricted to rituals and festivals only — at a small level and consumed by families locally. Although popular all over the northeast, you can hardly find traditional rice beers in the market. Saikia says that the traditional knowledge behind brewing and customs related to it are reducing due to a lack of interest and ignorance of the traditional values and beliefs in the new generation. Moreover, easy access to packaged bottles of beer and other alcohol can be taken as another reason.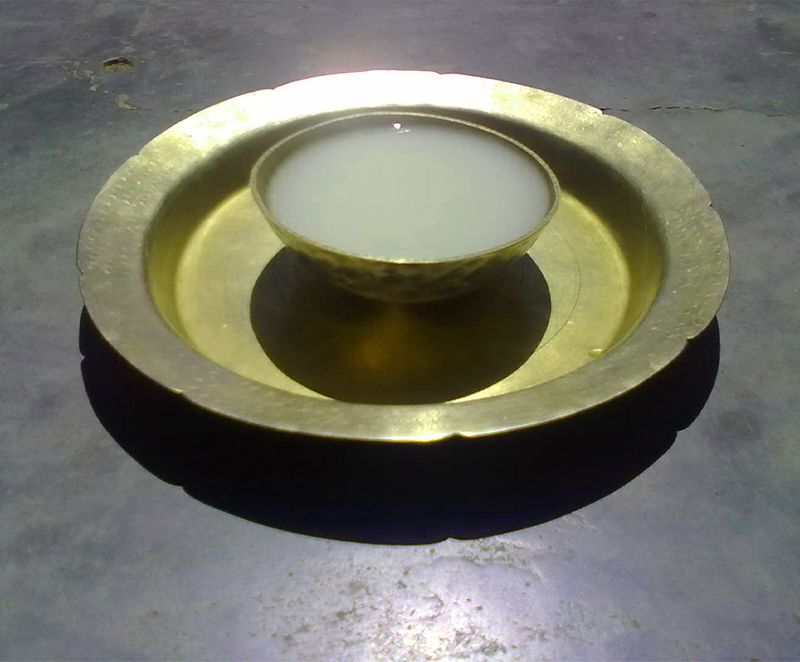 Sangama and Momin feel the situation is a mixed bag. "In Garo hills, somehow rice beer is a proud drink and the demand is growing. They have been able to maintain the traditional way of brewing. However, with some of the religious impacts on traditional ways, a lot of restrictions have been placed which has naturally affected how people brew or giving up brewing completely. The traditional apparatus for making beer has also been replaced with more modern materials in some areas. This has impacted the traditional taste."
The decreasing use of rice beer is also often attributed to the advent of Christianity. With brewing and serving rice beer being entirely a task of women, the busy culture and other activities do not leave them enough time.
Commercialising rice beer?
However, there is a visible market for this rice beer. Saikia, who introduced rice beer in her pop-ups in Mumbai, says that her customers are instant fans of the brew. "But as home chefs, there are challenges like alcohol license to serve rice beer during pop-ups." At times, she brews the rice beer at her home in Mumbai with ingredients sourced from Assam.
Though urban consumers may be happy at the prospect of getting these beers, one can also sense fear among the indigenous tribes, largely pinned to apprehensions of the impact. "I think any large-scale commercialisation of these brews will have a negative impact. These drinks have to maintain their traditional ways and should be taken only from the real brewers in their village or community. This will give people a taste of the effort that is being made by tribal brewers. Also with commercialisation, some of the local brewers could be made obsolete which might contribute to a dying tradition – unless the commercialisation in some sense is involving the traditional brewers directly," Sangma and Momin share.
Atul Lahkar, one of the pioneering chefs from Assam, also points out that conversations are underway with the government of Assam to allow brewing in restaurants and the relevant legislation while this indigenous liquor be viewed as 'heritage drinks'. Similarly, there are efforts being made to can the beer with projects taken up by the Meghalayan Age, an initiative from the government of Meghalaya, Sangma and Momin inform.
In all honesty, there's a different kind of happiness in watching and understanding how the local brewer would serve the rice beer. Some serve it in an earthen pot or a bamboo basket, then set it up in front of you, and with all their experience, that sweet cup of brew is the taste of the Earth, rightfully an elixir. You see, food cannot be always taken just as another activity of life. It also involves stories, conversations and intimate connections with the environment. Most importantly, this folklore and heritage must be passed on and cherished.  
---
Photo: Wikipedia; Tejashee Kashyap