Shravan, the fifth month in the Hindu calendar, is dedicated to the worship of Lord Shiva. Prayers and penance are offered during this holy period. Worshippers of Shiva across the country spend this auspicious month observing fasts.
What is a Shravan fast?
Fasting during Shravan translates into strict diets of foods that include abstinence from non-vegetarian food, alcohol, and meals that contain salt, garlic or onion. Cereals and pulses are also a common no-no during this time, with people switching to alternatives like sabudana, rajgira and shinghara that are popular Shravan foods.
If you're a fan of rajgira (amarnath), this rajgira recipes list will come in handy during your period of fasting. As an ingredient, rajgira boasts many health benefits too like its high content of protein, dietary fibre and calcium.
1. Rajgira paratha recipe
Ingredients:
1 cup rajgira flour
¼ cup potatoes, boiled and mashed
2 tbsp chopped coriander leaves
½ tsp blck pepper
½ tsp green chillies, chopped
black salt as per taste
Water as per requirement
Ghee for frying paratha
Method:
In a mixing bowl, take the rajgira flour, potatoes, coriander leaves, black pepper and green chillies. Top this with a sprinkling of salt as per your taste.
Now, add enough water to knead the mix into a soft dough.
Once smooth, divide the dough into fist-sized portions and roll into small balls. Flatten each into a circle using a rolling pin. Dust with rajgira flour while rolling.
Heat a non-stick pan and cook the parathas with the help of some ghee. Cook until the paratha turns slightly brown. Serve hot with curd.
2. Rajgira halwa recipe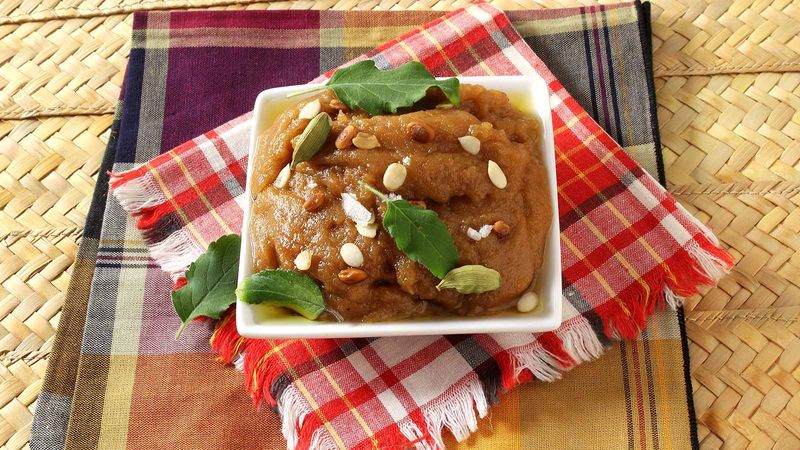 If you have a sweet tooth and would like to indulge in some halwa during your fasting, fret not as this rajgira recipe will come to the rescue. Prepare an absolutely healthy and fasting-friendly version of halwa using rajgira atta which is made from amaranth seeds.
Ingredients: 
2 tbsp ghee
8 cashew nuts, halved
10 raisins
4 almonds, sliced
½ cup rajgira flour
1½  cup boiled milk
¼ cup jaggery
½ tsp cardamom powder
Method:
Heating the ghee in a non-stick pan and cook raisins and nuts until the raisins puff up. Now, remove all the dry fruits from the ghee and keep them aside.
In the same pan, add half a cup of rajgira flour and saute on a slow flame. When the flour begins to brown and you get a whiff of the aroma, begin to slowly pour 1½ cup of boiled milk into it. Keep stirring to avoid lumps. Continue cooking the mixture until the milk evaporates.
Then add ¼ cup of jaggery and mix well.
Add the dry fruits along with ½ teaspoon of cardamom powder and mix well.
Once you notice the ghee leaving the side of the pan, turn off the flame. Cover the pan for another five minutes. Serve warm.
Recipe by Kamlesh Rawat, executive chef, Radisson Mumbai
3. Amaranth porridge recipe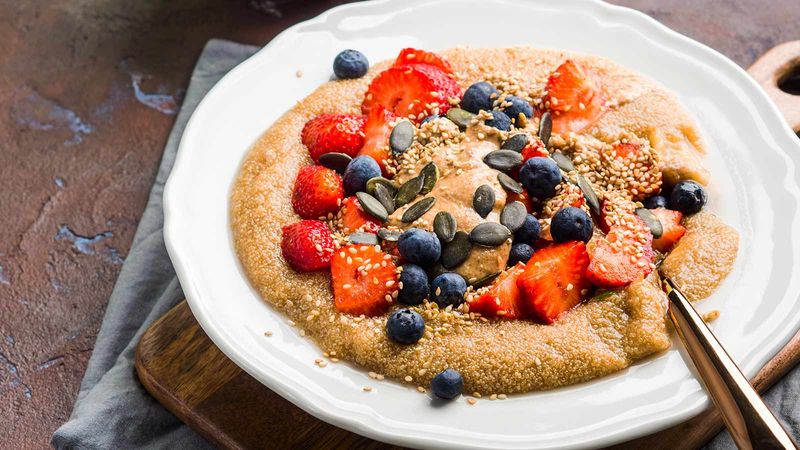 If you want a break from your regular Shravan foods, then this porridge rajgira recipe is what you need. Before you dismiss porridge as boring, let this rajgira recipe change your mind.
Ingredients:
3 cups of water
½ cup red amaranth
1½ tbsp honey
¼ tsp vanilla extract
½ tsp cinnamon powder
2 tsp coconut oil
Fruits and nuts of choice, for garnish
Method:
Begin by bringing three cups of water to a boil in a medium pot.
Add ½ a cup of red amaranth and cook over a low flame for about 20 minutes. Keep stirring occasionally. When most of the water is absorbed, remove the pot from the flame.
To this, add 1½ tablespoons of honey and ¼ teaspoon of vanilla extract.
Sprinkle ½ teaspoon of cinnamon powder and 2 teaspoons of coconut oil into it. Stir these in well and pour into a serving bowl.
Garnish it with toppings of your choice, be it fruits crisps, walnuts, banana-coated poppy seeds, almond milk or all.
Rajgira recipe by Chef Paul Kinny, culinary director, The St. Regis Mumbai
4. Rajgira thalipeeth recipe
If you're not the paratha kind, these shallow-fried pancakes make for a great snack too. Follow this rajgira thalipeeth recipe.
Ingredients:
1 cup rajgira flour
½ cup grated potatoes
1 tsp cumin seeds
1½ tbsp  freshly chopped coriander leaves
1 tsp ginger chilli paste
2 tbsp peanuts, roasted and roughly chopped
Method:
Begin by preparing dough of rajgira flour with the potatoes. Add the cumin seeds and freshly chopped coriander leaves. Also, mix in a teaspoon of ginger-chilli paste. Add some roasted and chopped peanuts to this along with some rock salt as per taste. Once mixed, add enough water to make a dough. Knead it till smooth.
Divide the dough into six small portions. Without using the rolling pin, stretch out each portion of the dough using your hands.
Put each rajgira thalipeeth on a heated skillet with some ghee for shallow frying. Cook until they turn golden brown and crispy.
Serve hot with a condiment of your choice.
5. Rajgira ki poori with jeera aloo recipe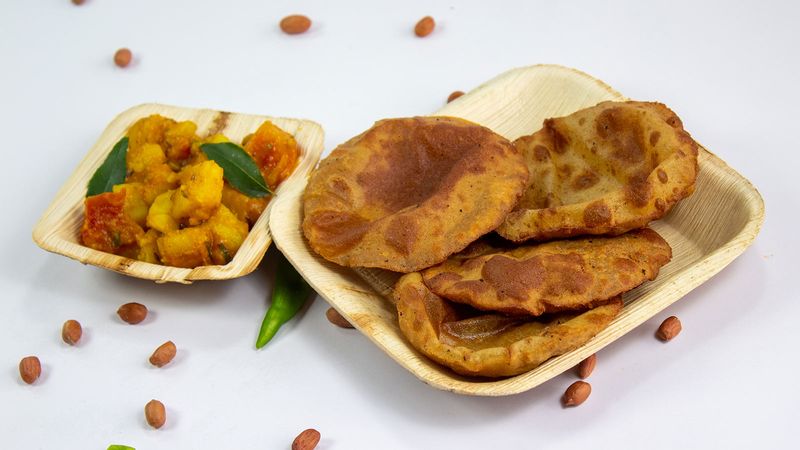 A fasting-friendly version of the popular classic aloo-puri, this is a relatively easy rajgira poori recipe to make at home.
Ingredients:
For Jeera Aloo
½ cup potato,
1 tbsp ghee
1 tsp cumin/jeera
Rock salt, as per taste
Fresh lemon juice
chopped coriander leaves
Rajgira Puris
1 cup rajgira flour
¼ cup water
Method:
For Jeera Aloo
In a pan, add a tablespoon of ghee. Once hot, toss a teaspoon of jeera to it. 
Let them sputter and then add the boiled cubes of potato. 
Sprinkle in some rock salt and toss well. Turn the flame off. 
Squeeze in some fresh lemon juice. Add some freshly chopped coriander leaves. Toss again, for the cubes to be well coated. Keep these aside.
For Rajgira Puris
In a mixing bowl, rajgira flour and ¼ cup of water. Knead the dough well and then make small portions out of it. 
With the help of a rolling pin, make small circles out of them. 
Heat cooking oil in a pan. Fry the flattened circles until golden brown. 
Serve hot with the jeera aloo.
Rajgira recipe by Chef Sharique Bux, 29-Twenty Nine, Mumbai
---
Photo: Shutterstock