Many, many moons ago I had my first brush with cheese making in the state of Tamil Nadu. Leaving the Frenchness of Puducherry behind, we trundled along dusty roads to the Utopian ideal of Auroville, to a tiny cheese-making outfit, The Sun Farm. The owner's, K Iyyanar, nine goats and his mother's 10 cows loitered around the farm munching on the sweet grass and soaking in the sun.
The production barely curdled out four kilograms of cheese on a good day, varieties such as cantal, feta, mozzarella and parmesan style cheeses, among others. Somewhere between my inability to understand Tamil and Iyyanar's unflagging eagerness to explain his craft, I fell in love with artisanal, homegrown cheese.
Having learnt the skill from a French lady, Iyyanar mastered this exotic and back-breaking culinary skill, improvising and shaping his own vocabulary of mould. Munching on a sliver of blue-veined goat cheese, I wondered aloud to an appreciative audience of bovines and caprines, that it would be wonderful to try more experiments in locally made cheese. The words, lost in translation, scattered away in the wind.
India's tryst with cheese
The manipulation of milk in India, for the longest time, has been associated with paneer, a fresh-pressed cheese that my Punjabi community thrives on. Paneer, requiring a simple acidic coagulant, ticks the right boxes, unlike cheese, which traditionally requires rennet—a complex set of enzymes produced in the stomachs of mammals.
Making paneer is simple: Merely add about half a cup of yoghurt, and, a smattering of lemon juice (if necessary) to a litre of warm milk being heated on the stove. Stirred slowly, the milk curds separate from the water. Gently squeezed in a soft muslin cloth, plumes of sour, tart milky water collect in puddles below, leaving crumbly paneer.
But cheesemaking is alchemy like no other. It's an aggregation of the protein, agog with over billions of microbes. Breaking down its composition, cheese is a skilful combination of milk, bacteria, salt and enzymes.
In the '50s, independent India saw the birth of Amul cheese and processed cheddar cheese, which has wheedled its way on to pav bhaji and pizzas with an impressive adroitness. It was only in the late '70s that cheesemakers such as Flanders' Dairy Products, ABC Farms and even a priest, Brother Abraham, started experimenting with non-processed, European style cheeses, such as mozzarella and gouda.
A measured growth
One of the first artisanal cheesemakers in the country was Kodai Cheese, started in 1973 by GK Shanker. For their first cheese, a cheddar, raw milk was delivered by horse cart. Today, his grandson, Hari Shanker who is also the managing director of the company, runs the facility on a 30-acre organic farm located at the foothills of Kodaikanal, following a US FDA approved HACCP programme.
Quality trumps scale, feels Shanker, as unbridled growth dilutes the brand's character. They learnt the hard way. A decade ago Kodai Cheese was churning out 40,000 kilos of cheese a month. Subsequently, they've whittled down the production to a slim 15,000 kilos, bringing in a Dutch consultant to focus on quality. In his years of business in India, Shanker has observed cheddar's crown usurped by the stringy and stretchy mozzarella, thanks to a young pizza-loving generation.
In India, Auroville has been the hotbed of the organic and artisanal cheese movement, thanks to its large population of westerners homesick for great quality cheese. A happy consequence of this yearning was La Ferme Cheese that was started in 1988 in the wilderness.
The 20-person operation is run by a Dutch cheesemaker who goes by just his first name Benny, assisted by a local, Arumugam, the cheese outfit's co-manager. Using sustainable energy, they recycle the water and use biogas for pasteurisation.
"Intensive farming, chemical pollution and resource wastage in meat and dairy production will not be sustainable in the future on a global scale," says Benny, speaking about his approach that steers clear from using preservatives, artificial colours and flavours in the cheese. Using locally sourced milk, La Ferme produces natural cheese using a vegetarian enzyme substitute for rennet. He says people are happy to consumer cheese with a 'Made in India' stamp. 
The cheese maker's challenge
One of the challenges facing cheesemakers in India is to produce quality cheese in a tropical country with excessive humidity. For Mansi Jasani of The Cheese Collective, a cheesemonger and cheesemaker who makes fresh cream cheese from a quaint little studio in Lonavala, the biggest roadblock she faces as an urban cheese maker in Mumbai is the humidity. "The heat is not ideal for cheesemaking; hence a temperature and humidity-controlled room is required," she says.
For the artisanal cheesemaker, procuring organic, antibiotic and hormone-free milk is difficult; very few maintain their own livestock, while most work with trusted sources in the community. The paucity of cold storage stymies the distribution of cheese, which bigger producers such as Kodai Cheese have overcome by constructing their own refrigerated chain in Kerala, Maharashtra, Karnataka and Tamil Nadu. Government regulations also play spoilsport, with strict food safety laws that favour industrial production, and a prohibition on the use of animal rennet in the country.
And simply, it is not possible to replicate all western cheeses to the last vein. Says Benny, "One cannot try to imitate cheeses like Roquefort, because of the specific conditions of ripening in natural caves or like Comte and the specific flora of the region, which gives it a special taste." But he is optimistic about the future of cheese in the country, saying that the Indian customer is open to stronger cheeses with a longer shelf life now.
Local flavours
For cheesemakers, India's spice rack and diverse flavours are too tempting to keep away from. La Ferme makes a soft and creamy lofabu cheese with a smattering of jeera. Kodai Cheese creates a triple layer cheddar replete with chilly flakes and pepper. Jasani conjures up a special Bhut Jolokia cream cheese and a cabécou tempered with pav bhaji masala. But there are some recreating local indigenous varieties. 
In the upper climes of Kashmir lives Dutchman Chris Zandee, the founder of Himalayan Cheese. His repertoire of cheese includes a fenugreek and also a mustard gouda, but also the kalari, a local cheese from Jammu & Kashmir that's a close kin to mozzarella.
"The beauty is that though kalari and mozzarella are so distant from each other geographically and have been developed by two very different communities, they are so close in character," he says. It's a matter of pride for him to eat the kalari, sautéed in its own fat with a sprinkling and salt, and an occasional dab of ghee or butter. Griddled till it's crispy brown from the outside, the perfectly prepared kalari is oozy and soft on the inside. For Zandee, a farmer's son, tracing the provenance of cheese to its maker and the farmer is of utmost importance, while contributing to the community.
What is the potential for taking the indigenous cheeses of India to the mainstream? Zandee believes that though local cheese has a certain rawness which while makes them unique, they also place a demand for creativity from the consumer on how to include them in their diets. On his part, Zandee educates customers on how to prepare kalari on his website.
What, according to him is the perfect cheese? "A perfect cheese doesn't exist. Rather, it is a product that is healthy and good and has been created with respect. A perfect cheese has character," Zandee sums up the cheesy tale.
A history of cheese making in India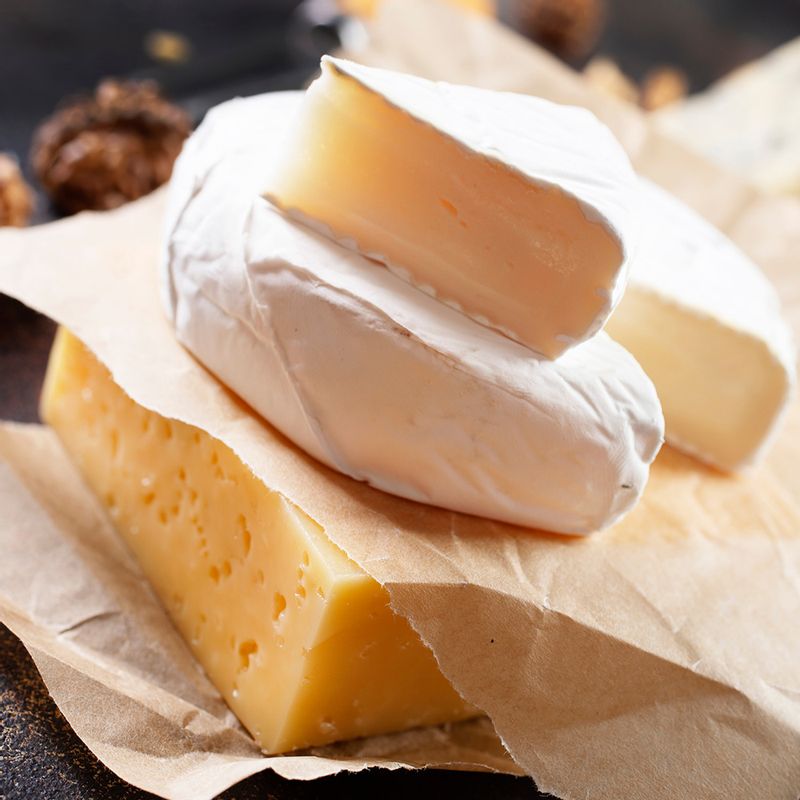 According to the James Beard Award-winning The Oxford Companion to Cheese, cheese finds mention in Vedic texts. At that time, barks and fruits were used to coagulate the milk. It was only around the 16th century that cheese production actually took off in the country. The most preeminent regions creating indigenous cheeses lie in the Himalayas: Kashmir, Sikkim, Arunachal Pradesh and Ladakh.
These are some of India's local cheese varieties:
Bandel
This dry crumbly cheese derives its provenance and moniker from Bandel in West Bengal. The Portuguese are credited with this intensely salty cheese that's now made in the villages of Tarakeshwar and Bishnupur. It's available in petite disc forms: a pristine white fresh cheese and a muddy brown smoky brethren.
Kalari
A stretchy, dense cheese, kalari can be made from raw full cow, goat or buffalo milk fat and is separated using sour milk. Native to Jammu and Kashmir, it's also known as milk chapati or maish krej, a staple with the Gujjar and Bakarwal tribes. The cheese is native to Uddhampur and the kalari kulcha is a popular snack.
Churpi
Different versions of churpi are made across the Himalayas, stretching from Nepal, Bhutan to Tibet and India. Blending the influences of the surrounding regions, in India, churpi is made in Sikkim, Arunachal Pradesh and Ladakh.
Soft churpi is made from cow's buttermilk, whereas a hard version is created from yak milk or a blend of yak and cow milk. Curdled with lime, snuggly wrapped in jute and smoked till its dry, you can chew on this dense version like gum for hours. 
Kalimpong cheese
Slightly tart and crumbly, this cheese is perfect for salads. It's said to be invented by Brother Abraham, a parish priest from Sikkim. It best resembles the Dutch style Gouda.
---
Photo: Shutterstock