The food shopping scene in Khar, Mumbai, is blossoming. And the latest addition to it is The Origin— a gourmet grocery store, delicatessen, gift store, and a vegan café that promotes a conscious, plant-based lifestyle. Located on Linking Road, this is a three-story space with a blend of eclectic, modern interiors in alluring hues of green that create a welcoming environment. The Origin at Khar is a flagship store and its founders— the Bawa Group of Hotels, who've been in the hospitality space for 40 years, and Anusaya Future Fresh— aim to launch more outlets soon. 
We recently visited the flagship store and café on a Friday evening and have compiled a list of reasons why you must visit The Origin in Mumbai's bustling neighbourhood of Khar.
Globetrot via food items and ingredients
They've got a sugarcane juice stand that sells fresh juice, a hydroponic herb garden, and a beautiful photo-op set-up with a floral backdrop at the store's entrance. Step into the store, and you'll discover a haven that offers a variety of tea, coffee, spices, fresh fruits and vegetables, snacks, vegan meat and cheese, and dried fruits either by the in-house label or one of the brands they've curated from across the country or abroad. Each of these products is divided into categories and placed in different sections with whimsical names. For instance, The Plantation section houses the many teas and coffees they have on offer, staples are stocked at The Field, spices at the Mill, and chocolates at The Cocoa Tree.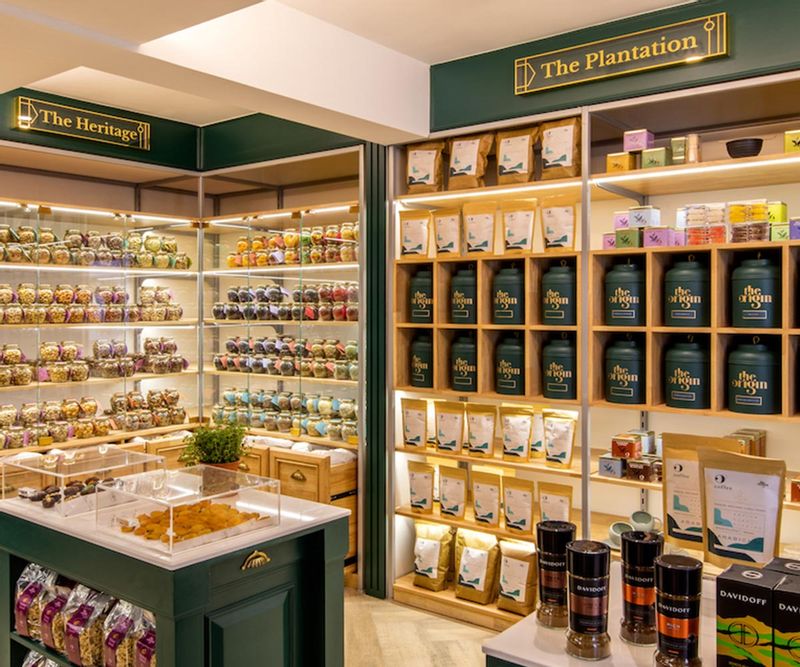 Belberry, Al'Olivier, Croix Verte, Vegan Deli, Ben and Jerry's, Friendly Vikings, Salud, and Fruit Life are some of the international brands that you'll find stocked in the store. Not just that; the expert buyers at The Origin have hunted down the best truffle-based products for those who want a dose of Italy in India. This ethos extends to their variety of oils as well— expect the most flavourful OG and infused olive oil and truffle oil, and prepare to be amazed. 
The store offers nothing short of a kid-in-a-candy-land sort of an experience for the new-age, conscious customers. And that's just the first floor – or rather the topmost floor because the others are downstairs. Down below you'll find a section on drinks and condiments, a section dedicated to gifting, and a vegan café with a tea counter. 
Artisanal bakes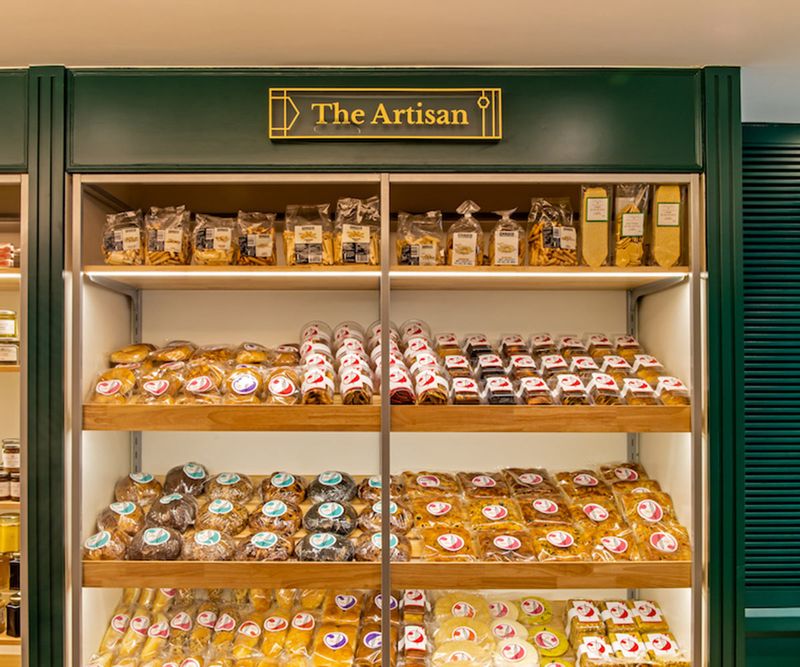 The Origin has an in-house bakery where they make buttery croissants, chilli cheese bagels, blueberry doughnuts called bombolini, coffee marble tea cake, a few types of sourdough bread, brownies, and cookies. What caught our attention the most were the moist and fluffy pistachio almond muffins.
O Amour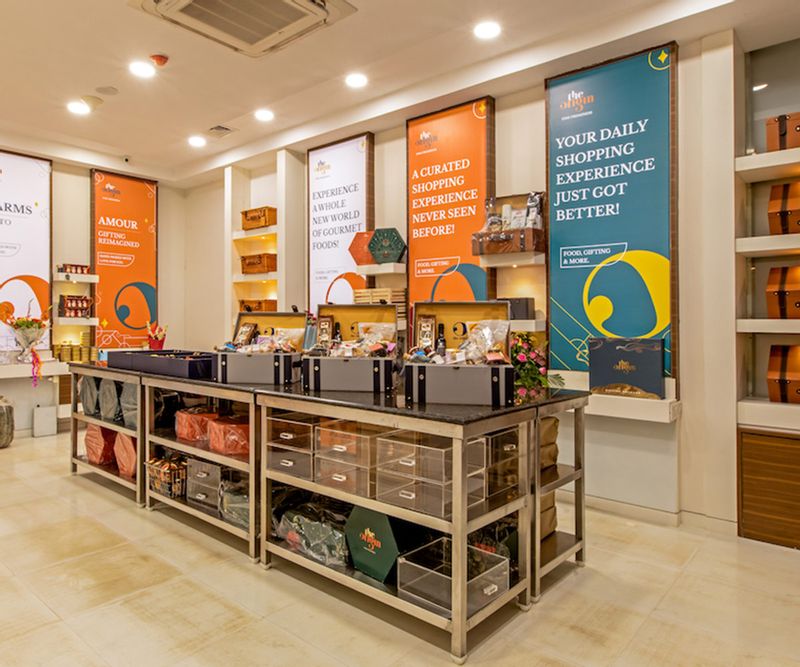 They say food is the fastest way to a person's heart, and we couldn't agree more. At The Origin, they have a separate gifting section with in-store consultants to help you create a custom basket with premium packaging like wicker baskets, leather trunks, and marble platters— no matter what the occasion, preference, or budget. Named O Amour, here you can choose products from across sections— pick a few types of honey (they've got eucalyptus, saffron, wild forest, multiflora, and acacia) at The Hive,  fresh fruits and veggies from O Farm, or chocolates from The Cocoa Tree.  
Vegan café at The Origin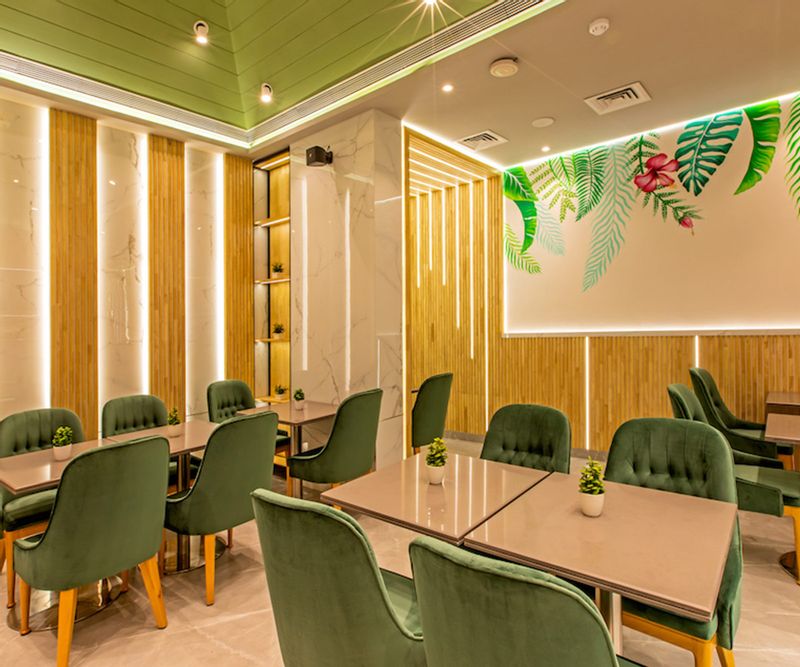 Once we were done exploring the store, we took a seat at the vegan café located in the basement of The Origin. It was nicely lit and the white-and-green colour scheme of the store décor continued here as well. The seating seemed comfortable for sitting for longer hours— we ended up spending almost two for supper. All the food served at this café seemed familiar, but it was far from it— in a good way, of course! 
We began our meal with some edible flower chaat, which had orchids, kale, and hibiscus coated in a light batter and deep-fried until crispy. It was finished off with a sprinkle of raspberry gunpowder— which reminded us of the classic chaat masala, but it was not. While the flowers didn't have a flavour per se, we did enjoy the crispy, piquant batter that was on the outside. As we chatted over chaat, we called for a tropical fruit and chia smoothie and the fresh orange and tonic mojito. Next up, was the  Med wrap with mildly garlicky hummus, pickled veggies, and perfectly fried waffles – crispy on the outside, spongy and flavourful on the inside. 
Our supper ended with the BBQ mock meat cannelloni, which for us, was the star of the entire meal experience. It had barbequed mock chicken, vegan chipotle, pickled onions, and veggies wrapped in soft ragi crepes.
Hi! Tea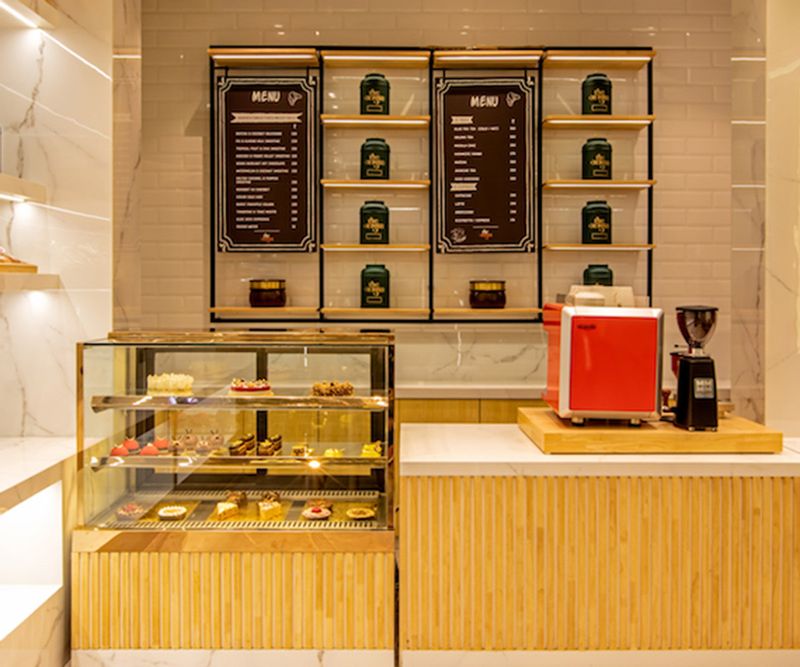 The tea counter at the café in the basement is a delight for chai enthusiasts with an interesting range of floral and herbal teas. There's rose hibiscus tea, blue pea tea flower tea, blooming tea, and several others. We tried the chamomile and lavender blend, which was light and refreshing, served with artisanal honey sourced by the folks at The Origin. 
---
Photo: The Origin, Khar