With new bars and restaurants cropping up almost every other week, Mumbai's food and drinks scene continues to thrive. And to add to this eclectic mix, Impresario Handmade Restaurants have launched a brand-new outpost of their popular SOCIAL, a cafe and co-working space by day and a party place by night.
Located at the R City Mall in Ghatkopar, a central suburb of Mumbai, this is the 19th outlet of SOCIAL in the city, and 43rd in India. Ghatkopar has emerged as a hub for foodies, courtesy of its khau gallis and restaurants that serve an array of traditional and fusion food, and it was about time this vibrant community got a SOCIAL outlet.
Inside Ghatkopar SOCIAL
The interiors of this SOCIAL outlet pay homage to the legendary Indian painter and artist Raja Ravi Varma (who shares a connection with Ghatkopar) in their own unique way. He is credited with opening the first-ever printing press of India in this area and hence, you can say it is a fitting tribute. Expect glimpses of Raja Ravi Varma's popular works such as 'Shakuntala', 'The Milkmaid', 'A Tamil Lady Playing the Swarbat', and 'Woman with Veena', printed in black-and-white against a vibrant and contemporary backdrop.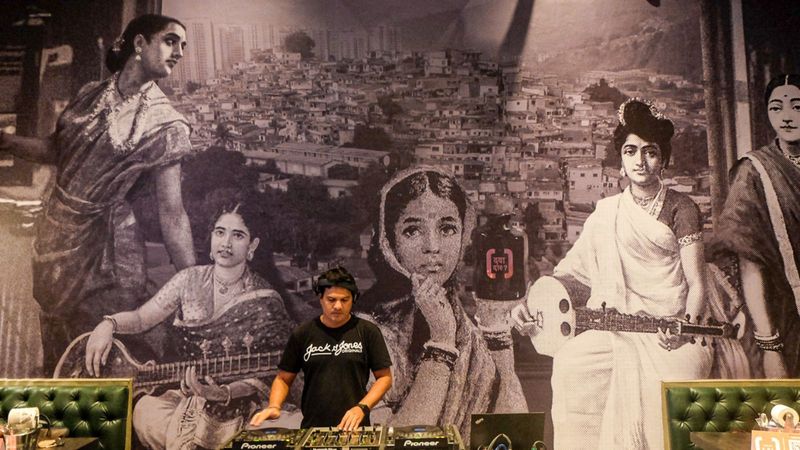 What completes the overall experience is a contemporary grunge aesthetic, typical of SOCIAL, lined with neon red and yellow seating. The seating arrangement is partly reminiscent of the once-popular double-decker buses of Mumbai.
"We have designed the outlet experience in a way that personifies the essence of SOCIAL and the rich artistic history of the place, striving to present a distinctive and engaging experience for all our patrons in and around Ghatkopar," says Mayank Bhatt, CEO, Impresario Entertainment & Hospitality Pvt. Ltd. 
Food and drinks diaries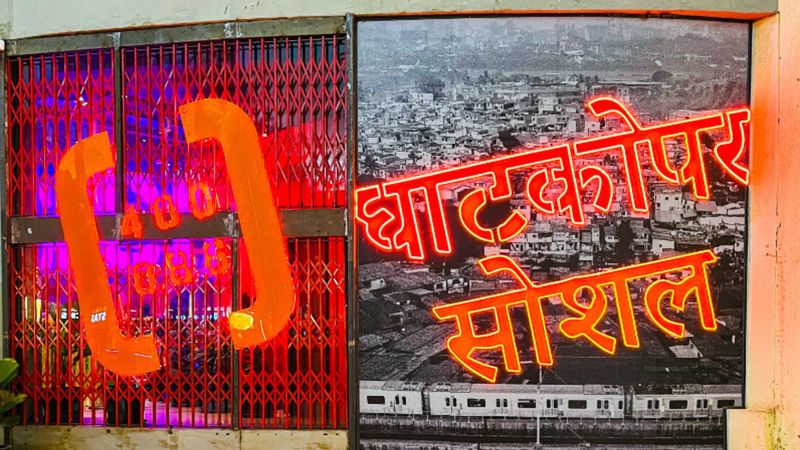 Ghatkopar SOCIAL boasts of the chain's signatures such as Riyaaz's breakfast of champions, Sid's very posh breakfast, Achmed's mezze platter, Tennessee wings and the #Atmanirbhar China box; to name a few. In addition, they have an all-new array of tandoori options including Abra kebab platter, chakori murgh roll, and tandoori pizzas. 
We tried the chicken tikka and cheddar pizza, which had a mildly tangy base topped with small succulent pieces of tandoor-grilled chicken and a mild cheddar flavour. Next up was the Chooza 69, which was a let-down because of its saltiness. The idli manchurian (small pieces of fried idli tossed in a desi-Chinese Manchurian sauce) went well with both the drinks we tried, including the Asia Sour (a refreshing concoction made from whisky, kiwi puree, pineapple, rosemary tepache, and basil) and Social Cinema (a cocktail that combines vodka, cold brew, and popcorn syrup, and served with a handful of popcorn).
The food we tried may not have been SOCIAL's best, but the outlet has a vast menu, so there's more than plenty to discover in the next few visits. Head to Ghatkopar SOCIAL for their affordable food and stay for the drinks and good times with your loved ones.  
 
---
Photo: SOCIAL