In China, it is called the tongue-twisting wuhuarou. In France's regional Alsatian cuisine, it takes the form of the deliciously crispy choucroute garnie. Tocineta is how the Venezuelans refer to it. While in Thailand, it is called mu sam chan.
Yes, we're getting all international (while drooling uncontrollably!) on perhaps the most popular cut of pork, simply called pork belly.
For the uninitiated, pork belly is a boneless and fatty cut of meat, that when cured and smoked, transforms into bacon. Even uncured, it lends itself to a range of cooking methods. Marinating or brining it prior to slow-roasting, grilling or smoking will lead to a different, yet delicious outcome. Its skin is an added bonus and can be fried until golden and crisp. Pork belly best complements sandwiches, baos, soups, stews and hot pots—the list just never ends!  
So revered is this fatty, unctuous part of the pig's undercarriage—and one that immediately transports us to porcine heaven—that it even has its own day. Well, if you didn't know already, November 10 is celebrated as National Pork Belly Day in the US. Another part of the world where pork belly is exalted to high culinary heaven. And why not?
We hitch a ride onto the "porky party bandwagon" with our very own curated list of India's most interesting pork belly dishes. Each is a testament to the versatility and scrumptious appeal of the melt-in-the-mouth goodness of pork belly...
1. Char Siu Bao at The Fatty Bao, Bengaluru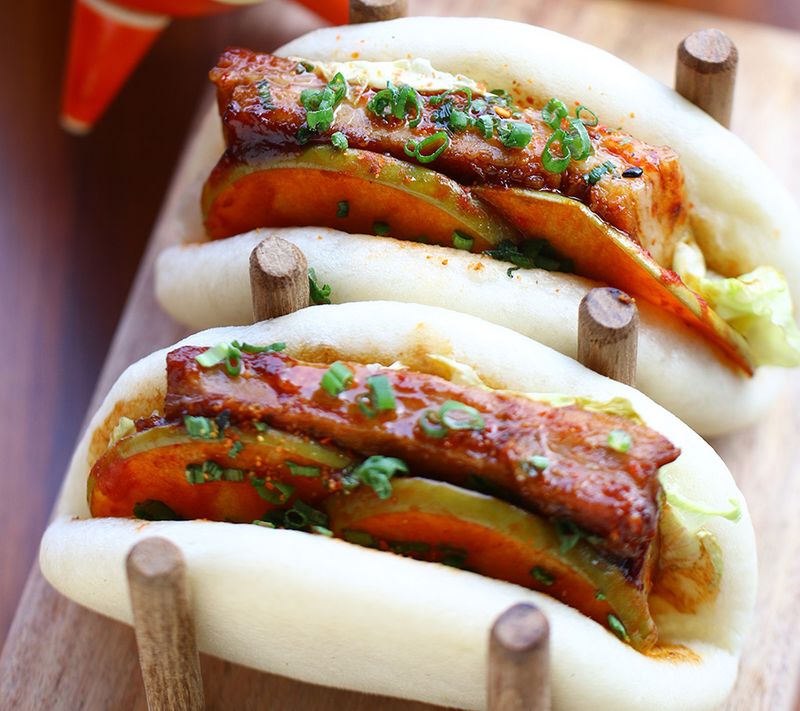 The very name of this Indiranagar-located pan-Asian eatery seems to be an ode to the pork belly dish that it champions. Perfectly encapsulating both the 'fatty' and 'bao' parts of its name is the char siu bao, with its signature pillowy soft, white, open-faced steamed bao bread. This is filled with char siu-inspired BBQ-styled pork belly made using their signature house-made BBQ sauce and kimchi, green apple, hoisin sauce, sliced scallions and a sprinkle of shichimi togarashi. This double-cooked belly in the eponymous bao is cooked for over eight hours to impart a melt-in-the-mouth experience.
Price: Rs 395+
2. Cracklin' Belly with a BBQ Rub at BOSS Burgers Brews + BBQs, Mumbai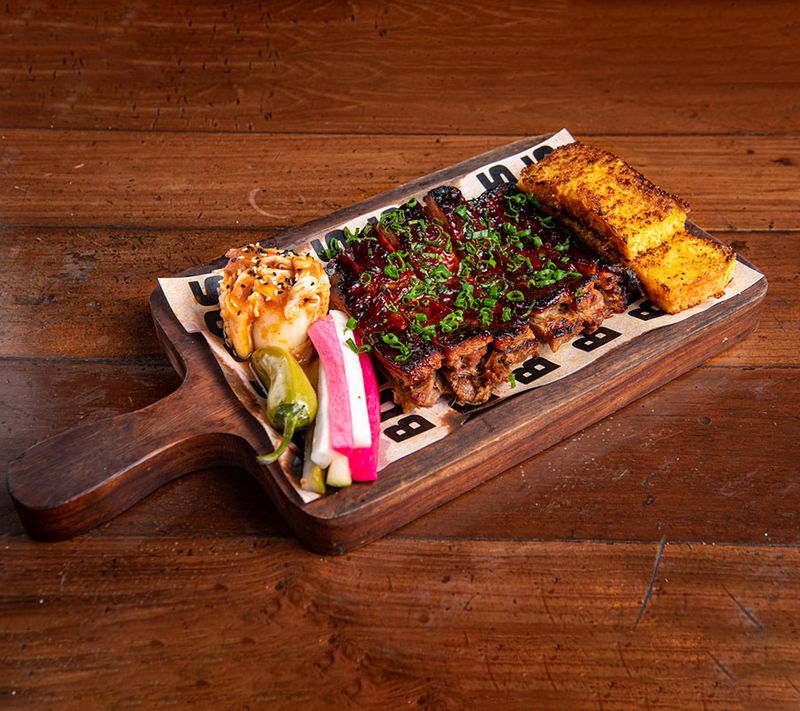 A rather sumptuous take on a Texas-style BBQ pork platter at the Vikhroli-based burger and beer joint, this porky feast comprises five generous pieces of braised pork belly—replete with crispy skin—marinated in beer and tossed in a BBQ rub. This is served with a side of grilled cornbread and a sweet-and-tangy gud-kairi (jaggery and raw mango) chutney for a desi twist!
Price: Rs 650+
3. Pork Tonkatsu at Mensho Tokyo, New Delhi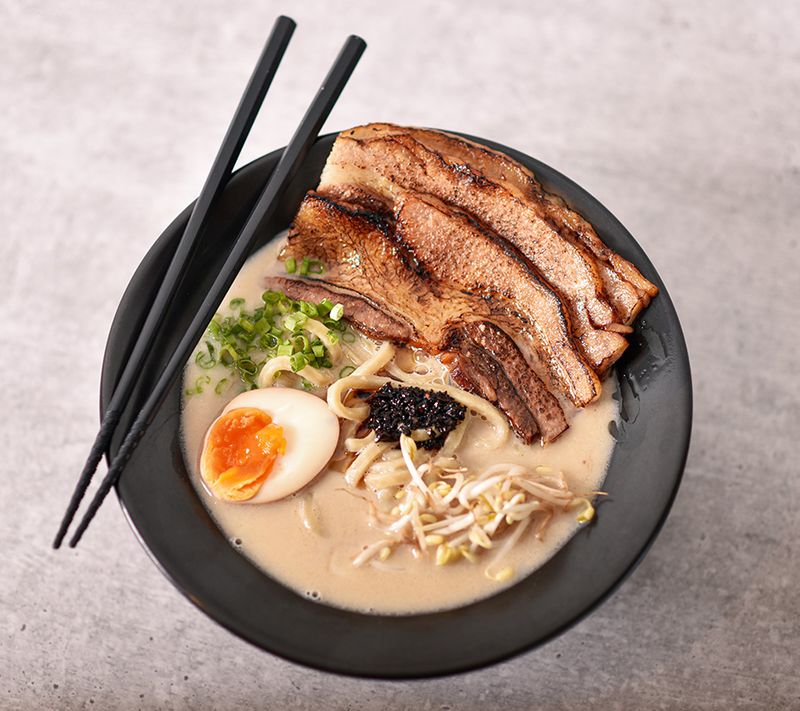 Staying comfortingly close to a bowl of original Japanese ramen is this pork belly tonkatsu from Mensho Tokyo at Greater Kailash, New Delhi. This hearty soup is made with pork belly chashu that's been marinated and slow-cooked for 36 hours and then brûléed to a crisp. Over it is poured a smoky and velvety pork bone broth. And accompanying it is shoyu tare, homemade noodles, black garlic oil, spring onion and a 24-hour soy-marinated egg.
Price: Rs 825+
4. Pork Belly in Pomegranate at Cobbler & Crew, Pune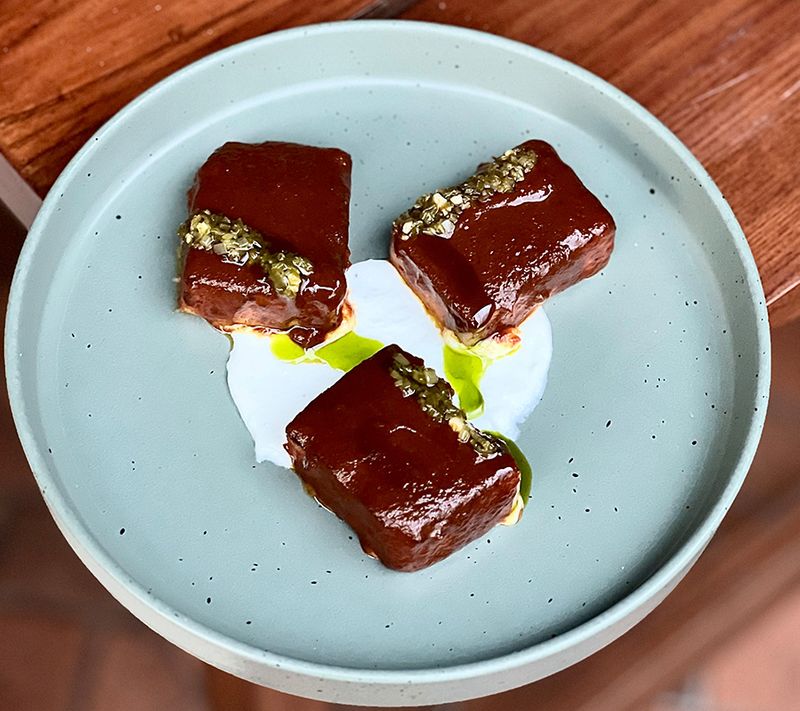 Housed in Pune's Kalyani Nagar, this casual, yet stylish eatery does its own share to promote pork belly among its diners. Here, they do a super tender pork belly that's glazed with a homemade pomegranate sauce for a sweet-tangy taste. Served along with it are a green garlic gremolata dip and Middle Eastern labneh for a cool finish.
Price: Rs 649+
5. Pork Belly Skewers at Yazu Pan Asian Beach Club, Goa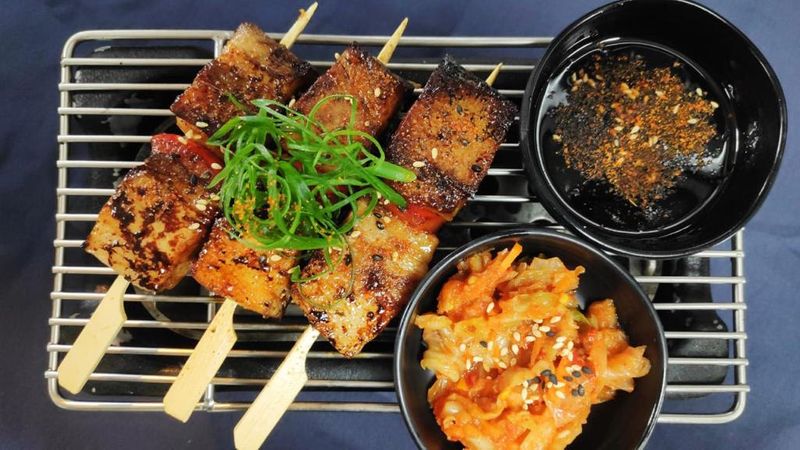 Taking us back to the informal bar cuisine—mainly consisting of skewered meats, particularly pork—that is served at a typical Tokyo bar called an izakaya, is this bar snack dish of pork belly skewers. Housed in the buzzing town of Candolim in North Goa, Yazu sends out its trio of pork belly skewers with black pepper butter along with a serving of teriyaki sauce and spicy kimchi.
Price: Rs. 575+
6. Belgium Pork Belly Basil Chilli at RCB Bar & Café, Bengaluru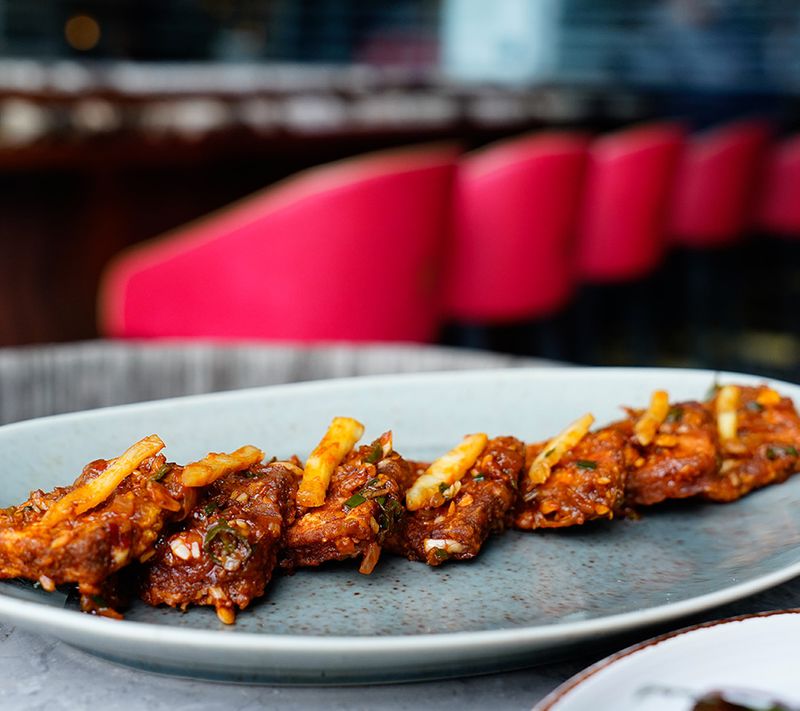 In a perfect celebration of the unctuous appeal of pork belly with the punch of herbaceous basil, this fuss-free, casual café and sports bar located in the heart of the city along Church Street, comes up with a winner of a dish. Marinated in an aromatic blend of chilli, basil, vinegar, garlic and ginger root base, the pork belly is slow-cooked for hours, creating a truly luxurious flavour and texture. Served as a stir-fry, this dish is perfect as a side to a round of chilled beers, or a glass of pinot noir, perhaps?
Price: Rs 975+
7. Pork Belly in Tobanjan Sauce at Chufang Asian Kitchen Bar, Mumbai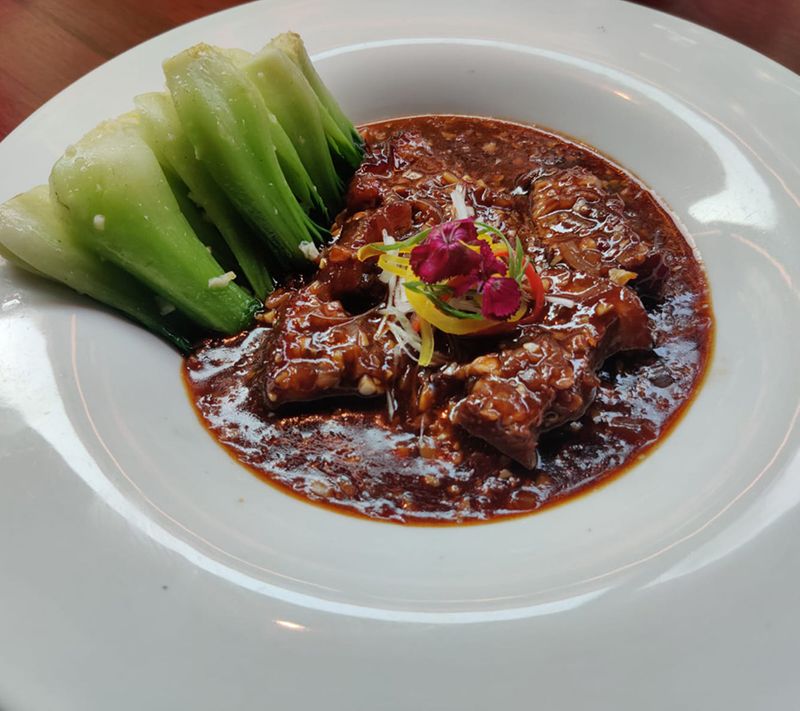 Part of the main course section on the menu of this brand new pan-Asian restaurant in Mumbai's BKC, this pork belly gravy dish is a treat to the taste buds. Here, the pork belly is first roasted and then marinated with garlic, chilli, ginger, dark soy, Worcester sauce and a secret blended aromatic spice powder. It is then steamed, and finally finished off with Tobanjan sauce on top. 
PS. For the uninitiated like us, Tobanjan sauce is made up of chilli paste, ginger, garlic and black bean paste.
Price: Rs 875+
8. PBLT Sliders at Taki Taki, Bengaluru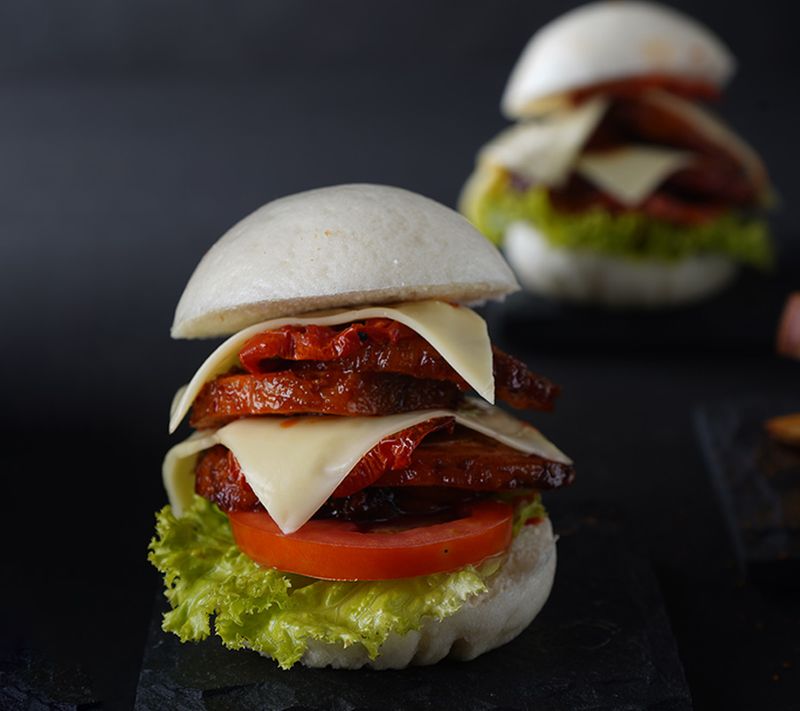 The guys behind the Kumarapark, Bengaluru outpost of the Mumbai modern pan-Asian and transition bar, amp up their sliders to make them resemble mini Asian burgers. Ensconced between two buns, made with steamed bao dough, is a generous slab of Sichuan pepper-rubbed pork belly, arugula, oven-roasted tomatoes, cheddar cheese and spicy mayo. The mouth-numbing effects of the Sichuan pepper perfectly complement the coolness of the arugula leaves and the richness of the cheese and mayonnaise to make for that perfect two-biter slider experience.
Price: Rs. 430+
9. Braised Spiced Pork Belly with Pumpkin Edamame Risotto at Silver Beach Cafe, Mumbai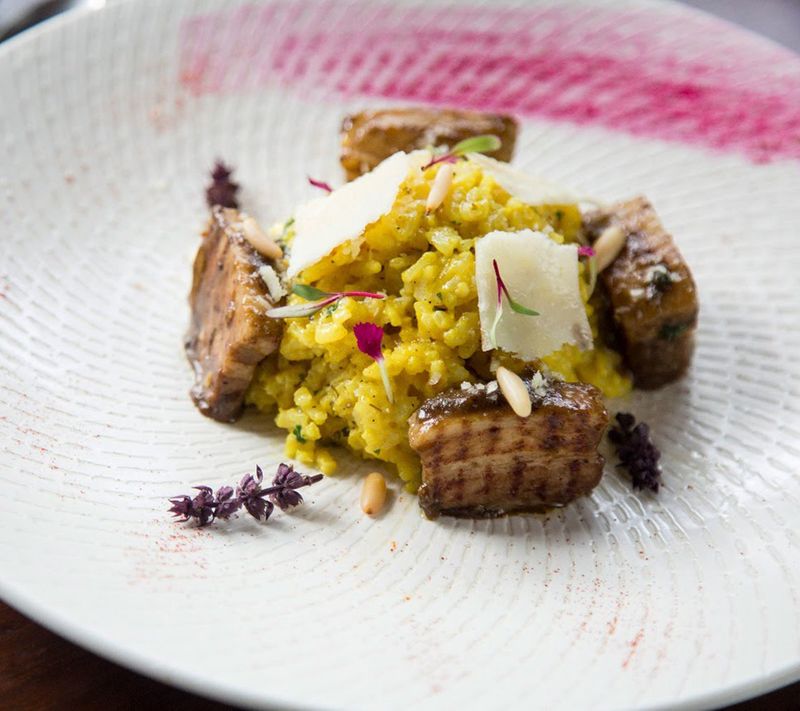 So popular is this braised spiced pork belly with pumpkin edamame risotto main at Silver Beach Cafe, that it is served at all of its Mumbai outposts. Be it at Bandra, Juhu or Andheri. The slow-braised pork belly in a green herb marinade and spices is served alongside a lightly roasted pumpkin puree and an edamame risotto to balance out the savoury, umami hit of the pork belly that's thickly sliced before serving.
Price: Rs. 745+
---
Photo: Shutterstock; Featured brands