What sets a pub apart from another? For some, it's the music, and for others, it's a lot more. It's the mood, the crowd, and the décor. Record Room takes all of that and puts it into a tall glass of craft beer and a vinyl player, dishing out your favourite brews—from a pale ale to a stout, and music that includes anything from AC/DC and Black Sabbath to JJ Cale and Billie Eilish.
Record Room, located right across the street From Garuda Mall, Magrath Road, might arguably be the first time craft beer was meeting vinyl over a rather casual ambience—where the vibe is chill and the food and drinks are curious and new but uncomplicated.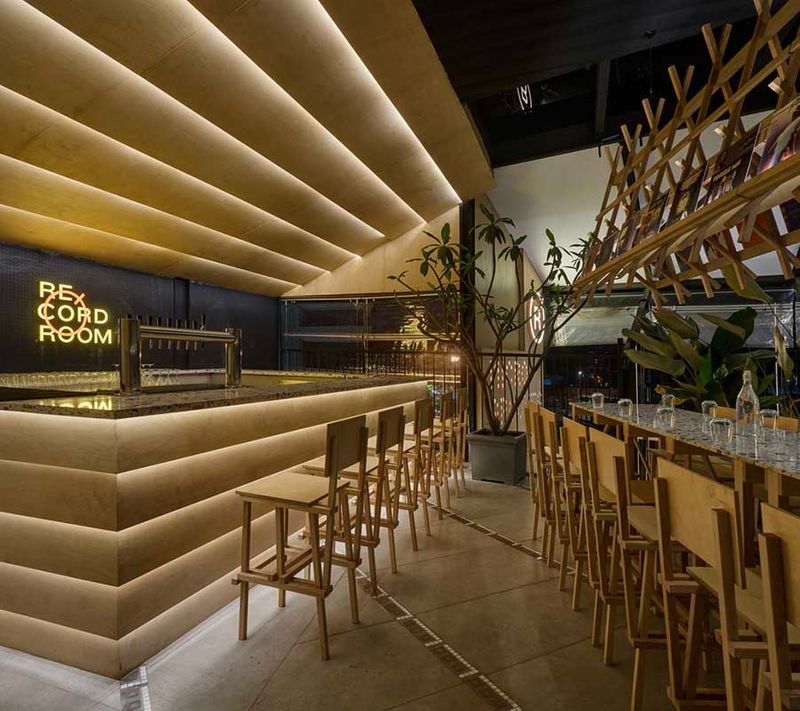 The space
Lined along a wall, pretty much as soon as you enter, are vinyl covers that give you a quick idea as to what's in store. And while you may not be allowed to touch any of that, your requests to play a favourite will probably not be ignored. The pub has over 200 vinyls across categories at the moment, all sourced from old stores in Mumbai and the number is only going to go up.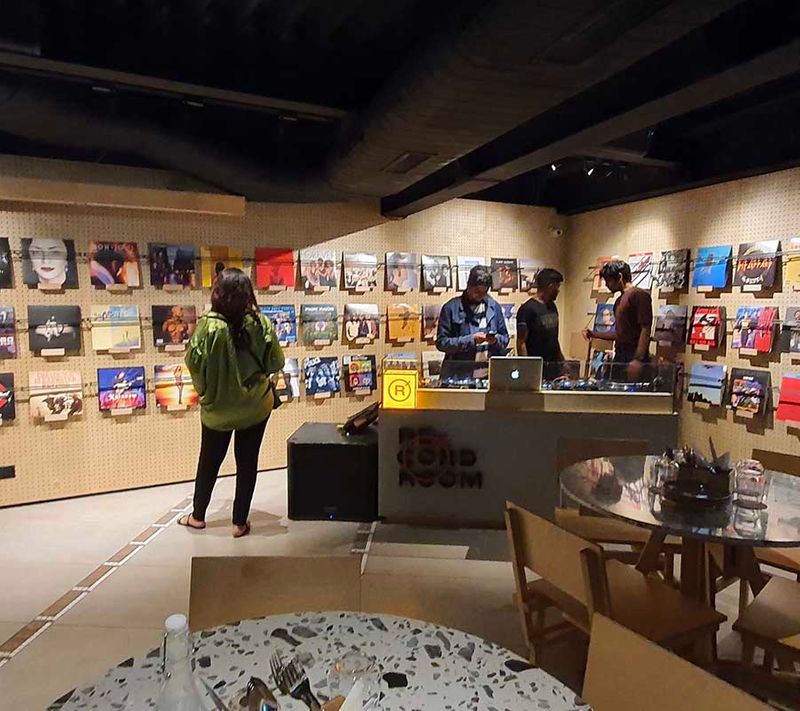 A highlight here is the limited-edition white turntable dedicated to White Album by the Beatles, given that there are only about 500 of these in the world. Managing Record Room's programming is Andrew Sabu—singer-songwriter, programme director, and artist manager. He will lead the vinyl programming and promote the culture in the city, both offline and digitally. Sabu will also curate the music programme for Record Room, creating unique experiential music sessions and events, which will most likely have you hooked in no time.
And if you frown at vinyl and have to Google it, here's some dope. Over the past couple of years, the sales of vinyl went up by a surprising 30 per cent across the world. At least that's what the Recording Industry Association of America (RIAA) data has to say. And it's not just those who grew up with vinyl that are going back to it. It's also the millennials and GenZ that have discovered a new love in the analogue form of playing music.
Riding this wave, Record Room has set out to create a space that will eventually grow into a community of vinyl lovers. The space is thus intimate and laid-back.
Food and drinks
How would you define a perfect evening at the Record Room? You walk in, find a quiet corner, and ask for your favourite craft—the pub is currently sourcing their beers from Toit and Geist, with Pune's Great State Aleworks soon to join the ranks—order a few short eats—the pulled tandoori chicken & potato mille-feuille, mini waffles with spiced chicken, rajma and Goan sausage croquette, and the terrine minced pork are recommended—and switch off from the world. Your one task here would be to soak in the music, and eat and drink of course. Were that three tasks?
And in case you didn't already know, this is the first time Bengaluru's Toit beers will be available outside of their Indiranagar brewpub. Their Tint-In-Wit, a Belgian-style fruity ale with notes of coriander and fresh orange peel, is a popular favourite. From Geist, it's the Kamacitra, an Indian pale ale lager with tropical notes of mango and citrus that might help convert a no-beer person.
Don't drink beer? You don't have much to worry about there. Record Room has also stocked up on artisanal coffee—Bengaluru and coffee are practically married, duh!—and cocktails that might make your heart melt. The Whiskey La-vender Highball (whiskey, lavender essence, and bianco topped with a splash of soda) is definitely worth a shot. From the coffee menu, they've got delightful roasts from Blue Tokai, Bloom Coffee Roasters, Coffee Mechanics, and so on.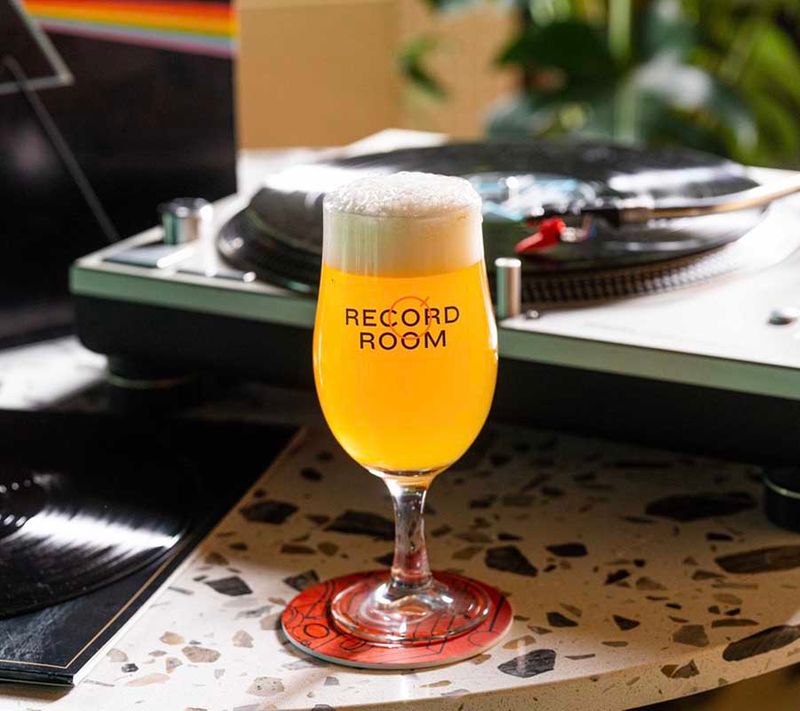 Record Room's architect and designer, George Attokaran of Atto Atelier says that the Record Room is a symbol of today's 'counter culture', and he could not be more correct. It's a place where analogue thrives in a world that is addicted to digital.
Where: 16/3, Magrath Rd, (Opposite Garuda Mall), Ashok Nagar, Bengaluru 560 025
Meal for two (without alcohol): Rs 2,500 plus taxes 
Timing: 12pm-1am (subject to govt notifications)
Admission Policy: Persons below the age of 21 years are permitted all day Sunday to Thursday; not permitted at any time on Friday and Saturday. 
---
Photo: Shamanth Patil; Priyadarshini Nandy