It's taken more than a decade—14 years to be precise—but Indian Accent Mumbai is finally here. And it's been worth the wait! The genius combo of restaurateur Rohit Khattar and culinary wizard Chef Manish Mehrotra has been wowing diners in Delhi and New York for far too long; now Mumbai is finally getting a taste of all the hype that Indian Accent comes with. 
From décor to food, cocktails, and even no-ABV drinks, the restaurant promises rich indulgence in every aspect of its offering. Let's talk about them one by one. 
Décor at Indian Accent Mumbai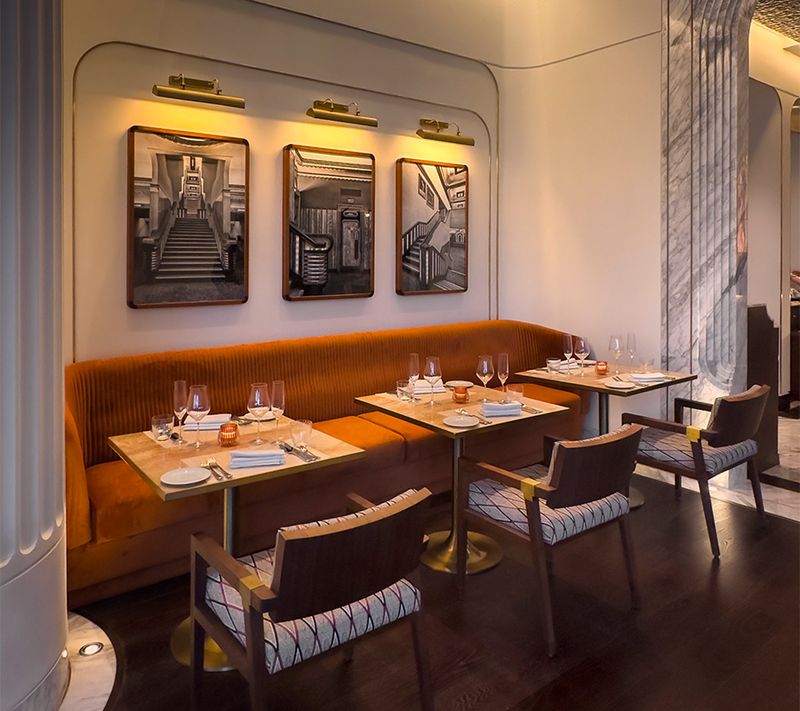 Nestled inside the already gorgeous Nita Mukesh Ambani Cultural Centre, Indian Accent feels like a warm hug the moment you enter the space. The design of the 75-seat restaurant is a tribute to Mumbai's Art Deco movement and features two Private Dining Rooms (PDRs) that can seat 18 and 10 diners respectively. The latter also comes with an attached interactive show kitchen so diners can peek at the kitchen whenever they wish. The interior design of the restaurant is by London-based Russell Sage Studio that worked closely with Indian Accent's parent company EHV International's Design Director Rohini Kapur and Director Development Vikas Bhasin along with local architects Incubis Consultants.
The main dining area comes with love seats where couples can sit together and watch the fountain show of the cultural centre with their food. The restaurant had to sacrifice a few seats to make this happen but its impact is immediate once you settle down on these plush seats.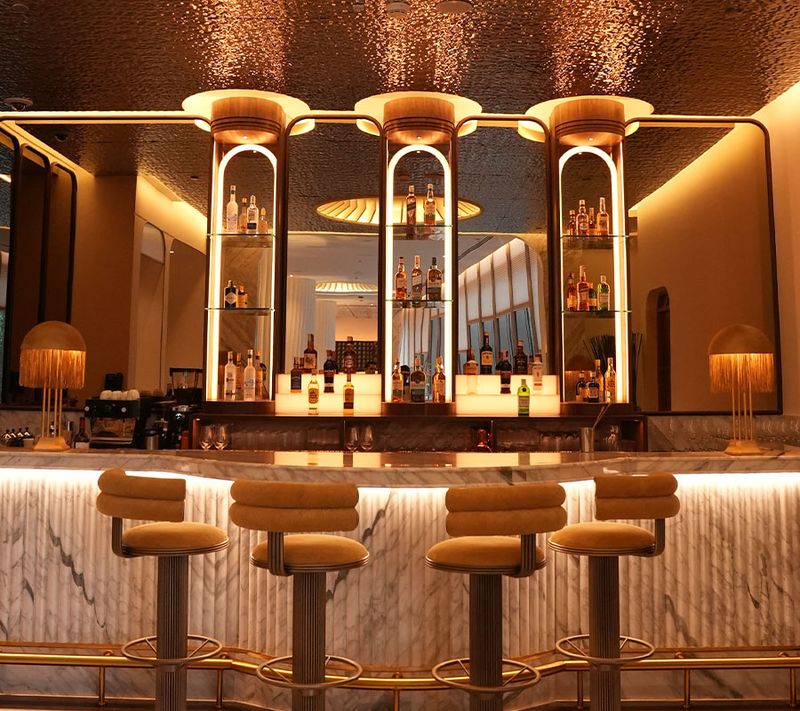 The bar area, separated neatly from the main dining space, is inviting in a friendly and reassuring way with premium spirits lining the shelves behind while bartenders quietly but efficiently prepare drinks. The lighting and music seem to have been given attention as well, almost like stage props commandeering diners to sit back and surrender themselves to the culinary journey that awaits them.
Balancing the old and the new on the menu
It is no secret that almost every modern Indian chef has been inspired, directly or indirectly, by Chef Manish Mehrotra's culinary creations. His students such as Himanshu Saini have gone on to win Michelin stars in Dubai, and his modernisation and usage of modern techniques to uplift Indian cuisine is de riguer at most places by now.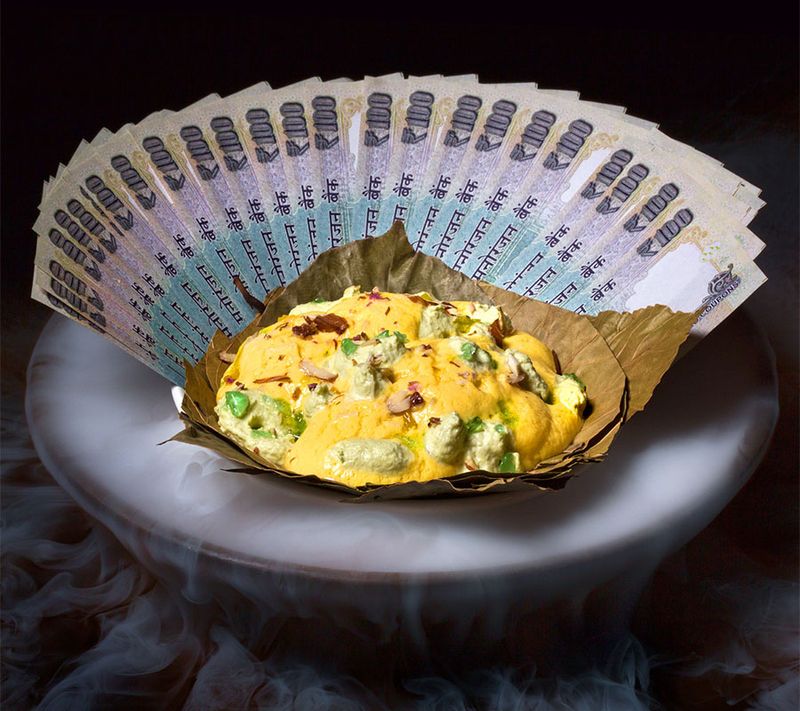 At Indian Accent, the OG strikes a balance between the old and the new–nostalgia for the restaurant's most popular dishes such as the Blue Cheese Naan and Daulat Ki Chaat, as well as new additions that Chef Rijul Gulati, who heads the kitchen in Mumbai, can understandably be proud of.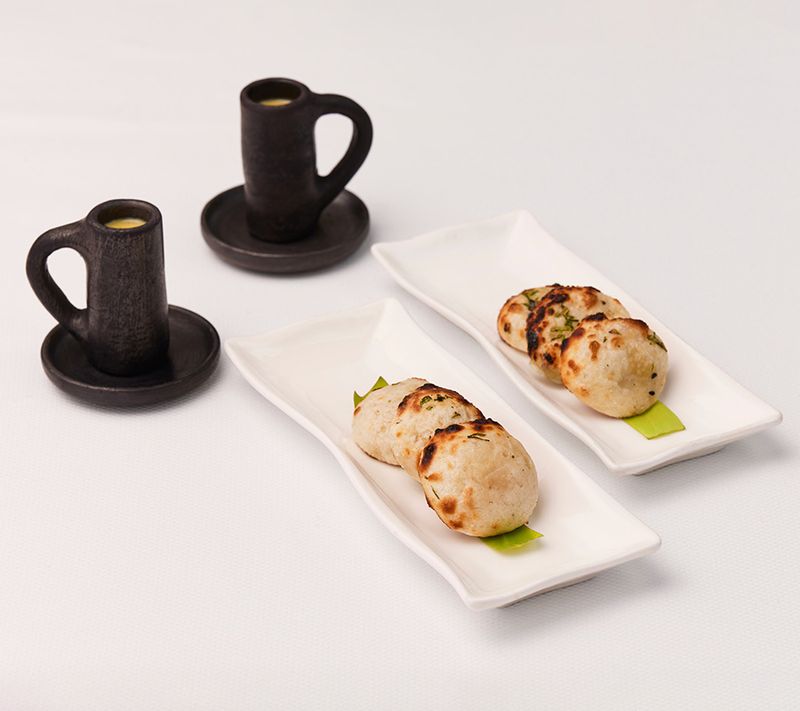 As we begin the Chef's Tasting Menu (available in both vegetarian and non-vegetarian options), the very first thing that arrives is the Blue Cheese Naan. The inventive dish, daring at its launch for stuffing blue cheese inside a naan, sets the tone for the rest of the evening. 
Chef Gulati, Mehrotra's protégé of eight years, deftly handles the old and the new as signature dishes start lining our table. Burrata Chaat with Mustard Tomato Jam and Lotus Root Papdi is up next, a combination that tastes as delicious as it sounds weird. The Stuffed Morel, Gobindobhog and Mushroom Payesh with summer truffles is an umami burst in the mouth while the Smoked Duck Shaami with Crispy Sevai and Barberry Chutney offers melt-in-the-mouth goodness.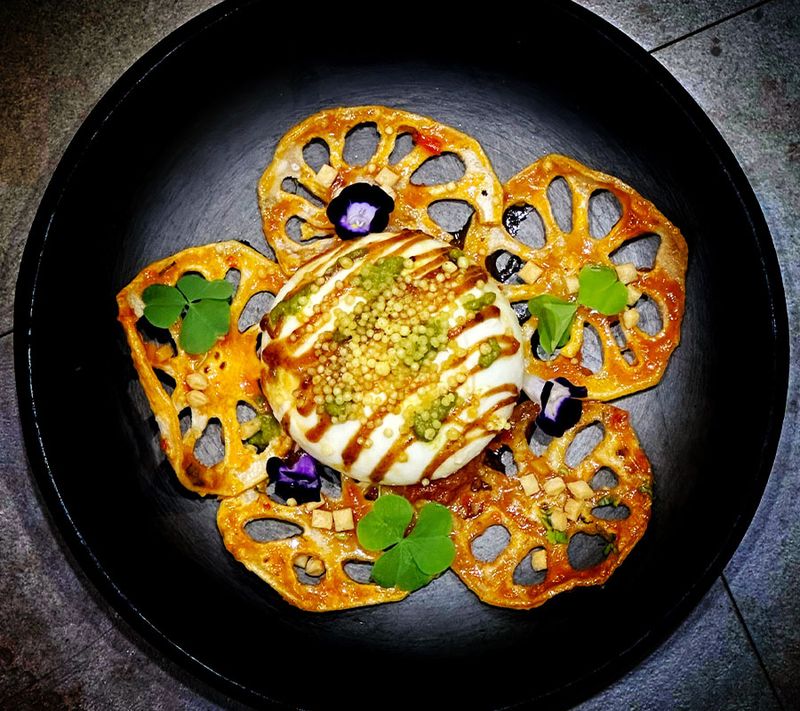 The and Churan Kulfi Sorbet in an impossibly tiny pressure cooker breaks the spell of all the delicious food with its cuteness before the mains begin.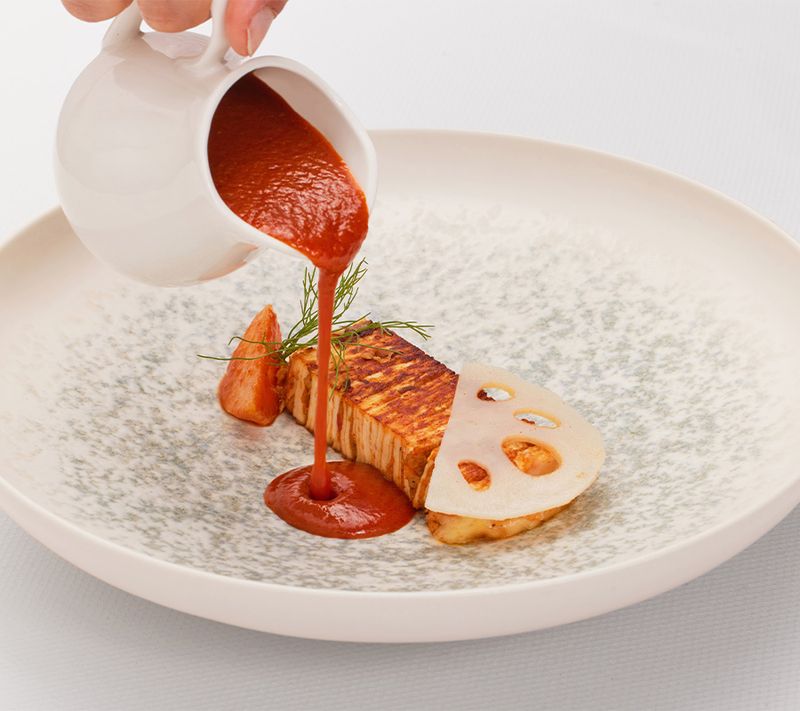 We try the Hundred Layer Paneer with Tamatar Chaaman and Nadru, and Chettinad Chicken Keema with Curry Leaf Lemon Seviyan and Sago Puffs and kulchas. The understated elegance of both the dishes coupled with the kitchen's confidence in belting out a great plate of food despite all the tables being full speaks volumes of the precision and effort behind each dish.
For dessert, we couldn't leave without trying an Indian Accent staple: Daulat Ki Chaat that arrives with all the glamour that it richly deserves–from its faux currency notes to the smoking dry ice and a dessert that leaves you wanting for more; an apt metaphor for all the dishes that we've tasted throughout the evening.
Innovative drinks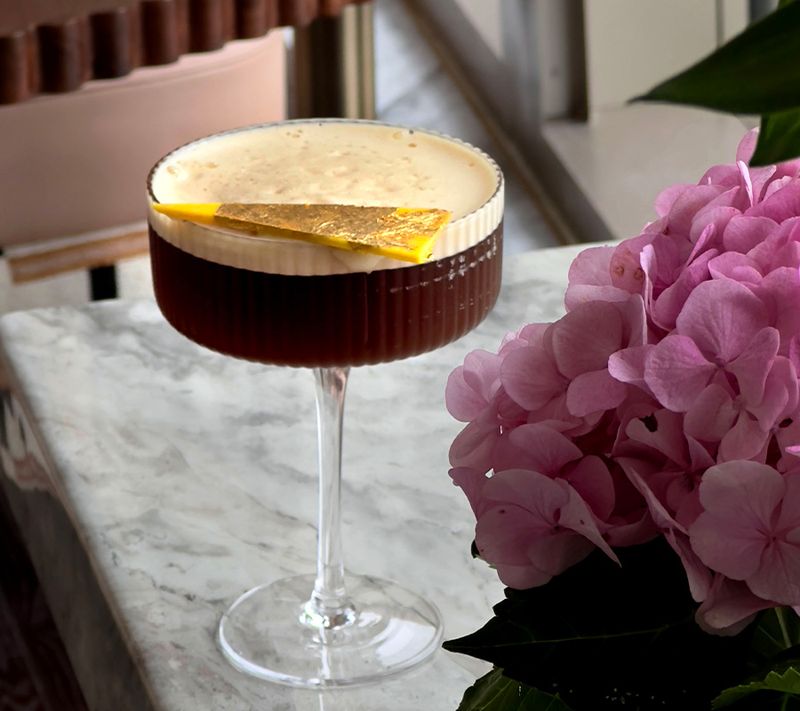 Indian Accent Mumbai takes its drinks seriously. The beverage program headed by Varun Sharma is made up of signature cocktails, drinks inspired by the Jazz Age, and drinks that pay homage to all the other outlets of the group if you know where to look.
One giveaway is the Chor Bizarre Shikanjvi 2.0, a zero-proof drink that harks back to the time Khattar opened his first restaurant called Chor Bizarre in New Delhi in 1990. The Orange Bar Fizz, Mango Mastani, and Indian Accent Anar Shikanjvi are other no-ABV drinks that make you realise that this might be the first time a celebrated new restaurant has given thought to zero-proof beverages.
The cocktails are just as inspiring. The Smoked Orange Paloma gets an upgrade from a regular paloma with mezcal thanks to the addition of house-made orange bar soda, while Proper Copper 2.0 is a twist on the Moscow Mule with spiced tea and ginger shrub elevating it to a whole new level.
My favourites from the menu include the Rum Manhattan that balances flavours of pandan leaf, coconut wash orange bitter liqueur, and house-made fortified wine with the spirit admirably; the Beetroot Shrub Margarita which plays on the earthiness of mezcal and beetroot wonderfully; and the Black Gold that combines cognac with coffee, vanilla, carob molasses, and gold chocolate that makes you feel that time has passed too quickly, much like the entire experience at Indian Accent.
Verdict: Indian Accent Mumbai will leave you wanting more
With a confident retelling of Culinary Director Manish Mehrotra's greatest hits and the quiet confidence of Head Chef Rijul Gulati, the food at Indian Accent is always going to be a heady affair. But make space for drinks too because Head of Bars Varun Sharma and Head of Wines Kevin Rodrigues have more than a few aces up their sleeve. All in all, Indian Accent Mumbai is a place that will have you eating out of your hands and wanting more. What else can you ask for from a restaurant that is slated to become to destination in the very near future?
---
Photo: Naina Gahlaut