If déjà vu means the feeling of having experienced the current situation before, then one would love it several times at Deja Brew! One of the newest entrants to Delhi's GK 2 market's bustling restaurant scene, this café leaves a happy lingering taste long after you've visited it. Not surprising for a space that serves both freshly brewed coffee and beer from the tap under the same roof. However, Deja Brew does have a little surprise behind its cool and casual vibe—a fine cigar collection complemented with an exclusive and private lounge.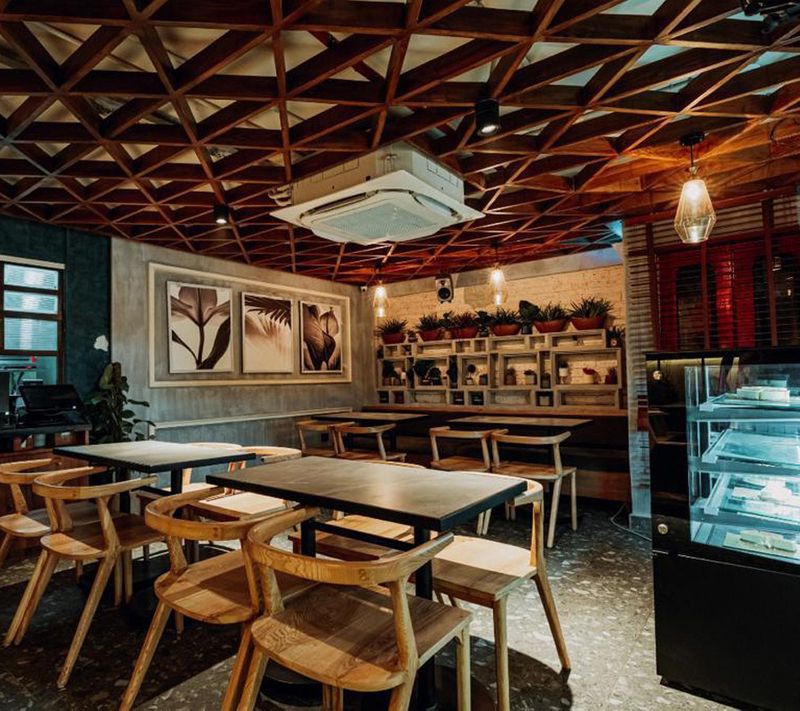 Conceptualised by the owners of Delhi's first (and only) microbrewery Ministry of Beer, Deja Brew is all about freshness and a contagious vibrancy. Enter the café and the first thing you'll notice at the bar are the beer taps which dispense house-brewed ale. At the other end stands a funky cold brew dispenser where your fresh cold coffee slowly trickles down. Choose to sit at the bar amidst the action and right under a fascinating bird feather lampshade, but if a bird's eye view is what you want, take the stairs up to the second level which is much more secluded and gives you the feeling of being where the action is. It is also here that you get to take a peek into the cigar collection that the restaurant boasts of.
Speaking of which, aside from fresh beer, coffee and cigars—Deja Brew also houses a collection of single malts and wines. So, there's pretty much something for everyone at this new space that is conceptualised by Parth Chadha and Aashish Goyal.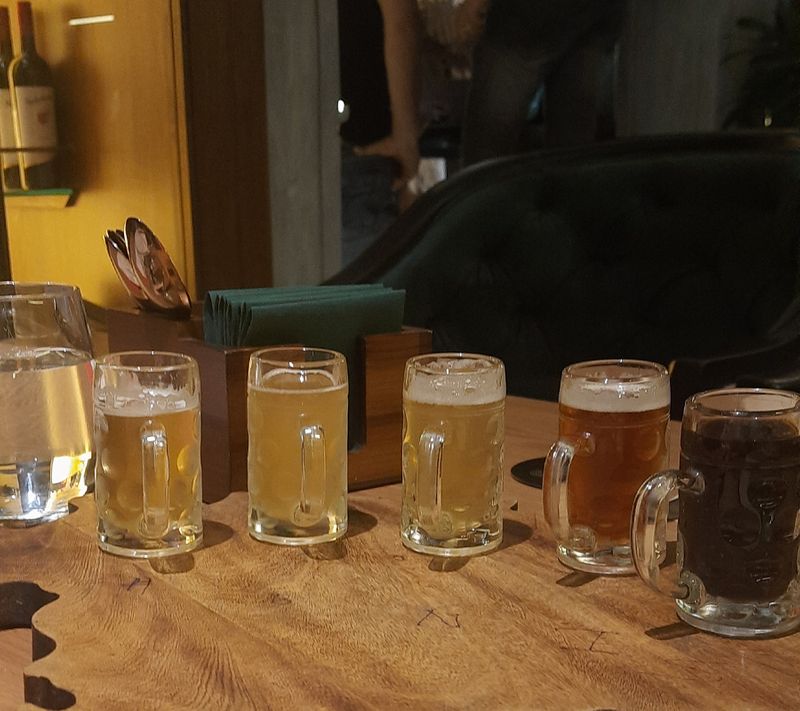 First things, first though—a visit to Deja Brew must begin with a tasting session of the freshly crafted beers. Choose between Hefeweizen, a German 50%malted wheat beer with sweet and fruity tones; Neipa, another fruity English style pale ale; Stout, a dark, heavy-bodied Irish or British beer; Belgium Blonde, smooth ale with mild sweetness; or Amasutra, a house special mango flavoured beer.  Our personal favourite was the Belgium Blonde, which hit all the right notes for us. 
Select your favourite ale and settle down in a spot you like. We recommend starting your binge at Deja Brew with House Masala Nuts—peanuts, almonds, and cashews roasted and peppered with homemade spices. Perfect to accompany these are the in-house parmesan puffs—smoked salmon with capers and cream cheese for the non-vegetarians and tomato and ricotta for the herbivores. If this isn't the perfect start, we don't' know what else is!
A lot maybe happening under the same roof at Deja Brew but thankfully for food aficionados, the restaurant doesn't seem to compromise on the quality. Therefore, you will get a dose of Italian, Asian, and even Indian fare here but almost every dish is unique and flavour full. 
As far as our meal was concerned, after thoroughly enjoying the parmesan puffs, we went onto the garlic mushroom croquettes and the miso teriyaki grilled chicken with a side of Thai Asian vegetable and chicken cups. While all the dishes were great, the mushroom croquettes were clearly the pièce de résistance of the starters. A perfectly crunchy outer layer holding stuffing of lip-smacking garlic and parmesan filling—the croquettes were one of the best we'd eaten. By now, we'd moved from beer tasting to cocktails so our poison for the day was the Deja Brew Special Margarita, mildly sweet but perfectly spiked! On that note, all those whiskey loyalists must try Deja Brew's take on Old Fashioned—an absolute winner.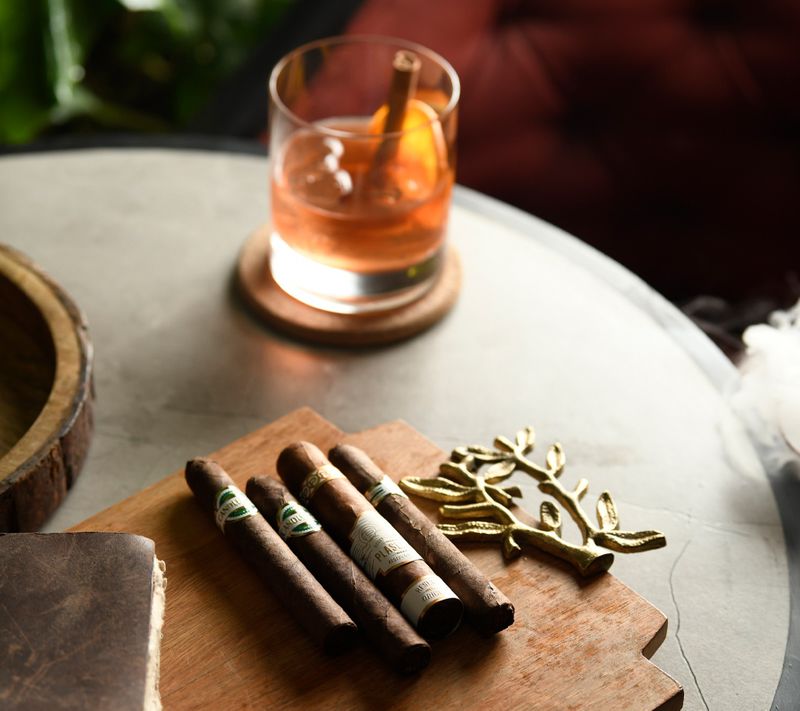 To digest all these starters and the drinks, we took a small walk to the restaurant's best-kept secret. A seemingly regular door on the second floor opens into a small yet cosy space—reminiscent of a tastefully done private room in a hotel suite, albeit with a variety of cigars. While Deja Brew founders are naming it a 'Cigar and Conversations' space, we think even those who don't care about cigars should book it for a private party. 
After a little walk and photo session, the table was again set for us, this time with the mains. The chefs were perhaps resolute about not letting us pick a favourite—we released the freshly-baked four-cheese pesto pizza as well as the Conchiglie pasta cooked in parmesan and truffle sauce. While the pizza was cheesy, crisp, and flavourful, the pasta was bursting with the deliciousness of truffle and cheese. We'd probably say, go and order only these two dishes along with your beer and you'll have enough reasons to go back to Deja Brew.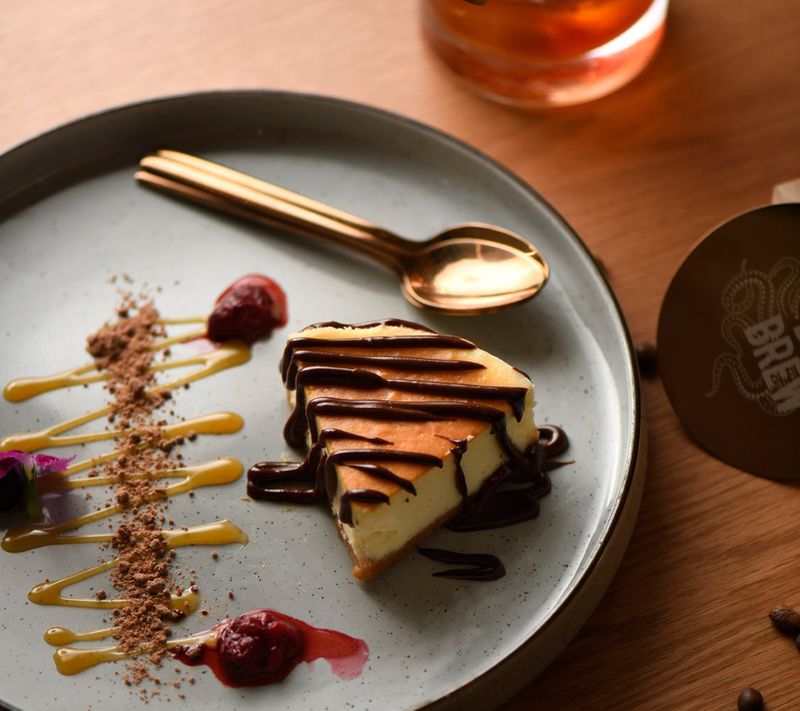 This was how we felt until we tasted the showstopper—the flourless chocolate cake. Melt-in-mouth, rich, and luscious—the cake was everything we wanted to end the perfect meal. Of course along with a freshly brewed coffee and we knew we'd like to experience this déjà vu very soon, again. 
Pro tip: The private dining area can be booked for a minimum billing of Rs 25,000
Address: M-20, Block M, Greater Kailash II, Greater Kailash, New Delhi, Delhi 110048 | +91-8860000200
Meal For Two: 2000+taxes *exclusive of drinks
Timings: 12:00 pm - 1:00 am
---
Photo: Deja Brew