Fine dining, especially now, is more than just food. It's no more restricted to someone pulling a chair out for you to slide in or the fun banters over a glass of wine with a few nibbles. Gourmands are now as keen about knowing what they are eating as much as culinary experts are about curating it. It's indeed a welcome change, where the recently evolved world of gastronomy is more inclined towards recognising the long-forgotten indigenous ingredients, local flavours, and giving back to  local communities with a sustainable approach. Chef Amninder Sandhu's latest venture, Palaash—nestled in the wilderness of Tipeshwar forest in Nagpur—offers a hyperlocal Indian dining experience which is a beautiful amalgamation of all that.
Palaash: An initiative for women
Three months after chef Sandhu opened Bawri in Goa, her passion for open-fire cooking led her to run another gas-free kitchen with an all-women team, about a three-hour drive from Nagpur airport. Chef Sandhu's passion for open-fire cooking is known to all, and Palaash is an extension of that which also gives women from neighbouring villages a platform to express themselves, achieve financial independence, and support their families. Talking about the inspiration behind Palaash, chef Sandhu, shares, "My three main inspirations for starting Palaash are, firstly, the need to create employment in the area to create a better standard of living, considering the poverty in the neighbourhood. Secondly, empowering women is essential to me at this point in my career, and this is a big one for me as I feel the need to do more meaningful work given how I was treated for more than half of my career until I made it. We also encourage them to aim higher, with the potential for one of them to lead the team in the future. And thirdly, I felt there was a gap for a local experience."
The oh-so-rustic interiors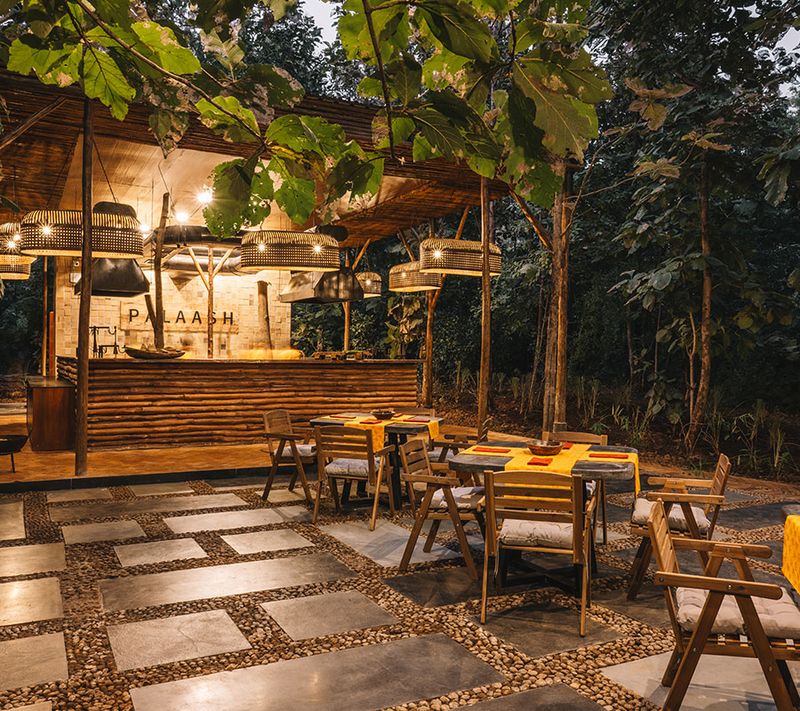 Surrounded by abundant foliage and Palash trees, every corner, every element of the alfresco restaurant is about giving back to nature. It took about three months to build Palash, "But the whole idea from the day when Keyur Joshi, founder of Tipai Wildlife Luxuries, first showed me the spot to standing in a finished restaurant took about six months," recalls Sandhu. Designed by Ariane Thakore Ginwala, the space beautifully embraces the beauty of natural materials and simple craftsmanship.
Made using locally-sourced, naturally-weathered materials like fallen palash trees which are used as structural columns, incorporating the rammed earth technique, and metal lighting has created a warm and inviting atmosphere.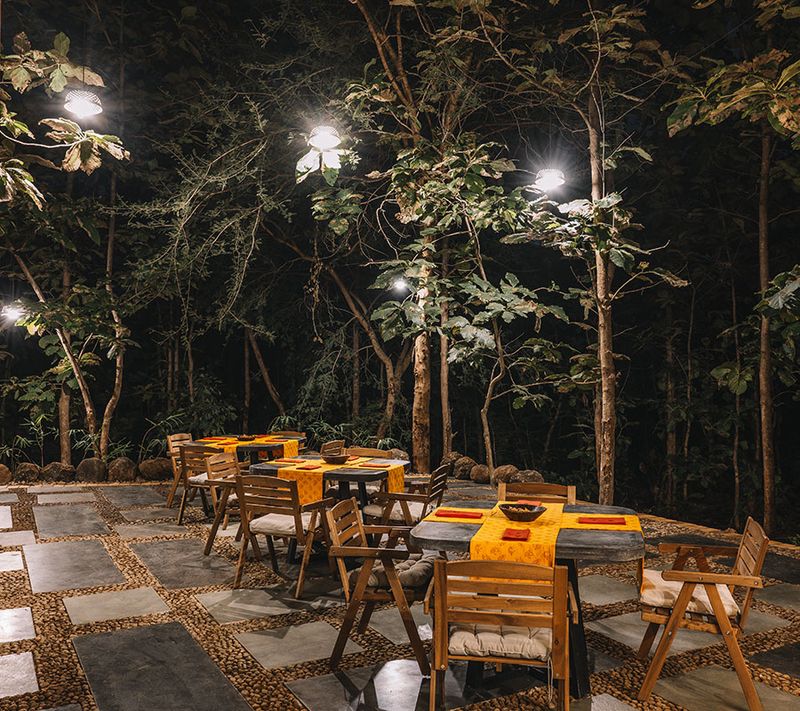 Sandhu elaborates, "Our vision anyway was to create an eco-friendly structure that truly embraced the essence of the local environment and catered to individual needs; the rammed earth construction worked out the best as it uses native soil of the site. The team has brought my vision to life by building Palaash using local materials with the gentlest footprint on the environment, from wooden beams to handspun uniforms and table linen, fallen teak trunks from the last monsoon and natural stone and handwoven wicker—all of which come together in a rustic open kitchen that feeds all your senses."
Needless to mention, the design choice of antique Naga artefacts, pebbled floors, natural stone slabs, and fire bricks creates a rustic and earthy ambiance, adding to the overall aesthetic. This not only adds to the aesthetic cohesion but also showcases a commitment to eco-friendly and sustainable practices. A special mention to the vegetable-dyed table linens in shades of Palash flowers (yellows and oranges) that reflect the geography and its people around. It doesn't end there! There's also an underground barbeque pit right next to the kitchen that's used to slow cook for hours making sure the meat falls off the bones and adds the desired smokiness to it.
The food: Local, unpretentious, and hit-and-miss
With the sheer motive of upskilling and empowering women from the neighbouring villages, Sandhu plated all her learnings in a seven-course degustation menu—a mix of dishes from the states of Maharashtra, Madhya Pradesh, Andhra Pradesh and Nagaland. You see, every dish on the menu is made with the freshest of ingredients grown in their wadi (kitchen garden).
We were welcomed with the most delicious and completely irresistible amuse bouche packed with nostalgia—the khatta meetha orange we all have grown up eating. Chef Sandhu explains, "It's made by using freshly squeezed orange juice with a touch of lime and pink Himalayan salt. This mixture is encased in a white chocolate sphere." So you don't bite into it, you just place it on your tongue and let it burst in your mouth. It was the kind of amuse bouche you mourn when it's gone. And boy did it raise our expectations!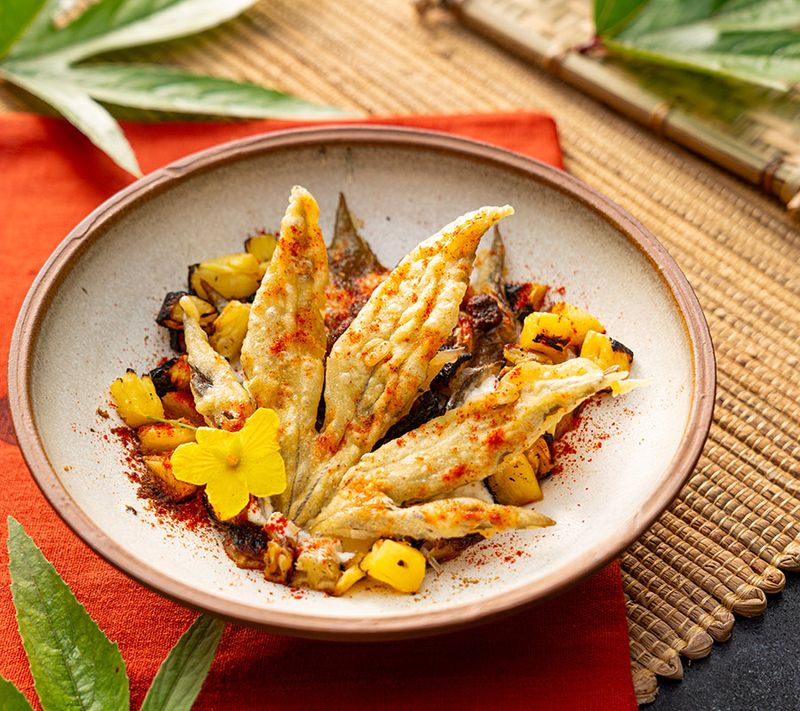 Sandhu had prepared an exquisite meal that started with a sweet and tangy medley of yogurt, tamarind and charred pineapple, the ambaadi chaat. Sandhu shares, "We have a lot of ambaadi growing in the property. So, I create a light batter and fry the leaves. Then, we serve them with charred pineapple, pomegranate, imli chutney, a dollop of dahi on top and a special seasoning of red chilli, kala chaat masala, and a secret spice."
Next up was the maas ke soole made with marrow butter, kala chaat, and charred tomato chutney. Elaborating on the dish, Sandhu says, "I first tenderise it with pineapple, then create a marinade using yoghurt, red chilli, shahi jeera and garlic. I skewer alternating pieces of boti and fat, and cook them on the sigri. Crispy poha with pistachio and almonds is added on top along with a charred tomato chutney underneath which is made by charring tomato and garlic on chulha." Unfortunately, it lacked the depth of flavour I was expecting, and the meat was a tad undercooked.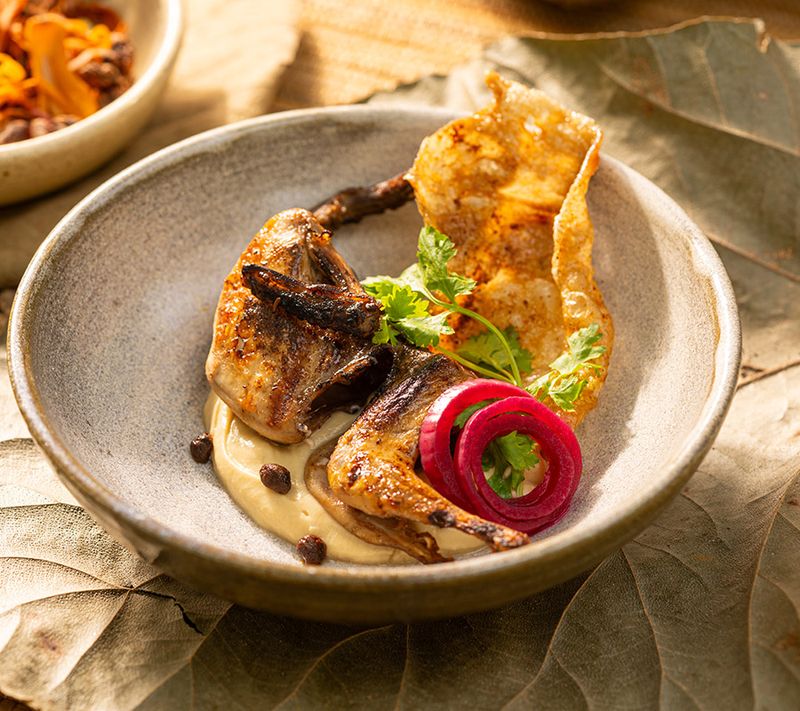 Then there was saoji bater (quail bird) served with crispy chicken skin, suran (also known as zimikand or elephant foot yam), and ber pickle. The dish was rather underwhelming in terms of flavour. The preparation somehow lacked depth and complexity. While I was expecting a burst of flavours, the dish was disappointingly bland.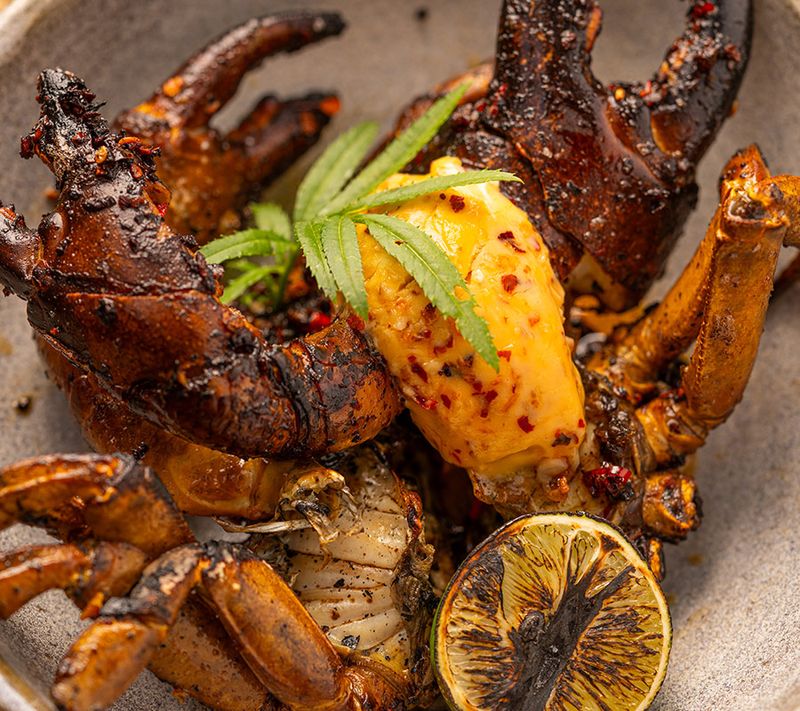 The dish I was really looking forward to the most was the Nagpur black crab served with gowthi garlic, chillies, and slice of lemon—and it didn't disappoint even a little bit. The dish had a well-balanced combination of flavours, and it really stood out. The right amount of garlic and the citrusy zest just amplified the flavour. Additionally, the vegetarian option, the smoked baingan, made of peanuts, coconut, cinnamon and beetroot also lingered on my palate longer than expected.
For mains, there was bamboo smoked pork with Indrayani rice. "The bamboo smoked pork is cooked in an onion-tomato gravy flavoured with mejenga guti (Szechuan peppercorn), fermented bamboo shoots, and allspice leaves. We use Indrayani rice, wrapped in haldi patta (turmeric leaf), and steam it in a mitti pot. This dish is a recreation of a childhood picnic memory," Sandhu explains. A little less seasoned, but works well because it's comfort food.
For desserts, the mahua kala jamun works concept-wise, but was a bit too sweet. What saves the dessert menu is the delightful hand-churned pista ice cream that had a rich, creamy texture that was incredibly smooth and satisfying. It was the perfect little sweet ending balanced with just the right amount of nuttiness. Same, too, for the bite-sized coconut ladoos that were soft, yet slightly firm. You could taste the real, shredded coconut in every bite, and the sweetness was just right, not overpowering. I couldn't stop at just one!
Final verdict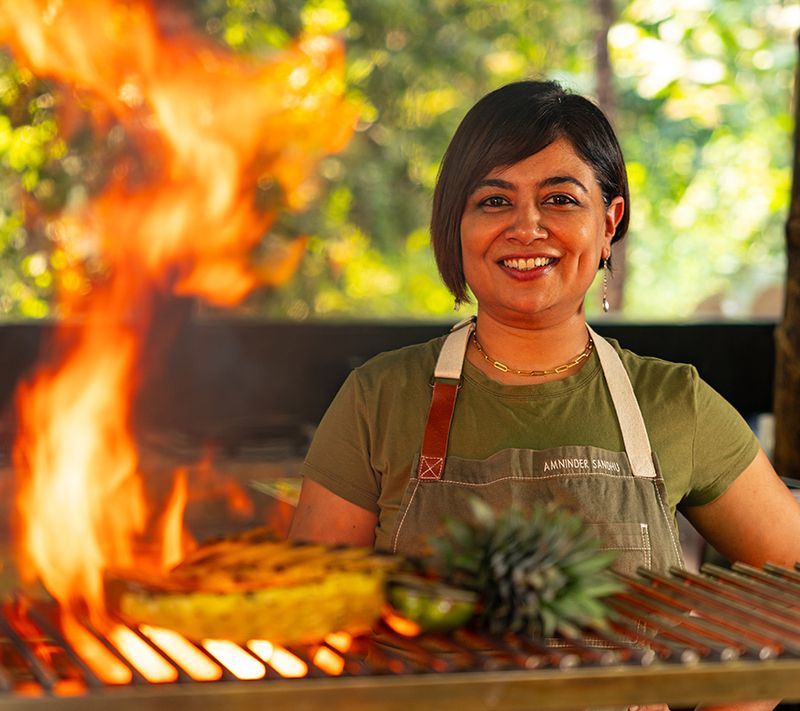 The result of the dinner was profoundly mixed. Some of the dishes may be flawed but they somehow work. On one side of the menu are the delicious khatta meetha orange amuse bouche, ambaadi chaat and the Nagpur black crab that I would definitely go back for; and then there's the saoji bater and a slightly undercooked maas ke soole. However, what we can't deny is Palaash's potential to transform into something fabulous with the sheer sincerity which chef Sandhu and her all-female staff cooks.
---
Photo: Palaash