"Never forget that love is always stronger than fear," I recently stumbled upon this rather poignant line in a novel I was reading and somehow it struck a chord with me. Visiting the brand new Ammata a few days before its launch, for an exclusive sneak peek, put it all into perspective. Named after the Spanish word that roughly translates into 'an expression of love', this European-Indian fusion cuisine restaurant pivots on the axis of love. The love for good food, company and love for life. 
As part of the new wave of restaurants opening around Mumbai in the throes of the 'new normal', this all-day restaurant launched by MTRN Hospitality in association with Suved Lohia Hospitality (of Game Palacio and Pink Wasabi fame) in Andheri West, takes you away from the humdrum of life. One that is bustling its way outside the industrial and film studio-saturated neighbourhood it finds itself in. "The idea is to come fall in love with (and in) Ammata. The reason behind it is a lovely scenic location, and we want our guests to fall in love with the hospitality service we provide, which includes a wide range of global cuisine and cocktails, making it a one-of-a-kind experience," says Suved Lohia. 
All about the ambiance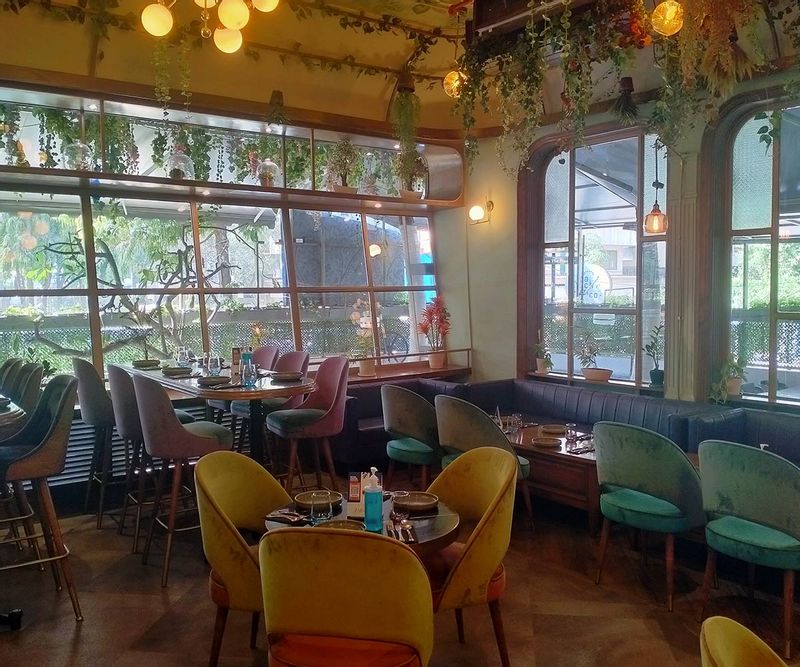 A space that deposits you into a fecund, romantic setting with a definite botanical leitmotif running through its spacious interiors, and wraparound garden courtyard. Where you find edible flowers like nasturtiums, marigold, and rose petals bedecking almost everything. 
Speaking of which, I sip on my welcome cocktail that takes the form of the visually stunning, rose petal-garnished Aqua Sapphire that sits under a smoke-infused bell dome. Served in a glass clamshell, with a huge square clear ice cube, this aquamarine-hued take on a Pina Colada is a delicious one. And the perfectly made sum of its white rum, coconut-vanilla syrup, and caramel parts.
I enjoy this drink while sitting at the gargantuan bar which is done up in gleaming woodwork and black tiles, with shelf upon shelf bearing colourful alcohol bottles, and in-house made syrups and decoctions. At Ammata, there is a strict policy of not using any artificial syrups and sweeteners, I am informed. This is perhaps why I find my second cocktail, the Chamomile Collin (chamomile tea, gin and honey cordial) ending with a slightly bitter taste that I don't care for too much. 
AlsoRead0
Cuisine without borders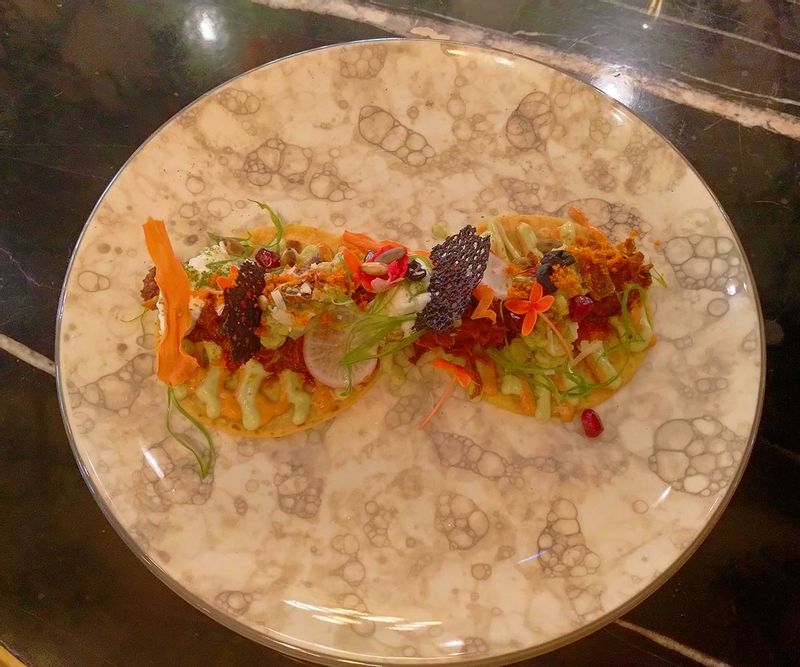 Still at the bar, for appetisers, I am treated to a scrumptious duo of fusion-style tacos garnished with nasturtiums and marigold petals. Ever the callous carnivore, the first, a smoked BBQ kathal and makki reminds me of a well-made pulled pork taco, with the jackfruit mimicking both the texture and taste of meat, sitting pretty atop a soft-shell corn taco. Its meaty counterpart is a palate-searing (in a good way) laal maas taco.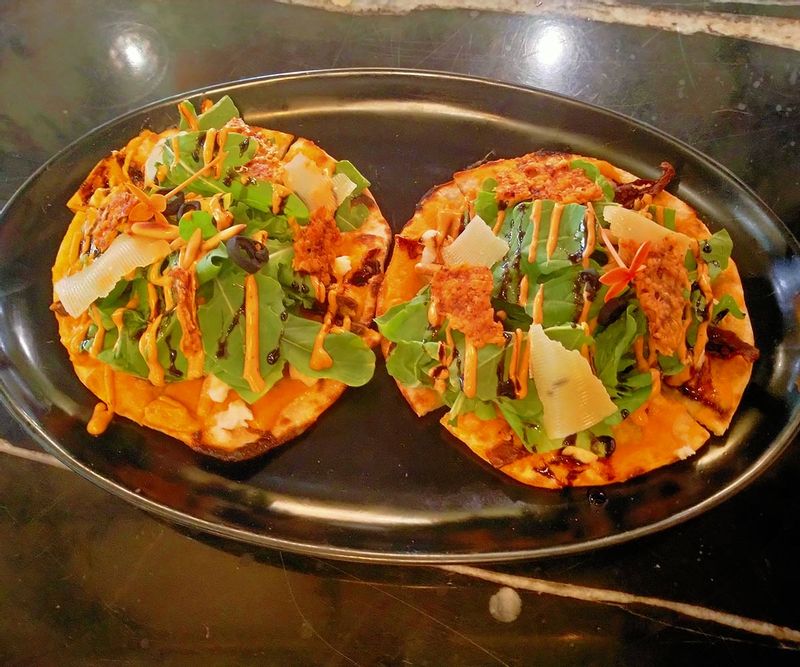 Taking me back to an exquisite tempura lunch I recently had in Tokyo, is the quintet of wasabi Kewpie prawns that burst with freshness and crunch, and a subtle hint of wasabi complementing the creamy Japanese-style mayonnaise. I chase this with a slightly over-seasoned Sriracha hummus kulcha, that is overpowered by the spice.
AlsoRead1
For my mains, I make a short little shift to a more comfortable table that's surrounded by jewel-toned suede chairs. In keeping with the restaurant's arboreal theme, my table in the main dining room—overlooking the outdoor garden courtyard with its floral arches—has suspended above it wreathes and garlands of faux plants and herbs, while a ledge beside it has bell jars ensconcing exotic plants and flowers. Breaking my reverie is a large screen TV on the wall behind me that's (totally unplanned!) broadcasting Zee Zest. 
With chef Himanil Khosla—who has had stints with the Neemrana and Oberoi hotel groups in the past—designing the menu, Ammata pulls out all the stops with its beautifully presented food. I start off with what is perhaps the best example of a tricky-to-get-right fusion dish. My fresh burrata with olive salsa verde, drizzled with a chilled, spicy gazpacho soup and served with a butter-garlic naan is chef Khosla's scrumptious Italian-Spanish riff on a paneer makhani that is all things good on multiple levels. "Reflective of contemporary modernism, I have designed a menu that features classic flavours from across the globe in a bold and modern avatar. Here at Ammata, we call it cuisine without borders," says Khosla.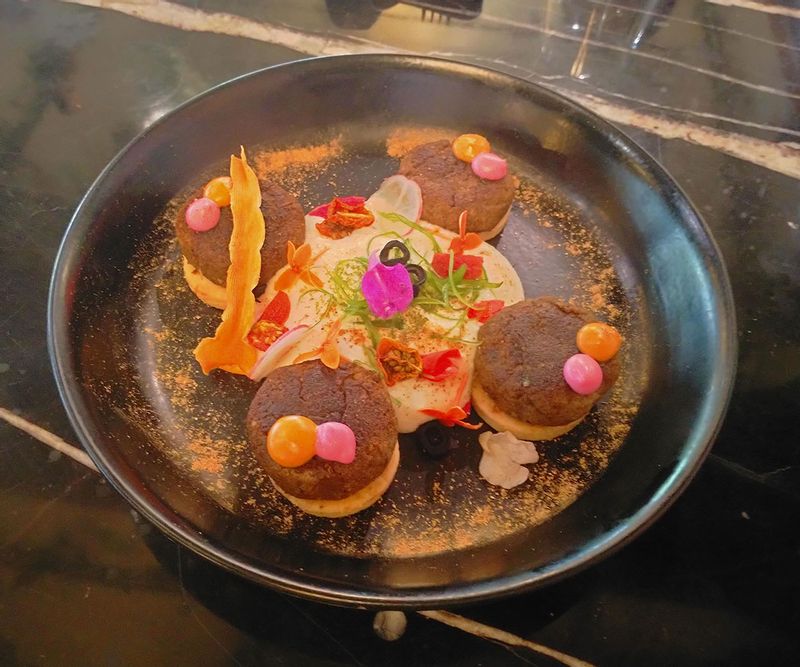 As if on cue, my next main materialises. I can smell this one even before it hits the table. Sitting atop slightly crumbly parmesan biscotti are the most divine porcini and shiitake galouti kebabs with a foamy top of truffle mousse as their crowning glory. While they had me at 'truffle foam', the intensity of the other two varieties of mushrooms managed to shine through. Continuing my dalliance with mushrooms, for my final main course, I call for the risotto with wild mushrooms, shiitake dust and parmesan foam. This one is all good things a risotto should be—comforting, flavoursome, and utterly more-ish.
The rather ironically named 'ashtray' is a signature dessert the people behind Ammata say they want to use as an anti-smoking initiative. And being an anti-smoking advocate myself, I couldn't agree more. This delicious dead ringer for an ashtray is made with Bailey's panna cotta base, Oreo cookie crumble, silver dust, and topped off with 'stubbed out', edible paper cigarettes filled with chocolate ganache. Innovative, evocative, and effective—now that's a trifecta I love to end things with!
Address: B-37, Ground Floor, Ambica Acropolis, Veera Desai Industrial Estate Rd, Andheri West, Mumbai | +91 8299460299/7905900076 
---
Photo: Raul Dias