In an effort to raise awareness about the LGBTQIA+ community, provide them with a safe space to work and to empower them, the Solidarity Foundation and Amadeus, a travel solutions company, have come together to launch Pride Cafe. It will have two food trucks in Bengaluru, which will be operated by the members of the community.
Pride Cafe will be run by 12 members of the LGBTQIA+ community, seven of whom have already been appointed and trained to operate the mobile cafe in an egalitarian and stigma-free working environment. 
This unique initiative is supported by organisations including WeWork, Agape Hospitalities Consultants, the Aravani Art Project and Desavous, who joined the Solidarity Foundation and Amadeus to launch the cafe.
"By opening doors for this community and by tapping into their talents, we have the opportunity to help create a vision for their future," says Mani Ganeshan, global head of engineering, TEC and centre head, Amadeus Labs Bangalore. "F&B companies are gradually setting the pace for community inclusion by providing benefits that support workplace equality for LGBTQIA+ employees. This industry is full of opportunities with training programs and short-term courses that can provide them with stable incomes and a better quality of life," notes Ganeshan.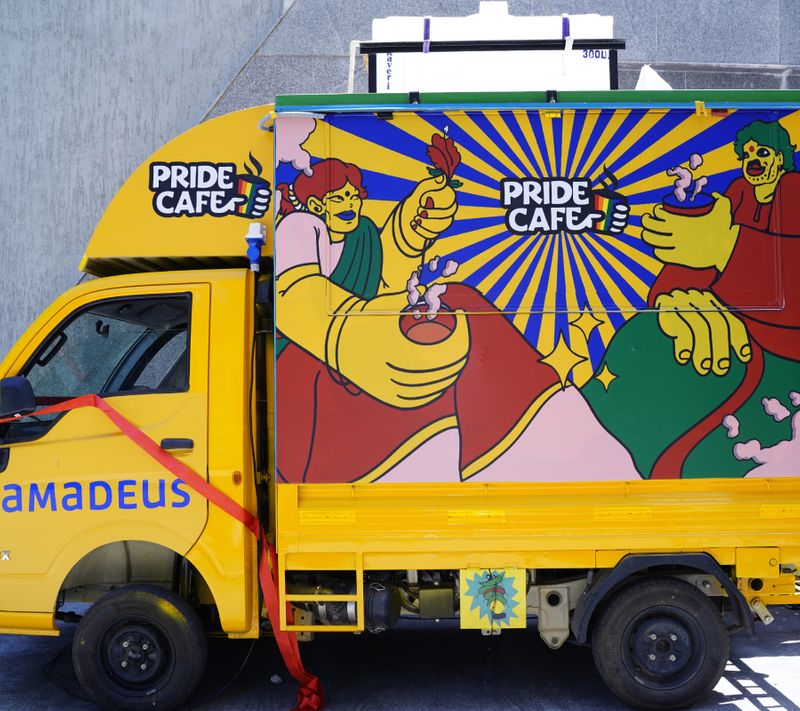 "With consistent effort in recognising and promoting the uniqueness of different groups of a diverse workforce, we can restore hope to the future and create an inclusive world for everyone. With the key message of 'Moving with Pride,' we aim to enhance the self-esteem, dignity, and livelihood options of members of the LGBTQIA+ community and position community members from socially and economically disadvantaged backgrounds at the forefront. At Amadeus, everyone, regardless of their sexual orientation, gender identity, or expression, is welcome, accepted, cherished, and respected. We truly believe that diversity is a strength, and we should take pride in who we are. Support for the LGBTQIA+ community is an important focus area that has been at the forefront for Amadeus for many years, and we will continue to demonstrate our commitment through our actions and initiatives," adds Ganeshan.
The visually striking food trucks have been painted by the Aravani Art Project and will offer breakfast, lunch, snacks, and tea/coffee services at the WeWork Galaxy on Residency Road, Bengaluru. 
---
Photo: Amadeus