Ready to welcome the new year with some of your absolute favourite foods? The capital city is all ready to celebrate New Year's Eve with great food and parties. With that being said, let's make sure your 2023 starts off on the right foot, with all the chips and salsa, dim sums or tempura - whatever your heart desires. There's something for everyone on this list. Special tip: Since they're all destined to be a blast and probably sell out quickly, make your reservations soon.
1. Kakapo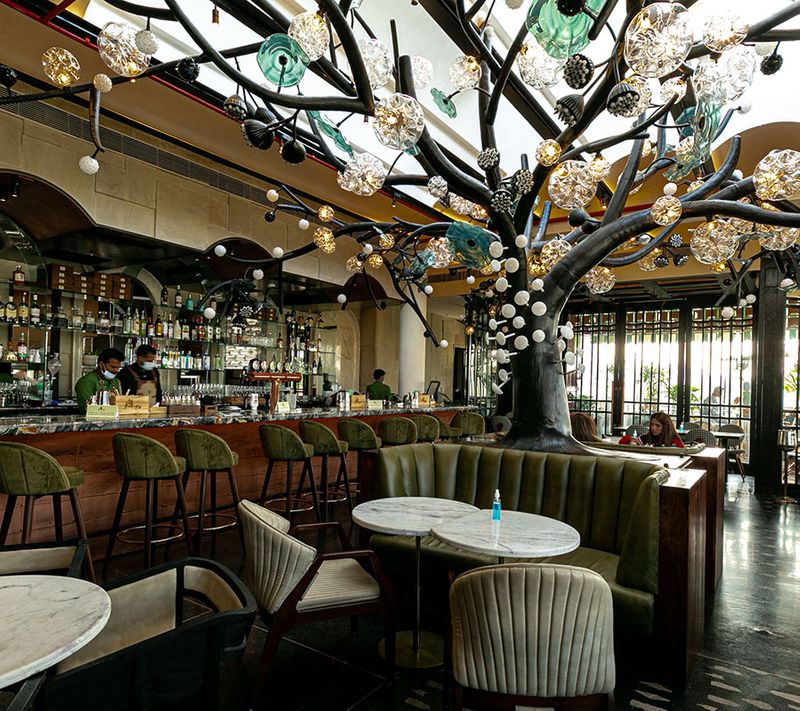 Set in the Mehrauli neighbourhood of Delhi and perched on a buzzing retail complex, Kakapo is a high-energy space. This restaurant and bar has stunning decor, with a faux tree in the middle of the room adding a mystical touch. This resto-bar has beautiful floor-to-ceiling windows, plush sofas and chairs, and a gorgeous bar that add depth to the area. The restaurant has curated different packages for New Year's Eve. The packages have offerings of imported liquor, dim sums, mains, sushis etc. Dishes like kataifi prawns, rigatoni chicken and makhani boti kulcha will pique your interest.
When: December 31
Address: Ambwatta One Complex, H 5/5 Warn No. 1, Kalka Das Marg, Mehrauli, New Delhi
Cost: Rs 6,945 onwards
Call for reservations: 9899118943
2. The Claridges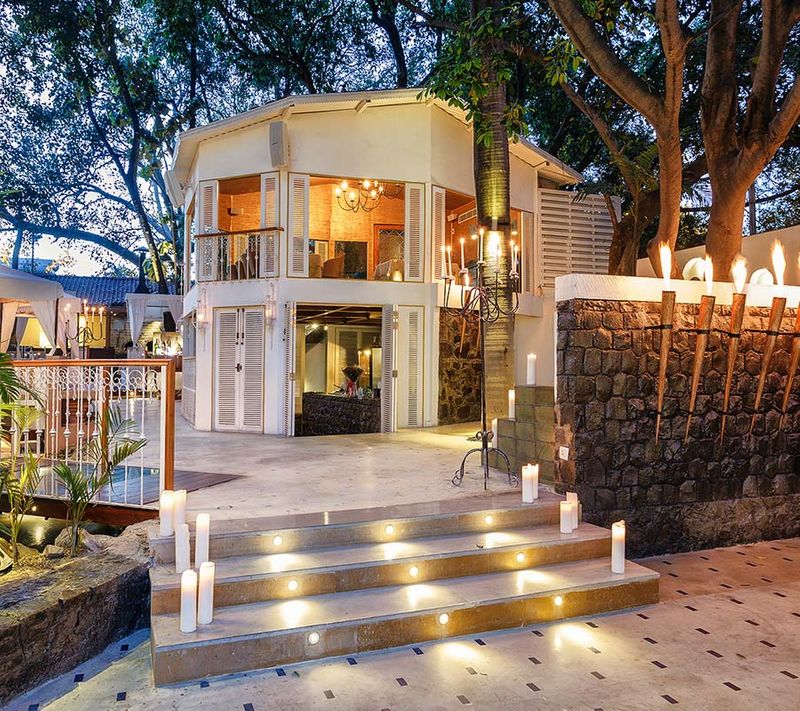 Handcrafted cocktails, specially curated delectable cuisines, electric live music acts and unmatched energy is ready to welcome you at The Claridges. The different restaurants, namely The Dhaba, Jade, Pickwick, Sevilla, Viceroy with Poolside, Aura and The Claridges Garden - each restaurant with diverse cuisines suited for different moods have tailored a special menu for the festivities. For instance, Sevilla is like stepping into a fantasy tale with illuminated trees, paths, and a staircase leading indoors, but if you're looking for an old-school live music bar in the middle of all the bouncy clubs and terrace bars, Aura's the way to go. Mostly, the packages come with a chef's special dinner menu, soft beverages, premium liquor, a DJ and live music.
When: December 31
Where: 12 Dr A P J Abdul Kalam Road, New Delhi
Cost: Rs 1,795 onwards
Call for reservations: 011 3955 5000
3. Pullman New Delhi Aerocity
All set to ring into the festivities of 2023 is Delhi Aerocity's Pullman in its three different hotels. Patrons can witness Bollywood-themed nights in the spacious alfresco and indulge in a delicious pan-Asian meal at Honk. You can also ring in the new year celebrations with a lavish Arabic-themed celebration at their Farmer's Basket with their delectable dinner buffet paired with artisanal cocktail menus. However, if you're looking for a lunch offering to avoid the night hassle and traffic, Food Exchange has come up with a serene lunch buffet set up in a musical ambience.
When: 12.30 pm onwards, December 31
Where: Asset No 02, Gmr Hospitality District, IGI Rd, Aerocity, Airport, New Delhi
Cost: Rs 2,450 onwards
Call for reservations: 011 4608 0808
4. Crowne Plaza New Delhi Okhla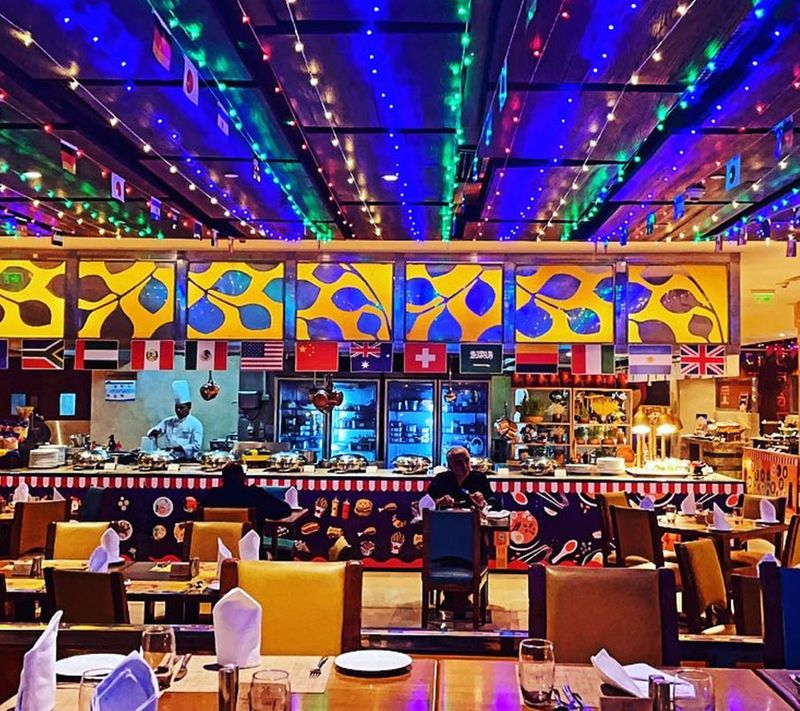 Expect spectacular gala dinners and entertainment performances at Crowne Plaza New Delhi Okhla's new year offerings. Their two restaurants have come up with tempting menus. At Edesia, you can relish the 'World On Your Plate' with 60+ dishes as a part of a lavish buffet, interactive food stations and buzzing live kitchen experience. While at ChaoBella, you can taste the romance of Italian and Chinese cuisines.
When: December 31
Where: Plot No. 1 Community Centre, Okhla I, Okhla, New Delhi
Cost: Rs 3,999 onwards
Call for reservations: 011 4646 2000
5. House Of Ming
Set in the heart of the city, the Taj Mahal hotel and its legacy have always been cherished by patrons. And their iconic House of Ming is packed with reinvented cuisine and spirited concoctions for this New Year's Eve. A six-course celebratory dinner paired with a selection of premium beverages in a warm and cosy setting is how you would love to usher in the new year.
When: December 31
Where: J63F+X76, Taj Mansingh Hotel Rd, South Block, Man Singh Road Area, New Delhi
Cost: Rs 10,000 onwards
Call for reservations: +911123026162 / +911166513242 / +911166513241
6. Anardana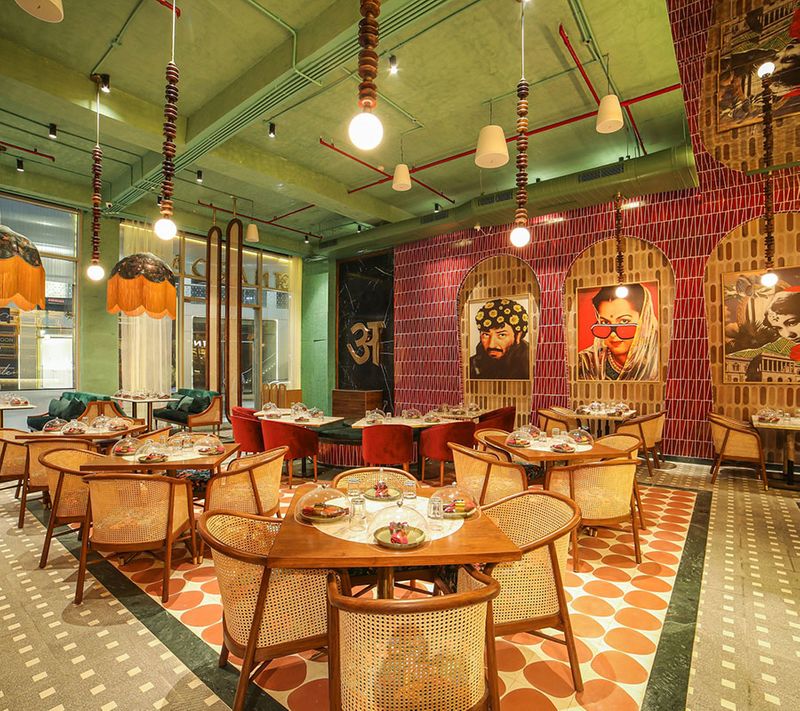 Having a temptation for classic Indian food with a contemporary upgrade? The newly opened restaurant, Anardana at Gurgaon brings a sophisticated yet warm, chic seating area with customised menus and hands-on experience to usher in the new year. From lamb kachori to truffle mushroom risotto, black garlic chicken tikka, look forward to being spoilt for choice.
When: December 31
Where: Ground Floor, M3M International Financial Center, Sector 66, Gurugram
Cost: Rs 1,400 onwards
Call for reservations: 011 61495412
7. Hilton Garden Inn
Dance the night away with a masquerade theme while savouring their signature dishes with an extensive spread of buffet with European, Indian and Oriental cuisines. From a splendid evening with a lavish spread and innovative cocktails, gyrate to classics old and new on the dance floor and start the year with aplomb.
When: December 31
Where: Hilton Garden Inn, A4, DLF Place, Saket District Center, Saket, New Delhi
Cost: Rs 9,999 onwards
Call for reservations: 98112 56642
8. Loya
The newly-opened Loya at Taj Palace, New Delhi takes diners on a journey, implying a deeper dive into the cuisines of the north of India. With a celebratory dinner at Loya, make sure that each dish has layers of local knowledge that are sure to delight the discerning gourmand inside of you. In addition to courses, the bar menu features indigenous beverages and the north's botanical abundance, while local spirits are presented with a contemporary twist.
When: December 31
Where: Taj Palace, 2 Sardar Patel Marg, Diplomatic Enclave, New Delhi
Cost: Rs 10,000 onwards
Call for reservations: 011 2611 0202
9. Kampai
Get ready to transport yourself to Japan with Kampai's 'An Evening In Tokyo' offering this NYE. What you get is an extravagant Japanese spread of sushi, dim sum, tempura with pulsating music by Dj Ahi. Kampai is known for presenting a contemporary twist on traditional Japanese cuisine. The interiors pay homage to the restaurant's name with aesthetically pleasing cherry blossom decor on the ceiling, transporting you to Japan.
When: December 31
Where: Worldmark 1, G-02, Aerocity, Delhi
Cost: Rs 3499 onwards
Call for reservations: 093192 74015
10. Tease
Say cheers to the new year with an aqua theme at the high-energy bar, Tease, as the DJ puts out the most popular tracks of the season. Sip on bottomless tipples and house-made infusions complemented with scrumptious food from a dinner buffet to a selection of unlimited International and Indian spirits for a truly spirited celebration.
When: December 31
Where: Plot No.1, Sector 44, Gurugram
Cost: Rs 6,000 onwards
Call for reservations: 0124 6673000
---
Photo: Ophelia; Featured places