Mumbai-based restaurateur and clean-eating proponent, Vanika Choudhary, has roped in London-based fermenter and food anthropologist, Eleni Michael, for an exclusive two-night special 10-course menu at Noon, Mumbai. Although the dinner is only on for two nights, Chaudhary and Michael have been working on this spread for a couple of weeks.
The 10-course menu is a celebration of fermentation and umami, which is at the core of Noon's philosophy and is derived from koji. Together, Chaudhary and Michael, have experimented with non-traditional methods of traditional Ladakhi food and hyperlocal ingredients foraged from the region.
The preview meal that we were privy to was futuristic in all ways one expects modern Indian gastronomic adventures to be. At the same time, it was also comforting with familiar flavours. We greatly appreciated the nuanced use of charcoal in the cooking process. The charred king trumpet mushroom served with chickpea, sun-dried grape tomato, Kashmiri red chilli miso and galgal achaar popsicle effortlessly tied together a smorgasbord of flavours while wholly maintaining the individual flavours of the ingredients.
Similarly, the traditional khambir roti with yoghurt-based thangthur, skotse served with charred lobster, umbok and syah, was a delicious combination of classic Ladakh staples with a twist. Must-try are the desserts at the Four Hands Dinner with Vanika and Eleni—kaali gajar halwa with nolen gur garum and almond sable was a brilliant showcase of how Indian desserts can be delicate and elevated (and not overpowered by sweeteners). The amazake ice cream with barley koji popcorn and a dash of lacto-fermented mulberries was an adventure of how different global flavours can beautifully be married together.
Prior to the pop-up, we spoke to Vanika Chaudhary and Eleni Michael to understand the common love for fermentation and what to expect at the Four Hands Dinner.
Edited excerpts:
1. How did the association between you come about?
Vanika: Eleni and I met over a digital conference, KojiCon, in December 2022 and we just realised how much we had in common in terms of our shared love and shared belief in fermentation. She was very excited with the kind of ferments we were doing here at Noon because we are reimagining Indian cuisine with Koji-based fermentation. I asked her if she'd like to come to India so we could create something together.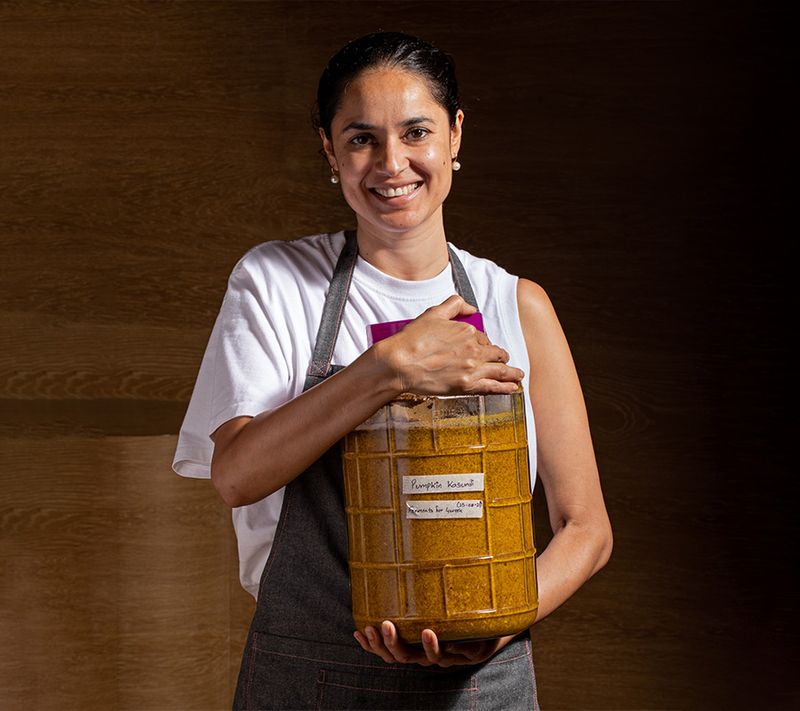 2. What should we expect at the dinner?
Vanika: It is a unique 10-course meal which spotlights the foraged and indigenous ingredients from Jammu and Kashmir as well as Ladakh; that is also our forte. So for this pop-up, we want to understand the micro-regional cuisine through the lens of Koji-based fermentation. Eleni brings her own international experience in fermentation, having worked at some of the best Michelin-star restaurants and attending residencies across the world.
Eleni: For the Noon fermentation pop-up, we are looking at all these international techniques such as lacto-fermentation or any of the Japanese fermentation processes, but keeping native Indian ingredients in mind.
3. What got you hooked on fermentation to pursue it as a passion?
Vanika: I get my love for fermentation from my grandmother, who would make over 30 different kinds of achaar through the year, back home in Srinagar. That's something that we are very proud of in the kitchen here. At the pop-up, we are transforming some of these achaars with Koji where you will see how very traditional achaars are presented in the most contemporary way possible.
Eleni: I interned at Blue Hill at Stone Barns New York, a two-Michelin star restaurant, and that is where I came across fermentation very briefly. Later I spent some time in the summer in Denmark working for another farm-to-table restaurant, Relae. I was at their Seed Exchange Festival and attended some fermentation classes by Claus Meyer, former co-owner of Noma. Once I was back in London, I tried lacto-fermentation at home and since then I haven't looked back!
4. How can India's varied fermentation techniques and culture be showcased to the world?
Vanika: It is one of our core philosophies at Noon. Since we launched last year in February, we've already changed the menu four times. In all our menus you will find fermentation as an intrinsic element but it is interpreted differently, such as Ladakh's khambir roti, which I think was the first fermented roti that locals ever ate. Ladakhis literally pick the wheat from right outside their house, wash it, sundry and stone grind it. This flour is fermented overnight with buttermilk and it's cooked on the coals. The fermentation of the dough happens from naturally occurring yeast.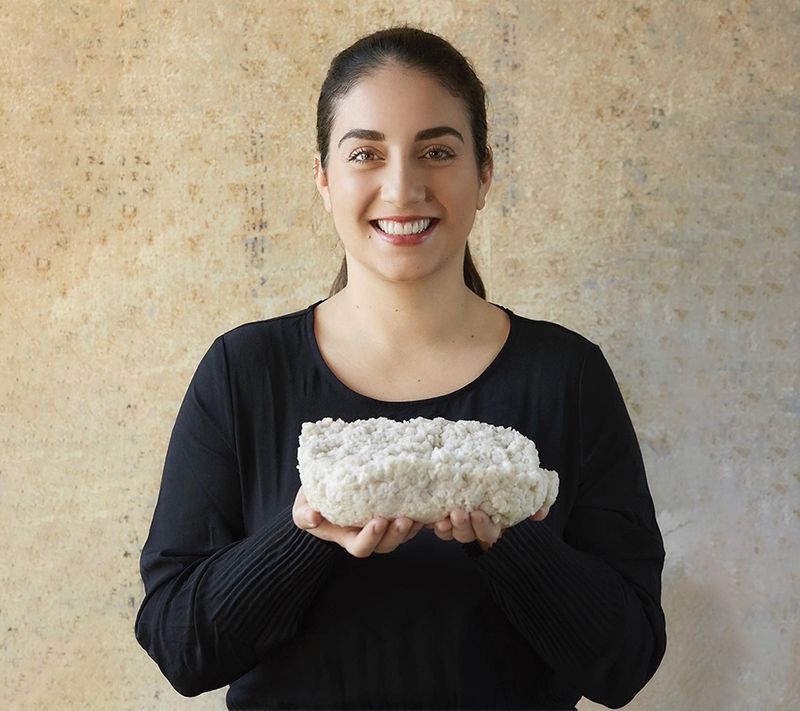 5. Eleni, what are some of your learnings from this India trip?
Eleni: It would be to ensure that family traditions are preserved and passed on. I grew up in Cyprus and our climate is not as tropical, but it's just as hot. We too have a lot of pickles in our cuisine, but they are so overlooked. It's not something we are proud of. Going back to Cyprus after 10 years, as a fermenter, I started asking more from my aunties and my neighbours about the different pickles and preservation techniques.
I realised how much interest there is when you look at things as an outsider. We all romanticise outside influences, which is why I ended up writing a thesis on Japanese fermentation techniques from a non-Japanese perspective. I've been living as a nomad for almost a year now, everywhere I go, I like to observe how people make use of their local environment and the local crops and transform flavours to reinvent their own cuisine and celebrate.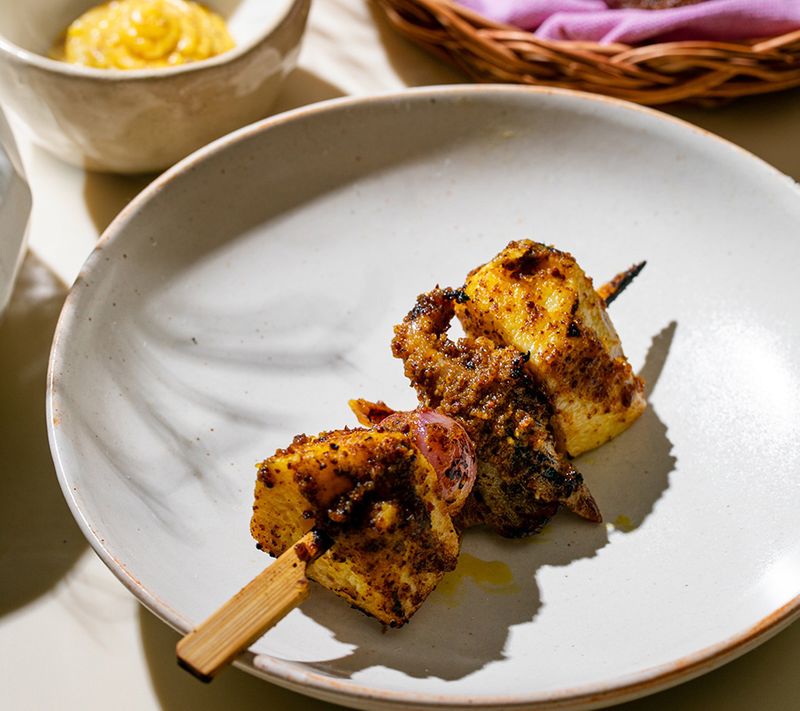 6. Fermentation has been a food trend for a while now, but what is new and next in the space?
Vanika: We really need to go beyond kefir and kombucha. I think garum will see an explosion in popularity. It is one of the earliest preservation techniques via fermentation known to man with roots in Greek and Roman empires. It is a fish sauce which dates over 10,000 years back. At Noon, we have a nolen gur garum that we figured to ensure that we can have the best of this seasonal delicacy all through the year. Similarly, koji too is seeing increased interest.
Eleni: Koji is a naturally occurring fungus, which can flourish either on soybean, rice or corn. It was first collected in Japan and processed to make cultures used for human consumption. These inoculated cultures are then used on different substrates such as barley, chickpeas and even vegetables.
Click here to book your spot at the Four Hands Dinner by Vanika X Eleni - Inspired by the past and looking into the future.
Date: January 27-28, 2023 | 7 pm onwards
Price: INR 5,000 + taxes for a 10-course menu
Location: Noon at One BKC, Mumbai
---
Photo: Noon, Mumbai